Antonio Brown is a professional American footballer playing as a wide receiver for the New England Patriots. He has held his passion and love for the game ever since he was a kid. His zeal for football has ranked him as one of the highest-paid NFL players in 2019.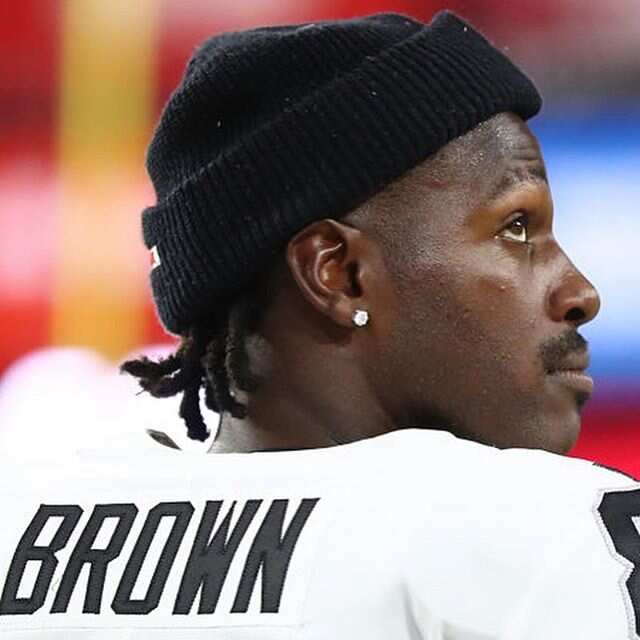 How old is Antonio Brown? Antonio Tavaris was born on July 10, 1988, to retired Arena Football League star Eddie Brown and Adrianne Moss. Antonio Brown age is currently 31 years. He was raised in Miami, Florida with his younger brother, Desmond Brown. His father, Mr. Eddie Brown played for the Firebirds his entire career and was named the greatest footballer of his time in 2006. Antonio has established a successful career in football even though he regrets not receiving much guidance from his father when growing up.
Antonio Brown profile summary
How tall is Antonio Brown? Antonio Brown height is 1.78m (5ft 10 inches). Below is an outlined profile of the American athlete.
Name: Antonio Tavaris Brown
Date of birth: July 10, 1988
Place of birth: Miami, Florida, United States
Nickname: Ronald Ocean
Nationality: American
Profession: American football player
League: National Football League (NFL)
Current team: New England Patriots
Position: Wide receiver
Jersey number: #17
Net worth: $31.9 million
Parents: Eddie Brown and Adrianne Moss
Height: 178cm (5ft 10inches)
Weight: 190 lbs(84kgs)
Sibling: Desmond Brown (brother)
Children: Antonio Jr, Autonomy, Atanyiah, Ali, Apollo
Zodiac sign: Cancer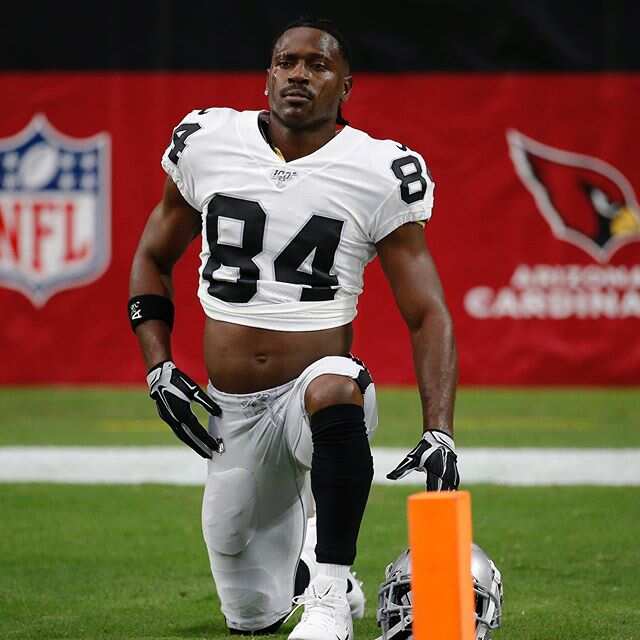 Early life
The footballer did not have an easy time growing up. Although born to an American football legend, he lived without a guardian most of his teenage years. Eight-year-old Antonio spent hours running on the Firebirds field with his father and got to learn a few tricks of the game. His parents separated and his mother remarried in the year 2000.
Antonio did not get along with his stepfather, and when he was 16 years old, he left home for six months. During this period, he slept at his friends' and classmates' couches. He grew up in the Miami community that was characterized by dangerous gangs and violence.
Education
The footballer attended Miami Norland High School where he actively participated in football and track games. He was among the best players and played running back, quarterback, wide receiver and punt returner. His excellent playing skills made him the athlete of the year (2005). While doing track and field games, he led his team in capturing a state title in 41.50 seconds. After high school, he enrolled at Carolina Tech Prep where he passed 1247 yards and 11 touchdowns while playing quarterback.
He was awarded a scholarship at Florida International University while undertaking his prep classes. He, however, was expelled before the kick-off of the football season due to disputes. He enrolled to the University of Michigan after recommendations on his superb football skills from his former coach. He played 14 games and had 102 receptions for 1003 yards and 6 touchdowns in his freshman season. As a wide receiver in the college, he won the Mid American Conference freshman of the year award (2007).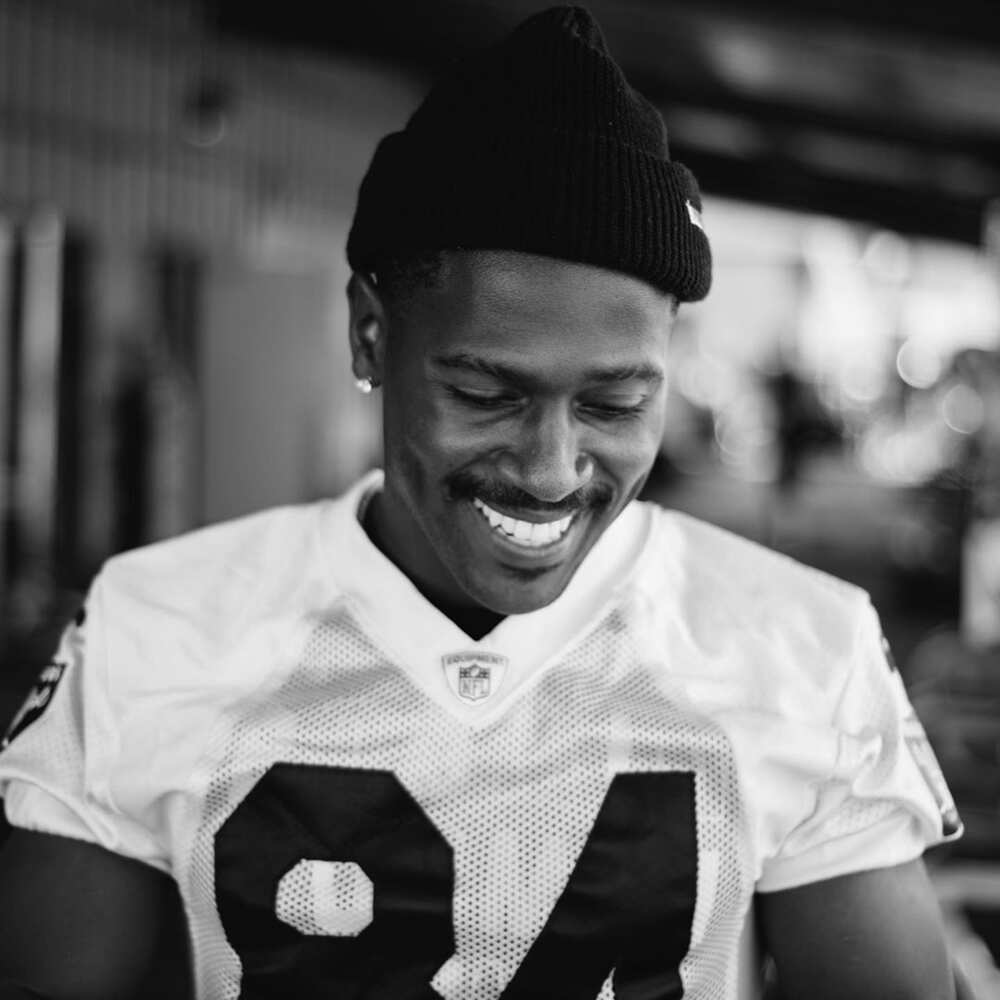 Professional career timeline
Here is a breakdown of the footballer's timeline in American Football.
Pittsburgh Steelers (2010-2018 )
Antonio signed a three-year contract with the Pittsburgh Steelers on June 15, 2010, for $1.28 million. In 2011, he marked his first career game by catching 5 passes for 109 yards while playing against Baltimore Ravens. Due to his efforts, he was selected as a punt returner for the 2012 Pro Bowl and became the first player to have more than 1000 yards receiving and returning in one year in NFL history. He continued posting higher receptions, and in 2017 was ranked fourth in the list of NFL top players (2017)
In 2017, he continued to play with the Steelers by signing an extension contract worth $68 million with a $17 million annual price tag. In the same year, he was named first-team All-Pro in his sixth Pro Bowl that year. In 2018, he was ranked among the best NFL players according to the 2018 NFL top 100 players list.
Oakland Raiders (2019)
On March 13, 2019, the footballer officially traded to Oakland Raiders. He missed several games due to his foot injuries. During his time with the Raiders, he had several issues for wearing a helmet that did meet NFL standards and was also involved in confrontations with his general manager. He later parted ways with the Oakland Raiders on September 7, 2019, before playing on a regular season.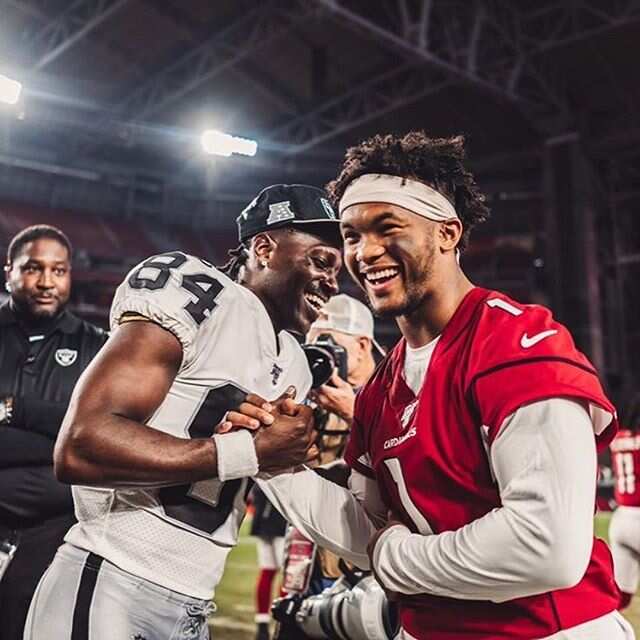 New England Patriots (2019-date)
Immediately after leaving Oakland Raiders, Antonio joined the New England Patriots with a one year contract worth $15 million and a $9 million signing bonus.
Antonio Brown career stats
The wide receiver has garnered impressive career stats while playing in the NFL. As of 2019, his career stats are:
Receptions: 841
Receiving yard: 11,263
Receiving touchdowns: 75
Net worth and salary
What is Antonio Brown net worth in 2019? His net worth is estimated at $31.9 million. The footballer is currently playing on a one year contract with the New England Patriots. In 2017, he was one of the highest-paid wide receivers at the time having extended his contract with the Pittsburgh Steelers for $68 million.
His contract with the Oakland Raiders earlier this year was worth $50 million. In 2017, Antonio Brown salary was about $17 million.
Antonio Brown girlfriend
Who is Antonio Brown wife or girlfriend? This is one of the most asked questions about the famous footballer. Do you know the answer?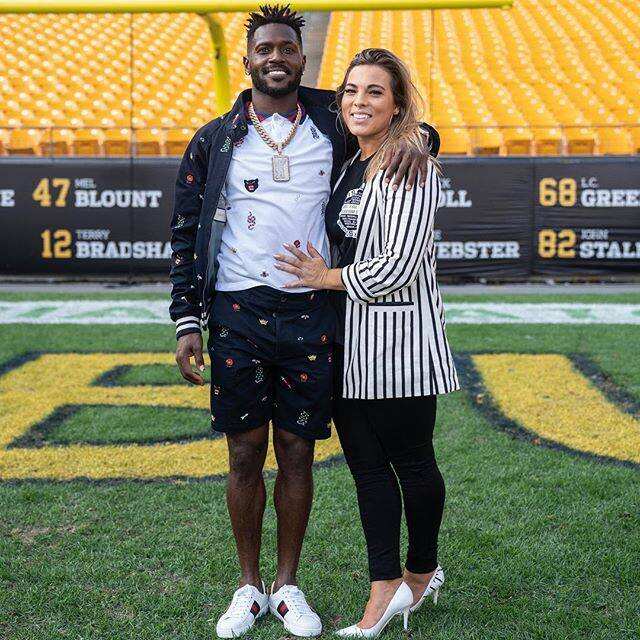 The footballer has not yet married but is a father of 5 kids. He has two children from previous relationships and three sons with his long-time girlfriend, Chelsie Kyriss. They have had an on and off relationship but are currently together raising their three sons. Chelsie recently celebrated her 30th birthday in style with a family boat ride through Lake Tahoe. Chelsea gave birth to two kids, Kellen, and Brooklyn Green before her current relationship.
Antonio Brown kids
As we have already mentioned, the American footballer has five children. Their names are Atanyiah, Ali, Antonio Jr., Autonomy and Apollo. Apollo Brown is his youngest child born on August 1, 2017. Incredible photos of the kids are regularly shared online by the football star.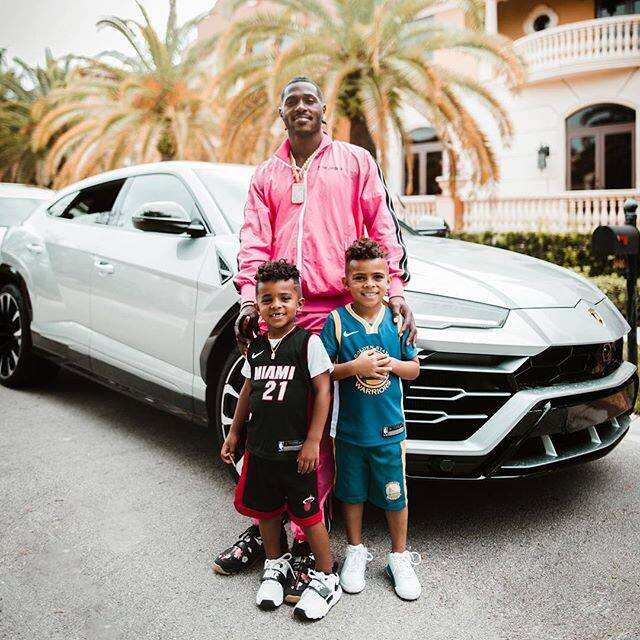 Career achievements
Here are some of the notable triumphs Antonio has realized over the years as a professional American footballer:
First player in NFL history to have more than 1000 yards receiving and returning in a single year (2011)
Ranked fourth on NFL top players of 2017 list
Ranked the second-best NFL top player in 2018
Antonio Brown house
The football star lives in his hometown, Miami, Florida. He owns a mansion there and another house in Pittsburgh, Pennsylvania. He purchased the luxurious 12-bedroom villa for $6.6 million. Antonio Brown house even has a private synagogue and home theatre with stadium seating. The footballer currently resides in that house together with his girlfriend Chelsie Kyriss and the kids.
The established American footballer has maintained his love for the game throughout the years of his professional career. Football fans are excited to see Antonio Brown play in his new team and being an NFL top player, they are assured of more victories going forward.