John Bolton bio: age, net worth, military service
Who is John Bolton? John Robert Bolton is a famous American political and diplomatic figure best recognized as the 27th National Security Advisor of the United States between the years 2018 and 2019. Besides, he is a famed political commentator, American attorney, and Republican party consultant. John Robert has accumulated extensive experience in diverse fields of governance, including military service.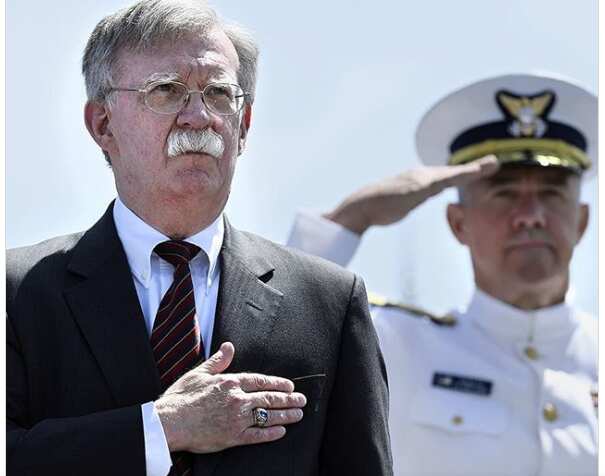 John is a distinguished American foreign policy influencer who has played critical roles in regime changes across the world, particularly in North Korea, Iran, Cuba, Syria, Yemen, and Libya. The ex-military figure was an advocate for the Iraq war and is still supportive of the Iraq invasion. He remains an Iranian nuclear deal critic. It is interesting how much influence Bolton John has registered since he first joined public service.
John Bolton profile summary
Full name: John Robert Bolton
Date of birth: November 20th, 1948
Place of birth: Baltimore, Maryland, United States
Zodiac sign: Scorpio
John Bolton ethnicity: White American
John Bolton height: 173 cm
Profession: Political commentator, Republican consultant, former diplomat, and an American attorney.
Years active: 1970 to present
Marital status: Married
John Bolton Twitter: @AmbJohnBolton
Famous for: The 27th National Security Advisor of the United States from 9th April 2018 to 10th September, 2019
John Bolton bio
John R. Bolton holds firm political views which have left many people describing him as an American nationalist and conservative. He has consistently held stakes in powerful American institutions and governance regimes which have shaped his name as a fearless person.
John Bolton age
How old is John Bolton? The former American diplomat is now 70 years old, yet he is still vigorous in his long-lived political career and international engagements.
John Bolton early life and education
The long standing government official is son to Virginia Clara (mother and housewife) and Edward Jackson "Jack" Bolton (father and fireman). He spent most of his early years at Yale Heights working-class neighbourhood where he grew up. Robert secured himself a scholarship to Owings Mills, a Maryland based McDonogh School from where he graduated in 1966. While in school, he took an active role in the 1964 Goldwater campaign. Besides, he is a renowned member of Yale Political Union.
Robert is a former student at Yale Law School where he enrolled in 1971 and later earned a J.D in 1974 alongside his friend Clarence Thomas. While undertaking his law studies, David Keene hired Robert as a summer intern for Vice President Spiro Agnew in 1972. Additionally, Mr. Robert has a BA from Yale University, where he studied in 1970.
John Bolton family
Robert married his first wife Christine in 1972, and they stayed together for 11 years until 1983 before parting ways. He later married his second wife Gretchen Smith who serves as a financial planner with AXA Advisors. Robert has a daughter, Jennifer Sarah Bolton, with his second wife, Gretchen.
The ex-diplomat is a Lutheran and resides together with his wife at Bethesda in Maryland.
John Bolton military service and government career
Mr. Robert kick-started his career in 1974 when he secured a legal job at Covington & Burling. He later worked at the firm's Washington D.C. office between 1974 and 1981 after which he held several other influential positions in both the military and government. His career timeline is as follows:
1970-1976: United States Army under the Maryland Army National Guard
1982-1983: Assistant Administrator of the United States Agency for International Development for Program and Policy Coordination
1985-1988: The United States Assistant Attorney General for the Office of Legislative Affairs
1988-1989: The United States Assistant Attorney General for the Civil Division
1989-1993: 18th Assistant Secretary of State for International Organization Affairs
2001-2005: 3rd under Secretary of State for Arms Control and International Security Affairs
2005-2006: 25th United States Ambassador to the United Nations
2018-2019: 27th United States National Security Advisor
John Bolton net worth
The former diplomat is an accomplished personality with a net worth of $6 million. Sources have revealed that Mr. Robert took home a total of $569,423 from his involvements in Fox News ahead of his membership in President Trump's administration which recently fired him. His recently dropped lucrative job as a United States National Security Advisor job used to earn him $183,000.
John Bolton fired
On 10th September 2019, the world received shocking news that John Bolton had been fired by President Trump. Pres. Trump claims he fired the National Security Advisor, while Robert himself insists that he willingly stepped down. Whichever the case, all we know is that Mr. Robert is no longer in office.
John Bolton is arguably one of the most experienced ex-military officials still active in governance according to his career journey above. He is now a trending icon after the escalated John Bolton Trump feud resulted in his exit from office, but even so, Mr. Robert holds a strong legacy for his international involvements.
Source: Legit