Listen to BlackFaceNaija - African Queen today. This banger will remind you of Idiabia's version of the tune, but it comes with a twist. BlackFaceNaija's sweet voice will soothe you and make you think about the woman you love. The quality of music is especially great.
Do you have a woman that you truly adore? Dedicate this reggae tune to her and remind her that she is your everything and the most important person in your life.
BlackFaceNaija - African Queen description
Released: 7th September 2019
Genre: Afrobeat with reggae inspirations
Length: 5:05
Format: Audio
This version of African Queen comes 15 years later after 2Face released his now-famous version years ago. BlaceFaceNiaja has always claimed that everything about African Queen is his brainchild. This includes composing the song, coming up with the lyrics as well as the rhythm. According to him, 2Face who released his version of the song in 2004 stole it from him. This has always created bad blood between 2Face and BlackFaceNaija. Both versions of the songs are great and fans seem to love them both.
BlackFaceNaija - African Queen reactions and review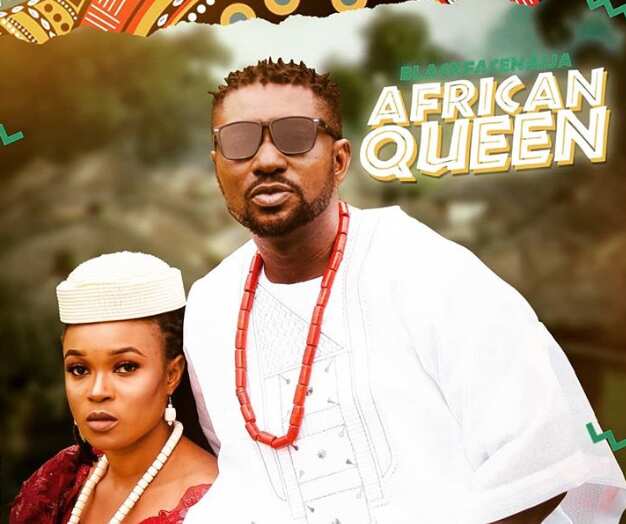 The new tune is causing an uproar online as people discuss the details of the tune. Different people have said different things about this catchy tune. Here are a few of the sampled comments from YouTube:
JENNIFER NVENE MOMENTS: Wow.... I wish you did this long time ago.... nevertheless... no time is late... nice one bro.... best of luck
Ilesanmi Daniel: But this sh*it between you and 2fAce shouldn't stop you from singing bro .you're talented
JMC Prefect-of-discipline: it is time to now listen to faze's version of african queen...but there is a soulful tone about tuface african queen that actually captured our souls
Micky Reings: nice one black face this should have been don year's back but never too late bless up more grace
HAPPY EMPIRE TV: So beautiful but in my honest opinion it's the right thing done at the wrong time
hilton koro: Truly you wrote the song African Queen. Your line delivery and ownership of the song truly says it all.. Rest the case bro.. I believe you now
dammie awe: Didn't support d release initially...but after listening I changed my mind....weldone blackfacenaija looking out for more of ur unique voice
BlackFaceNaija - African Queen download
Even without singing along, you may want to have this tune as part of your playlist. You need to download it from reliable sites. Here is a good example.
A great tune is worth downloading, saving and sharing. In this spirit, take some time and let your friends know that there is a new song by BlackFaceNaija - African Queen. Did you love the new version or prefer the Idibia's version of the song? Let us know in the comment section below.