Lil Nas X bio: age, net worth, is he gay?
Imagine living in an all-inclusive world where each person accepts, tolerates and understands every human being who is different from them. That is a dream that most people hold close to their hearts. Some people, such as Lil Nas X, are using their voices as celebrities to promote and encourage everyone to live in harmony regardless of differences, particularly in sexual orientation.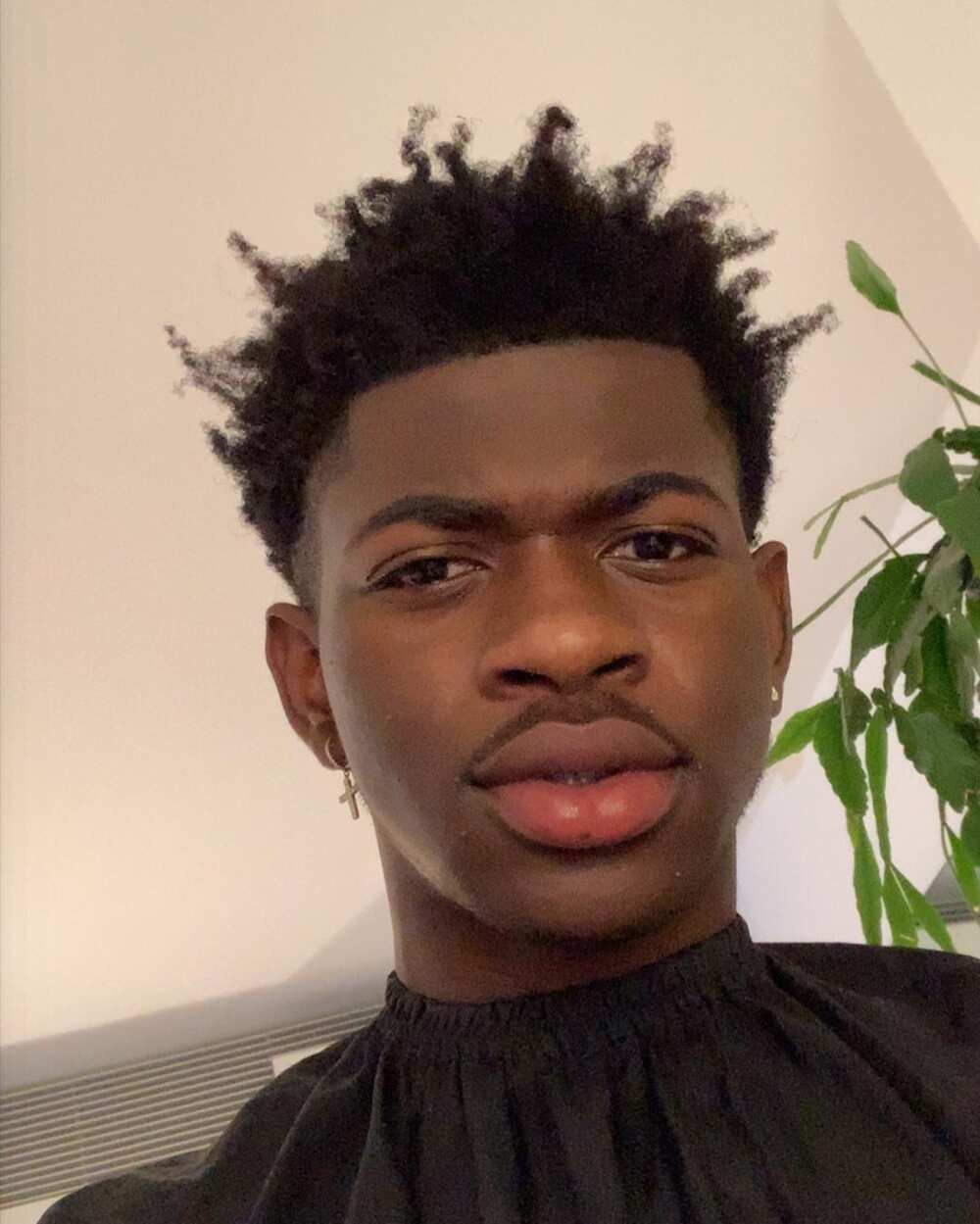 Who is Lil Nas X? He is a young rapper, songwriter and singer. His real name is Montero Lamar Hill. Hill was born on the 9th of April 1999 in Lithia Springs, Georgia, United States of America. His nationality is, therefore, American. He hails from a Black-American ethnicity, and his Zodiac sign is Aries. 2019 is a big year for the young star because he finally got his breakthrough in the music and entertainment industry. Presently, Lil Nas X age 20 years.
Profile summary
Name: Montero Lamar Hill (commonly known as Lil Nas X)
Date of birth: 9th of April 1999
Current age: 20 years
Place of birth: Lithia Springs, Georgia, United States of America
Nationality: American
Ethnicity: Black-American
Zodiac sign: Aries
Alma mater: Lithia Springs High School
Sexual orientation: Openly gay
Profession: Rapper, songwriter, singer
Lil Nas X background
Hill was born in a small town called Lithia Springs in the outskirts of Atlanta. When he was only six years old, his parents' marriage failed, so they got divorced. He was thus raised by his mother and grandmother at the Bankhead Courts housing scheme for three years. He later moved in with his father, who is a gospel singer in Austell, Georgia.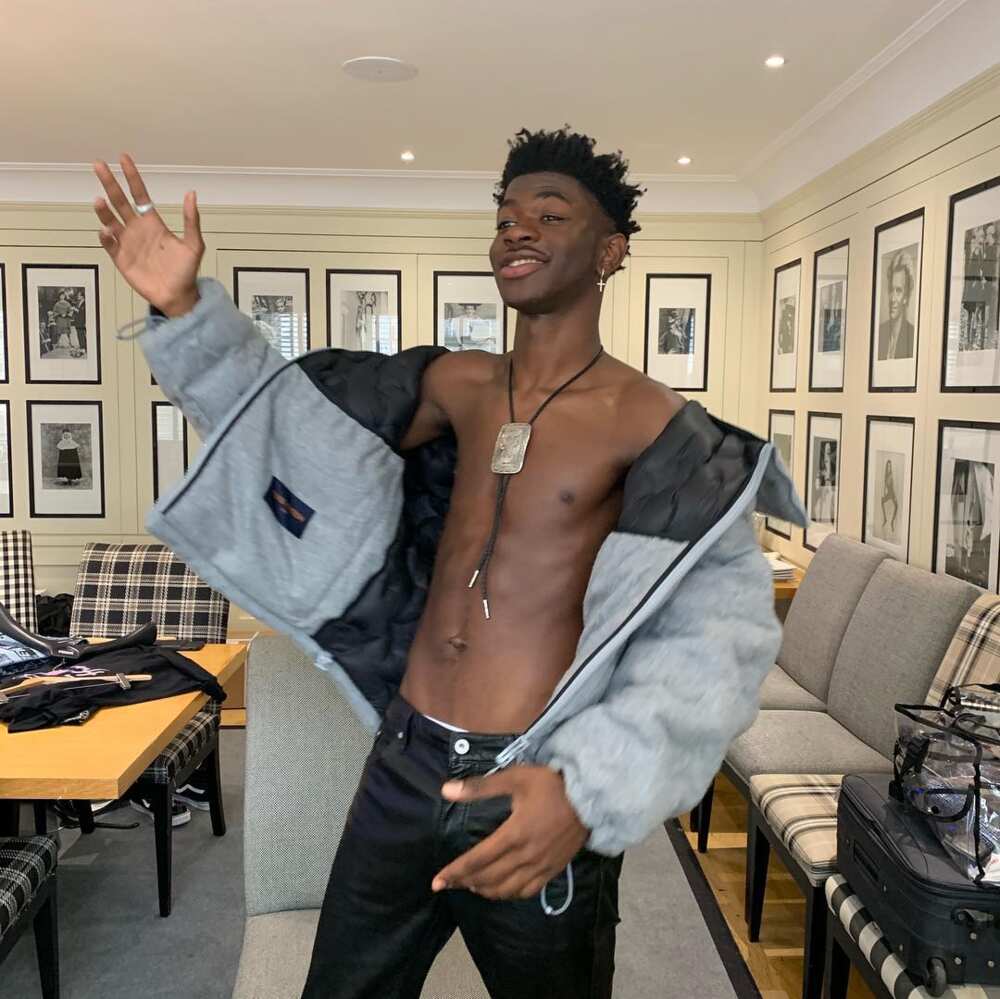 Initially, Hill was reluctant about moving in with his father. However, he later admitted that making this decision saved his life because it prevented him from engaging with, and joining the wrong company. When he was about 13 years old, he spent plenty of time on the internet. That was the time where internet memes started becoming a form of entertainment.
During his teenage years, Hill would often spend time alone. He kept himself occupied on the internet. He created memes using his enchanting wit and his shrewdness in the pop-culture. The rapper started playing the trumpet when he was in fourth grade. He was in the first chair by the time he was in junior high, but he stopped playing because he was afraid of looking uncool among his peers.
The rapper went to Lithia Springs High School. He graduated from this institution in 2017. He then joined the University of West Georgia for one year. He dropped out of campus and opted to live with his sister. He worked at Six Flags Over Georgia and Zaxby's to earn a living.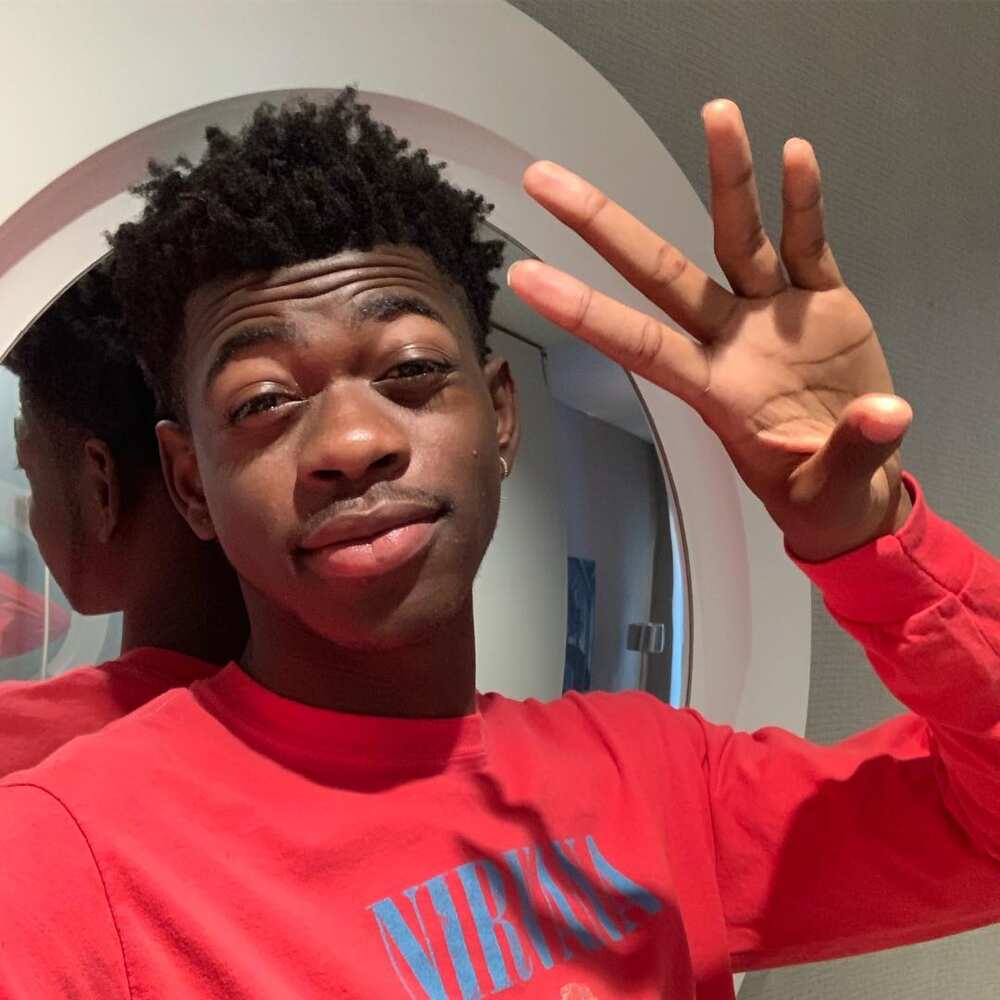 Career
Before becoming a famous rapper and singer, Hill started his career as an internet personality. His career timeline is as follows;
Internet personality
Between 2015 and 2017, Nas X invested a lot of time in becoming an online star. He isolated himself from his peers when they were outside class in his teenage years. At the time, he dreamed of becoming an online star by attracting a massive following on social media. He started by doing comedy videos on Facebook. Later, he moved to Instagram and then Twitter. Soon, he was a master on Twitter, and his content would often go viral.
Music career
As he was still pursuing his online comedy, Nas X also wrote songs. He would often write and record his songs in the closet. Soon, he found his footing in the music industry. On the 3rd of December 2018, he released his debut song with the title, Old Town Road, which is a country rap song.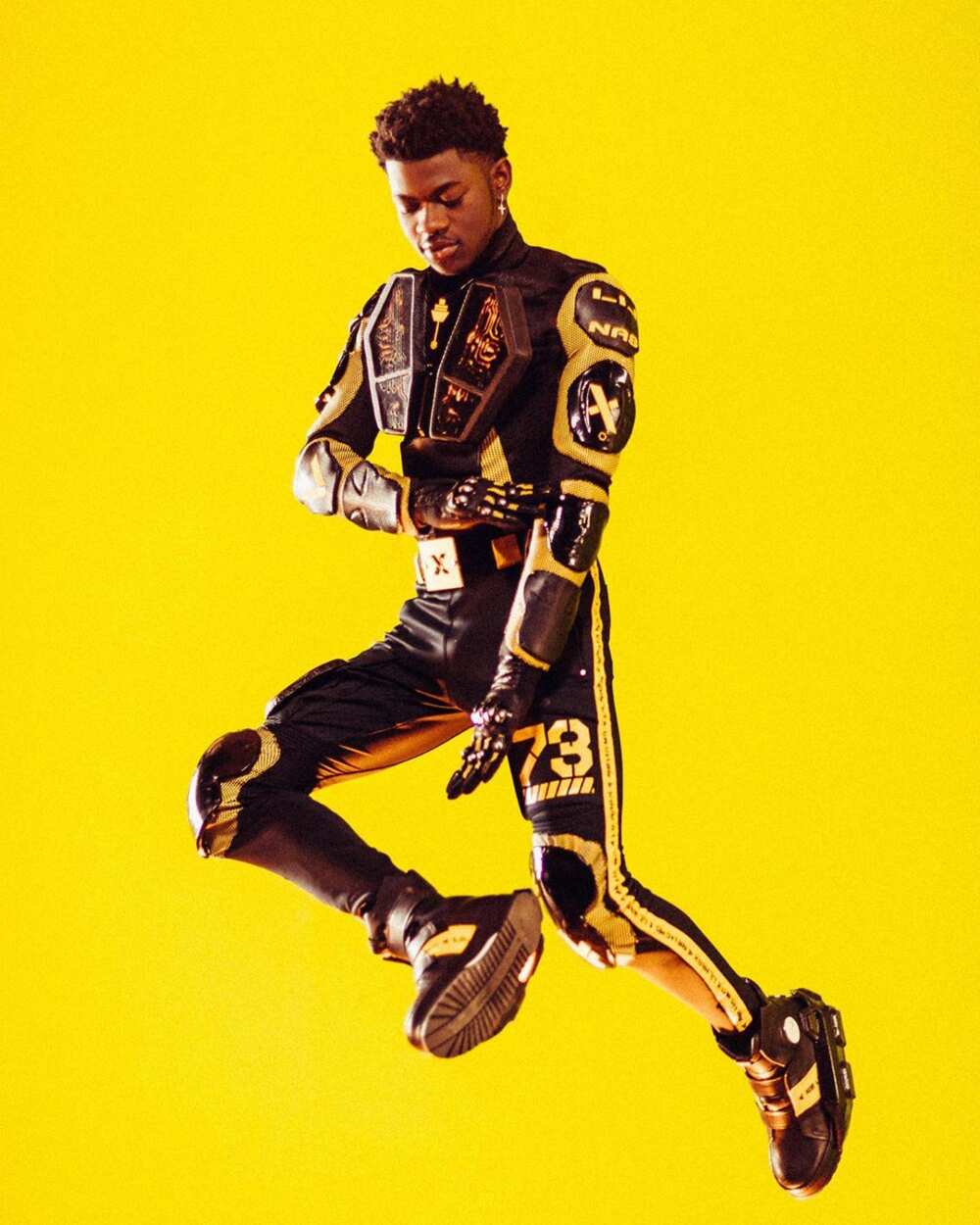 Old Town Road used a beat from YoungKio's online store. The Dutch producer sold the beat to the rapper for only $30. The rapper created and sent out memes on social media to promote his song. He reportedly created about one hundred memes, and the song went viral at the beginning of 2019.
The #Yeehaw Challenge that he created contributed to the success of his song. Many of his fans participated in the challenge by dressing either as a cowgirl or wrangler. They used Old Town Road as the soundtrack for the challenge. Old Town Road is a song that is repetitive and easy to sing along to. It is, therefore, not surprising that children and adults could easily relate to the lyrics which are about horse and tractor riding.
The impressive performance of the song made Nas X a sought-after artist. Many record labels wanted him to join their brand. After a strong bidding game from different labels, the rapper entered into a recording contract with Columbia Records. The contract began in March 2019.
One of the country stars who supported Old Town Road is Billy Ray Cyrus. In April 2019, a remix of the song was done by the rapper, and Billy Ray Cyrus featured as a vocalist. Several other remixes of the song have been done so far. The video for Old Town Road was released in August 2019, and it has been received with love and support from the fans.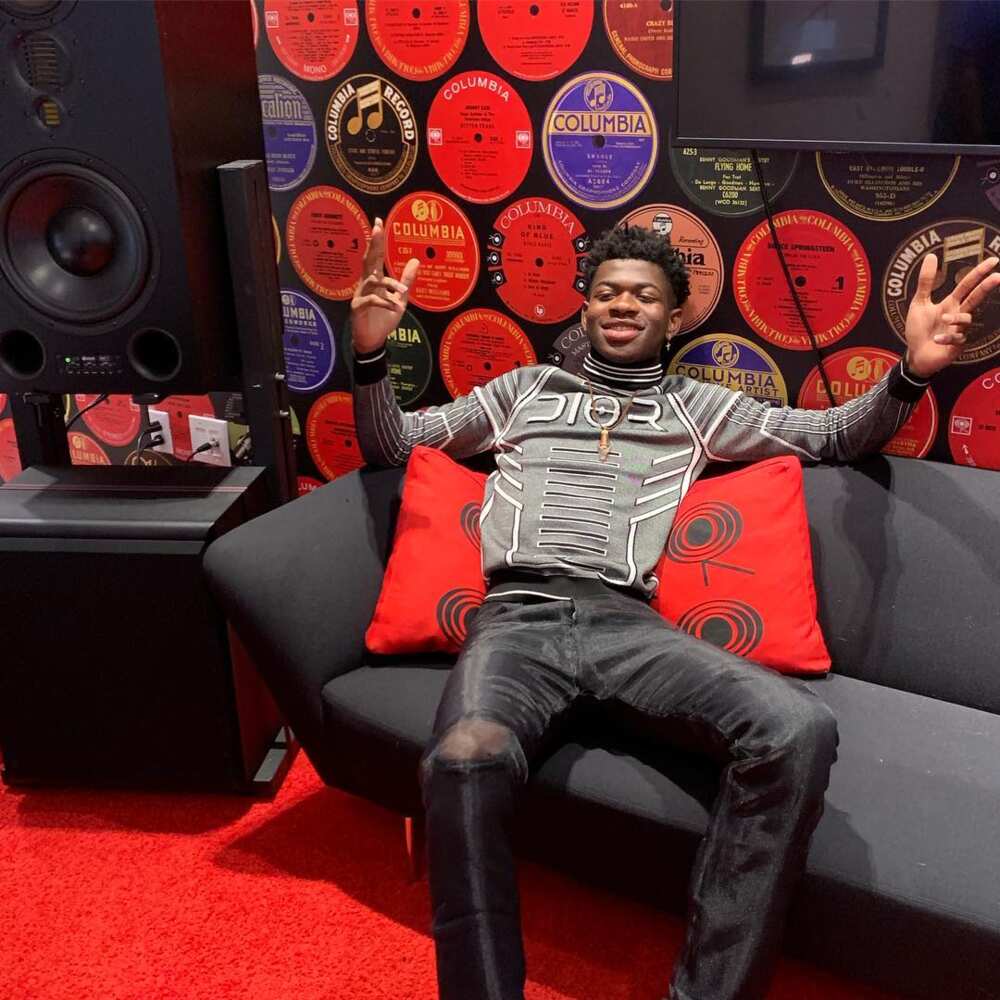 After being signed with Columbia Records, Nas X released 7, his debut EP on the 21st of June 2019. He performed with Billy Ray Cyrus during this year's BET Awards on the 23rd of June. On the 30th of June 2019, the rapper made his international debut. He performed at the annual Glastonbury Festival in the United Kingdom. He and Billy joined Billy's daughter, Miley Cyrus, on stage for the song, Old Town Road. Later, he performed the now-famous Lil Nas X Panini song on BBC Breakfast after discussing his coming out.
The songs on his debut EP are;
Old Town Road (remix)- featuring Billy Ray Cyrus
Panini
F9mily (You & Me) featuring Travis Barker
Kick It
Rodeo featuring Cardi B
Bring U Down
C7osure (You Like)
Old Town Road controversy
Old Town Road made its debut on the Billboard Hot 100 chart at the 83rd position. Later, it became number one on the chart. The viral song also ranked 19th on the Hot Country Songs and 36th on the Hot R&B/Hip-Hop Songs list.
Although the song ranked high in different charts, it was removed from Hot Country chart in March 2019. Billboard reported that the decision to remove the song was made because the song failed to embrace adequate elements of the modern country music. Instead, it only has cowboy and country imagery.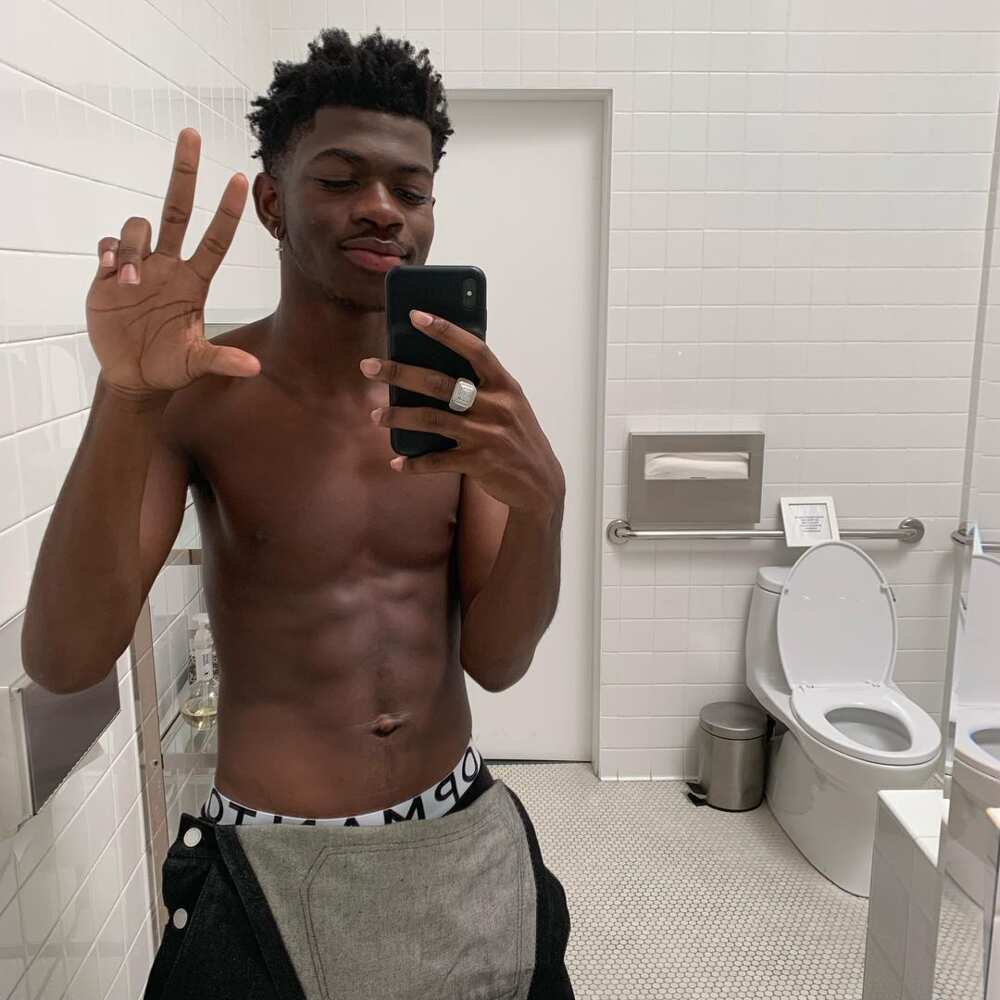 Some people argued that the song was removed from the Hot Country chart because the singer is black. Others opposed the notion that race was the reason why the song was eliminated from the list. Despite this controversy, the song ranked 53rd on the Country Airplay chart and later peaked at position 50.
Lil Nas X net worth
Fans admire Nas X because he started as a little known meme creator but is now a star who is recognised internationally. He inspires and motivates young people to start pursuing their interests and passions using the available resources. From his career as an online sensation and now a rapper, he has made a considerable amount of money. Lil Nas X net worth is estimated to be $4 million.
Lil Nas X gay
Is Lil Nas X gay? Yes, he is openly gay. At the beginning of June 2019, the rapper boldly came out to his father and sister. It took a ton of courage for him to do so. However, that was only the beginning of the journey. A voice inside pushed him to come out to the entire world, even though he was not sure whether his fans would accept him or not.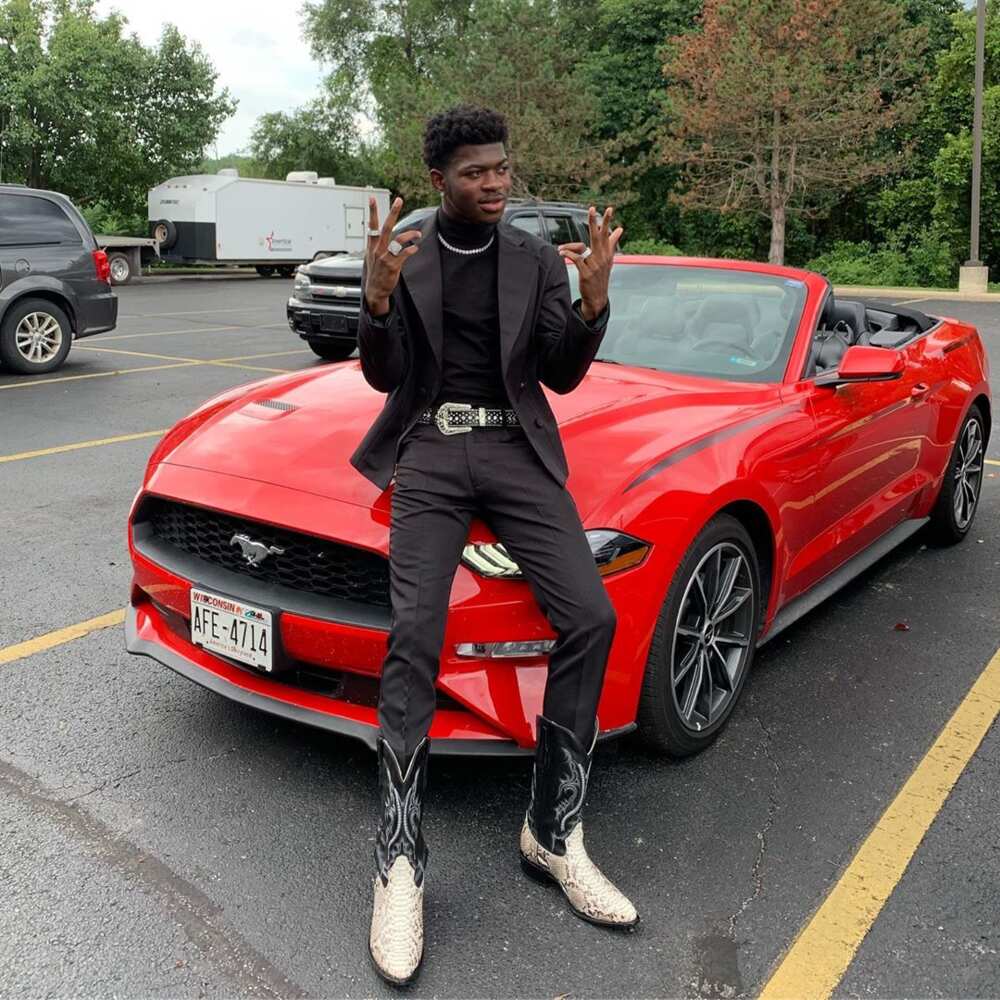 On the 30th of June 2019, a day that was also the last day of Pride Month, the rapper came out in public through a Tweet. He openly came out as gay. His tweet read;
"Some of y' all already know, some of y' all don't care, some of y' all not gone fwm no more. but before this month ends I want y' all to listen closely to c7osure."
C7osure is a song that talks about growing up, unravelling the truth and embracing oneself. A few days later, Panini Lil Nas X appeared on BBC Breakfast. He publicly stated that he was a gay man who understood that his sexual orientation is yet to be fully and readily accepted in the rap and country music communities.
When Lil Nas gay news spread, he received loving and supportive messages as well as severe backlash from different people. He responded to the homophobic comments by stating that they mostly came from the hip hop community where homophobia is prevalent. He continues to spread the message of love, acceptance and tolerance regardless of the backlash.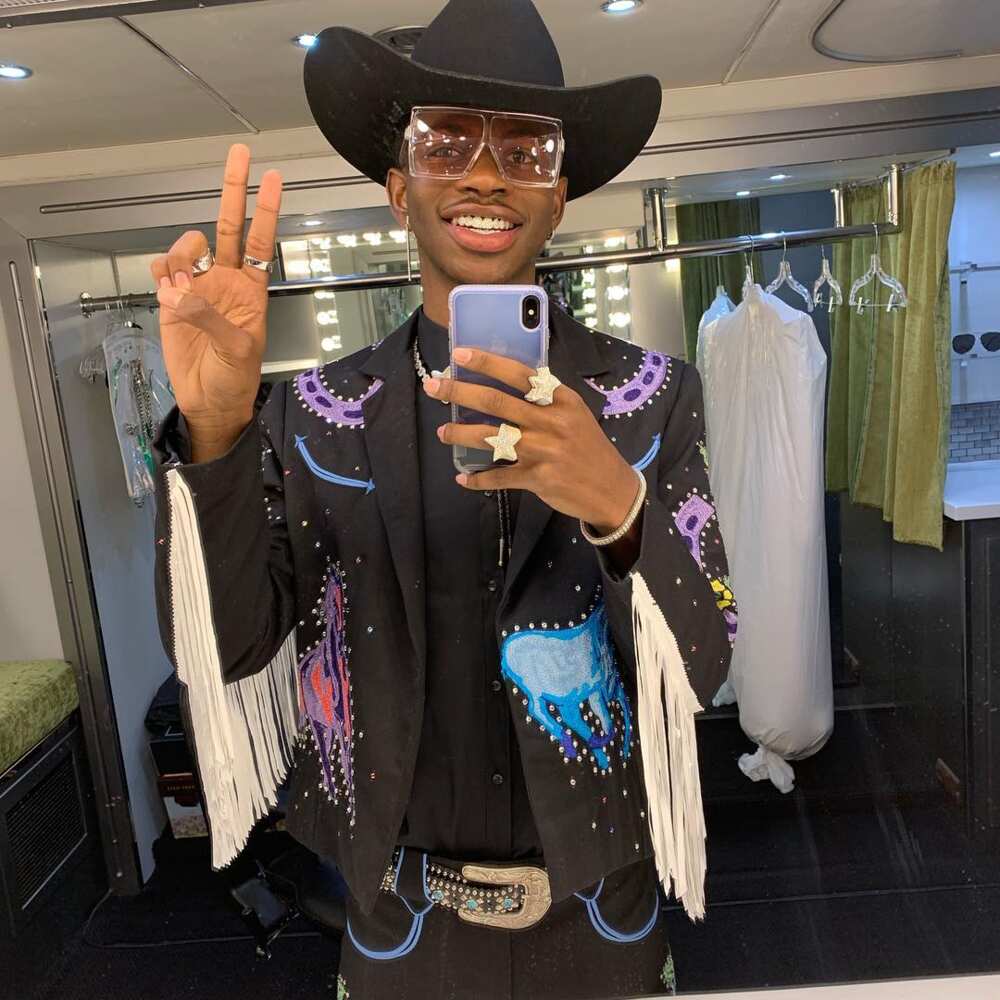 Some of the loving and supportive messages he received from his fans are;
@eyeofscottie: just a friendly reminder for pride month: whatever you identify as, you are valid. Even if you don't know what you are and are unlabeled soup, you are valid and important. If you're labeled soup, that's cool too. Stay true to who you are, whoever he/she/they/y' all may be.
@FightCentralTV: Ik what you're talking about and I accept you bro, everyone should tbh you coming out shouldn't change people's views about you cause at the end of the day you're still the same lil nas X we all know and love!
@iknowplacesmp6: Proud of you! Sorry you had to deal with the people trying to force you to say it before you were ready, but I'm so glad you were still able to do it on your own terms!
@darrylstephens: You have just given a whole generation of kids the courage to be themselves. Thank you, young brother.
@jason_wrights: It does not hurt to accept another that is not hurting anyone. In fact, acceptance decreases harm. If we all let people be themselves, for their merits, and admire good, kind people, as he seems to be, we would be happier. Hate does not make life better.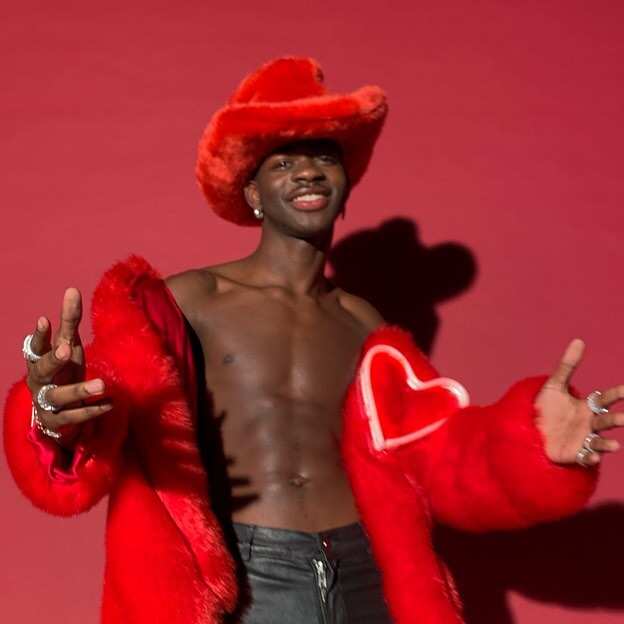 Fashion sense
Nas X is known for his unique sense of style and fashion. His signature look is that of a glamorous cowboy. The rapper works closely with his stylist, Hodo Musa to give the cowboy an aesthetic glam appearance. His stylist looks for playful, colourful, electric and futuristic pieces that make Nas X outstanding. The rapper also works with Wrangler, a brand that sells Nas X co-branded clothing items.
Honours, nominations and awards
In July 2019, Time named Hill one of the 25 most influential people on the internet. The recognition was as a result of the rapper's ability to drive news and for having a worldwide impact on social media. The nominations and awards that the star has received so far include;
MTV Video Music Awards (VMA)
In 2019, Hill won the award of Song of the Year alongside Billy Ray Cyrus for the song, Old Town Road. The song was also nominated for the Video of the Year, Song of Summer, Best Hip-Hop song, and Best Collaboration awards. Hill was also nominated for the award of Best New Artist.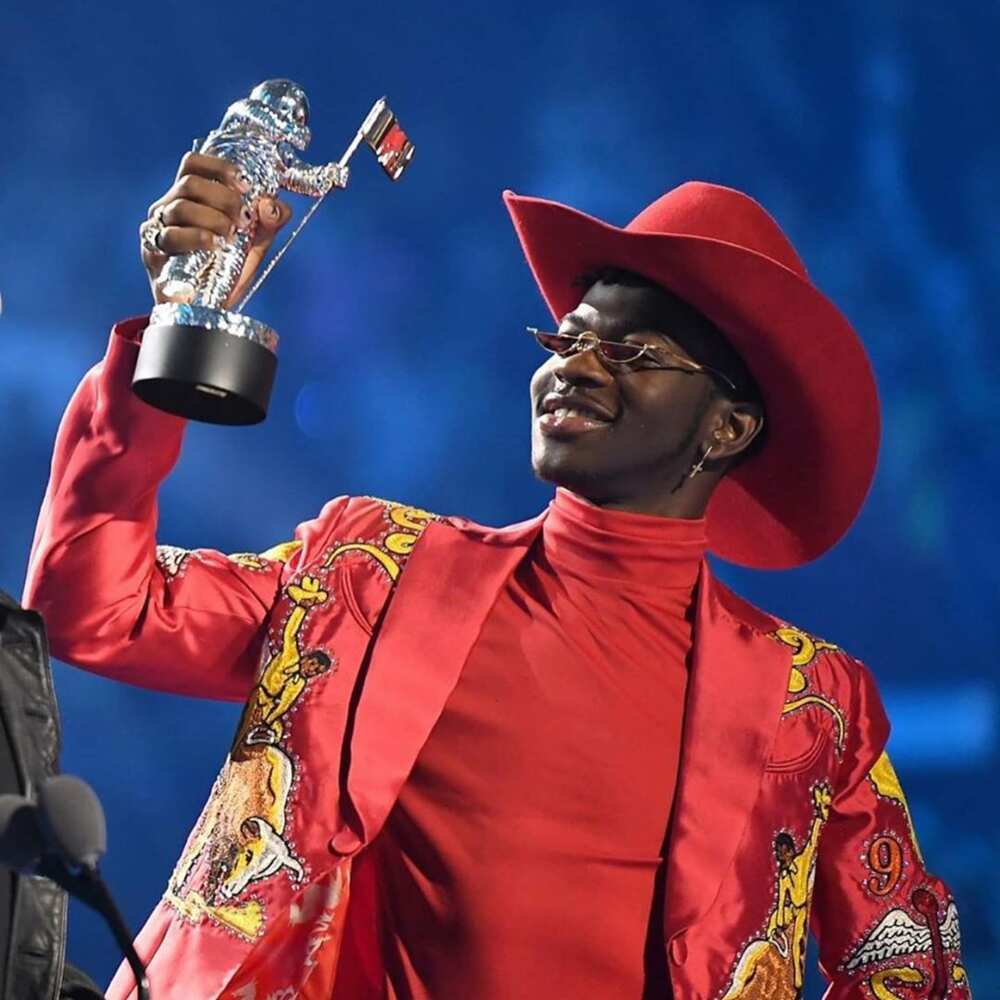 Teen Choice Awards
In 2019, Hill was nominated for the Choice Male Artist and Choice Breakout Artist awards. His song, Old Town Road, was also nominated for the awards of Choice Song: Male Artist and Choice Collaboration. The song won the award of Choice R&B Hip-Hop Song, an award he shared with Billy Ray Cyrus.
CMA Awards
On the 28th of August 2019, Old Town Road (remix) was nominated for the CMA Awads.
Social media accounts
Lil Nas X has an active social media presence. After all, he first attracted the attention of the world through his comedy on these platforms. He has a Twitter account with at least 2.8 million followers. He also has an Instagram account with at least 4.3 million followers. Through these pages, his fans get to see all the wonderful memes and comedies that he has created so far. Presently, he is using his social media accounts to promote his music. He also posts messages of love, inclusion and tolerance regardless of one's sexual orientation.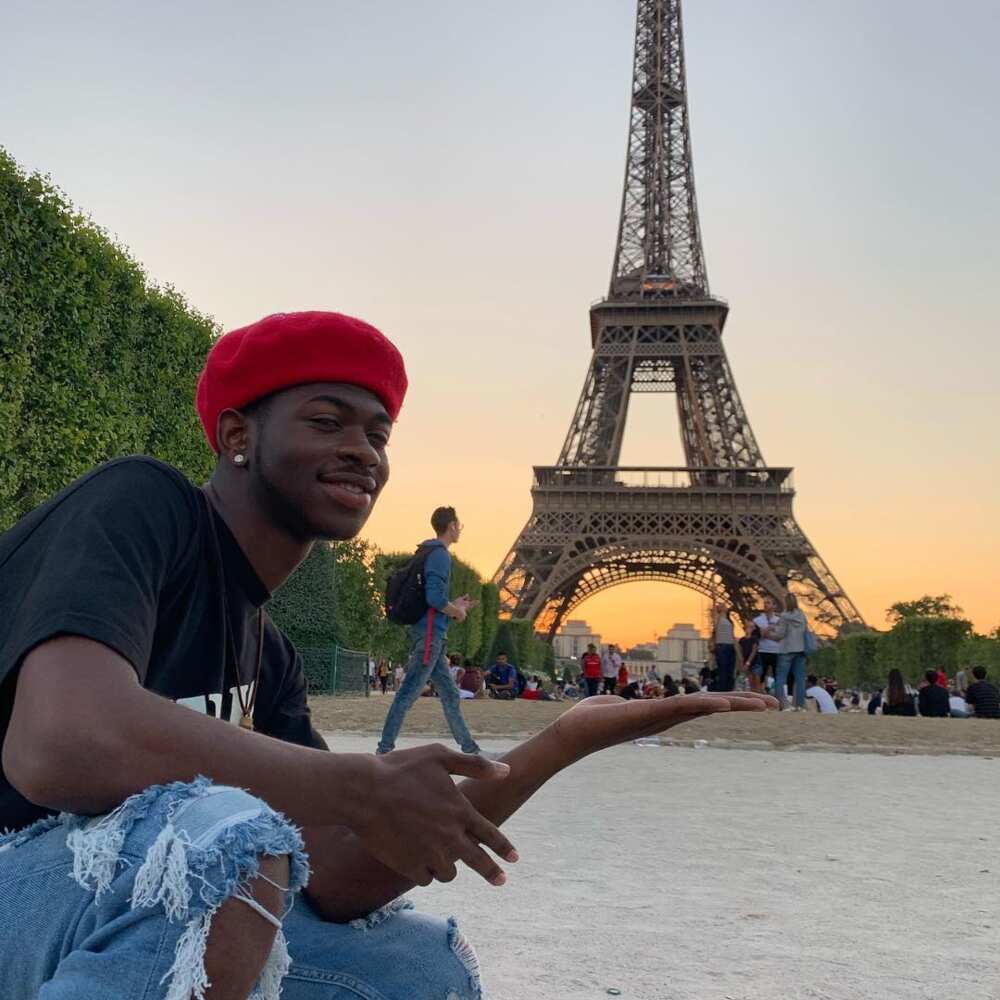 The star also has a YouTube channel. The channel has over 5.5 million subscribers. Fans can watch and listen to all his music releases on this platform.
Lil Nas X, whose real name is Montero Lamar Hill, is an American star. He is now a famous rapper who recently came out as gay. Before his breakthrough in the music industry, he was an online star who posted viral memes and comedy content. The young star is passionate about creating a community where people love and embrace each other regardless of their sexual orientation.
Source: Legit.ng