Chizzy Boy - As ft. Barry Jhay: video, reactions
The talented Ubagu Entertainment artist, Chizzy Boy, is taking the music industry by storm. This time around, he has released a banger titled "As" that features another talented artist, Barry Jhay. The banger, Chizzy Boy - As ft. Barry Jhay, is one of the hottest jams currently. Its great video scenes, quality, and lyrics have made this song a significant hit.
The famous and talented artist of Ubagu Entertainment has added another banger to his fantastic list of top songs; Chizzy Boy - As ft. Barry Jhay. It is one of those songs that tend to leave you in a romantic yet chill vibe. When you listen to this track, you cannot help but add it to your favorite music list.
Chizzy Boy - As ft. Barry Jhay description
Release date: 19th August 2019
Length: 4:02 min
Format: video and mp3
Producer: Killertunes
The Ubagu Entertainment artist has released the video to the brand new masterpiece record titled "As." It features Cash Nation wonder kid, Barry Jhay, who has taken the single to another level with his epic lyrics. The tune has been produced by the talented Killertunes.
Chizzy Boy - As ft. Barry Jhay reactions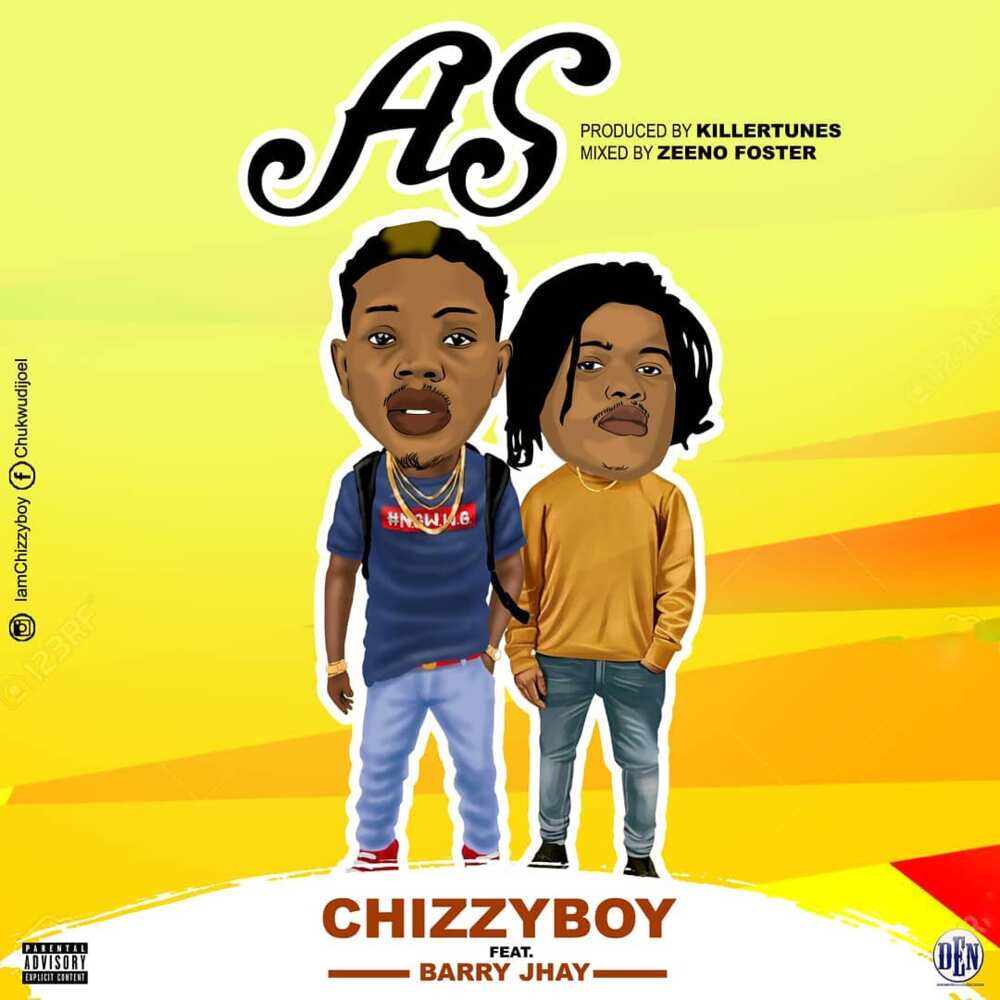 The video of this melodious track has finally been released, and fans of the Cash Nation artist and Ubagu Entertainment artist are more than happy. These are two artists who are popular in the showbiz entertainment business, and specifically, in the music industry, due to their epic lyrics and great music videos. "As" is a footage released by the two artists showing why the two are the best at what they do. People who have enjoyed the video of this banger have shared their opinions and reviews in YouTube with comments such as:
Game Hunter: Dope
Ayodeji Olayemi: Nice one
SiYAH KALE: Chizzy nice song
XxxRest56xxx: One of the best out of Africa chizzyboy
Tygar Ilkem TV: You guys rock
Baran T.O: I love this video
When the official audio of the song was released, fans were anxious to see the video since it had rich lyrics. The vibe and melody of the tune are appealing. These features made fans anticipate the footage of the banger.
The video of Chizzy Boy - As ft. Barry Jhay has been released, and it is quickly becoming everybody's favorite video. The scenes are incredible and so is the quality of the footage.
What is your opinion about Chizzy Boy - As ft. Barry Jhay? Do you think the tune is a hit? Share your thoughts about the track with us today in the comments section below.
Source: Legit.ng