Champions League Draw 2019: groups, teams to watch out for, group of death
The 2019/2020 Champions League Draw took place in Monaco on August 29. The draw included thirty-two European clubs divided into eight groups. The UEFA Champions League is one of the world's most prestigious tournaments as well as Europe's elite club competition. The participating clubs compete for the title of Europe's best football club.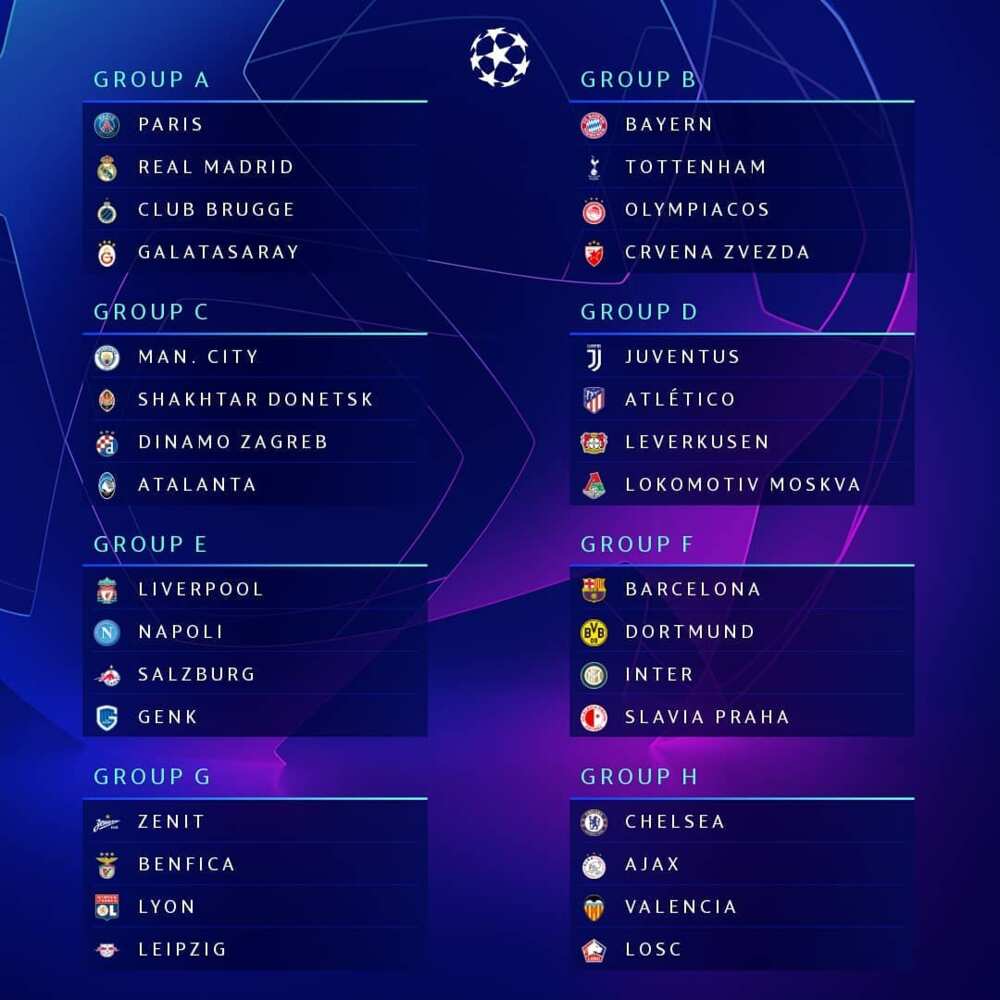 The 2019 Champions League Draw elicited mixed reactions as fans gauged their teams' chances of progressing past the group stages. One of the most exciting draws is undoubtedly Group F. The group features Slavia Prague, Barcelona, Borussia Dortmund and Inter Milan. If all the teams in this group play to their full potential, fans will be treated to some of the competition's most mouthwatering fixtures.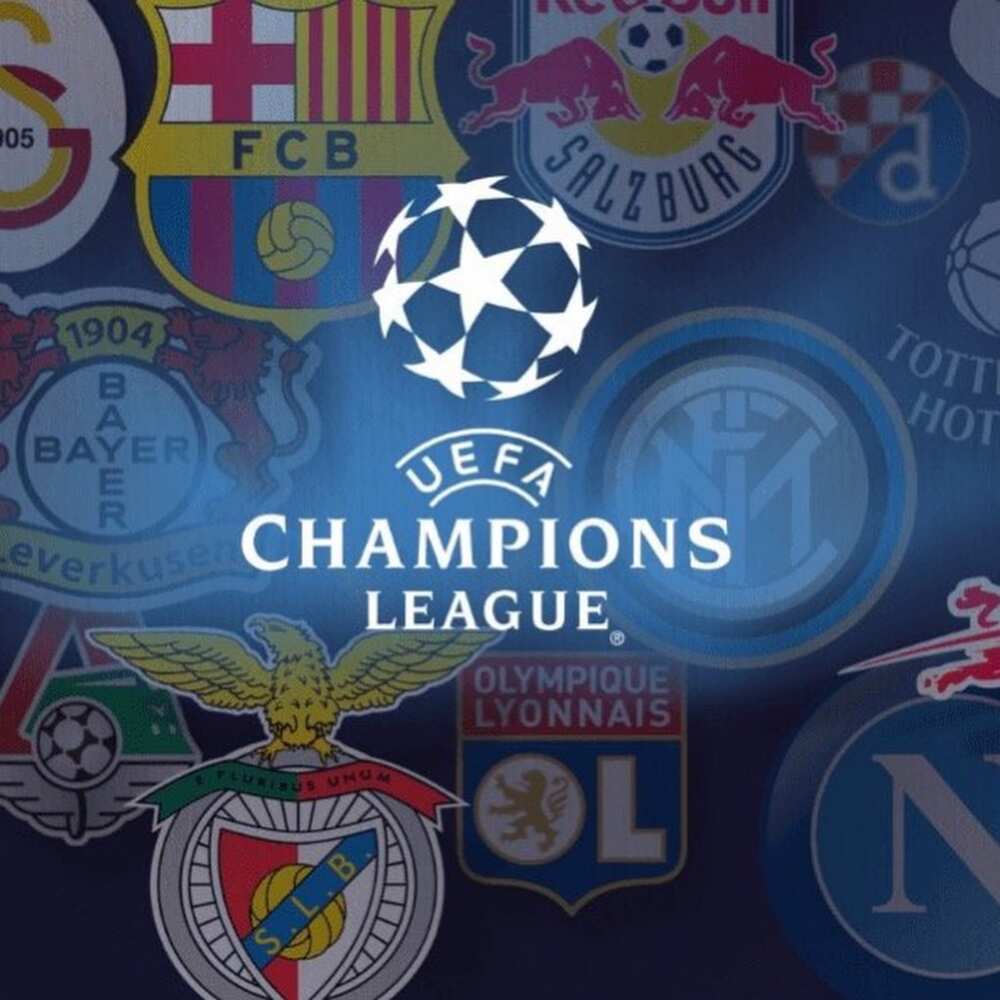 2019/2020 Champions League Draw
Here is a breakdown of the UEFA Champions League groups.
Group A: Real Madrid, PSG, Club Brugge and Galatasaray
PSG's Kylian Mbappe will be the main to watch out for in this group. Four years ago, Real Madrid and PSG faced off in the group stages. The Spanish giants carried the day and proceeded to win the tournament. PSG, on the other hand, advanced to the quarterfinals of the competition. It will be worth noting that the current iterations of these teams have fallen behind in terms of flair, attack and general football prowess as compared to what they were four years ago.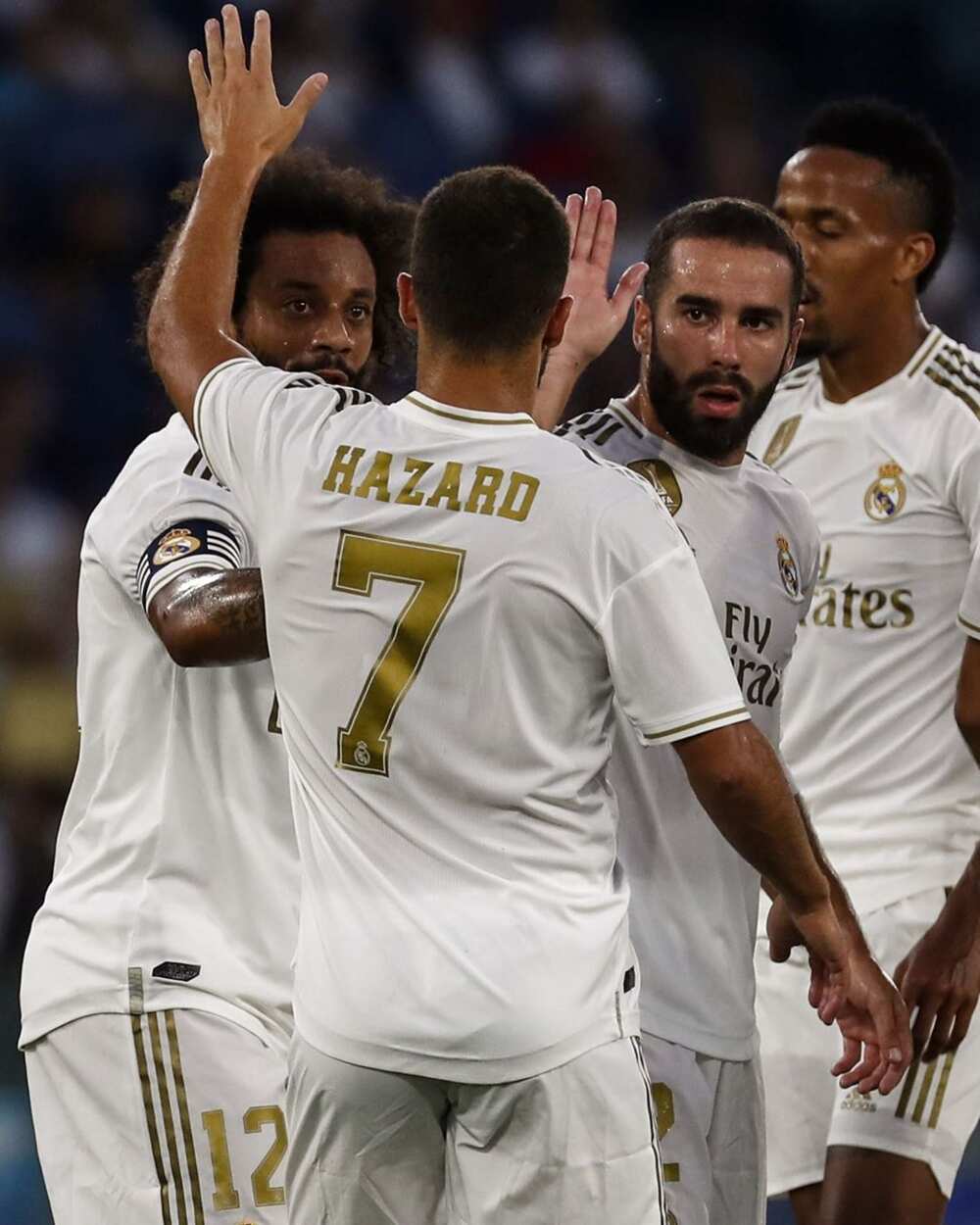 Real Madrid and PSG will be grateful that they avoided the strongest teams in the lower selection pots. Madrid will be hoping that Gareth Bale's experience in Europe's elite competition will be of help. The team's new signings, Luka Jovic and Eden Hazard are yet to discover their form. Club Brugge and Galatasaray complete the first group. Brugge recently signed Simon Mignolet and will have the upper hand against Galatasaray in achieving the group's third position.
Team to watch: PSG
Player to watch: Kylian Mbappe
Group B: Bayern Munich, Tottenham Hotspur, Olympiakos and Red Star Belgrade
Tottenham will be looking to avoid a repeat of last season's calamity when they were forced to salvage their chances of advancing from the group stages. Mauricio Pochettino's men will be taking nothing for granted. Bayern Munich, on the other hand, has undergone significant squad changes. Hummels, Rodriguez, Robben and Ribery have all left the team. Hernandez, Pavard, Perisic and Coutinho have joined the German giants. The new signings will undoubtedly bring some new energy to the team. Star striker, Robert Lewandowski is still in great form for Bayern.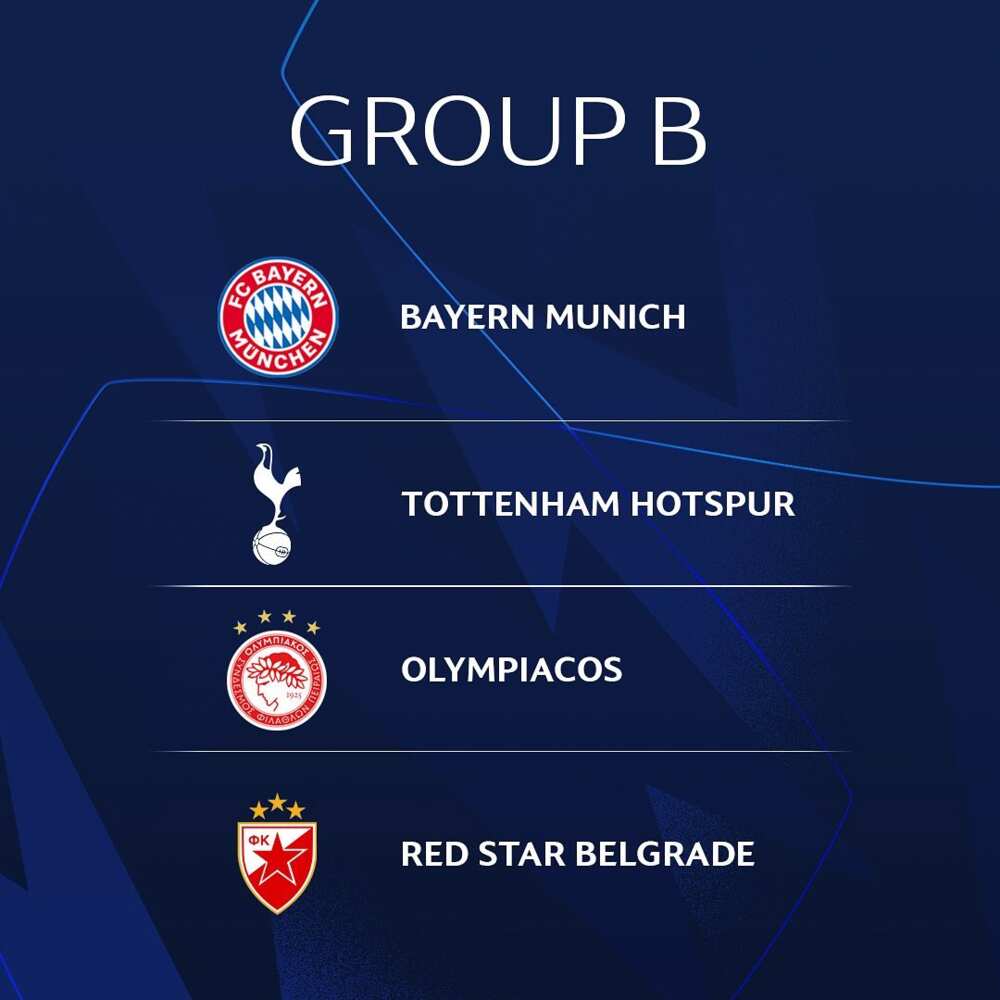 Tottenham could suffer a massive blow if they lose one of their star players, Christian Eriksen. Spurs will also be wary of the Serbian team, Red Star Belgrade, which beat last season's champions, Liverpool, in the group stages. The last team pick of the group was Olympiakos. The Greek outfit beat Krasnodar in the Champions League playoffs earlier this week. The team has also advanced from the group stages four times before. However, it will be a challenge for Olympiakos to beat Red Star to the third position.
Team to watch: Bayern Munich
Player to watch: Christian Eriksen
Group C: Manchester City, Atalanta, Shakhtar and Dinamo Zagreb
Manchester City received what can be regarded as a kind draw. While they may be banned from the Champions League in the coming months, the chances of being knocked out are rather slim right now. The English team will face Shakhtar Donetsk for the third season in a row. City beat Donetsk by six goals to nil the last time the teams met. Shakhtar, on the other hand, has not lost a domestic league match for more than a year now. The team might, however, be affected by their former manager's departure to AS Roma.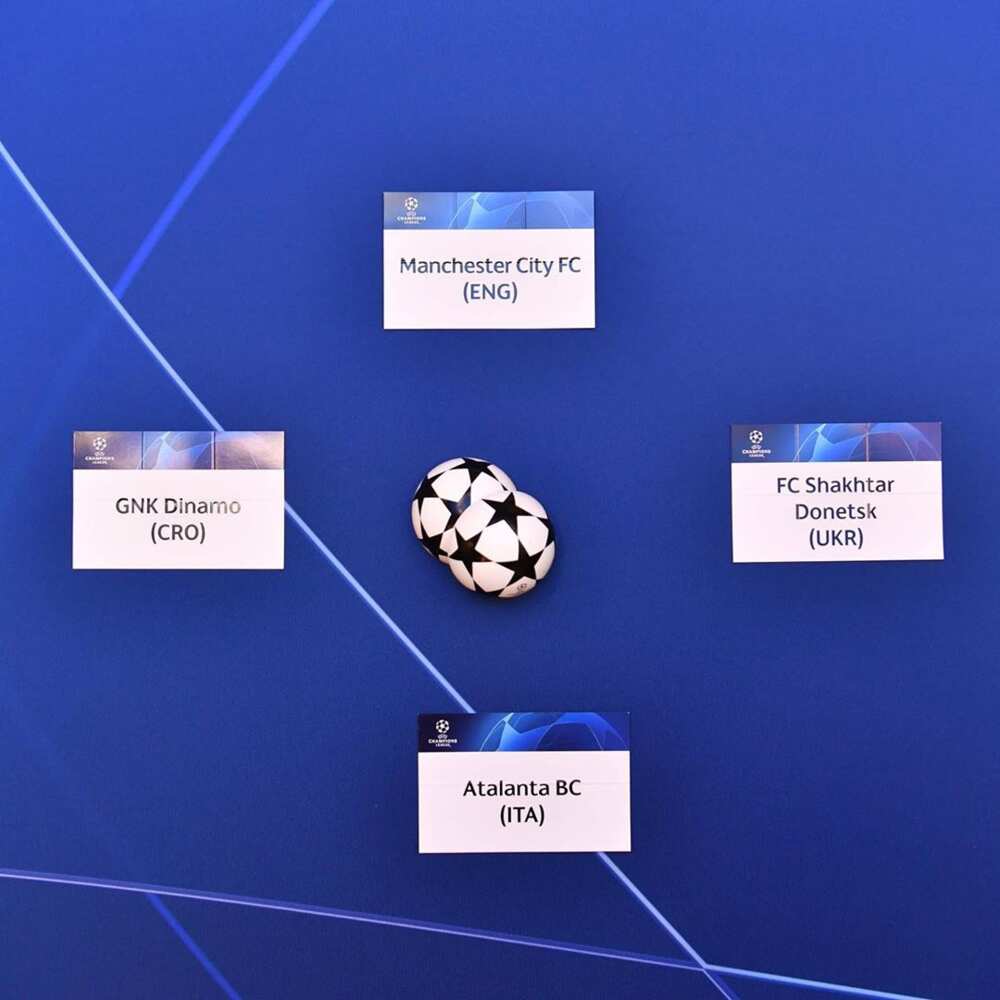 Dinamo Zagreb last made a group stage appearance four years ago when they beat Arsenal. However, that victory was followed by five consecutive group stage losses. The team will be relying heavily on the famed atmosphere at their home ground, the Maksimir Stadium. Atalanta completes the third group of this year's draw. The Italian team played fantastic football last season under the guidance of Coach Gian Piero Gasperini. The addition of Martin Skrtel to the squad will strengthen their defensive abilities.
Team to watch: Atalanta
Player to watch: Raheem Sterling
Group D: Prediction Juventus, Atlético Madrid, Bayer Leverkusen and Lokomotiv Moscow
Atlético Madrid will be looking to avenge last season's defeat at the hands of Juventus. The Italian giants overturned a two-goal deficit to beat Atlético in last season's round of sixteen. Juventus star player scored a hat-trick to send the Spanish team crashing out of the competition. However, the ageing forward will know that his chances of a fifth Champion's League title are quickly fading.
Juventus now features a stronger squad after the arrival of Aaron Ramsey, Matthijs de Ligt and Adrien Rabiot. Goalkeeper Gianluigi Buffon is also available for selection. There have been rumours of possible departures by Mario Mandzukic and Paulo Dybala although these are yet to be confirmed. Atlético Madrid, on the other hand, has strengthened its squad with new signings such as João Félix and Kieran Trippier. Antoine Griezmann's departure from the team seems to be having no effect yet.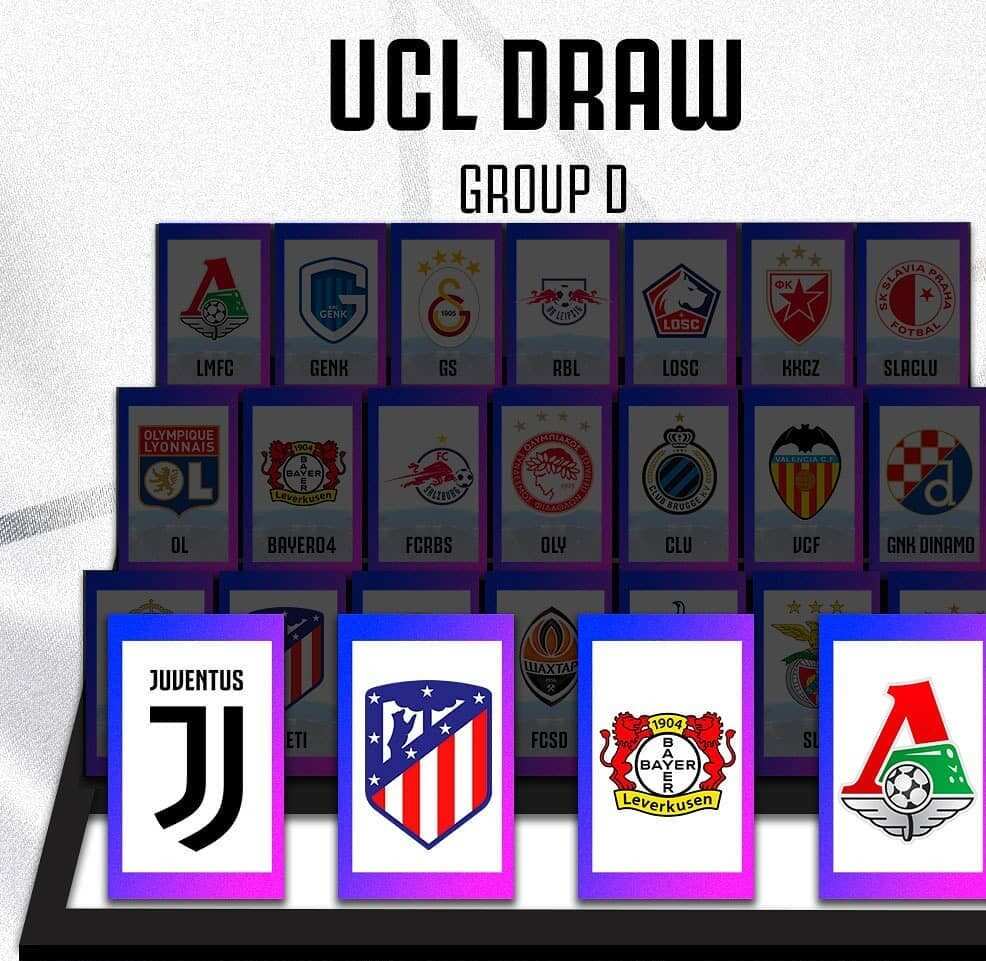 Bayer Leverkusen recently lost Julian Brandt to rivals, Borussia Dortmund. The transfer could end up proving costly for the Germans. Lokomotiv Moscow will not be expected to trouble the other group D teams.
Team to watch: Juventus
Player to watch: Cristiano Ronaldo
Group E: Liverpool, Napoli, RB Salzburg and Racing Genk
Reigning champions, Liverpool, have been drawn favourably. The team traded wins with Italian giants, Napoli, last season. This season could be somewhat different since Carlo Ancelotti's is significantly stronger. The team has seen the arrival of Hirving Lozano from PSV Eindhoven and Kostas Manolas from AS Roma. Manolas was one of the player's credited for Roma's famous victory that eliminated Barcelona from the Champions League two seasons ago.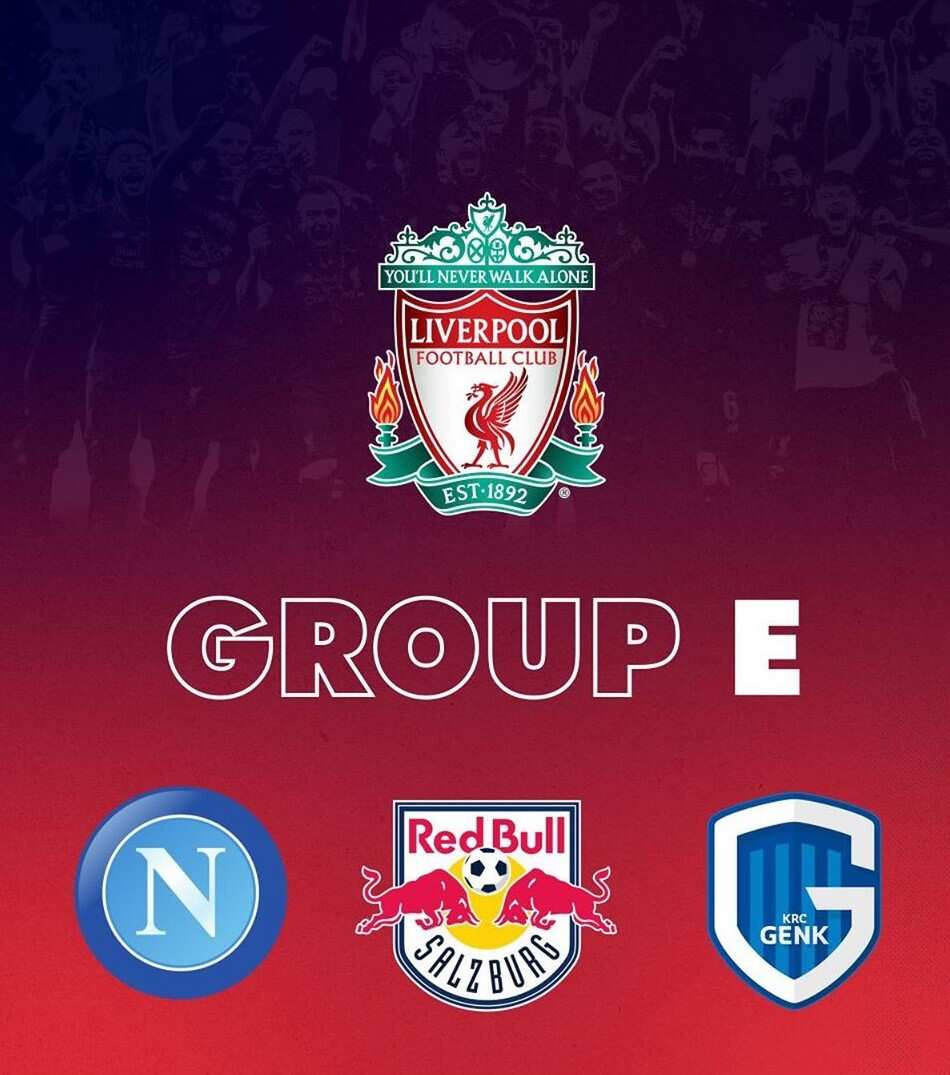 Red Bull Salzburg will come into the competition after a series of near-misses. However, the relatively young team will undoubtedly cause problems despite their manager leaving for Borussia Monchengladbach before the start of the season. Liverpool's Naby Keita and Sadio Mane will face their former team when they play RB Salzburg. Sekou Koita will be the main Salzburg player to watch out for. Racing Genk will be making their first Champions League appearance since the 2011/2012 season and will probably cause no problems for the other teams in the group.
Team to watch: Liverpool
Player to watch: Mohamed Salah
Group F: Prediction Borussia Dortmund, Barcelona, Inter Milan, Slavia Prague (group of death)
After the recent draw, Group F was widely regarded as the group of death. Inter Milan will be back in the Champions League after last reaching the knockout stages in the 2011/2012 season. The additions of Diego Godin, Romelu Lukaku and Alexis Sanchez have shown that the Italian team means business. Antonio Conte also arrived from Chelsea to manage Inter, and that should provide sufficient challenge for Barcelona and Dortmund.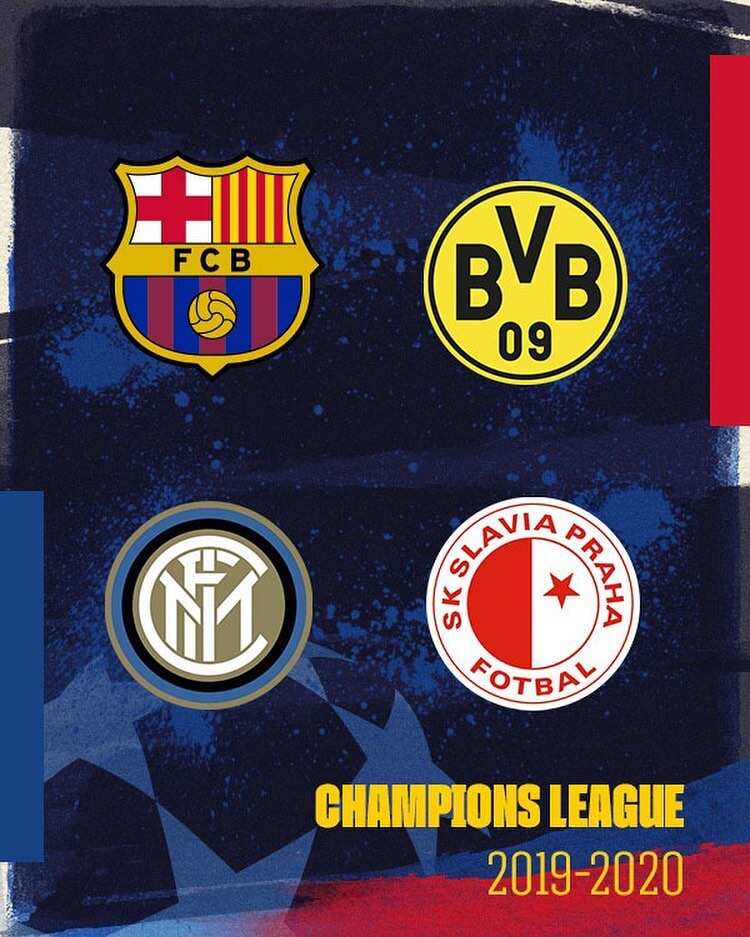 Barcelona faced off with Inter Milan last season with the match ending in a draw at the San Siro. This time though, the Italians will want to capitalize on Lionel Messi's absence and the fact that new signings, Antoine Griezmann and Nigel de Jong are yet to settle into the squad. Dortmund, on the other hand, is looking stronger than ever. The team has breezed through their Bundesliga opening fixtures and will feel boosted by the return of Mats Hummels. If every team steps up, this could easily be the most entertaining group to watch.
Team to watch: Inter Milan
Player to watch: Antoine Griezmann
READ ALSO: Champions League draw: Liverpool, Chelsea could land in Group of death
Group G: RB Leipzig, Lyon, Benfica and Zenit St Petersburg
This is perhaps the most evenly-matched group in this year's Champions League. Group G could end up in any way although RB Leipzig has the best chances of topping the group after the matches. Zenit St Petersburg and Benfica are arguably the best teams in their respective pots and will fancy their chances of advancing past the group stages.
RB Leipzig finished third in a similar evenly-matched group two seasons ago and look set to improve on that this time. Julian Nagelsmann's reign at RB Leipzig has started with some impressive wins in the German top-flight league. The team has also retained vital players and added former PSG midfielder Christopher Nkunku to the squad. Timo Werner will be the main man to watch for the German side.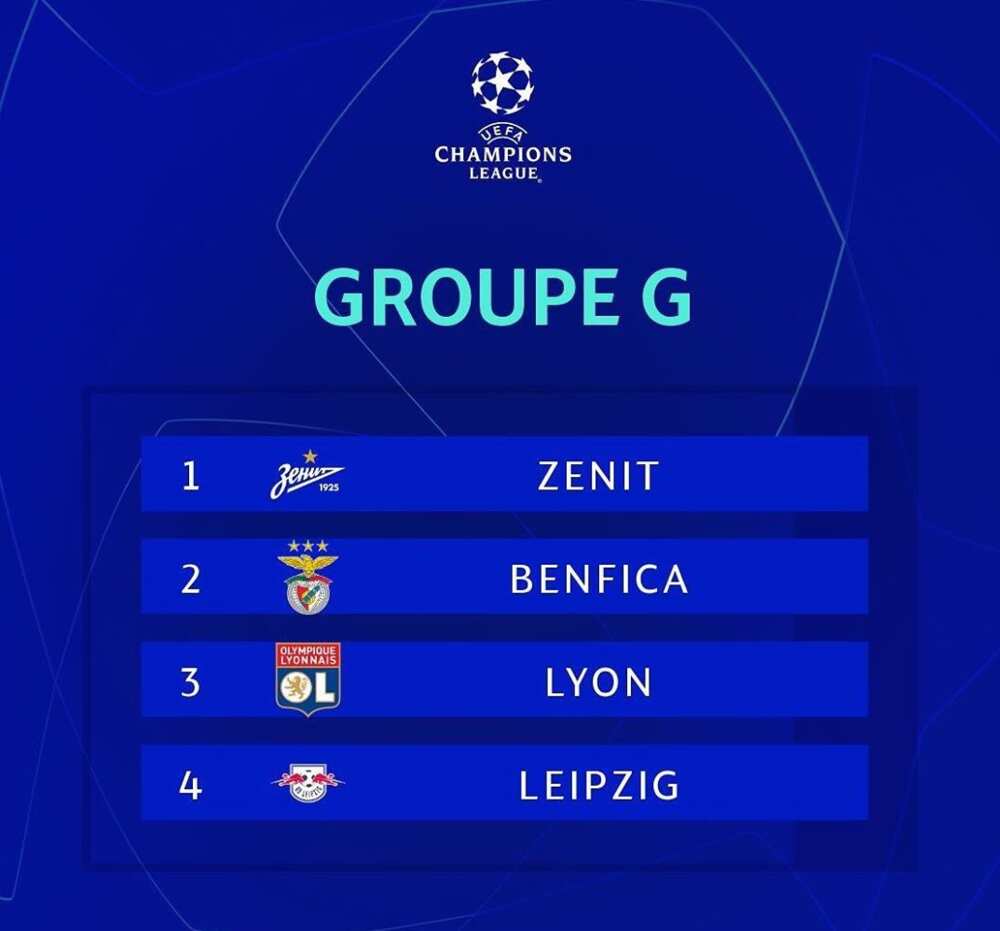 Olympique Lyon upset Manchester City last season, but the team is unlikely to pose a significant challenge this time. The departure of star players such as Ferland Mendy, Nabil Fekir and Tanguy Ndombele will undoubtedly be felt. However, the team can count on striker Moussa Dembélé to keep the goals coming.
READ ALSO: Champions League draws: Football fans react after Man City grouped with easy opponents
Team to watch: RB Leipzig
Player to watch: Timo Werner
Group H: Ajax, Chelsea, Valencia and Lille
Chelsea recently lost Eden Hazard to Real Madrid and David Luiz to Arsenal. They will feel relieved at avoiding the heavyweights from the lower pots. Ajax, on the other hand, will have to deal with the departures of star players, Matthijs de Ligt to Juventus and Frenkie de Jong to Barcelona.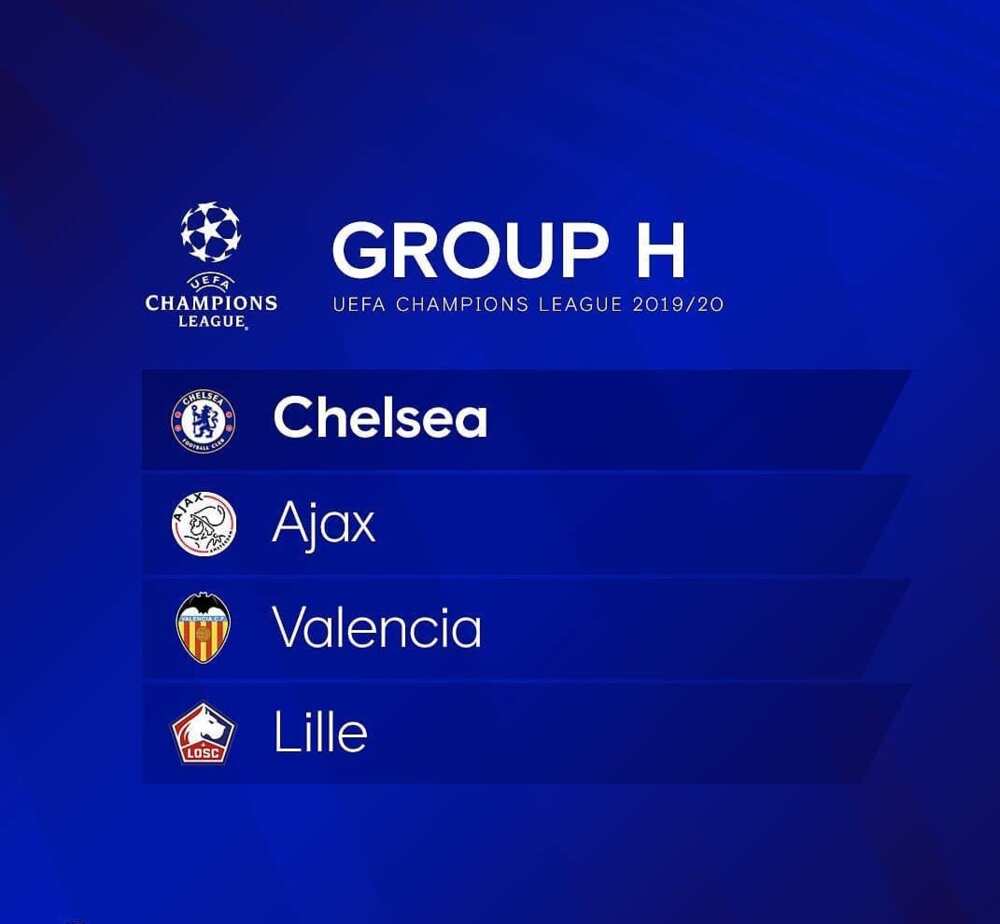 Chelsea's manager, Frank Lampard, will fancy his chances of beating Spanish team, Valencia, Chelsea has not lost to Valencia in the Champions League on their previous six meetings. The Spanish side will, however, feel boosted by Maxi Gomez's presence as well as the arrival of goalkeeper Jasper Cillessen from Barcelona. Lille will be hard hit by the departure of several key players such as Thiago Mendes, Rafael Leão and Nicolas Pépé.
Team to watch: Ajax
Player to watch: Donny van de Beek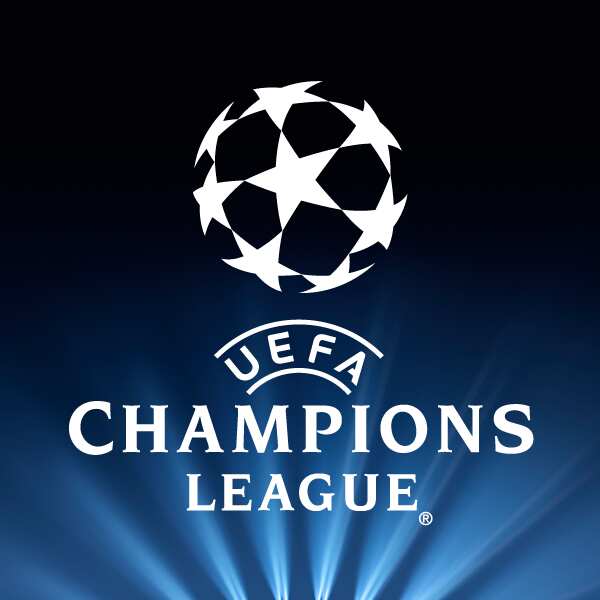 The 2019 Champions League Draw was met with mixed reactions by fans, managers and the football world in general. We can expect some exciting matches, as has always been a staple of the European club competition. It will be fascinating to see which teams advance from tough groups such as Group G. The football universe will undoubtedly be waiting for the start of the matches on September 17, 2019.
READ ALSO: Lionel Messi named UEFA Champions League forward
Source: Legit.ng