A 21-year-old Nigerian man, Kennedy Ekezie, was honoured by the Queen of England, Queen Elizabeth II, with Queen's Young Leaders Award in 2018 for raising grant to start a mentorship programme for young Africans all over the world. He was one of the youngest people to ever receive the honour.
Ekezie who is currently in China studying for his master's degree spoke exclusively with Legit.ng on living above waters in Nigeria and being a youth activist. He also charged the Nigerian youths on the responsibility ahead of them in taking the country to a greater height by creating a country they desire.
As a student of University of Calabar, you were a shining light in youth activism, what motivated you to toe that line?
I have been deeply motivated to pursue interests that enable me to create large-scale impact wherever I am and with whatever I have.
This in some part comes from having a charismatic family that supported me, despite the challenges and limitations we had. They taught me not only to value education, but that education can is a powerful tool to create social change, especially in the socio-political context of Nigeria, with problems tied to bad leadership. This inspired me to strengthen my work ethic to be better equipped to lead in spheres where I found myself.
It also came from deep-seated knowledge that there is no one with the responsibility to create the future we want, but us. Young people comprise over 60% of the Nigerian population. So, I thought that the responsibility to create the country we want to live in by 2060 is solely ours.
What is the correlation between you studying philosophy and the part you have chosen even as a youth?
If there was any subject that taught you to define and choose a path to follow, it is philosophy. And that was one of my biggest takeaways from studying philosophy in my undergraduate degree. I spent my final year researching and studying the various philosophies that guided the organization of pre-colonial African societies. That was a very personally uplifting year because, through studying African philosophy, I got exposed to the cultural foundations of my society, and the need for us to return to them, as an antidote to the social problems we experience in this day.
How did the Queen of England get to know about your lofty work as a youth?
The Queen's Diamond Jubilee Trust set up the Queen's Young Leaders Award, and between 2015 and 2018, 60 young people received the Queen's Young Leaders Award from Her Majesty at Buckingham Palace. In 2018, the final year ever, I was selected as a recipient of the award, one of the youngest people to ever receive the honor.
What are you into now?
I graduated from University of Calabar in 2017, and I am currently finishing my master's degree.
Are you based in Nigeria or UK?
I have spent all my life in Nigeria. I spend more time in China these days where I am completing my master's degree as a Yenching Scholar.
In what ways are you touching lives of Nigerian youths?
Well, maybe I am doing that by trying to aim for the best version of myself. It is a journey, and as Nelson Mandela said, "the struggle is my life", so I hope to continue on this path, and continue to inspire people (young and old alike).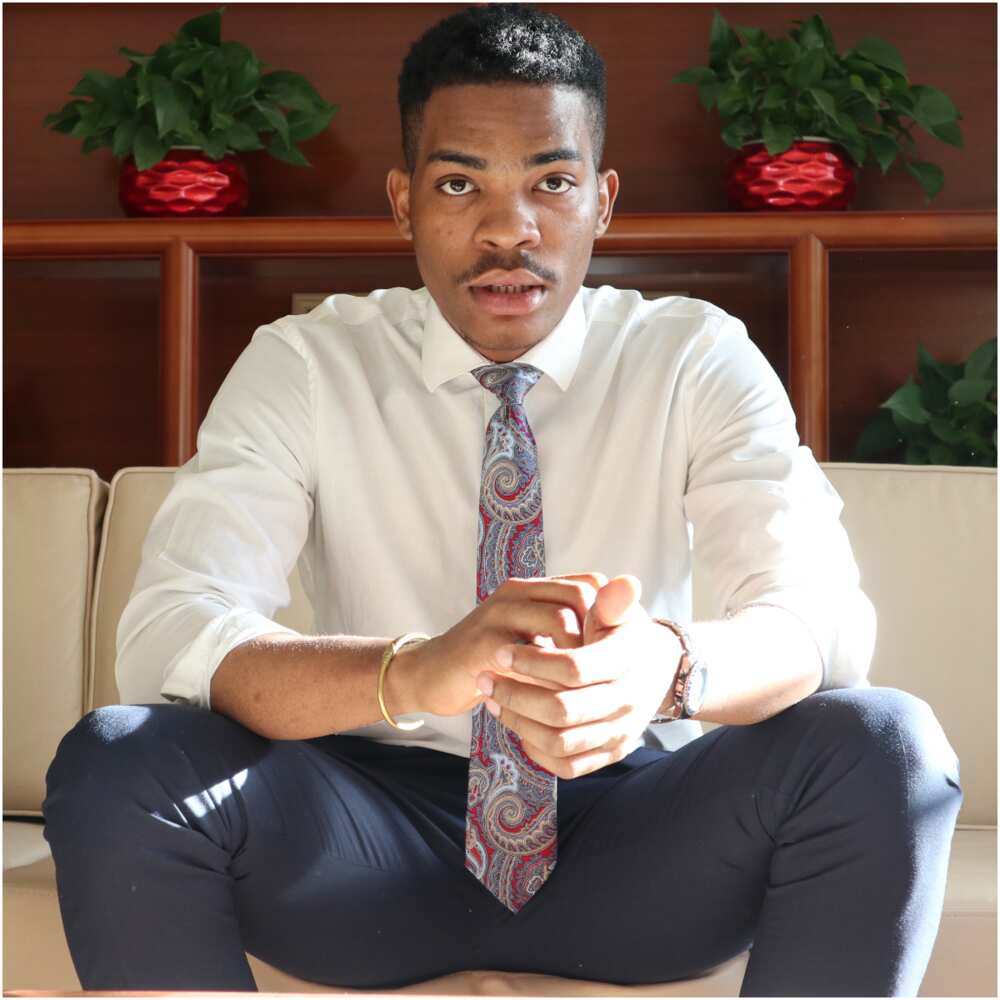 Has Nigerian government invited you on your honour by the Queen?
No.
It is a good thing Nigeria have someone like you in this era when some youths are involved in many vices like Yahoo Yahoo, hard substance abuse and others. What advice do you have for them?
There is an idea that has led to the development of many societies. Tough times create strong men. Thus, the response to the socio-economic difficulty and inequality that young people face should not be a further decline to irresponsibility and evil, but a call to responsibility. We must embrace hard problems and continue to solve them. This requires deep cultural commitment to an ideal of collective prosperity. We, young people are charged to build that. Generally, being African goes beyond wearing Afro and having the best music in the world; it comes with hard responsibilities that we must all collectively share.
PAY ATTENTION: Install our latest app for Android and read the best news about Nigeria
What can the Nigerian government do to help the youths in this trying time of the country?
Well, as every government ought to do, create enabling conditions for businesses to thrive. The government must enable the private sector and increase the role of market mechanisms in the economic system. Recruit bright people to contribute to policymaking and advising. The problems that we face in Nigeria require a structural overhaul that takes time. The government needs to lay the foundations for this by creating policy frameworks that can yield socio-economic development. Additionally, we need to invest in leveraging the human capital we possess. Nigeria is the largest population in Africa. Africa is the youngest continent in the world. Our abundant youth talent needs to be provided skills and education in line with national development goals. For many businesses in Nigeria, finding reliable talent is the biggest challenge because despite the large population, demand still outstrips good supply.
What are your parting words for the Nigerian youths?
You are the wellspring of ethical actions that replenish the dying world. May we continue to strive for the good. There is a kind of striving for good that isn't virtuous. May we stay away from that.
HELLO! NAIJ.com (naija.ng) upgrades to Legit.ng We keep evolving to serve our readers better.
Top 4 Most Influential Nigerians in the World: Nigerians in Top Positions | Legit TV