Chad Da Don – Same Shit Different Day ft. Emtee: audio, lyrics, reactions
Welcome a new awesome hit. The brand-new banger by Chad Da Don – Same Shit Different Day ft. Emtee will leave you listening to it on repeat.
Do you want to know how good a collaboration between these two artists can be? Give this song a listen and enjoy the masterpiece the two have created.
Chad Da Don – Same Shit Different Day description
Released: 16 August 2019
Format: audio
Genre: hip-hop
Length: 3:42
Label: D.C.M. Entertainment
The song does not have an official music video yet, but judging from its quality, the video should be op notch as well.
Chad Da Don – Same Shit Different Day reviews and comments
The song is a definite success. Just take a look at all these comments from both Chad Da Don's and Emtee's fans:
dacoolest_thandoh Miya: Fire fire fire
Nkanyiso Sandile: I really didnt see this coming this straight fire.
Vinoliah Simon: Yaaass
LION ROAARRR: welldone Chad Da Don
MatZeey AnekeSan: Well done boys, keep it up
The Instagram comments are encouraging as well:
avianblitz: THE BOYS DOING DAMAGE
tongspollution: Flames bosses keep the hustle going much respect to Chad and must say emtee you are the best rapper ever you should get a Grammy my G you the south African #LilWayne blessing upon your grind
teddyroxspank: #SSDD DO ANOTHER JOINT TOGETHER REAL SOON
hlengiwekalumba: Same shit just a different day, love the song
khaliaka: More fire
supabossnova15: Nice collaboration I'm in love with it
Many Emtee fans have accepted this track as a hymn to freedom because it has been only several days since the singer parted with Ambitiouz Entertainment. The song has received a real warm welcome, and fans are expecting more of this collaboration.
Chad Da Don – Same Shit Different Day lyrics
[Hook]
Same shit - just a different day
Same moves - just a different pace
Keep cool homey, stay in your lane
Call my goons, gotta hear what they say
Let loose and they lettin it spray
Never leave cause they want me to stay
Same shit just a different day
Same shit just a different
I am on, and I'm getting this bank
You here dying but you don't even think
I'm getting mine when she see me she came
Counting time 'til she see me again
Big dog, I can never be tamed
Home game got them staying away
Same shit just a different day
Same shit just a different 
[Verse 1] 
Real b*tch keep me company
She'll be in the front seat
Weed stash where my gun be
Her hands where my gun be
Surpassed all the mumbling
Work fast for the money              
First class out the country
Early-bird, never hungry
Look at me yeah
Look at me dancing, look at me now
Who give me up
She stand a chance; I knew it'd be us
Two double cups, we in the bando f*ckin it up
Heating it up, I ate that pus*y, made it erupt
If I put it in from the back bro
I swear you'll never get her back bro
She was nothing but a bad hoe
Seen it all from different angles
Two toes on a camel
Her dress code all camo
Fire shots like Rambo
Why they all want battles
You don't want this to get ugly
You don't even love me
Ain't no telling what it could be
I just know she wanna f*ck me
She tryna play us
Up in my bedroom, getting all naked
Told her I'm taken
That's when she told me she losin her patience
Back to the basics
 [Repeat the hook] 
[Verse 2]
I want the money in full
Give me a milli or two
I've been cooking in the kitchen
No, I'm not whippin the stu
I can't fly, stay on top
Just had a different view
I can't get a job
But I'm leaving soon
Niggas tryna kill me
I ain't goin out like that
I take your bitch, send her back to the man
Same shit, just a different day
And the objection is just to get paid
Uyaflex-a, you under pressure
Why you so extra, ungimoshel ixesha
Came up in the city, niggas know I'm widdit
I want my money back like Fifty
Niggas be hatin cause they ain't busy 
[Repeat the hook]
Chad Da Don – Same Shit Different Day download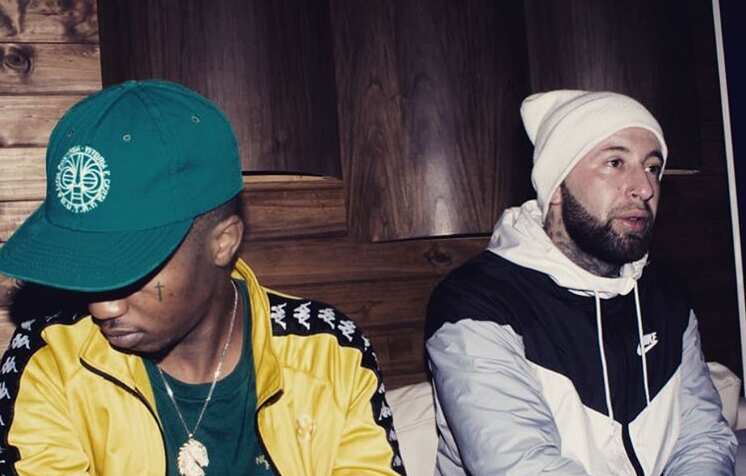 If you want this song on your playlist (the track is well worth it!), here are very reliable links where you can get it in the highest available quality.  
So, did you like the new banger created by these two talented musicians? You are welcome to share your opinion on Chad Da Don – Same Shit Different Day in the comments section. Also, kindly share the article with your friends who may also like the song and sing along with the help of the provided lyrics!
READ ALSO:
Efe - Scammer ft. Tulenkey: video, lyrics, reactions
Sho Madjozi - John Cena: video, lyrics, reactions
Kolaboy & Wonder J - Collect: video, lyrics, reactions
Source: Legit.ng