WWE SummerSlam 2019 was a PPV (pay-per-view) professional wrestling event produced by World Wrestling Entertainment (WWE). The SummerSlam event is one of the four PPV events produced by WWE. The other three are Royal Rumble, Survivor Series and WrestleMania. SummerSlam is considered the second biggest wrestling event of the year, only falling behind WrestleMania. The inaugural event took place at the Madison Square Garden on August 1998.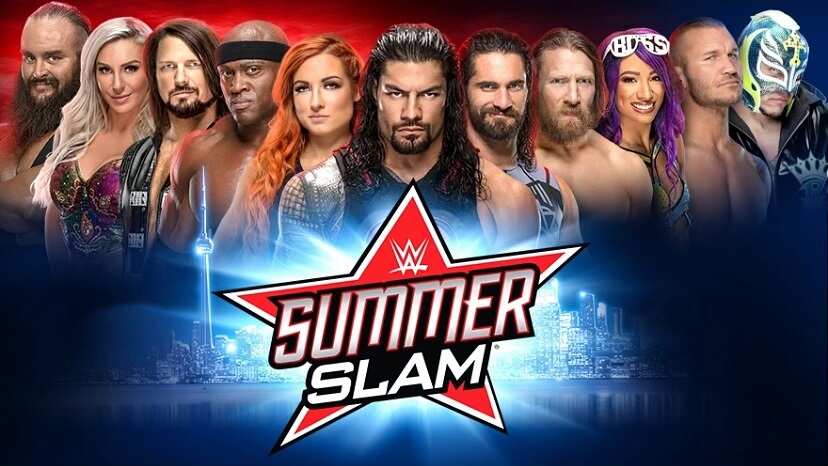 WWE SummerSlam 2019 was held on August 11, 2019, at the Scotiabank Arena in Toronto, Canada. Some of the most notable names in the event included Brock Lesnar, Kofi Kingston, Edge, Randy Orton and Seth Rollins. Here is how it all went down at the event.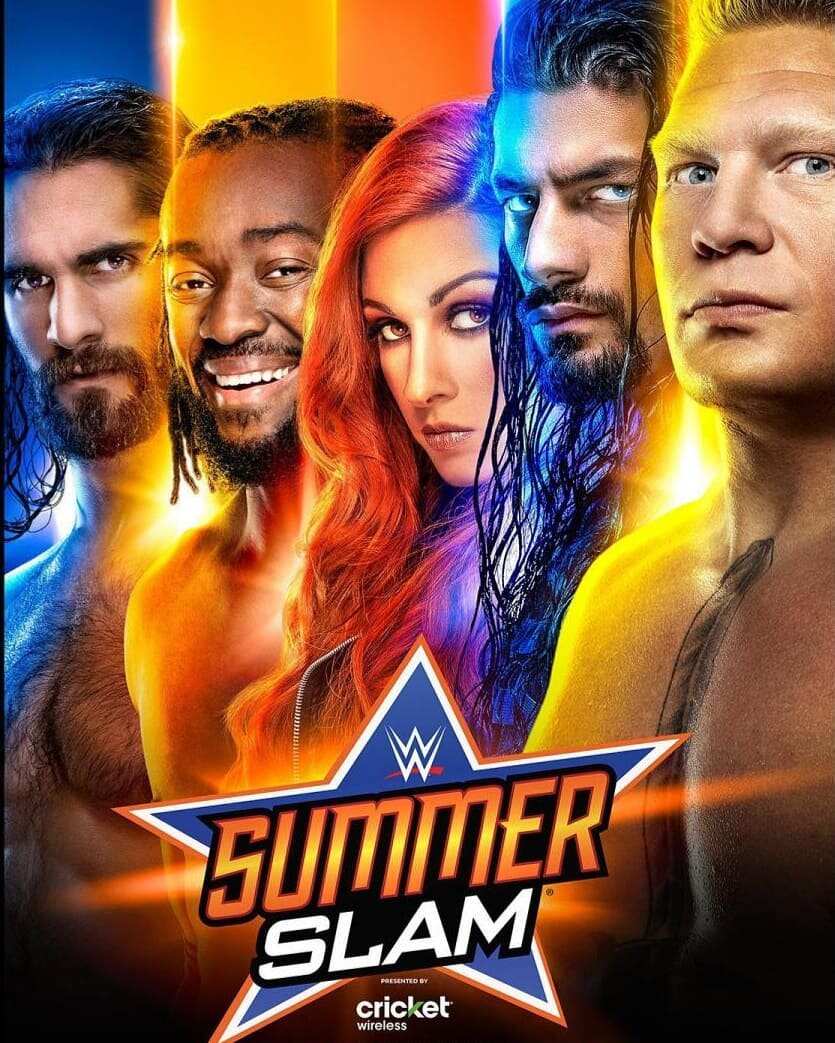 Drew Gulak versus Oney Lorcan
Drew Gulak, the WWE Cruiserweight Champion, emerged winner in a fast-paced encounter against Oney Lorcan. At the beginning of the match, Gulak took control and knocked down Oney with a dropkick. Lorcan dished out some of his trademark quick chops before being countered by Gulak's submission hold. Gulak edged closer to victory when he slammed his competitor into the ropes before shifting focus to Lorcan's lower body part.
In a quick turn of events, Lorcan countered with a series of uppercuts, strikes and a stunning blockbuster. Gulak retreated from the ring where Oney followed him and tossed him back into the ring. Gulak trapped Oney, forcing him to expend much energy trying to break free. The two opponents took each other down with each barely making the referee's ten-count. With the match nearing its end, Gulak struck his opponent's Adam's apple and executed the Cyclone Crash to win the match.
Buddy Murphy defeats Apollo Crews by disqualification
Murphy intended to break out in the WWE against Apollo Crews. However, by the end of the match, he was left to rue his decision of uttering Rowan's name. Murphy got things rolling with rapid kicks and an attempt at a running knee and pin. Within a few minutes, Crews was struggling to get back into the seemingly one-sided match.
In an unexpected turn of events, Rowan ambushed Murphy in retaliation to comments made against him. Murphy had accused Rowan of being involved in a series of recent attacks against Roman Reigns. Rowan flung Buddy along the ring and smashed him against the ring post. He warned Murphy to keep his name off his mouth. The match ended in a Murphy victory since Apollo was disqualified after Rowan interrupted the match.
Charlotte Flair defeats Trish Stratus
The SummerSlam match between Flair and Trish was Trish's farewell match and thus elicited quite some emotions. Flair began her WWE career at the Toronto's Scotiabank Arena almost twenty years ago. Flair seemed to have the upper hand during the opening exchanges despite the overwhelming support for Trish from the home crowd. Trish responded with a flurry of moves that she never even used during her active career.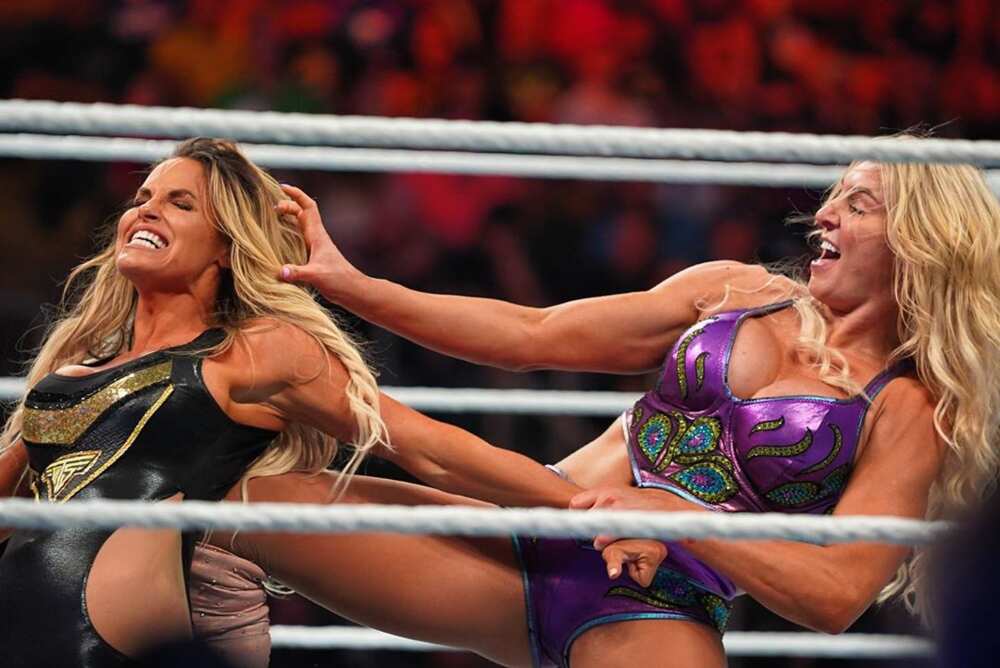 Stratus's energy dropped when Flair pinned her to the ground and rained a series of blows on her. Being a resilient fighter, Trish struck Flair with her renowned chops and even locked in her opponent, bringing the entire arena into a state of frenzy. Victory seemed inevitable for Trish when she evaded a Spear attempt and executed the Stratusfaction Bulldog move on her opponent. In the end, Flair defeated Trish with a big boot followed by her renowned Figure-Eight move. Stratus ran out of options to fight through the pain and had to tap out.
Edge defeats Elias
The Edge versus Elias match was another match that begun with prior name-calling. Elias had previously insulted Canadian WWE legends. He expressed his desire to leave the city and move to Los Angeles. His speech was short-lived and was drowned in one of the most legendary WWE opening theme songs, You Think You Know Me?
With the song, Edge appeared, causing a thunderous reaction from the Toronto crowd. Edge, who has avoided in-ring confrontations since 2011, came to defend his hometown of Toronto. He took Elias down with one of his world-famous spear moves. This elicited deafening chants and charged reactions from the crowd and set the stage for what promised to be a thrilling SummerSlam.
Alexa Bliss & Nikki Cross versus the IIconics
WWE Women's Tag Team champions Alexa and Nikki proved to be too good for the IIconics for the second time in less than two months. The women's tag teams had clashed six weeks earlier on Raw during a Fatal 4-Way Elimination bout. Peyton and Billie (the IIconics) began the match by isolating Cross to prevent her team-mate from entering the ring.
As the match progressed, Alexa turned the match on its head when she hit Peyton with a powerful right-hand blow. She then executed the Twisted Bliss move against Peyton to win the match. Nikki and Alexa will now focus on Monday Night Raw where they will be defending their titles against the Kabuki Warriors and the hugely competitive pair, Asuka and Kairi.
Kevin Owens defeats Shane McMahon
Shane was at the receiving end of a beating which, by all means, he deserved. Owens survived one of Shane's manipulation tactics which would have disqualified him. Elias slid a steel chair into the ring hoping that Owens would use it against Shane and get disqualified. However, Owens kept his cool before inching closer to his victory with a move that levelled Elias and the match's referee. Owens ended the match with a Stunner and a post-match statement asking "Are you watching, are you listening?" The intended recipient of that message remains to be known.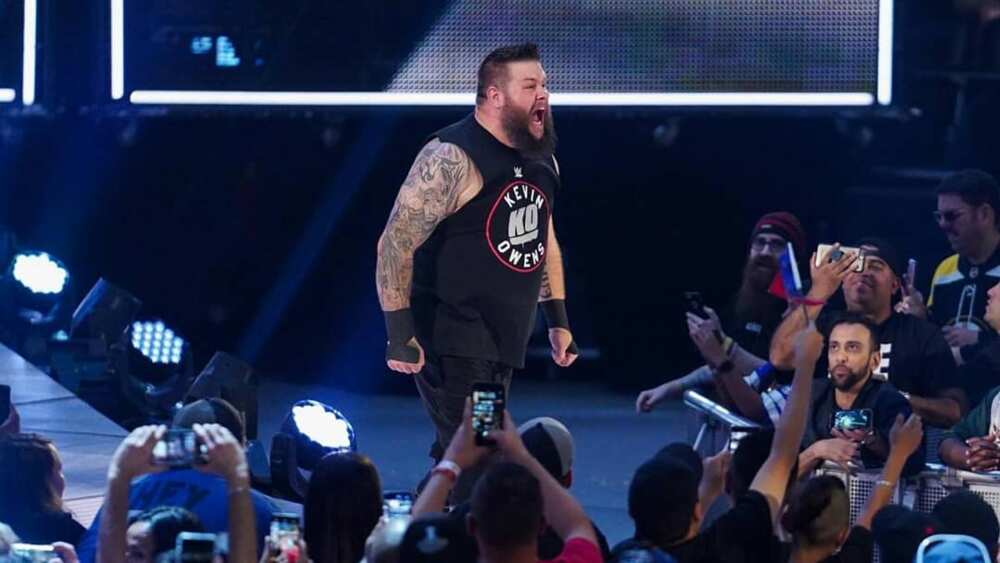 Becky Lynch defeats Natalya
Raw Women's champion, Becky, defeated Natalya in one of the most thrilling matches of the 2019 SummerSlam. Early in the match, Becky attempted to use a triangle, a guillotine and even the armbar move. This series of attacks did not deter a determined Natalya who only got more fired up. As the match progressed, Natalya trapped Becky in the Sharpshooter, a move that almost guaranteed her victory.
However, Lynch pulled off a last-ditch escape of the Sharpshooter hold and held her opponent in her legendary Dis-Arm-Her move. This forced Natalya to tap out, ensuring Becky's victory of the match by submission. Lynch (The Man) left Toronto having defended her Raw Women's Championship title.
Goldberg defeats Dolph Ziggler
Dolph Ziggler was at the centre of a lot of pre-match insults aimed at WWE legends. When Ziggler entered the Scotiabank Arena, he went as far as mentioning that Goldberg was afraid of him. As one might have guessed, Goldberg was in the building and made his renowned entrance to much applause from the crowd in the arena.
Ziggler started fast, levelling Goldberg with two quick kicks. The multiple-time world champion, however, shook that off quite easily and rattled Ziggler with a Jackhammer and Spear combination. When everyone thought it was all over, Ziggler called Goldberg to the ring. He soon realized the folly in his move when Goldberg ferociously took him down with outrageous Spears. When Goldberg left the arena, there was a perceptible sensation within the crowd, and he had managed to silence Dolph Ziggler. That is, by all means, not an easy feat.
AJ Styles defeats Ricochet
AJ Styles brought with him The OC (Karl Anderson and Luke Gallows) in a quest to end Ricochet's mission to reclaim the United States Championship at the SummerSlam. Ricochet fought on only one strong leg for most of the match after Styles targeted his left knee in a series of kicks. This, however, did not stop him from executing some incredible top-rope manoeuvres against Styles.
The match was almost certainly over when Styles caught his opponent in the famed Calf Crusher move. Ricochet's already damaged knee suffered additional pain and forced him to take his mind off the match for a second. This moment attracted some ringside action from Karl Anderson and Luke Gallows against Ricochet. The distraction then allowed Styles to ground Ricochet from the top rope and pin him down for a three-count victory. The OC was out to make a statement that theirs is the only club that matters.
READ ALSO: Dwayne Johnson: WWE legend The Rock officially retires from wrestling
Bayley defeats Ember Moon
Bayley came into the match as the reigning SmackDown Women's Champion. Ember was determined to delight the entire WWE universe by dethroning the champion. However, it seems Bayley had plans of her own. As the match progressed, Ember used her dynamic offence prowess to leave Bayley Reeling. She came to the brink of winning the championship on multiple occasions during the match. The turning point in the match came when Ember attempted to try a top-rope manoeuvre.
Bayley flung Ember from the top rope in a colossal Bayley-to-Belly move before pinning her down for a three-count victory. Bayley left the Scotiabank Arena the same way she came, as the reigning SmackDown Women's champion.
Kofi Kingston versus Randy Orton (double count-out)
Randy Orton's cruelty towards Kofi Kingston has always been a defining factor towards the hatred that exists between the two. For SummerSlam 2019, Kofi made it known about the personal stake that a match against Orton carried. Kingston levelled Orton with an unexpected RKO in the early stages of the bout. He took an unusually aggressive style while his opponent chose to wait for Kofi to play into his hands. Randy's strategy eventually paid off as Kofi fell directly into Randy's RKO.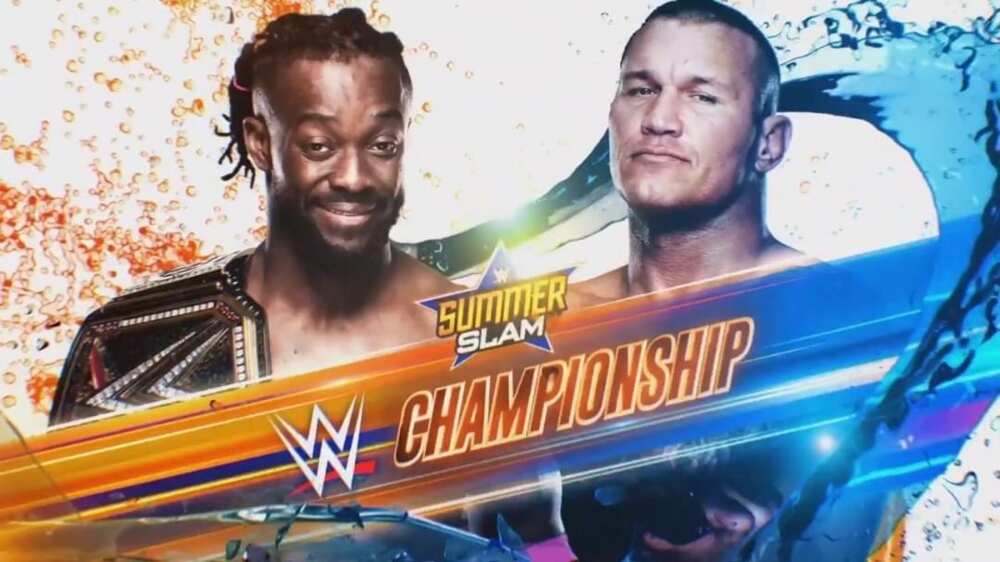 With Kofi down, victory was edging nearer for Orton. However, in a rather ill-advised move, Orton (the viper) chose to extend the 'lesson' he was teaching Kofi. This allowed Kofi to roll off the mat and the ring as Randy followed suit. That proved to be the day's worst decision for Orton. Kofi began to aggressively rain blows on his opponent using Kendo stick and his fists. Both contestants did not even notice that amidst the mayhem, the referee had already called a double count-out. As Orton staggered to his feet, Randy knocked him out with the famous Trouble in Paradise manoeuvre.
The psychological aspect of a fight between these two adversaries was a massive factor in its outcome. The fact that they chose to accept a double count-out instead of any other potential outcome speaks volumes about Kofi and Orton's relationship. It seems Kofi is no longer the young man that Orton pinned down ten years ago and from the look of things, he has not gotten over that incident.
Bray Wyatt defeats Finn Bálor
The WWE universe had wondered how things would be when Bray 'The Fiend' Wyatt stepped in the ring to battle it out with someone. The answer came during SummerSlam 2019. Bray destroyed Finn, targeting his lower neck with a vicious strike. Finn had a brief moment when he seemed like he may get back into the match. However, Bray responded with the Mandible Claw and pinned his opponent down for a three-count victory.
READ ALSO: SummerSlam 2019: Kofi Kingston retains WWE title via double count-out against Orton
Seth Rollins defeats Brock Lesnar
This was probably the most talked-about bout of SummerSlam 2019. In one of the most upbeat endings to a SummerSlam, Rollins beat Lesnar for the second time to become the Universal Champion. Rollins blasted Brock with a flurry of kicks and suicide dives. In an adrenaline-filled contest, Lesnar's frustration was apparent, he could not swat away Rollins.
Brock Lesnar gave his all in the match but was eventually let down by some of his decisions. Choosing to make an example out of his opponent finally led to his downfall. After flooring Rollins in one of his signature moves, Lesnar decided to swing his adversary around instead of going for the cover. As entertaining as this was to watch, it ultimately felt like an unnecessary indulgence. When Brock finally decided to end the match, Seth countered with a superkick followed by a mind-blowing Frog Splash move. A few moves later, Rollins landed another superkick that brought Lesnar on his knees. With a final Stomp, Seth floored Lesnar and earned a three-count victory.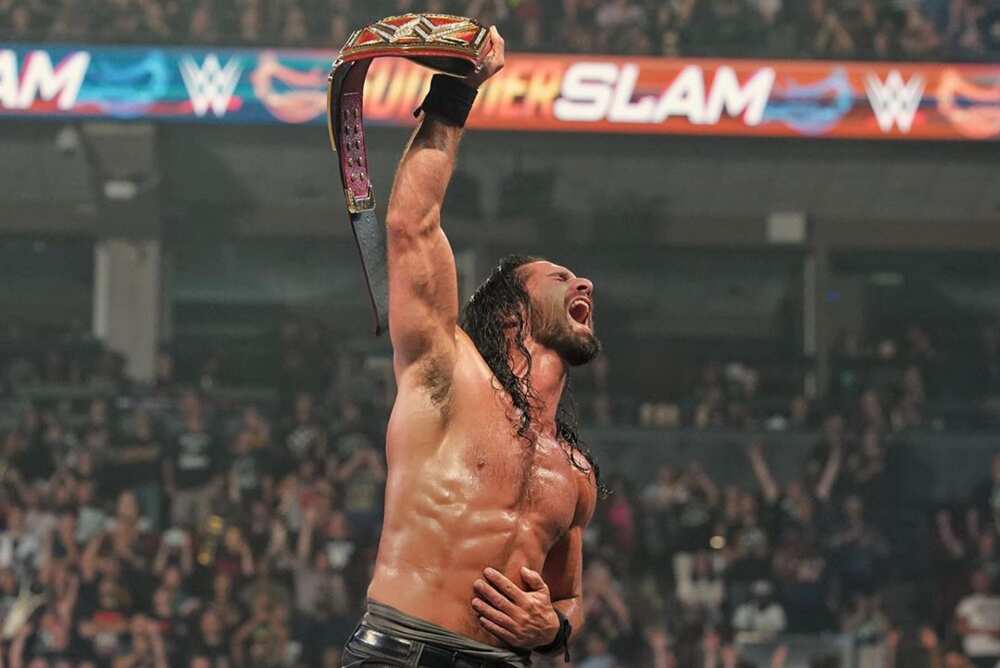 WWE SummerSlam 2019 was one of the most exciting WWE events of 2019. It was certainly not short of the usual drama, thrills and surprises associated with WWE events. While some of the matches probably did not live up to their billing, most of them were undoubtedly up to it. Which of the bouts did you find most thrilling?
READ ALSO: John Cena, wrestling legend, set to retire from WWE