Kylie Jenner celebrated her 22nd birthday in style. The famous American billionaire marked her birthday with a unique and expensive party in Italy. Being a self-made billionaire of her age, spending this day on a $250 million yacht was the best thing she could do.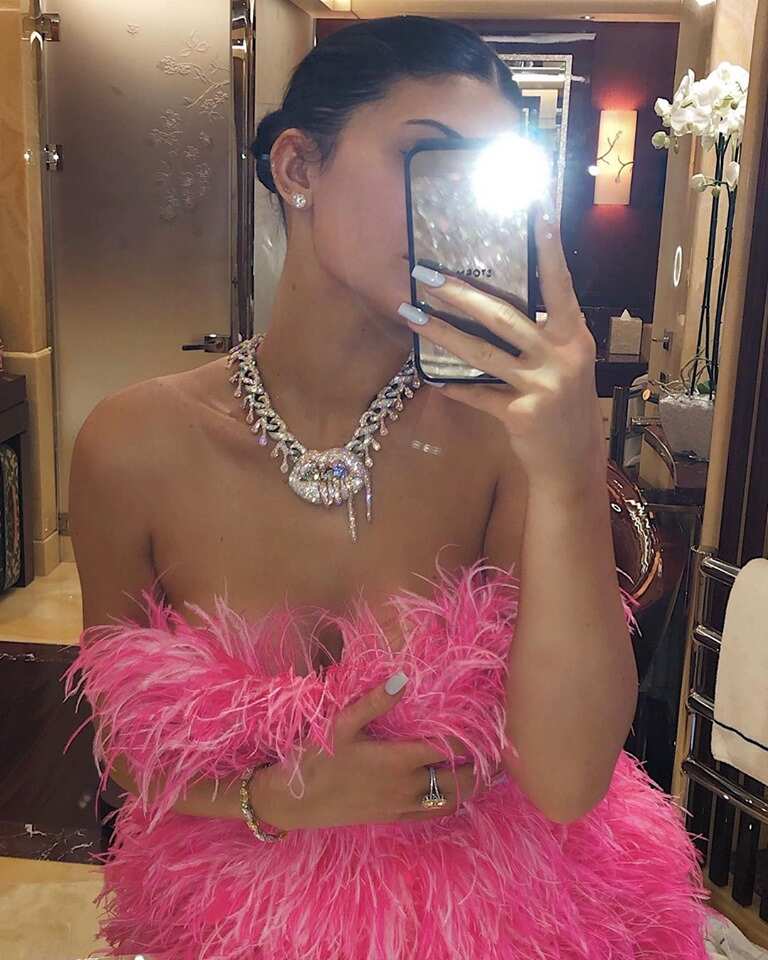 "How old is Kylie Jenner?" is one of the questions that most of her fans might have been asking. Her style of celebrating her birthday and the setup, including the arrangement of sunflowers modeled into the numeral "22," revealed her age. She began to celebrate her birthday earlier by having her closest friends and family accompanying her on a luxurious gateway in Italy.
Kylie Jenner birthday celebrations: all the details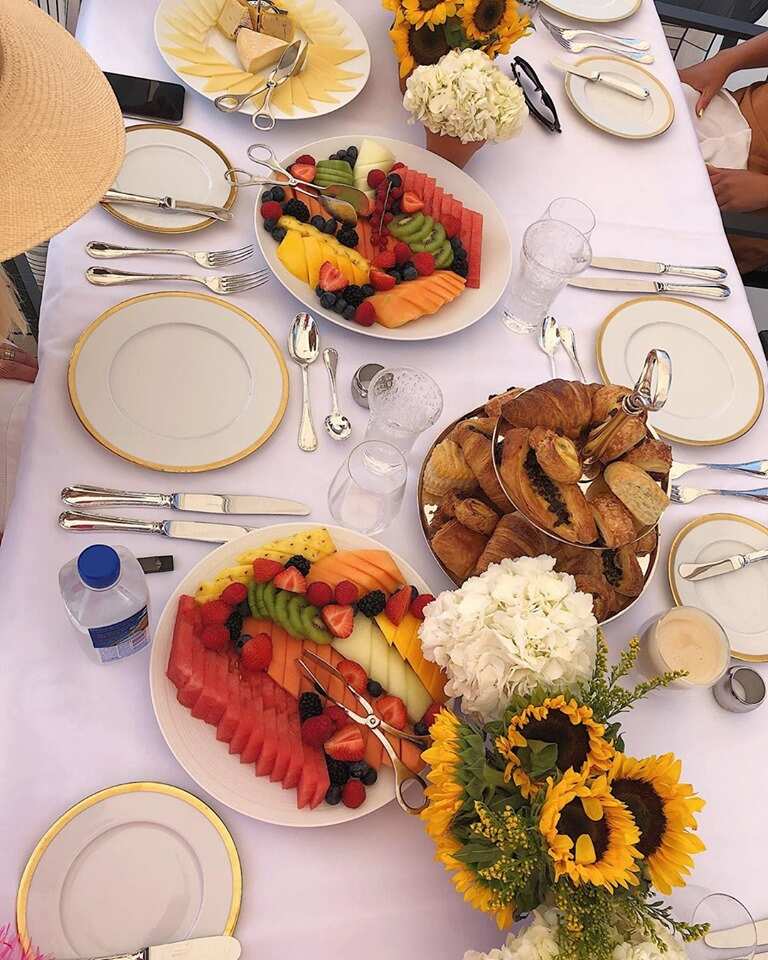 Do you need to know Kylie Jenner age and how she celebrated her big day? Here are all the details from the venue and outfit to the gifts and the people she celebrated with. The world-known star on the Keeping up with the Kardashians television series turned 22 on Saturday, 10th August this year. She celebrated it in style; in the most expensive way ever. She hired a super-yacht which is worth $250 million just for her birthday in Italy. The yacht reportedly cost $1.23 million to hire for a week. Her celebrations began on a high note with pictures revealing Kylie Jenner bikini outfit as she boarded the jet for her trip.
She made merry together with her closest friends and family, including her boyfriend Travis Scott and their daughter Stormi Webster. Her mother celebrated together with her as well, and later wrote a sensational birthday message for her on Instagram,
".....you are an angel girl and I love you more than you will ever know...." her mother said.
Most of her friends also appreciated Kylie on her birthday with lovely messages and warm birthday wishes.
Kylie Jenner outfits for her big day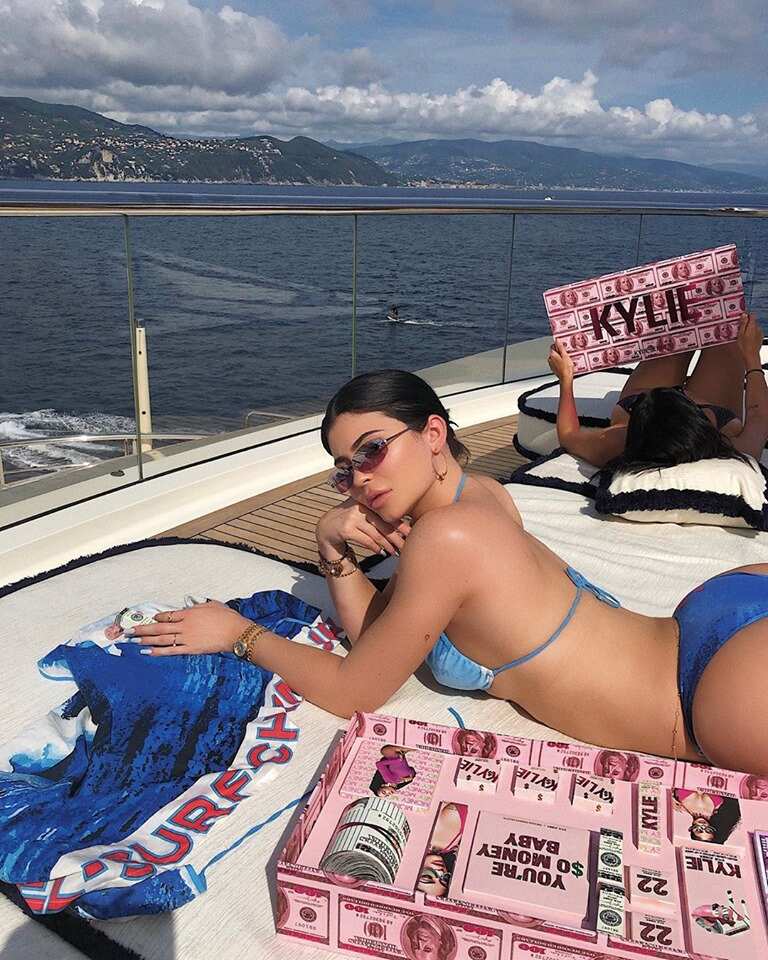 The celeb maintained a lovely look on her special day. She showed off a variety of fabulous clothes, which she changed severally throughout the event. Many of her photos on social media revealed her beauty in a feathered hot-pink mini-dress. She also wore an expensive diamond necklace with her cosmetics logo, a birthday gift that her boyfriend Travis had bought for her. This outfit was breathtaking, especially as she posed on the flowery arrangement of the numeral "22". As she stood in the middle of the sunflowers and hydrangeas, you could tell that she was very happy.
More photos of her birthday show her looking beautiful in a white bridal dress. This made many people think that Kylie and her boyfriend Travis were getting married. However, reports revealed that it was not time yet, even though the two are "doing great together."
Later in the day, Kylie wore a white T-shirt and sweat pants for her comfort. It was a good way to end the day as she had celebrated in the most epic way ever. What is more, other photos on social media include Kylie Jenner swimsuit.
READ ALSO: Caitlyn Jenner net worth, age, height, girlfriend, children, car accident
Kylie Jenner body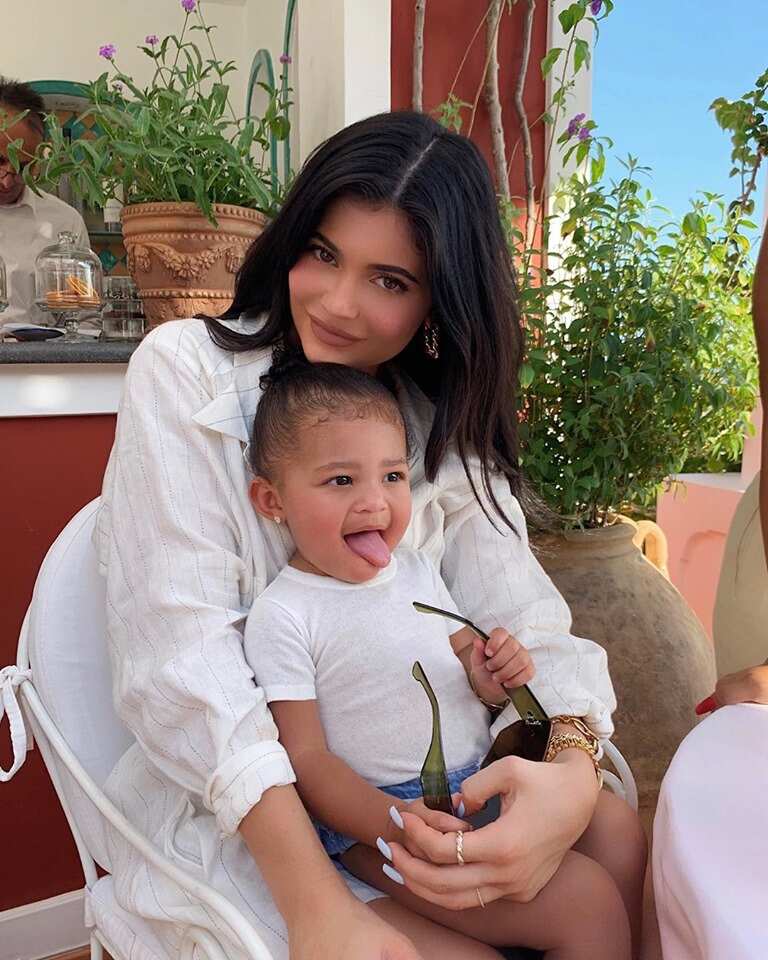 Kylie is a lovely celebrity known for her beauty, exceptional make up, and stylish clothing. On her birthday, these features came out clearly, making her look outstanding. Can you imagine Kylie Jenner without makeup? She is a make up mogul, and her grooming and outfit on her birthday just enhanced her beauty.
Kylie thought her birthday celebrations had culminated with the merry she made with her friends and family on the yacht. To her surprise, she came home and found roses all over her house, courtesy of her boyfriend, Travis. This made her so happy that she posted a video of the same saying
"This man covered my house with roses OMG!!!!!"
This is how Kylie celebrated her birthday; in the most epic way. Celebrating the day with her closest friends and family, including her mother, her boyfriend Travis, and their daughter Stormie, she really seemed happy. This is exactly what you would expect from Kylie Jenner, to do things in style.
READ ALSO:
Model Demi Rose Mawby bio: age, height, boyfriend, before and after photos