Residents in Obutang beach community, a fishing community in Calabar south municipality local government area of Cross River state, the south-south region of Nigeria, were regular visitors to the health centre in their community earlier this year.
Last year, there was an outbreak of diarrhoea in the community, leading to many of the residents being admitted to the health centre. This year, typhoid, malaria and malnutrition in the case of kids have been rampant in the area.
The reason for the regular outbreak of diseases in the area is due to open defecation as over 80% of houses in the community do not have toilets, Legit.ng checks revealed.
Many of the residents defecate in the open or in the river in their community, where they also fetch drinking and washing water from. Some of the women also wash vegetables in the river.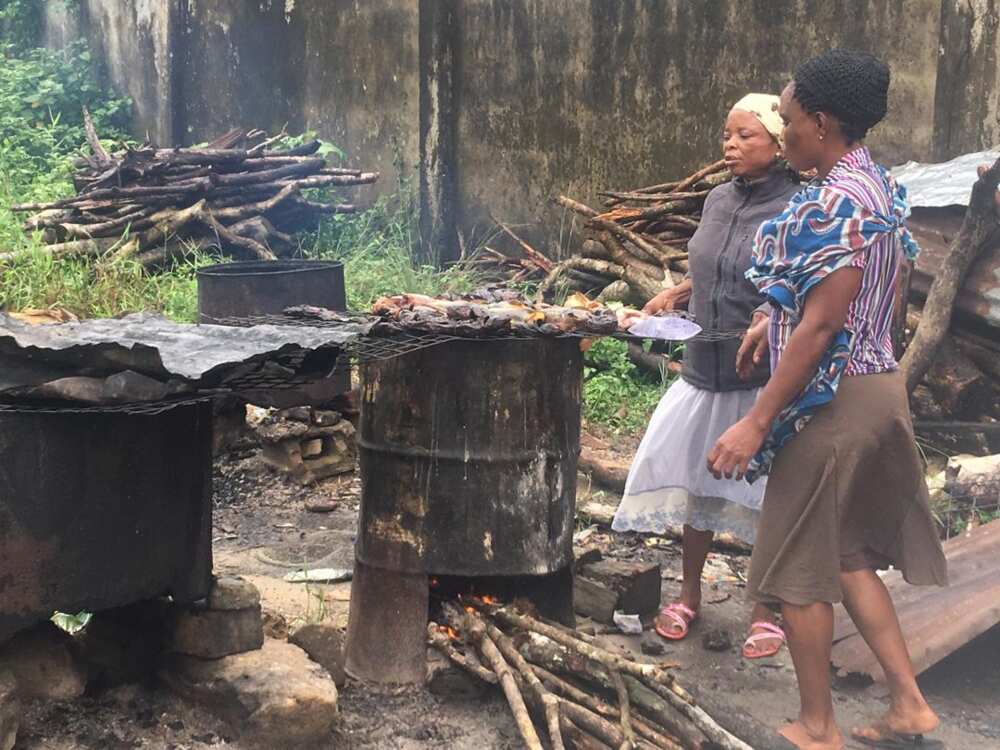 Deborah Patrick, a nurse in the community's health centre, told Legit.ng that the majority of complaints from residents in Obutang beach community ranges from typhoid, malaria, diarrhoea, cholera and malnutrition for children.
Her words: "Most of them that come from that area have recently been complaining of typhoid and malaria, and then malnutrition.
"Initially, we used to have diarrhoea cases from them too. But it's been long we had such cases, the recent we have been having from them is typhoid, malaria and malnutrition for children.
"When they come, we compel them to run tests because they have a stream where they drink water from. But, presently, they installed a borehole there for them. But it is not everybody that will use the borehole. Some will say they have put a chemical in the borehole. They are used to the river.
"Some of them have pits where they defecate. But most of them, especially the male, defecate in the river."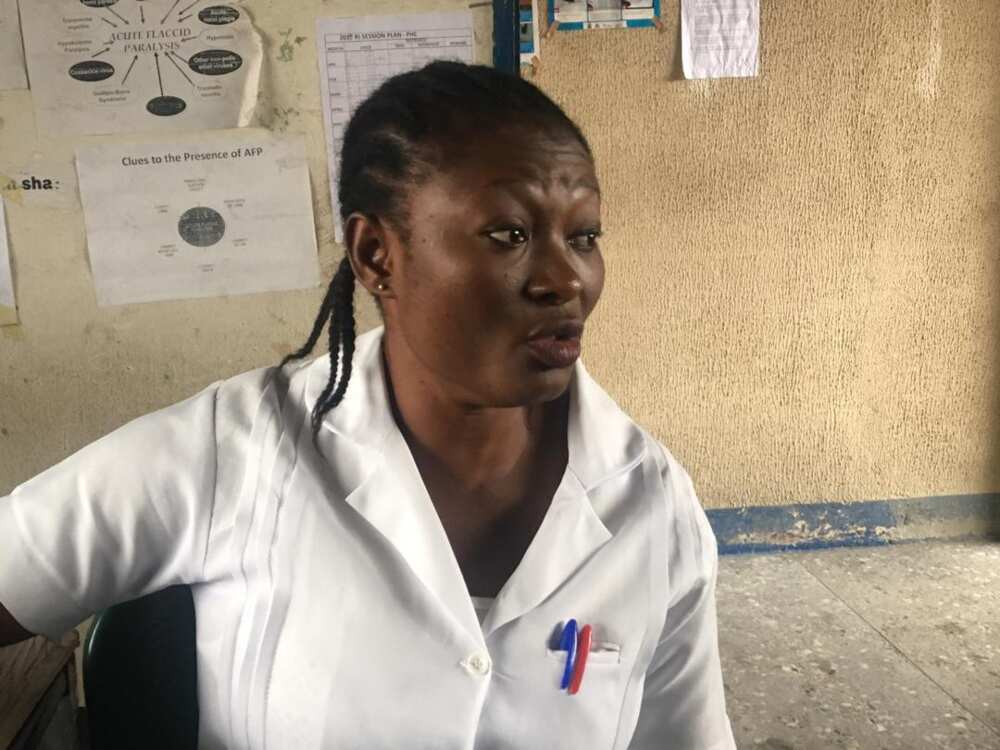 When told that some of the villagers claimed that they boil the water they fetch for cooking in the river, Patrick said it is not enough to prevent the water-borne diseases.
"That water depends on the degree to which they boil it, you know water has a boiling point that can kill bacteria. If they boil it at 100 degrees Celsius and they use it, there is a tendency of the bacteria remaining.
"Apart from that, their hygiene level is low and that is another route of getting infected," she added.
She said residents of the community are somewhat antagonistic to proper medical attention, "the health centre is usually their last resort when they fall ill because they depend on local herbs or local chemists when they are sick."
Residents speak
A resident of the community, Ability Asuquo Essien, said he defecates in the river daily, saying only a few people in the area have toilets.
When asked if he knew the health implications of defecating in the water, Asuquo said the water flushes the faeces and that makes the water safe for fishing.
Similarly, a fisherman in the community, Israel Mesembe, said he has never come in contact with faeces while fishing.
According to him, the faeces are washed away by the river and do not cause any harm to the fishes.
His words: "It's only the tilapia fishes that eat faeces. But, even at that, when we catch them, we use a properly boiled water to wash them well to ensure that they are not contaminated."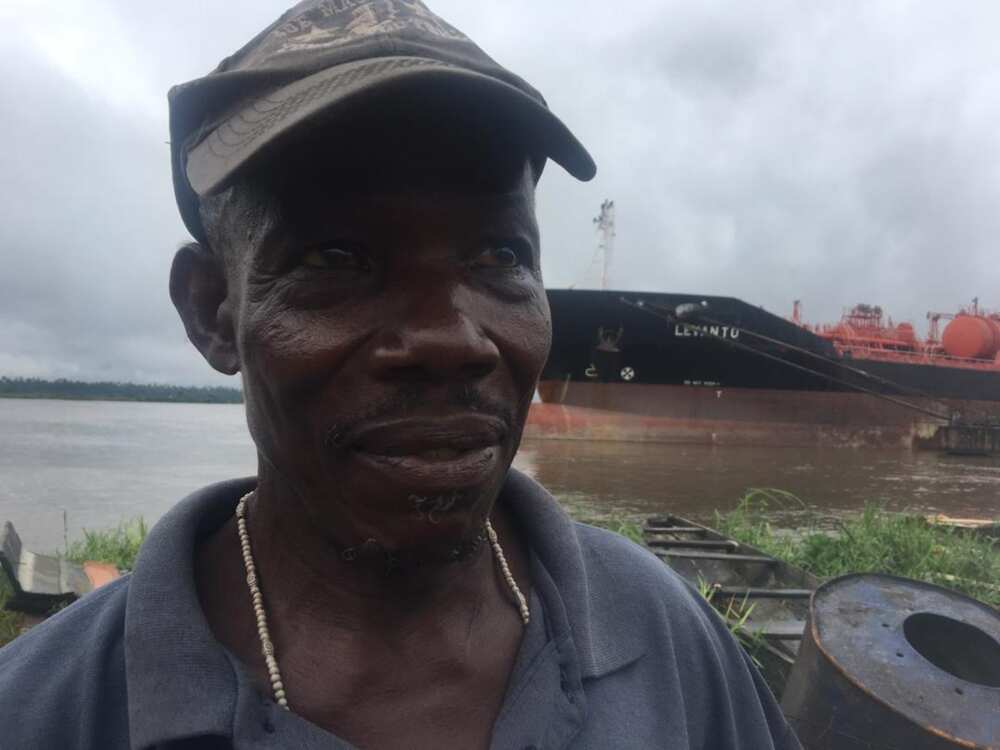 Statistics
The United Nations Children's Fund (UNICEF), in a recently released data, says out of the 47 million Nigerians that practice open defecation, 17.9 per cent live in the south-south region of Nigeria.
According to the World Health Organization and UNICEF, poor sanitation and open defecation practices kill more children every year than AIDS, malaria, and measles combined.
Dr Geoffrey Njoku, communication specialist, UNICEF, said the north-central region has the most prevalence of open defecation at 59.9 per cent. The south-west region came second with 28.0 per cent, followed by the south-east at 22.4 per cent, north-east 21.8, and north-west at 10.3 per cent.
Across the world, 2.3 billion people do not have access to basic sanitation, and nearly 1 billion people defecate in the open - in gutters, behind bushes, in open bodies of water, and elsewhere.
Apart from Nigeria, five other African countries are among the worst 10 where open defecation is prevalent. They include Ethiopia (3rd), Niger (7th), Sudan (8th), Chad (9th) and Mozambique (10th). Other countries in the worst 10 are Indonesia (4th), Pakistan (5th), and China (6th).
Experts react
Experts who spoke with Legit.ng said open defecation is a problem that kills millions of people each year and afflicts many more with the disease.
They also said the biggest change factor is the availability of toilets. In many rural areas and slums, a large number of families share sanitary latrines or pit toilets.
Mr Ope Adekanmi, an environmental scientist, said that there was a need for people to step up the level of sanitation to boost their health and that of children.
He said that statistics had shown that there was an increase in open defecation in the country.
His words: "Open defecation is a serious issue that needs urgent attention because it affects the whole nation. It is a major cause of water-borne diseases such as diarrhoea, cholera and even typhoid.
"These diseases kill and increase mortality rates, especially in children. Sanitation generally should become habits rather than what we are compelled to do so that our children can have a stronger immune system."
According to him, open defecation not only affects individuals but the economic and social development of the nation.
"Open defecation contaminates agricultural products and increases the risk of crops being infected by pests.
"It slows down development, especially economically and socially because if there is a challenge in health issues in the county, the economy suffers.
"For the time it ended, a lot of damage must have been done to the economic and social status of such a nation," he said.
However, Kevwe Oghide, communications lead at Connected Development [CODE], says: "One prevalent challenge to ending open defecation is not just erecting sanitation structures or providing clean and safe toilets but changing people's behaviour from choosing farm fields, railways, motor parks, stadiums, highways, streets, roads, playgrounds, bushes, forests and water bodies, to using the toilets."
She said many rural dwellers defecate in the open not necessarily because they do not have access to toilets but because of deep-rooted cultural practices.
Her words: "To achieve an Open Defecation Free society, the federal ministry of health and the federal ministry of water resources must prioritize sanitation, especially at a time when the country faces the challenge of standard and adequate medical facilities.
"While the need for clean water and sanitation, particularly in grassroots areas is understood, the relevant government, international development agencies and civil society groups must begin an urgent nationwide sensitization campaign about the necessity of proper sanitation and good hygiene practice as this has a significant impact on healthy living."
Government plan
Meanwhile, the Nigerian government has revealed that N900billion would be required to end open defecation in the country before the end of 2025.
This was made known by the chief scientific officer, federal ministry of water resources, Mrs Yemisi Akpa, while making a presentation at a media dialogue organised by UNICEF and the ministry of information on Clean Up Nigeria, use the Toilet Campaign, held in Calabar recently.
According to her, the federal government has approved the sum of N10billion to tackle the menace in 2019 and has put mechanisms in place, so as to make the sum available annually till 2025, with the view to eradicating the trend across the country.
"If India can take over 550 million people out of open defecation in four years, Nigeria can also take 47 million people out of the same situation between now and 2025," she said.
NAIJ.com (naija.ng) -> Legit.ng We have upgraded to serve you better.
Benue IDPs: Education amidst crisis | - on Legit TV