Rayvanny - Tetema Remix ft. Pitbull, Mohombi, Jeon & Diamond Platnumz: audio, lyrics, reactions
The Tanzanian star has surprised everyone with the release of a new version of one of his bangers. Rayvanny - Tetema Remix has retained its original charm while gaining more diversity in the sound. The input of the new members of the team working on the remix cannot be overestimated.
To work on this track, the Tanzanian artist invited such giants as Pitbull (USA), Mohombi (Sweden, Congo), and Jeon (Aruba) in addition to his countryman Diamond Plantnumz. Such diverse and talented musicians could not create anything less than a banger.
Rayvanny - Tetema Remix description
Released: August 9, 2019
Format: mp3
Genre: Bongo Flava, Afro-Pop
Length: 4:00 min
Label: WCB Wasafi/Powerhouse
Producer(s): S2Kizzy
This record has all features of a true banger. With its catchy lyrics, memorable tune, and powerful beats, the song is able to conquer any heart. You cannot resist its charm.
Rayvanny - Tetema Remix reviews and comments
If you want to know what other people think about the track, here is what YouTube users say about it:
Heri Fredrickson: International collabo, amazing.
About Kwale: This is fantastic.
owen konzolo: The baddest remix I've heard in a while.
Mime Epwono: I've been waiting for ages for this.
READ ALSO: ClassiQ - Gargajiya: video, lyrics, reactions
David kalinga: There you are Wasafi. Good job again.
Shugharhee Jammani: This so nice. Africa to the world.
A Gun: All the way from the USA, I don't understand this African language but am in love with it!
Jay Mellow: This one is a straight fire.
Mohammed Ahmed: This is a banger.
Rita mike: Can't wait for the video.
Rayvanny - Tetema Remix quotable lyrics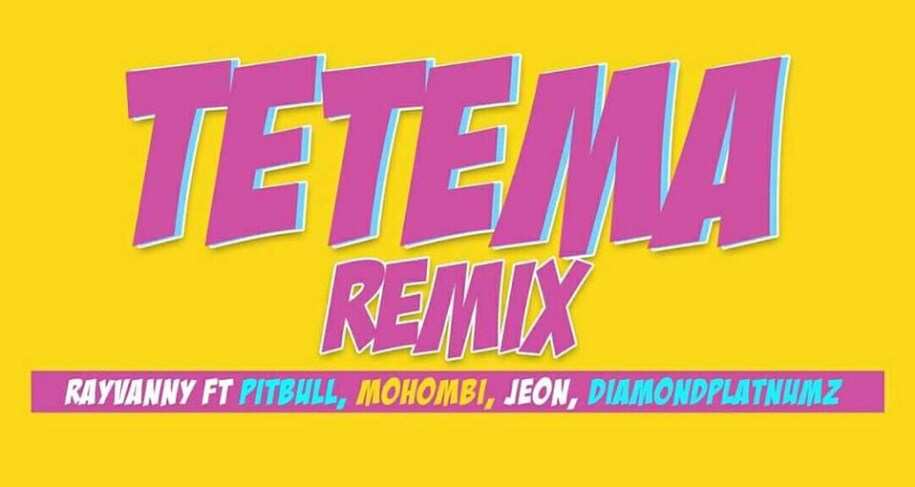 [Intro]
Miss whole world, Miami
This is history in the making
Cuba, Rayvanny
Yeah you ever know
We taking this one international
From Africa to the world, Mohombi
Diamond Platnumz, Pitbull, Jeon
Aya twende tetema
Tipwa tipwa tetema
Aya twende tetema
Shuka chini tetema
Its s2kizzy beiby
[Bridge]
Katoto Kamenoga (ooh mama)
Nakapa ndizi za Bukoba (ooh mama)
Nakapadisha bodaboda (ooh mama)
Kakichoka kuchuma mboga (ooh mama)
[Pre-Chorus]
Aaai mama shigidi aah
Nakufa hooi wikidi aah
Aaai mama shigidi konki
Fire, motoo, liquidi
[Chorus]
Aya twende tetema)
Tipwa tipwa tetema
Aya twende tetema
Shuka chini tetema
[Verse 3]
Tetema!
Yaani kama vile generator (tetema)
Kama mwizi kakupiga ngeta
Mwendo wa kutunga kupepeta
Chini nikipuliza tarumbeta
Asa wooza! Wooza! Cheza shogoloza
Kufa chali kama mende
Maria Roza poza tungi limepoza
Twende nikupige nyembe (br ... Okey)
You make my mind go kolo (kolooo ... kolo)
Ukinuna you mie toro (dorooo ... doro)
Washa! Saa nipe za digi digi
Washa! Miuno ya Gigy Gigy
Washa! Funga kibindo mgwiji mgwiji
Washa! Nikunyonge ka zigi zigi
[Outro]
Ayo Lizzer, Chii
Kichaa kime-kime-kimempata
Ame wehuka kime-kimempata
Kapandisha mizuka kime-kimempata
Ona ana ruka ruka kime-kimempata
Kichaa kime-kime-kimempata
Kapanda kimempata kimempata
Eti anavua shati kime-kimempata
Ka-ya kime-kimempata
Waasafii ...
Rayvanny - Tetema Remix download
If you like the record and want to add it to your playlist, follow the links provided below to download it easily:
Rayvanny - Tetema Remix is a hot banger that you will not be able to resist. What do you think about this song? Tell us in the comments section below. Do not forget to share this article with your friends. Stay tuned for more updates about your favourite musicians.
READ ALSO: Small Doctor - Believe: video, lyrics, reactions
Source: Legit.ng