Picazo - Pray For Me: video, reactions
Have you listened to the latest hit by Picazo - Pray For Me? With production credits going to Stubborn, the former YBNL rapper Picazo Rhap comes through with this beautiful new single. The jam has been released under Senior Boyz Records, his new record label.
If you love rap music, then this new hit by Picazo Rhap will speak to you. Perfectly titled, the jam is perfect for anyone who needs some uplifting. Here are all the interesting details about the new song. Be encouraged as the young rapper proves that anyone can pick themselves up as long as they have God and support from the people who matter.
Picazo - Pray For Me description
Released: 8th August 2019
Format: Audio, video
Genre: Afrobeat and rap
Label: Senior Boyz Records
Length: 3:28 minutes
Producer: Stubborn
Picazo, who is known for dropping hot hits, is back to prove that his talent is legit. The artist now works with a new team and continues to prove through this recent song that he is indeed on top of his game.
Picazo - Pray For Me reviews and comments
Picazo is not a small artist and his contributions have not gone unnoticed. Check out what people have been saying on social media about his recent song. Here are a few sampled views from YouTube:
Charles Charles: No level for devil guy...may the lord almighty answer our prayers more...nagode go dey for us
MONEEB An Artist: Sounds good. Listen to my raps on my channel.
Samuel Samuel: So deep and emotional...especially where u held ur mum! Every real G's aspirations and hustle is to make mama happy and proud.... May God bless you and every one reading this comment with our heart desires...amen
Onyedika Emmanuel OKPALA: Simply put it this way , this is a song with human touch and feelings. I have not seen any song produced by so called A artist this year in Nigeria that is more human and touching than this song. Boy keep true to your dream, the only barrier to your success is YOU and no one else. You will be very great mark my words.
taxi image online TV: I wonder what will be running on olamide mind seeing all the artist's that left his label doing great thing's. He really lost great thing's by lossing this wonderful artists sorry for him ... guys do your things #jah #dey
mc fabulous fabulous house of comedy: Kai baba this track burst my brain giving me hope that I will make it among the comedian wa they
Oriaifo Oselumese: Although I don't understand Yoruba, but I can tell from the sound, this is really a very emotional song. 1 word for olamide and some other artists who pick up young stars and dump them along the line, "NO START WETIN YOU NO GO FIT FINISH. I still respect the likes of Jazzy till death
Adebola Emmanuel: This song sweet....you can succede without ybnl. It's not about the label,,,,,,Look at Teni,Dr dolor entertainment sponsored her music and she's so big today. Where you dey,no lele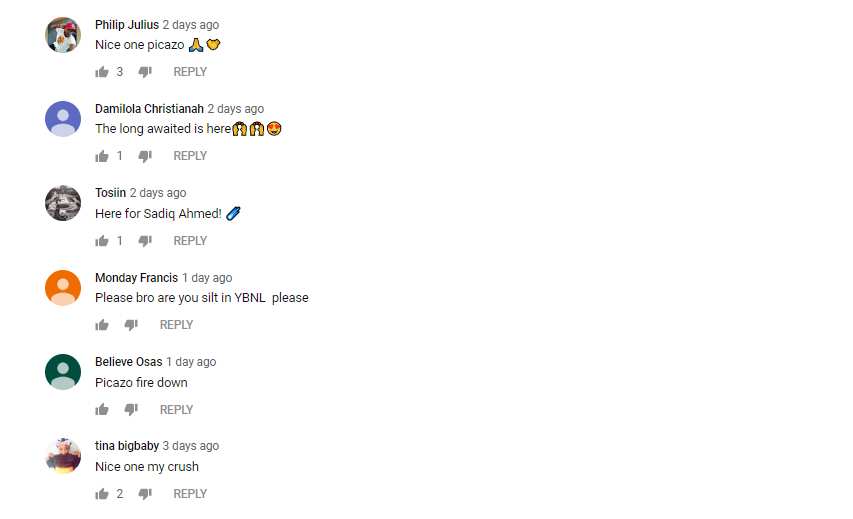 Going by the powerful comments, it is obvious that the depth of the lyrics gets to all fans and listeners.
READ ALSO: Zamorra - Run Away: video, lyrics, reactions
Picazo - Pray For Me download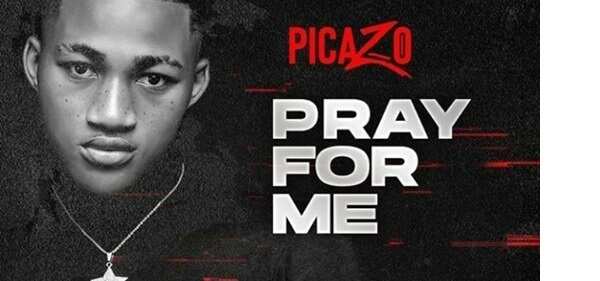 To have the song on your playlist, just follow the link below:
Have you listened to Picazo - Pray For Me? If not, listen to it and let us know what you think. How well do you think Picazo is doing? Do you feel the emotions this new song evoke? Let us know in the comments section below.
READ ALSO:
SlowDog - Dubai 2 Onitsha ft. Magnito: video, lyrics, reactions
Q Chilla X Eddy Kenzo - Pepeta: audio, reactions
ClassiQ - Gargajiya: video, lyrics, reactions
Source: Legit.ng