The famous Nkabi Rap founder, Big Zulu, is currently making headlines after releasing the highly anticipated single which is titled Ama Million. The jam, Big Zulu – Ama Million ft. Cassper Nyovest & Musiholiq, has massively received love from fans all over the world. Given that the track features the talented award-winning South African rapper, Cassper Nyovest and the super-skilled rapper Musiholiq, most people believe that it has the potential to top charts every single week.
The new track that is hitting the world airwaves is the super-duper refreshing track, Big Zulu – Ama Million ft. Cassper Nyovest & Musiholiq. The smashing jam that is a masterpiece of the talented South Africa veteran rapper Big Zulu has risen in the charts to become one of the trendiest and most beloved songs in South Africa currently.
Big Zulu – Ama Million ft. Cassper Nyovest & Musiholiq description
Released: August 2, 2019
Format: mp3
Genre: Hip hop/Rap
Length: 4:18 min
Producer: La Beats & Young Bros
The new hot single titled "Ama Million" is one of the most refreshing hip hop sounds of 2019. The tune, which features the talented Cassper Nyovest and Musiholiq, has made hip hop lovers to add one more favourite hip hop tune to their phones. The jam by Big Zulu talks about the significance of making money. We all need money to help us live the lifestyle we all desire.
Big Zulu – Ama Million ft. Cassper Nyovest & Musiholiq reviews and comments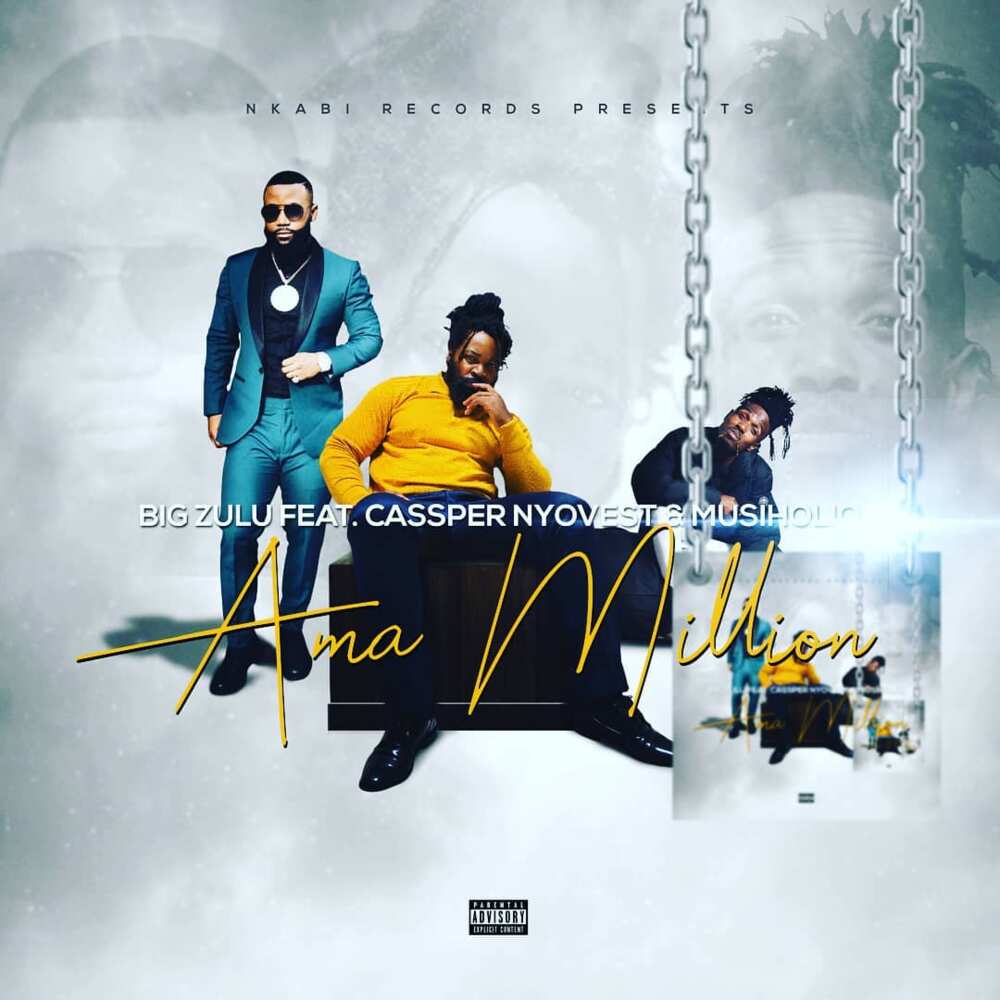 The love that this song is receiving is unbelievable. Non-hip hop lovers have even come out to declare that the flow, lyrics, and vibe portrayed in this track have made them fall in love with hip hop. Take a look at some of the comments that fans of this amazing trio left on YouTube after Big Zulu uploaded this fantastic jam:
Sandile Gasa: THIS IS SUPER LIT (CASSPER NYOVEST, MUSIHOLIQS, BIG ZULU)
Phiwe Mkhize: It's about time we start to recognize these young producers, LA beats I see future in you Chana hope this opens doors, beat is dope, I'm not hiphop fan but you guys got me on this one
READ ALSO: Victor AD - Kowo Wole: audio, lyrics, reactions
ElementRSA: Big Zulu hahahaha Nkabi yesus our very own South African Rick Ross!!!
Tj Temane: Cass Mr CEO u boy Mona dololo family T welcome big Zulu u hungry paizao com muita fome you deliver fogo like that tens razao real bars eases sao
NDUDUZO NTULI: ngyagcwala with that new style weBigzulu big up finally umshovo uwshintshile ay indaba yestayela esisodwa
Kingsman Mathebula: the flow on this track is too much yooh what a track
Busisiwe Tsaagane: Rustenburg the Platinum City approves….
Big Zulu – Ama Million ft. Cassper Nyovest & Musiholiq download
One of the most loved and respected veteran rappers in South Africa is the talented artist, Big Zulu. He releases hit after hit. This time round he has highly impressed his fans with the fantastic tune Ama Million, which features other great rappers in the South African music industry. These talented rappers are Cassper Nyovest and Musiholiq. Big Zulu – Ama Million ft. Cassper Nyovest & Musiholiq is set to be one of the biggest hip hop tunes of 2019. If you want to listen to the jam any time, you can download it using the following links:
What is your opinion about Big Zulu - Ama Million? Have you been impressed by the tune? Do you think it is a hit? Share your opinions with us today in the comments section below.
READ ALSO: Oladips – Twenty Tiri K: audio, lyrics, reactions