Tana Mongeau wiki - age, net worth and hot photos
Who is Tana Mongeau? How much do you know about her? Well, there are probably many things you do not know about the celebrity. She has made headlines for many reasons, both negative and positive, and seems to enjoy every bit of her life. Her meteoric rise to fame at a young age is one of the key inspirations in her successful career.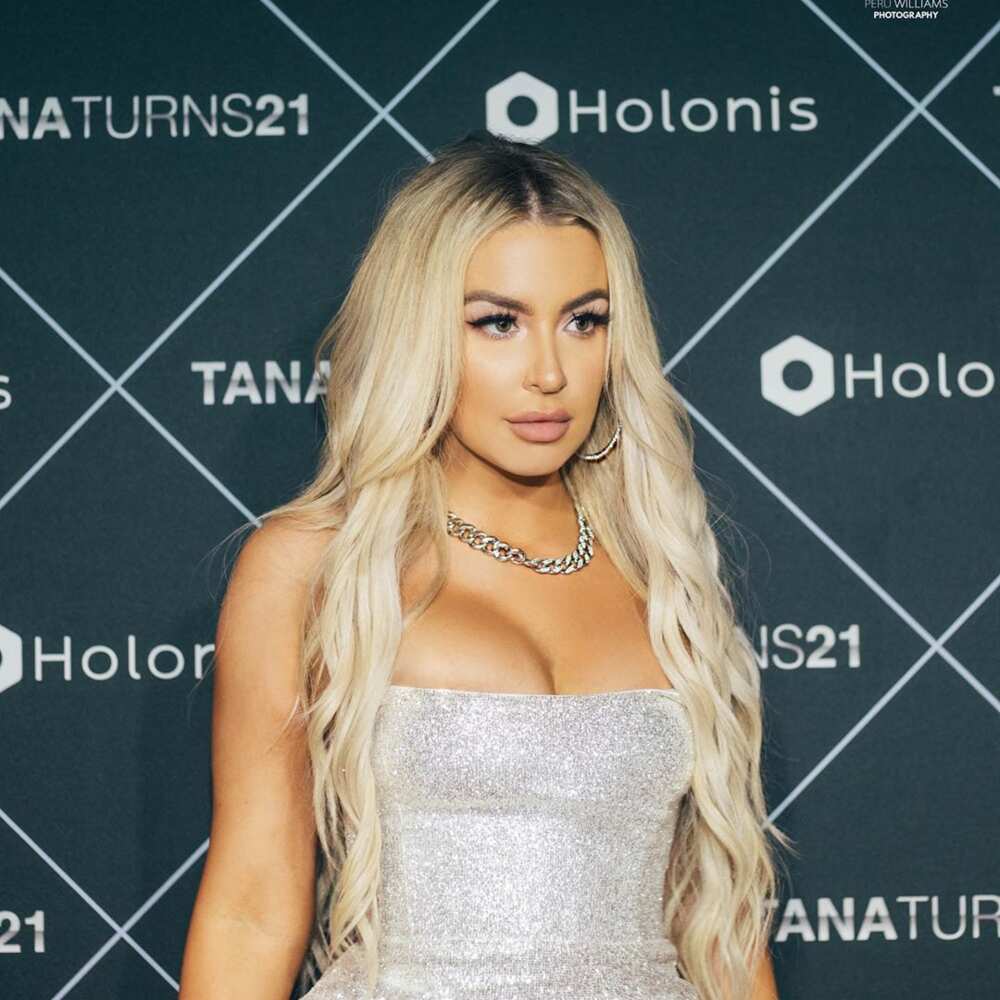 Tana Mongeau is a famous YouTuber with over 4 million subscribers on her channel. She is best known for sharing and discussing things about her personal life with fans. Her controversial statements, stunts, fashion, and unpopular decisions make her different from many other YouTube stars.
Tana Mongeau profile summary
Full name: Tana Marie Mongeau
Age (as of 2019): 21 years old
Date of Birth: June 24, 1998
Birthplace: Las Vegas, Nevada, United States
Nationality: American
Birth sign: Cancer
Height: 165 cm
Social media: Facebook, Twitter, Instagram, YouTube
Tana Mongeau
Is Tana Mongeau a boy? You probably have come across that question, but there is nothing much to debate about it. The American YouTuber was born on June 24, 1998, in Las Vegas, Nevada. She is the daughter of Rebecca and Richard Mongeau. The celebrity also doubles as a singer, and even featured her parents in one of her videos titled 'My Parents React To Hefner Video (CRINGE).' She attended Green Valley High School where she graduated in 2015. It is after graduating from high school that the celebrity started her YouTube channel.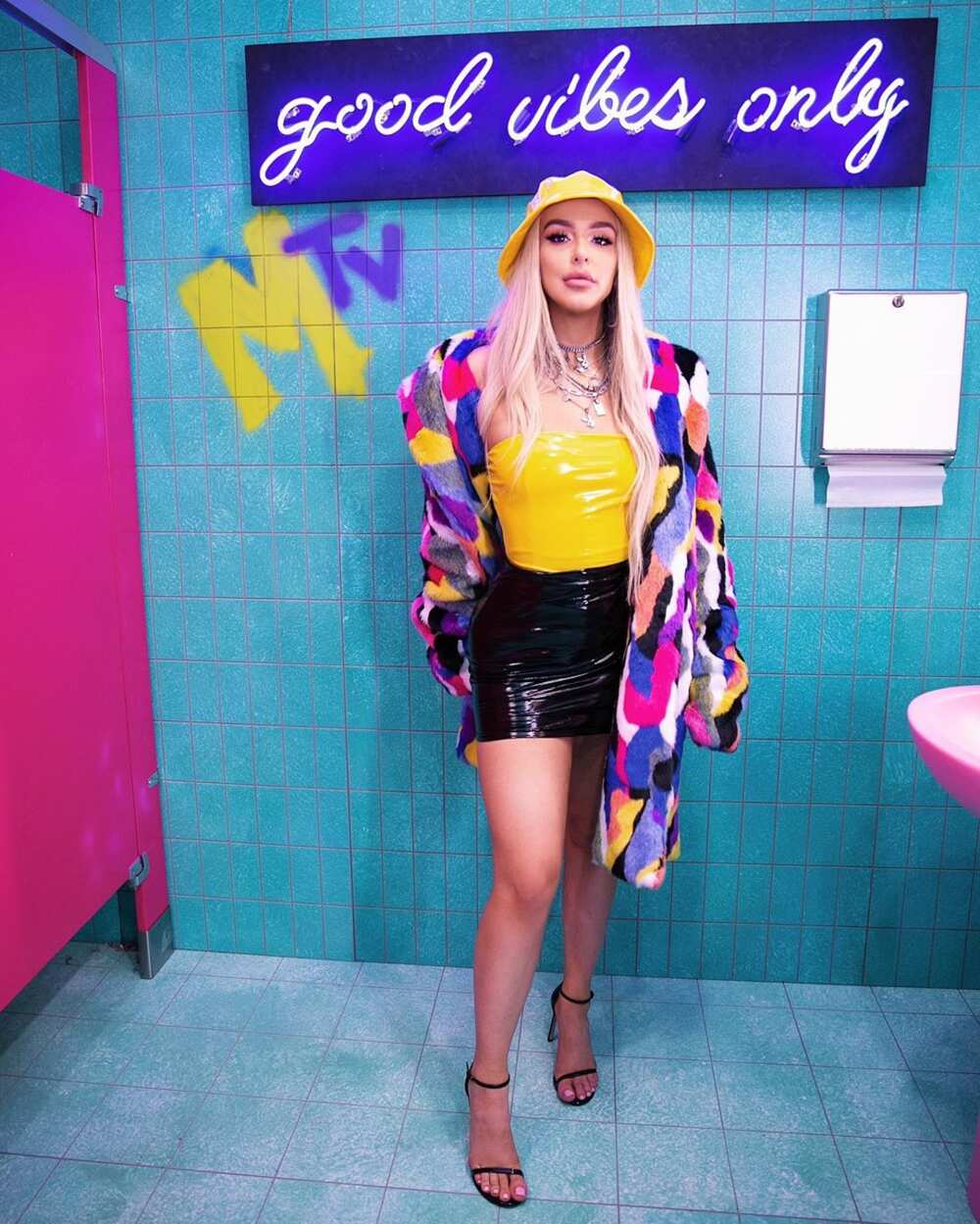 It is easy to admire her current lifestyle but not a bit from her past real life. She grew up in a rough and challenging environment and could witness her patents engage in serious quarrels and fights. She got addicted to alcohol, weed and other substances at 8th grade. The celebrity also lost her best friend, Triston Taylor Green, who shot herself back in 2015. Most of her YouTube videos focus on her childhood experience and the bad memories she encountered when growing up.
What is Tana Mongeau age?
The talented star has risen to fame at a young age, and her biggest challenge will be maintaining her status and all the pressure in the coming years. She is currently 21 years old, and fans will be hoping to see more of her presence in TV and social media for as long as possible.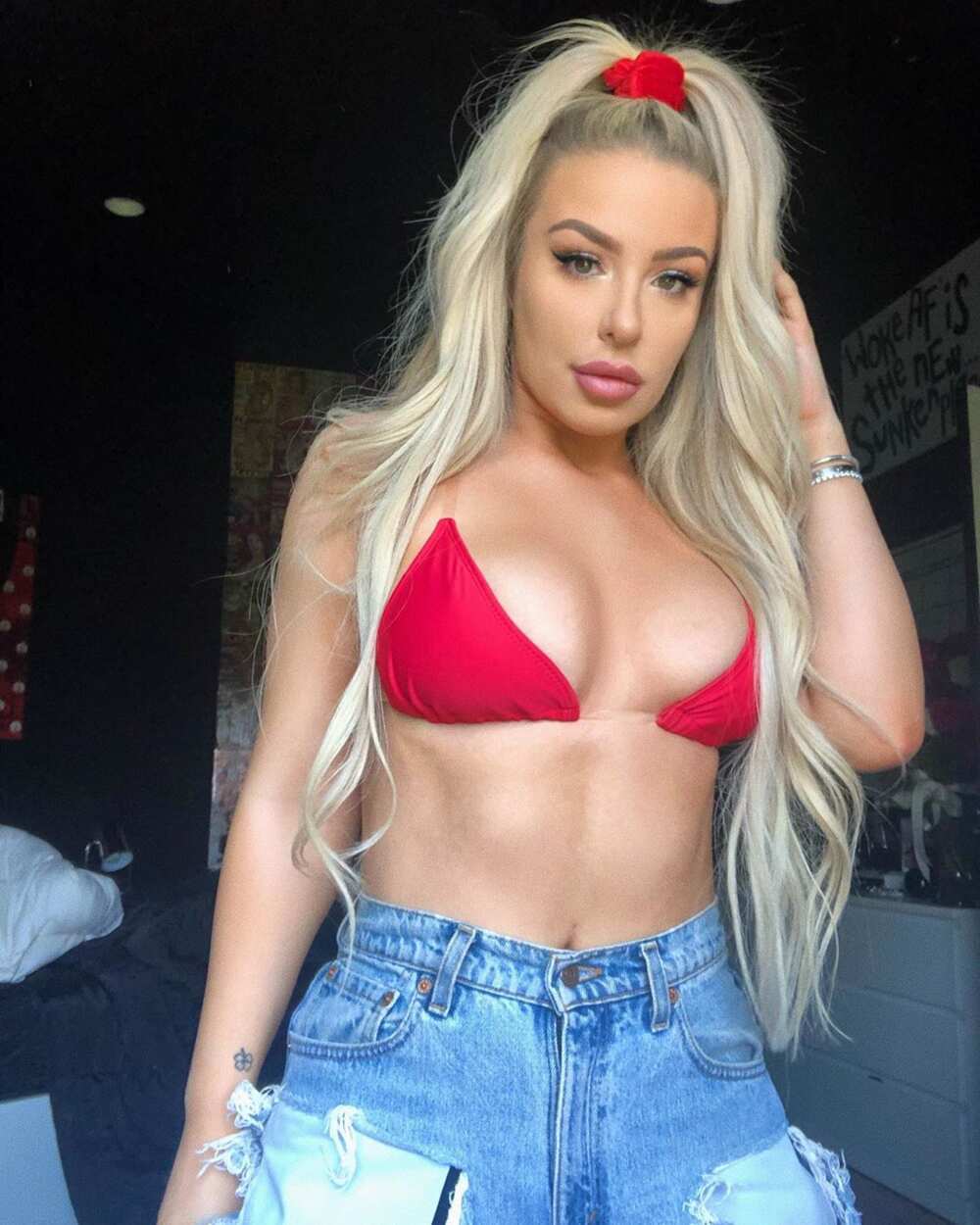 What does Tana Mongeau do?
She is famously known for her YouTube presence, but the internet personality has more talents that might shock you. She is also a good singer and has released several singles and albums. Her first release was in 2016 for the Roast Yourself Challenge. The song opened more doors for her singing career and was followed by Hefner 2017, and the single W in 2018 among others.
As an actress, she is known for her role as Pink Ranger in Minute Match-Ups (2016). She also featured in other films and documentaries including Escape the Night (2016), Mod Sun: Address on the Internet (2017), and The Truth About Tanacon (TV Mini-Series documentary) in 2018.
The YouTube star has also collaborated with other artists and internet personalities that has helped grow her career. The famous Tana Mongeau associated acts include Cody Ko, Ricky Dillon, Shane Dawson, Channon Rose, and Gabbie Hanna. Her high school friend, Bella Fusco, also known as Isabella, has appeared in some of her work and tours, including the 'IM FAILING SCHOOL' video song.
READ ALSO: Lena Dunham profile: boyfriend, sister, net worth, best movies
Tana Mongeau MTV
The television star started an entertaining show recently on MTV called MTV No Filter: Tana Turns 21. The reality star was excited to break the news to her fans about the new show ahead of her 21st birthday celebration back in April 2019. The reality show is currently on Season 1 and has so far released three episodes. The prime focus is her life experiences and career and is worth watching this summer.
Fans will also remember Tana Mongeau piercing her nipples in the latest episode of her show that caught many by surprise.
Where does Tana Mongeau live?
One of the most inquired details about celebrities is their homes and luxuries. The multi-talented YouTuber lives in Las Vegas, Nevada, USA. In January 2019, she purchased a big house and later took her time to show fans the house through her YouTube channel. Her luxury lifestyle is a clear indication that she is ripping big from the internet and other careers.
Did you know that the celebrity also owns a lovely dog? Well, yes, the hound is an Italian greyhound, named Lumen. She loves her little friend and also shares pictures of both having a lovely time together for her fans.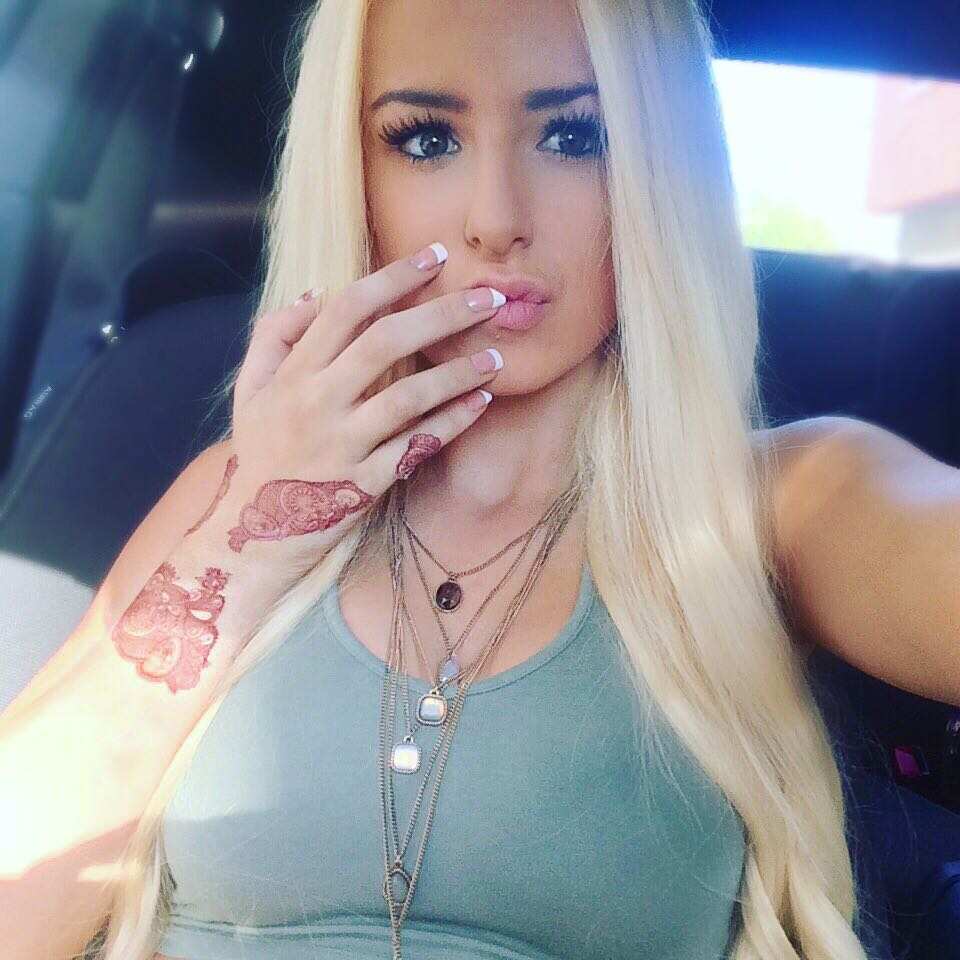 Body measurements
The cute celebrity has a well-built slim body that boards well with her height and weight. What can you say about her weight gain 2019? The star personality has made different hairstyles that have added to her aesthetic beauty, from super dark brown hair to blonde. Her hair extension has also attracted different views from her fans, who are always keen on her fashion. Any ardent fan would relish the chance of having her lock screen and wallpapers on their gadgets. Here are some of her body measurements:
Height: 5' 5" (165 cm)
Weight: 54 kg or 119 lbs
Eye colour: Dark green
Hair colour: Dark brown (natural)
Coachella 2019
The YouTube queen was the key attraction at the 2019 Coachella with her wild outfit that carried the day. She surprised her audience with a unique fashion of a star bra, chaps, black boots and a black thong. She will never stop to amaze the public with her fresh creativity.
In 2017, she had one of her horrible experiences at Coachella after she was arrested and detained during the event. She wrote on Twitter complaining and confirming the presence of paparazzi who took her photos in handcuffs.
What is Tana Mongeau net worth?
There is no doubt that Tana is wealthy; therefore, the figures behind her net worth might not surprise you. What is more interesting is how she achieved all the fame and success at a young age. So, how much does Tana Mongeau make? The multi-talented celebrity has accumulated more wealth which most people would dream of having in their lifetime. Her primary source of income is the internet and social media. Her YouTube presence has rewarded her in a lump sum, not to forget her Twitter and Instagram adverts.
She has also earned well through songs, movies and television shows. Tana Mongeau net worth is $4 million. Her figures are expected to continue rising as the 21-years old looks set to explore more in the Entertainment Industries.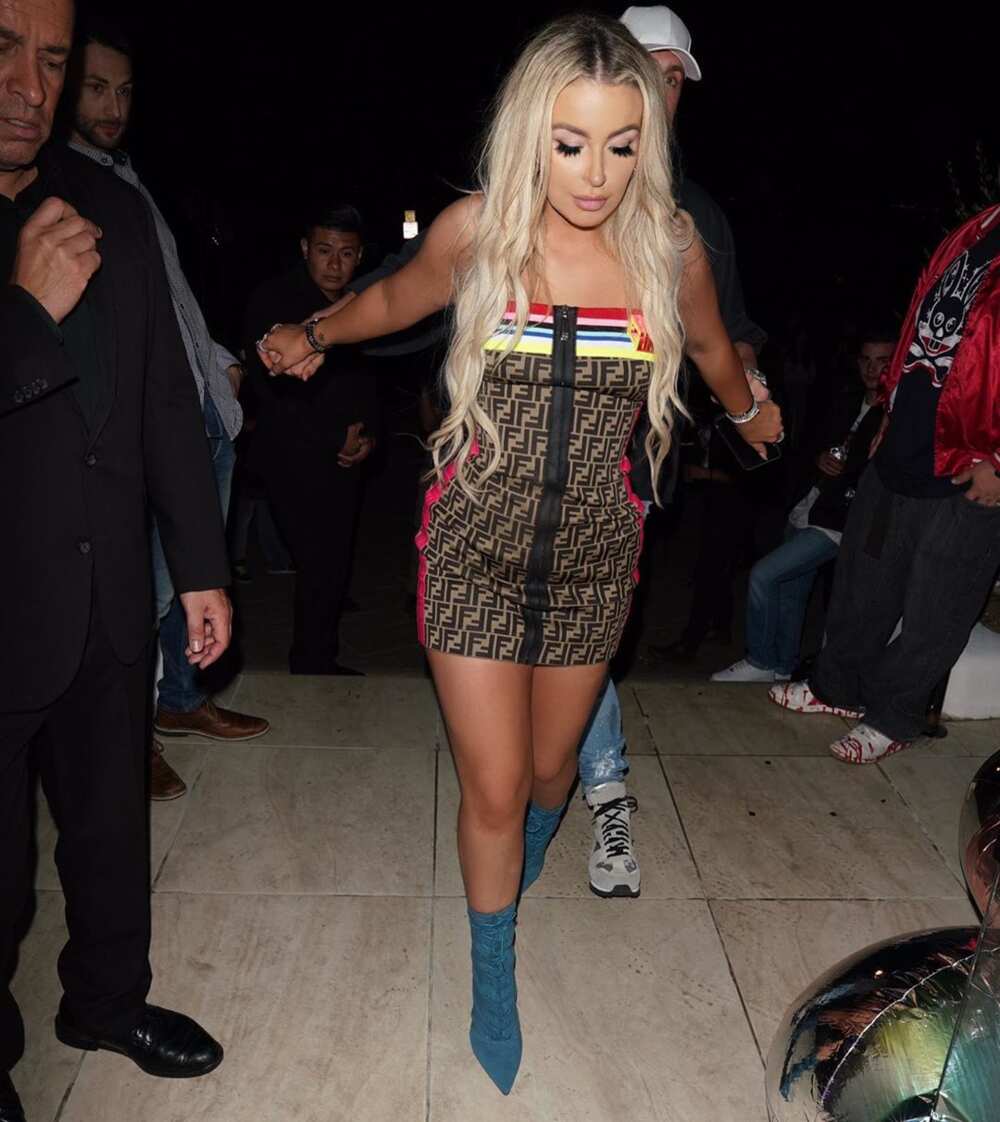 Is Tana Mongeau dating anyone?
Every fan would love to know the relationship status of their star celebrities, and the cute TV star is no exception. She has recently dominated the headlines as doubts build upon her marriage life. How many men has the beautiful queen dated? Is she having a baby?
Somer Hollingsworth
Tana and Somer Hollingsworth reportedly began dating in 2015. Hollingsworth is also a social media celebrity, and the two enjoyed a lovely relationship for quite a long time. In 2017, they broke up after Tana released a video showing her giving a lap dance to Kian Lawley.
READ ALSO: Sara Carter (reporter) bio: age, husband, career
Is Tana Mongeau dating Bella or Brad?
After splitting with Hollingsworth, Bella Thorne and Brad Sousa came into Tana's life, but who is she dating now?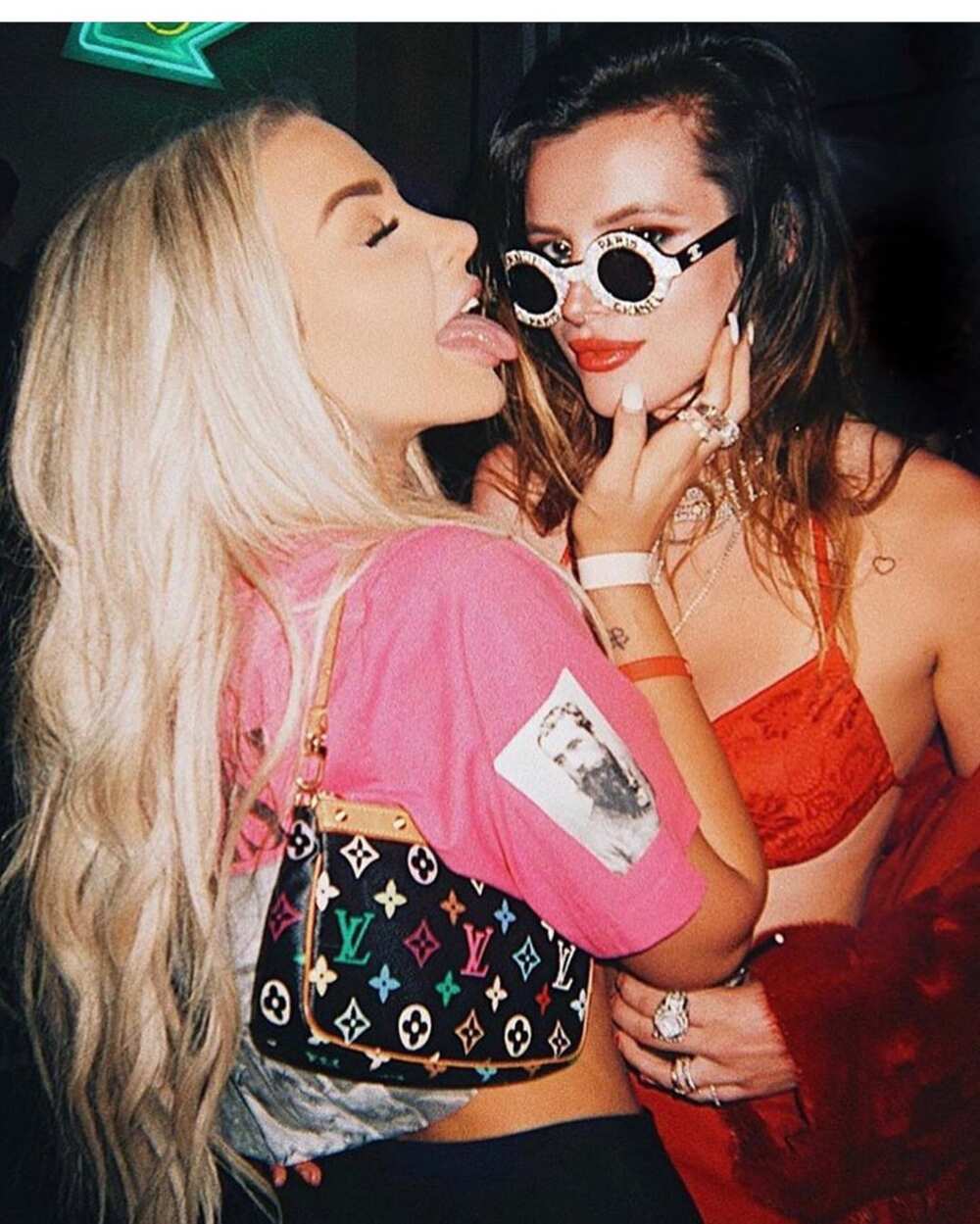 Bella Thorne Tana relationship
The two friends were also reported to be dating, raising more questions than answers among the public. Bella is an American actress and singer and is said to have dated her friend back in 2017. The relationship is said to have lasted for a short time, although no one came in public to confirm they were dating. Tana Mongeau Hefner video song featured Bella as her playmate, as the two displayed perfect chemistry and fantastic performance.
Brad Sousa
In 2019, the YouTube sensation found love in Brad, who is a fellow Instagram star. She took to her Instagram account to announce her new boyfriend. The couple enjoyed quality time sharing most of their moments with fans who were anticipating more from their best couple. To the disappointment of fans, the Tana Mongeau Brad relationship did not live up to expectations as the pair separated. The star queen later found her next love and partner.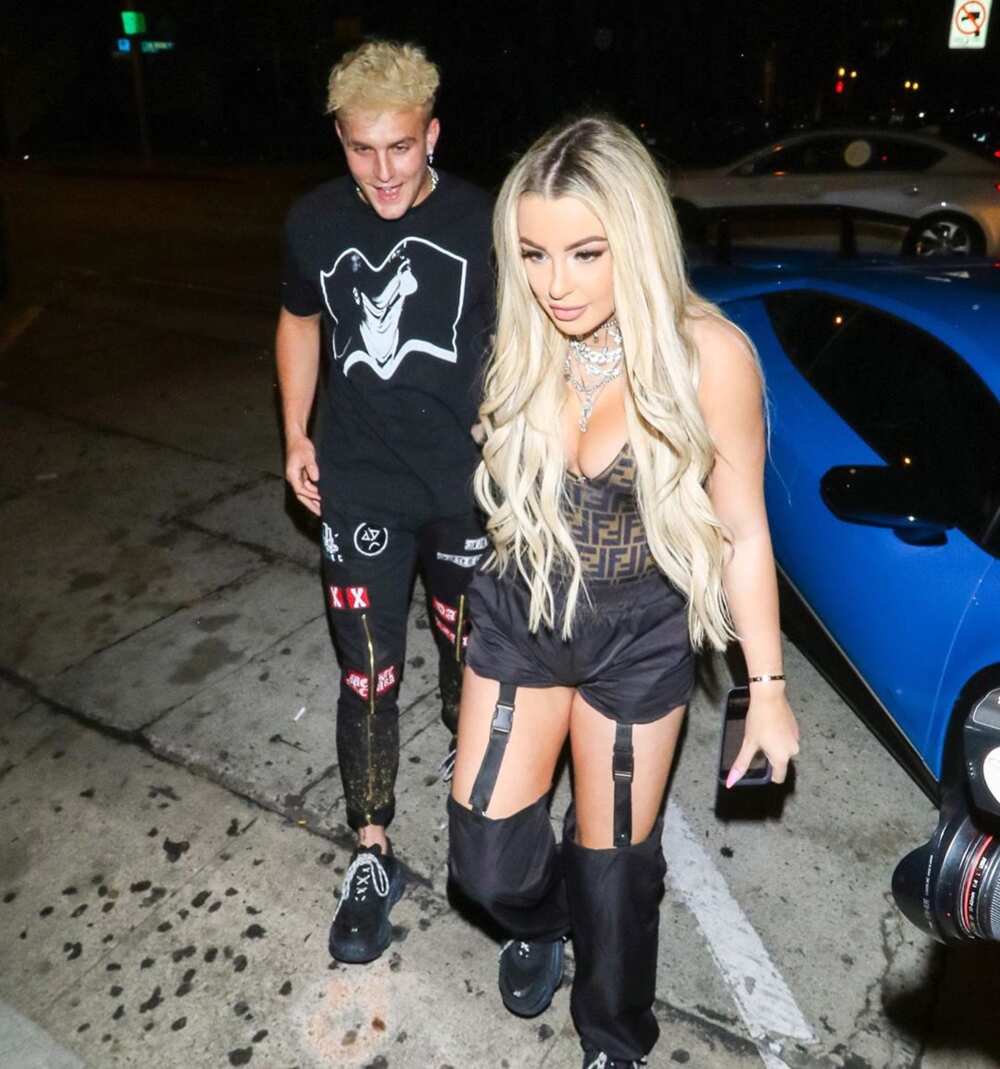 Who is Tana Mongeau partner?
For several months, she developed a strong bond with Jake Paul and are believed to have taken their relationship to an advanced level.
Are Tana and Jake Paul dating?
Jake Paul and Tana Mongeau dated for a short time before announcing their engagement back in June 2019. Some fans were happy to send their congratulation messages on Tana Mongeau Instagram account. Others expressed their doubts on the love story that appeared to develop very fast. So, is Tana Mongeau married?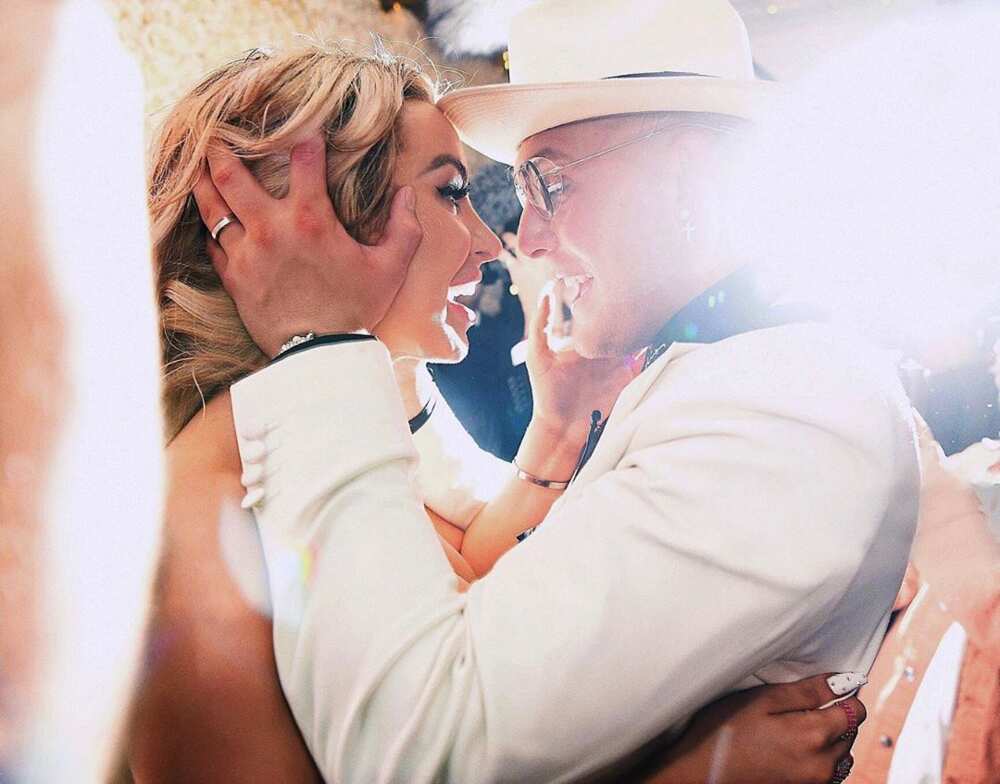 Jake Paul and Tana are happily married couple after recently tying the knot, but the authenticity of the relationship remains a doubt having in mind the history of the two love birds. The TV actress is not new to pulling pranks, same to Jake Paul, and their fans know them pretty well. Perhaps this is the reason why some still doubt the Tana Mongeau and Jake Paul union. Back in March, some people got duped by Tana Mongeau Twitter post where she claimed to be pregnant. The post went viral, only for fans to later learn that it was a mere prank after the celebrity made her intentions clear.
She then defended herself by claiming to have copy-pasted the message and that she was not pregnant.
It appears she might be getting too much with jokes as some fans did not like her tricks.
Jake Paul and Tana Mongeau wedding
Jake Paul wedding with Tana took place at the Graffiti Mansion in Las Vegas on July 28, 2019. Several guests and celebrities attended to watch the love birds exchange vows including minor league baseball player, Justin Hooper. The Graffiti mansion is a famous place known to host some major events with different decorations, including the Supreme x Louis Vuitton monogram print.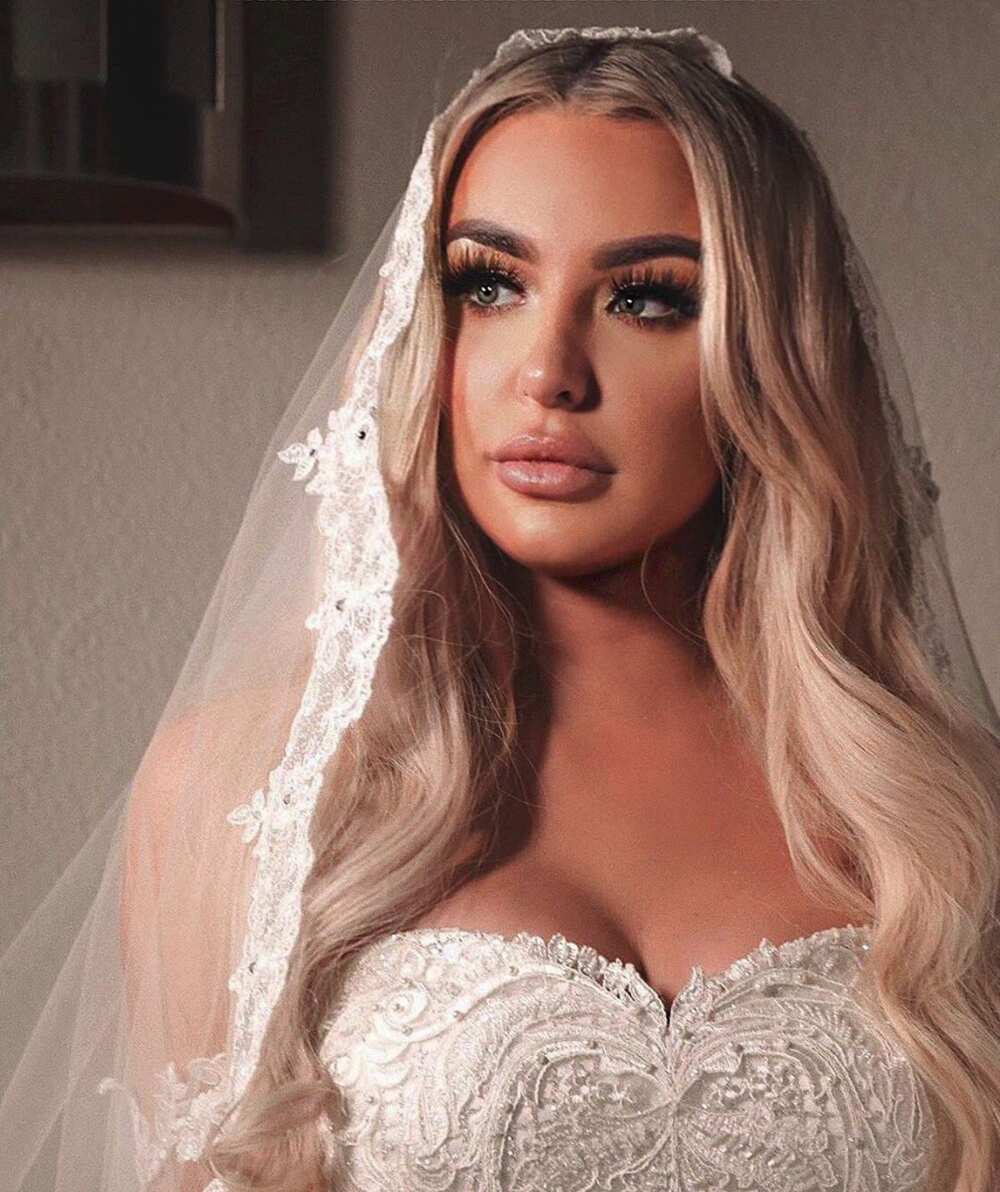 Tana Mongeau wedding dress was another key talking point in the ceremony. She chose two different dresses for the occasion, each dress for its particular moment. Everything went as planned until they exchanged vows before short chaos erupted. The celebration stopped for few minutes but later resumed once peace restored. If there is one thing that fans will remember for long is the Jake Paul and Tana Mongeau wedding fight that almost ruined everything.
Jake Paul Tana Mongeau wedding stream
Those who could not make to the ceremony had an alternative means of watching it live on Halogen TV. A subscription of $50 was charged to access the Jake Paul and Tana Mongeau wedding live stream. Despite all the efforts, it did not yield the best result, with fans are demanding a refund for paying to watch the Jake and Tana Mongeau wedding stream. According to the fans, the Halogen TV stream was blurry and had some delays.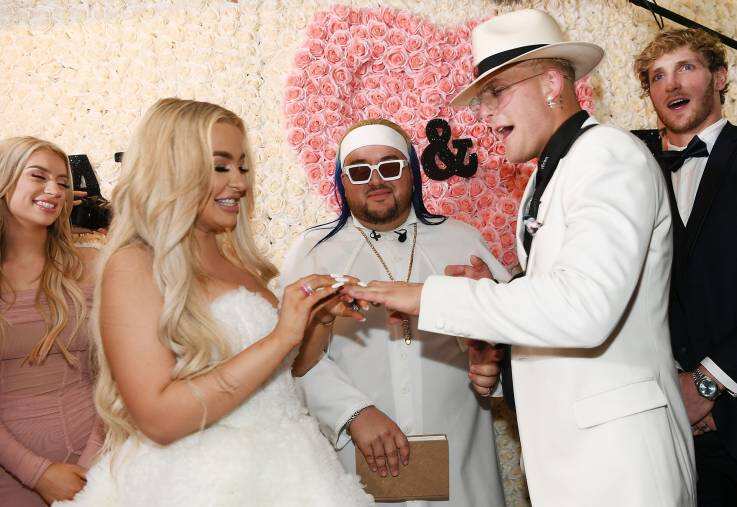 Tana Mongeau and Jake Paul wedding fake?
The ever-growing debate around the two newlyweds is whether their marriage is genuine or a PR stunt. Both YouTubers are known for their jokes and ruling out their wedding would not be a surprise. So far, none of them has claimed it is fake, but there is one close person who might have given a real account of what is happening.
Jake Paul's brother, Logan Paul recently claimed the engagement was fake and would not last long. He also described the marriage as 'preemptive'. Fans will probably be gauging the seriousness of the wedding with every little detail that matter every day. Could this be another one of their usual tricks to increase their fame and make more money?
Tana Mongeau family emergency
Another twist in the marriage came after the YouTube queen delayed her honeymoon over family emergency on twitter.
Could this be another reason to suggest the marriage is not real?
What do you think about the newlyweds, Tana Paul and Jake Paul? Is the marriage going to last forever, or for a short time? Amidst all the doubts, one thing is clear, Tana Mongeau loves Jake, but who would easily trust the two couples before giving them more time? Only time will tell whether the marriage between the two couples is genuine or not.
READ ALSO: India Reynolds bio: age, height, photos
Source: Legit