Lena Dunham profile: boyfriend, sister, net worth, best movies
Lena Dunham is a bold woman who has attracted praise and criticism in equal measure. Many people know her as a brave and outspoken lady. She does not fear controversies and is daring enough to speak her mind regardless of the repercussions. Lena is an actress, producer, writer, and director who is dedicated to her work. She is also an avid feminist. What inspires her boldness in life?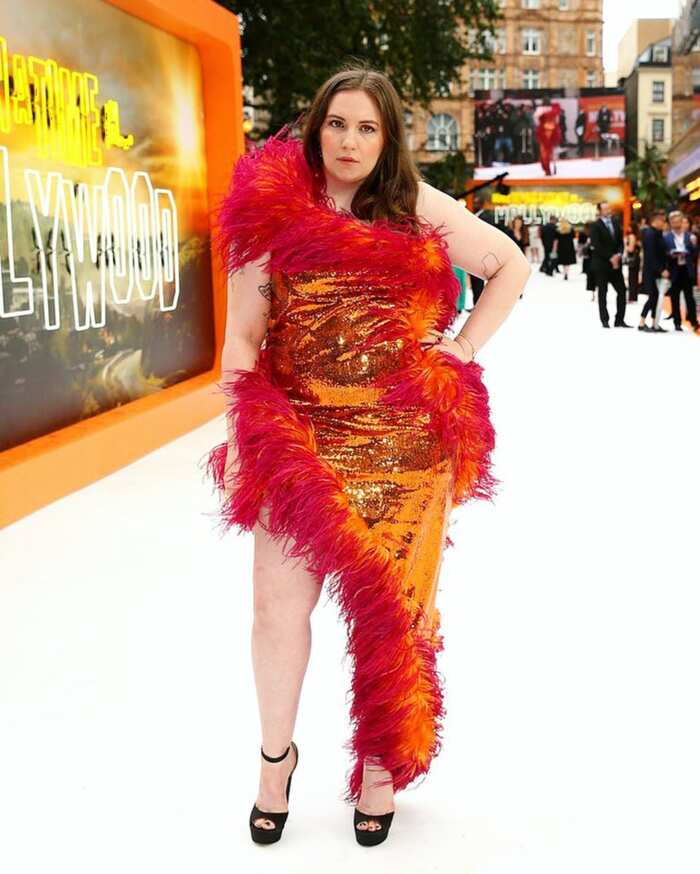 Who is Lena Dunham? She is a director, writer, producer, and actress who was born on the 13th of May 1986 in New York City, United States of America. Her nationality is American, she is of English-Jewish ethnicity, and her star sign is Taurus. Currently, she is 33 years old. Her father's name is Carroll Dunham while Laurie Simmons is her mother's name. Grace Dunham is Lena Dunham sister. Lena is six years older than Grace. Carroll, their father, is a protestant with English ancestry while Laurie Simmons, their mother, is of Jewish descent.
Lena Dunham profile summary
Name: Lena Dunham
Date of birth: 13th May 1986
Star sign: Taurus
Place of birth: New York City, United States of America
Nationality: American
Ancestry: English-Jewish
Father: Carroll Dunham
Mother: Laurie Simmons
Sister: Grace Dunham
Marital status: Not married
Alma mater: Saint Ann's School, Brooklyn Heights; Oberlin College
Profession: Director, writer, producer, actress
Approximated net worth: $12 million
Family and education background
Who is Lena Dunham's father? Her father, Carroll Dunham, is a famous painter who has exhibited his work in different galleries. Laurie Simmons, Carroll's wife, is a renowned photographer and designer who is best known for using dolls and dollhouses in her photographs. Lena comes from an artistic family. Carroll and Laurie raised their two daughters in Brooklyn. They spent their summers in Salisbury, Connecticut.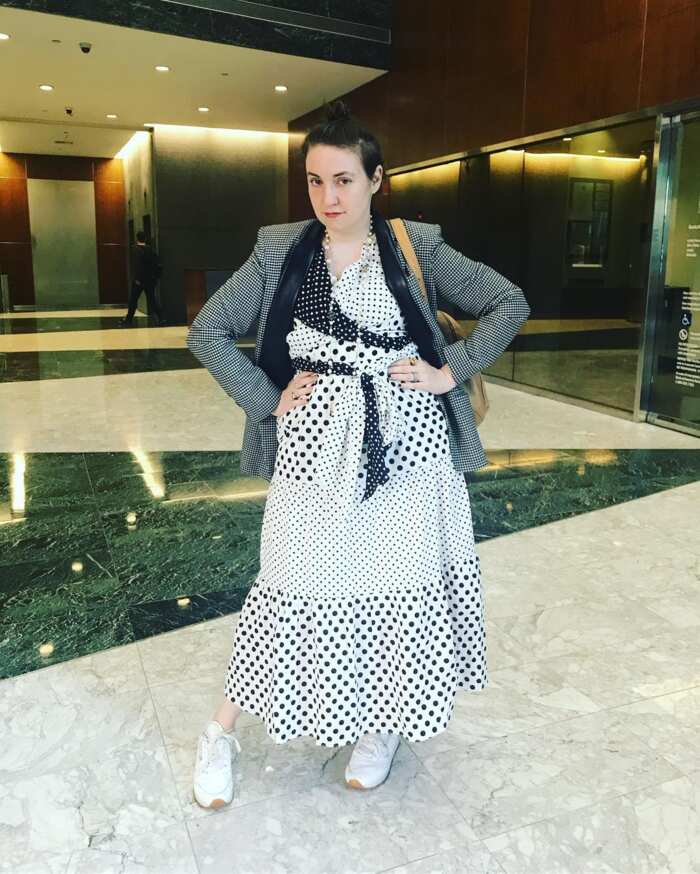 Lena went to Saint Ann's School, Brooklyn. It was in this institution that she met her friend and co-star, Jemima Kirke. The two formed a close friendship that has lasted to date. From a tender age, Lena had an interest in art. It was not surprising, therefore, when she won the Scholastic Art and Writing Award as a teenager. Afterward, she joined The New School for one year before moving to Oberlin College. She pursued a degree course in Creative Writing at Oberlin College, where she graduated in 2008.
Career path
Lena has a multifaceted career which she has managed with grace and poise. Her work is recognised globally. What has she achieved so far?
Career in the film and television industry
Lena was taught the value of hard work at a tender age. In 2001, she worked at a video store in Brooklyn Heights. The job also taught her the need for being self-driven. She has gradually grown in the film and television industry over the years.
Early works
While still studying at Oberlin College, Lena produced a few short films independently. She uploaded the movies on her YouTube. Most of these films involved themes of sexual enlightenment. She approached the topic in a dialogue style where she offered young people a platform to openly discuss their relationships.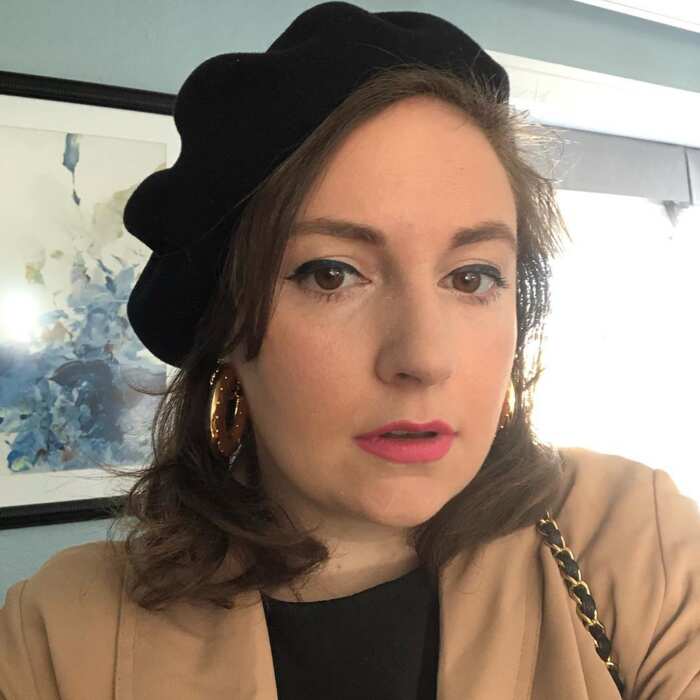 These early works included:
Pressure: Lena produced this short film in 2006. It featured a girl and two of her friends talking about their first orgasm. The discussion made Dunham's character feel pressured to experience the same.
Dealing: This short film was released in 2006. Lena wrote and directed it. She played the character of Georgia.
The Fountain: This 2007 short film portrayed Lena in a bikini as she brushed her teeth at the public fountain in her school, Oberlin College. The film went viral online. The fact that she disrobed in public without any shame made her receive plenty of negative feedback. The negative comments made her take the video down. When asked, Lena said that most comments attacked her body size, and she did not want to incite a debate about her body.
Open the Door: This film was released in 2007.
Hooker on Campus: This short film was also released in 2007.
Una & Jacques: It was released in 2007.
Tight Shots: In 2007, Lena starred in Tight Shots, a web series for Nerve.com. She was the writer, director, and editor.
Delusional Downtown Divas: In 2009, she created, directed and edited the Index Magazine web series, Delusional Downtown Divas. The series parodied the art scene in New York City. She played the character of Oona. This was an unpaid venture, so Lena and her friends pooled their resources to create it.
Creative Nonfiction: In 2009, she also premiered the Creative Nonfiction comedy at the South by Southwest Festival which was held in Austin. She played the character of Ella, a college student trying to finish her screenplay. She was also the writer, editor, and director.
The House of the Devil: In 2009, Lena was the voice of the 911 operator.
The Viewer: She was a voice actress in this short film.
Family Tree: She portrayed the character of Lena in this short film.
Gabi on the Roof in July: She portrayed the character of Colby.
Tiny Furniture: In 2010, Lena made her much-desired breakthrough with her feature film, Tiny Furniture. In the movie, she played the lead role of Aura while her biological mother, Laurie Simmons, portrayed the role of Aura's mother. Grace, her younger sister, also featured as her on-screen sister. This film attracted the attention of many people and other key players in the entertainment industry. She even got a chance to write a blind script for HBO.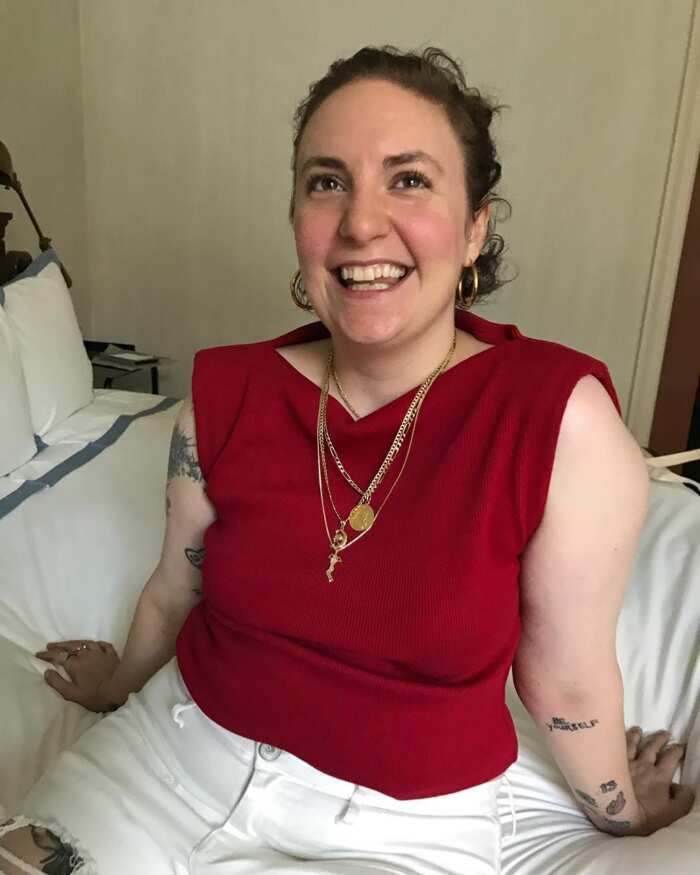 Lena Dunham movies and TV shows after her breakthrough
After her breakthrough following the success of Tiny Furniture, Lena became a sought-after actress. She continues to show her prowess in acting in the various television show and movie roles that she takes.
Movie roles
Lena Dunham's acting and writing skills cannot be disputed. She has successfully portrayed various characters in mainstream movies and featured in others as a co-writer. These include:
The Innkeepers: She acted as barista in this 2011 film.
Nobody Walks: She co-wrote this 2012 movie.
Supporting Characters: Lena played the role of Alexa in this 2012 film.
This Is 40: She acted as Cat.
Happy Christmas: In this fantastic movie that was released in 2014, Lena played the character of Carson.
Sky: In 2015, the actress acted as Billie in the movie, Sky.
Neighbors 2: Sorority Rising: In 2016, she acted as Joan of Arch in this movie. The scenes were cut-off from the final film.
My Art: She featured in this film as Meryl. My Art premiered at the 73rd Venice International Film Festival. Her mother, Laurie Simmons, created it.
My Entire High School Sinking Into the Sea: Lena was a voice actress in this film. She provided the voice of Mary in this animated teen comedy-drama movie that Dash Shaw directed.
Once Upon a Time in Hollywood: Lena Dunham in Once Upon A Time in Hollywood, a 2019 film, portrayed the character of Catherine "Gypsy" Share. She had announced that she would feature in the movie in August 2018. The movie, which was directed by Quentin Tarantino, was released on the 26th of July 2019. Once Upon a Time in Hollywood cast includes Brad Pitt, Leonardo DiCaprio, Margot Robbie who acts as Sharon Tate, Susan Atkins, and many others. Margaret Qualley, who is the daughter of Andie MacDowell, also stars in the film.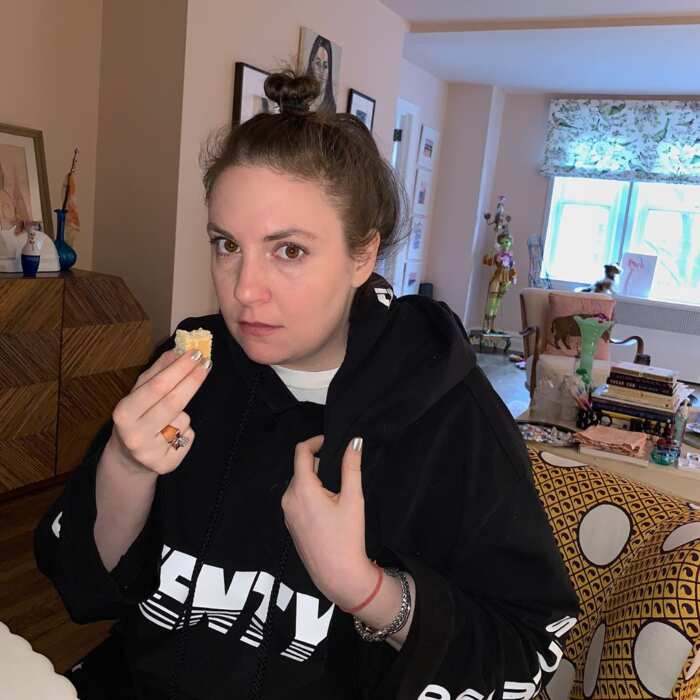 Television shows
The television shows that featured Lena as part of the cast are:
Girls (2012-2017): In this television show, Lena had multiple roles. She was a lead actress, creator, writer, director, and executive producer. HBO gave the series the go-ahead in 2011 after three of the episodes received a warm welcome at the 2012 South by Southwest Festival. Girls is arguably one of Lena's best achievements. In the series, she portrayed the character of Hannah Horvath, a writer in her twenties who was struggling in New York City. Some of Hannah's challenges included making poor decisions and being cut-off from her parents. Lena's personal experiences inspired the scripts.
In 2012, the first episode of Girls premiered on HBO. Some of the actors included Christopher Abbott, Allison Williams, Jesse Peretz, Patrick Wilson, and many others. The show was received with support and love with many applauding it for being the millennial version of Sex and the City. Others criticised it for lacking racial representation and the frequency with which Hannah appeared nude. The show won many awards.
In April 2012, Girls was renewed for the second season which aired from January to March 2013. The success of the show led to its renewal for the third and fourth seasons. The third season started airing in January 2014 while the fourth season premiered in January 2015. On the 5th of January 2015, it was renewed for the fifth season even if the viewership was slowly declining.
Lena announced that season six of Girls would probably be the last. HBO later confirmed this news. The sixth season aired in 2017 with the final episode airing on the 16th of April. During the show, she developed close friendships with her fellow actors and actresses. Lena was among the few friends who were invited for Adam Driver wedding which was held in 2013.
Adventure Time (2014-2016): In this television series, she was the voice actress for the character Betty Groff. Betty featured in Episode 48 of season five, Episode 38 of season six and Episode 27 of season seven. The episodes were titled Betty, You Forgot Your Floaties and Broke His Crown, respectively.
Saturday Night Live (2014): Lena was the host of episode 15 of season 39 of this show.
Scandal (2015): The actress featured as a guest in an episode of season four. In Scandal, she acted as Sussane Thomas.
7 Days in Hell (2015): In this television film, the actress portrayed the character of Lanny Denver.
The Simpsons (2015): Lena was a voice actress in The Simpsons. She provided the voice of Candace/Hannah Horvath in the first episode of season 27.
Travel Man (2017): She featured as herself in the episode, 48 Hours in Tenerife.
American Horror Story: Cult (2017): She acted as Valerie Solanas in the episode, Valerie Solanas Died for Your Sins: Scumbag. Valerie Solanas was a radical feminist and author of the SCUM Manifesto. She tried to kill Andy Warhol.
Career as an author
How much did Lena Dunham get for her book? Towards the end of 2012, the actress-author signed a deal worth $3.5 million with Random House. The amount was for her to publish her first book. In September 2014, the book, Not That Kind of Girl: A Young Woman Tells You What She's "Learned" was published. In October 2014, the book ranked second on The New York Times Best Seller list. Lena is still working on her second book, which will be published by Random House as well.
Other roles and projects
Lena is a multi-talented person and tried her hand in many spheres.
A Casual Romance Productions
In 2015, Lena launched her production company called A Casual Romance Productions. The company was an opportunity for her to develop films and television projects at her own time. Some of the projects done by the company include:
It's Me Hilary: The Man Who Drew Eloise
Camping: This was a remake of the HBO British comedy with the same name. Jennifer Garner took the lead role while Lena and Jenni Konner were the writers. When Camping premiered in 2017, many critics gave it mixed reviews.
In October 2018, Lena and Konner's joint contract with HBO expired. She and Jenny decided to split. They dissolved A Casual Romance Productions. The two have since entered into two separate agreements with HBO.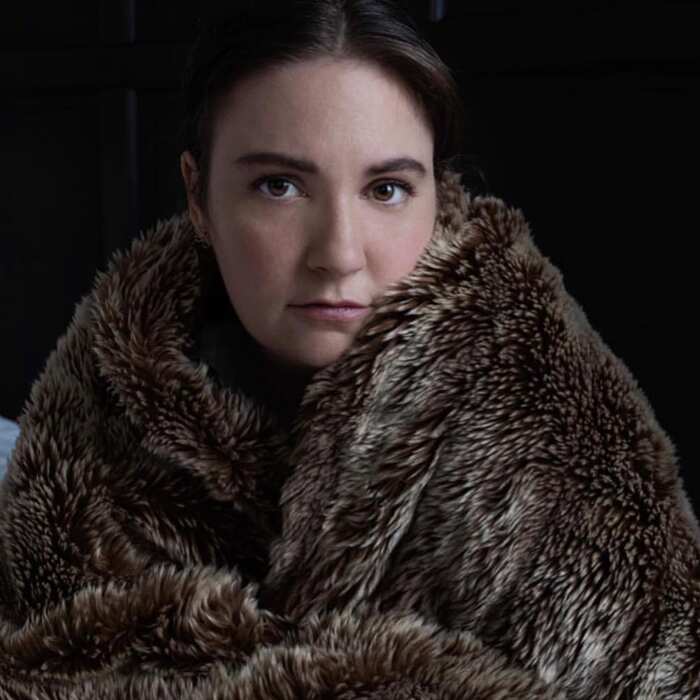 Magazine covers
Lena has featured on different magazine covers. These include Vogue, Rolling Stone, Elle, and Marie Claire. In February 2017, she posed for Glamour's cover with bare legs and later praised the Glamour Team for not hiding the cellulite on her thighs.
Lenny Letter
Lena and Jenni Konner founded their online feminist newsletter, Lenny Letter in 2015. Initially, Hearst Corporation advertising company supported their work, but the advertising role was later taken up by Condé Nast. In addition to feminism, Lenny Letter also featured poetry and fiction. Some of the notable pieces in the newsletter were by Alicia Keys, actress Joy Bryant, and Jennifer Lawrence. Keys wrote about her decision to wear minimal or no make-up while Lawrence addressed the gender wage difference in Hollywood. Joy Bryant, on the other hand, wrote about her experience with sexual assault.
READ ALSO: Sara Carter (reporter) bio: age, husband, career
In 2017, Lenny Letter was at its peak with about half a million subscribers. However, the newsletter was shut down in October 2018 due to a notable decline in the number of subscribers. It also failed to catch the attention of the public on other platforms.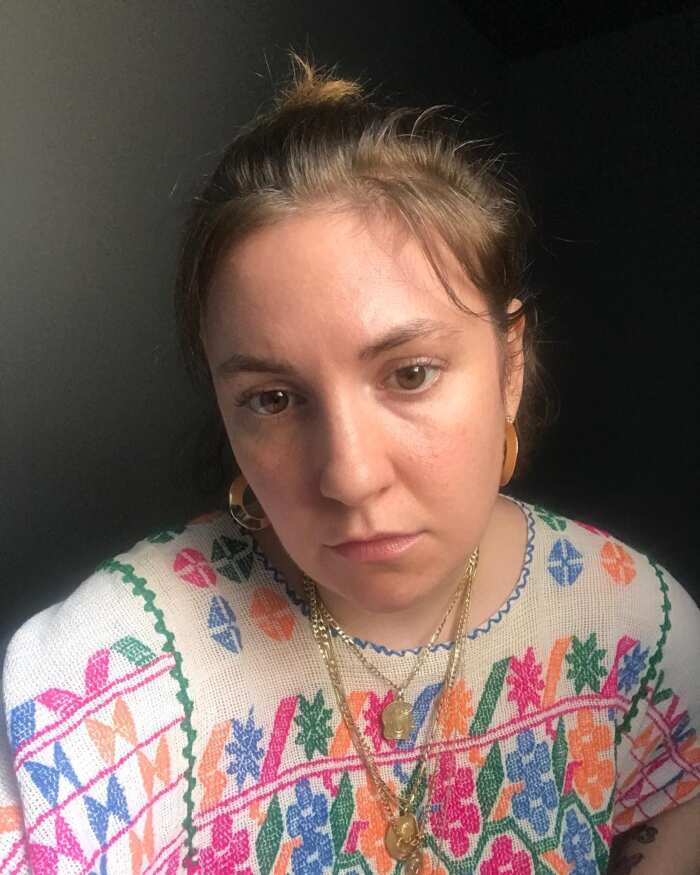 Nominations and awards
Lena has received numerous nominations and awards for her impressive work in the film, media, and entertainment industry. Some of the awards are:
Golden Globes
In 2013, she won the Best Performance by an Actress in a Television Series - Comedy or Musical Award for her role in Girls.
In 2014 and 2015, she was nominated for the Best Performance by an Actress in a Television Series - Comedy or Musical Award for her role in Girls.
Primetime Emmy Awards
In 2012, she was nominated for the Outstanding Lead Actress in a Comedy Series, Outstanding Directing in a Comedy Series, Outstanding Writing in a Comedy Series and Outstanding Comedy Series awards for her roles in Girls.
In 2013, she was nominated for the Outstanding Directing for a Comedy Series, Outstanding Lead Actress in a Comedy Series and Outstanding Comedy Series awards for her role in Girls.
In 2014, she was nominated for the Outstanding Lead Actress in a Comedy Series Award for executing the character of Hannah in Girls.
BAFTA Awards
The actress won the Best International Award in 2013 for her role in Girls.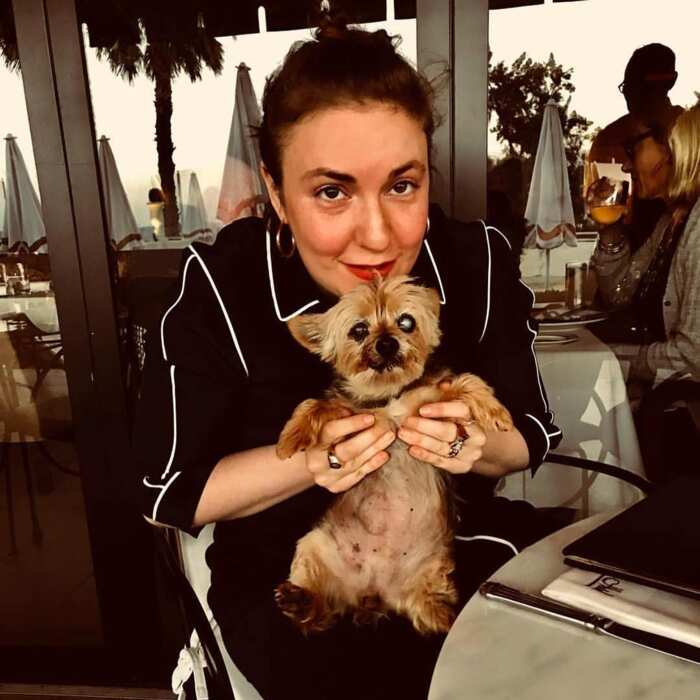 Alliance of Women Film Journalists
She was nominated for the Best Breakthrough Performance and Outstanding Achievement by a Woman in the Film Industry Awards for her work in Tiny Furniture.
American Comedy Awards
She was nominated for the Best Comedy Actress – TV Award for her work in Girls.
Cinema Eye Honors Awards, United States
She got a nomination for the Heterodox Award for her work in Tiny Furniture.
Critics Choice Television Awards
In 2012 and 2013, Lena was nominated for the Best Actress in a Comedy Series Award for her role in Girls.
Directors Guild of America, United States
In 2013, she got nominated for the Outstanding Directorial Achievement in Comedy Series Award for her work in Girls.
GALECA: The Society of LGBTQ Entertainment Critics
She was nominated for the TV Performance of the Year – Actress Award in 2011.
Film Independent Spirit Awards
She won the Best First Screenplay Award for her work in Tiny Furniture.
Gold Derby Awards
Lena was nominated for the Comedy Episode of the Year Award for her role in Girls in both 2014 and 2016.
Gotham Awards
The actress was nominated for the 2010 Best Ensemble Performance Award for her work in Tiny Furniture.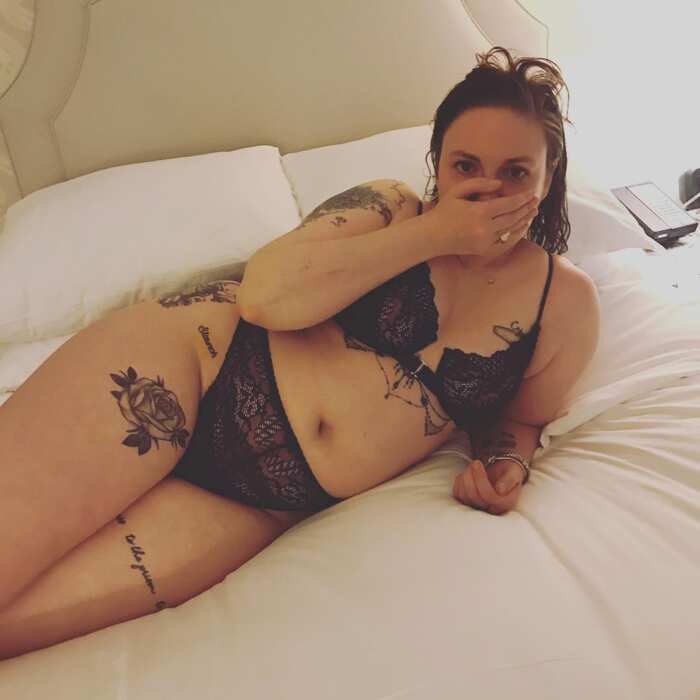 Gracie Allen Awards
The actress won the Outstanding Director – Entertainment Award for her role in Girls.
Los Angeles Film Critics Association Awards
She was declared the 2010 winner of the New Generation Award for her work in Tiny Furniture.
Sarasota Film Festival
She won the Independent Visions Award for her work in Tiny Furniture.
Lena Dunham net worth
What is Lena Dunham net worth? From her numerous roles in the media and entertainment industry, Lena has amassed impressive wealth. The public does not know how much she earns each month. However, her net worth is approximately $12 million.
Relationships and personal life
Who is Lena Dunham married to? The actress, author, and director is yet to get married. In 2012, she got into a romantic relationship with guitarist Jack Antonoff of the music band Fun. The couple was together until December 2017. Throughout their relationship, there were rumours that the actress was engaged to Jack. These were false rumours. Lena and Jack had an amicable break-up. Since then, Lena's recent relationships are unknown to the public. When and if she gets married, we will update you about Lena Dunham husband.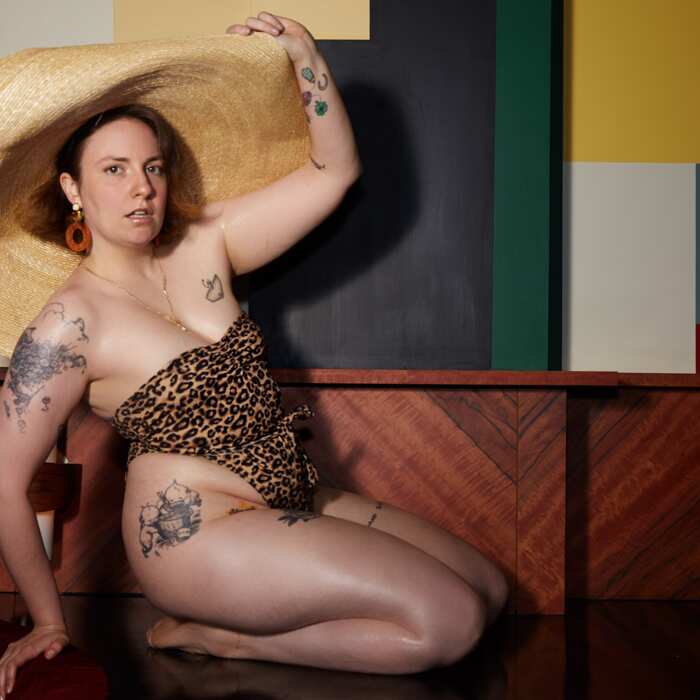 Since childhood, one of the personal struggles that the actress and writer has battled with is with obsessive-compulsive disorder. She was diagnosed with the condition at a young age and has been taking antidepressants in low dosages to mitigate her anxiety. In February 2018, Lena wrote a very personal essay for Vogue. She addressed her battle with endometriosis. The condition made her undergo a hysterectomy.
One of the other issues that the actress and author also deals with is her weight. She has lost and gained weight over the years. People often comment on her body size. In 2015, she posted an image of herself in a sports bra and Calvin Klein boxers on Twitter. She received a lot of negative comments about her body.
In 2018, she was the model for Inamorata Swimwear, a brand that is owned by her friend, Emily Ratajkowski. The bikini photo-shoot sensitized women about appreciating their bodies.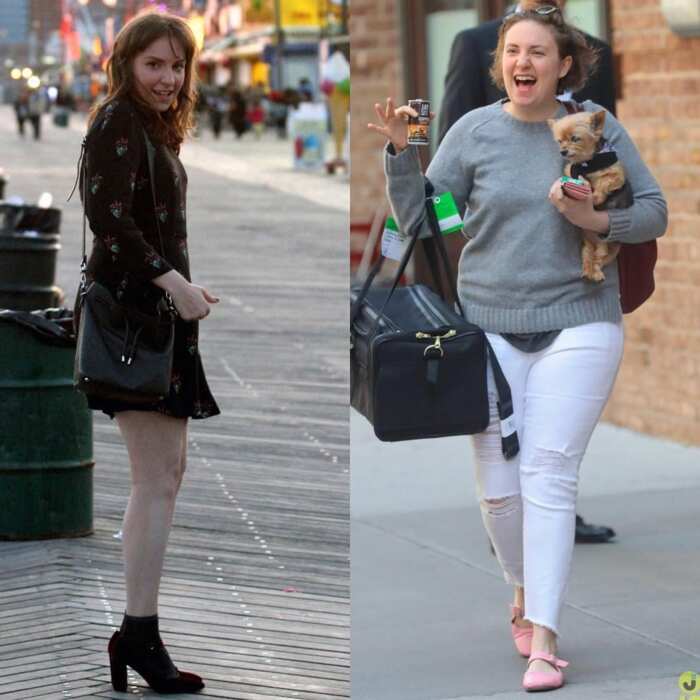 Political views and involvement
Lena is a vocal person who expresses her beliefs and standpoints even in political matters. In 2012, she did a video advertisement that promoted President Barack Obama's re-election bid. She did a monologue that encouraged the youth to vote. Her approach and choice of words angered many conservative people. In 2014, she was named the recipient of the Horizon Award by Point Foundation for supporting the LGBT community.
In 2016, Lena showed her support for Hillary Clinton through a mockumentary-style video. In June the following year, she endorsed Jim Johnson for the New Jersey's gubernatorial seat and also supported Jeremy Corbyn for the Labour Party leader during the general election in the United Kingdom.
READ ALSO: Tia Carrere bio: age, net worth, death hoax
Presence on social media
Lena is very active on different social media platforms. The Lena Dunham Instagram page has millions of followers, as well as Lena Dunham Twitter account. She also has a Facebook page. She uses these platforms often to inform her fans about her latest adventures and work-related activities.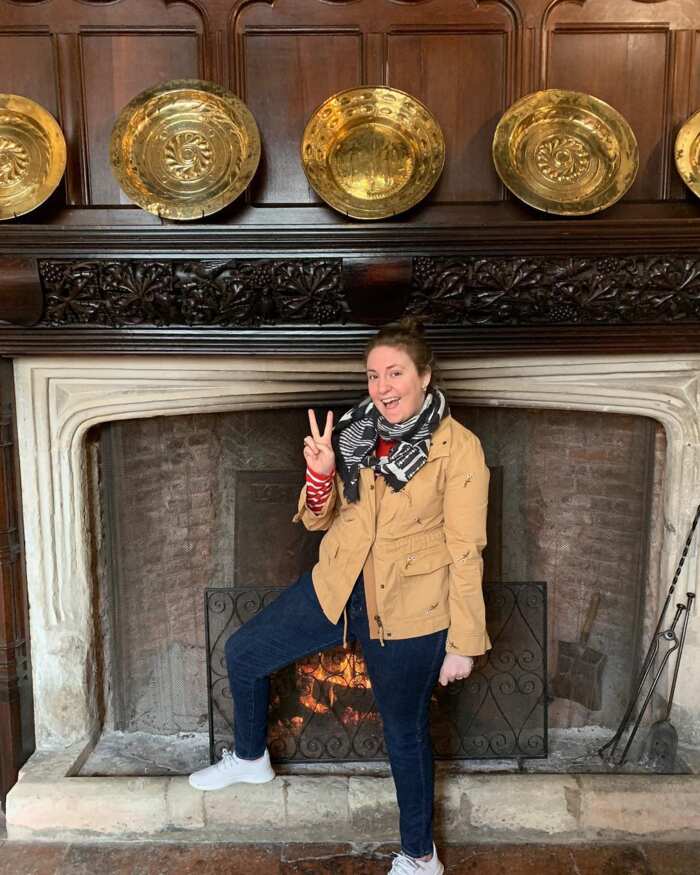 She also uses the pages to promote her feminist views and to appreciate her body as it is. She posts pictures of herself in various places such as the beach and at work. From her photos on Instagram, it is apparent that she loves tattoos.
Lena Dunham quotes
Lena is an avid feminist and advocate for appreciating women's bodies as they are. On several occasions, she has been criticized and shamed for her weight gain. Two of her famous quotes on these critical issues as documented in the Lena Dunham IMDB bio page are:
"It completely sickens me what our culture is doing to women. Last week I wore a big top and little shorts, and a bunch of stuff came out saying I was without pants. 'The No-Pants Look,' it said. And I didn't go out without pants, I had shorts on...If Olivia Wilde had gone to a party with a big silky top and little shorts, she might have been told her outfit was cute...What it was really: 'Why did you show us your thighs'?"
"A big part of feminism is making room for other women to make choices you don't necessarily agree with."
Controversies
Lena is very vocal about her beliefs and opinions both on social media and in interviews. Her words have, on several occasions, become controversial and a source of endless debates. She has also been accused of hipster racism as a result of her diction. One of the biggest controversies she has faced was for the lack of racial diversity in Girls. She responded to the critics by stating that she wrote the script based on her experiences and the experiences of her close friends. The show is about four white girls who traipse in New York City. She also asserted that she did not intentionally cut-off other races from the script.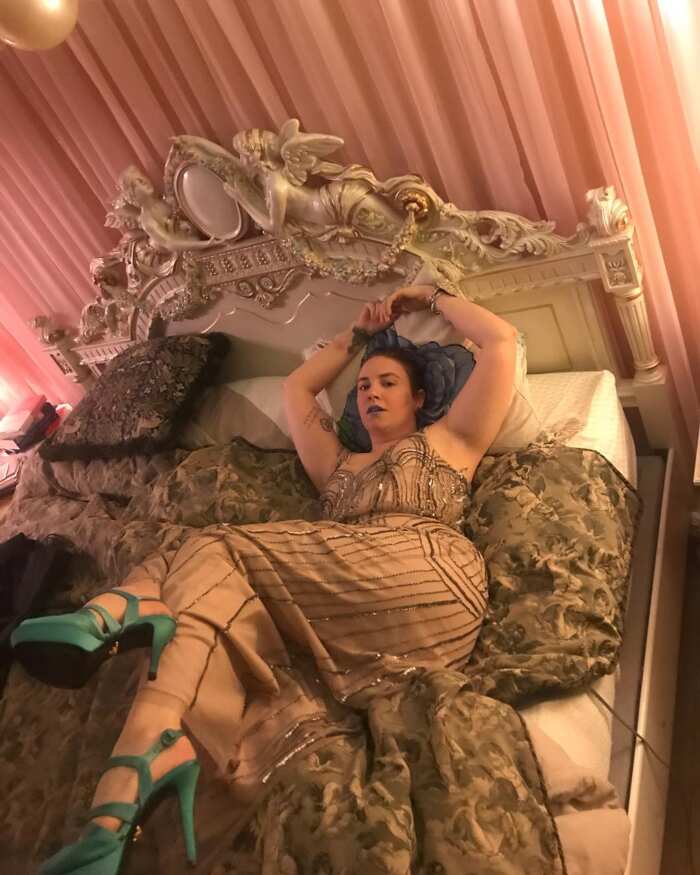 In her book, Not That Kind of Girl: A Young Woman Tells You What She's "Learned," she claimed that a classmate at Oberlin College had sexually harassed her. A man named Barry, the pseudonym she used in the book, took legal measures to ensure that people do not associate him with the incident. Lena issued an apology for the confusion that the pseudonym caused and requested Random House to reprint the book to include clarification on the matter.
The book also raised eyebrows and critical discussions because it explored some content of sexual nature. Lena recounted her sexual interactions with her baby sister, Grace. Lena was seven and Grace was only one year old at the time. As a result, many people discussed and wrote about personal boundaries and children's sexuality. She apologised after critics accused her of sexually molesting Grace, her younger sister.
In 2016, Lena, in a podcast, stated that she wished she had undergone an abortion for her to understand post-abortive women. The audience did not take these remarks lightly. Most people argued that the comment was insensitive. Lena issued an apology on her Instagram social media platform. In 2018, Tiffany Haddish announced that an unnamed actress bit Beyoncé at a party that was held in December 2017. Lena Dunham was one of the names suggested by people. Lena came out to state that she was not the one after many people claimed that she would do such a thing.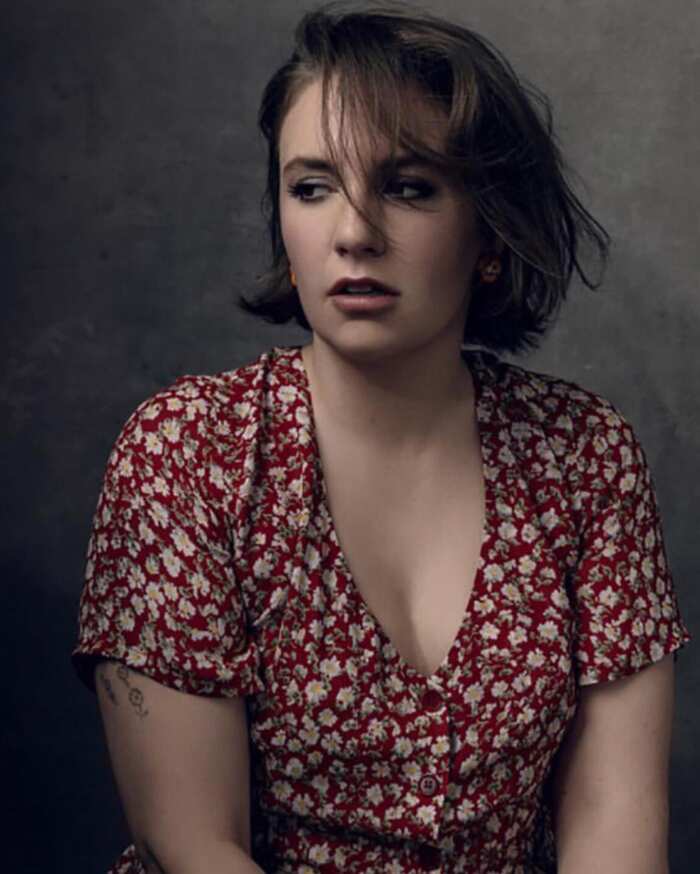 Lena Dunham tries to kiss Brad Pitt!
Lena Dunham 2019 created a big debate after a controversial photograph circulated in the media recently. Brad Pitt starred alongside Lena Dunham in Once Upon a Time in Hollywood. During the red carpet premiere of Once Upon a Time in Hollywood in London, an image of Brad Pitt and Lena Dunham surfaced online. In the photograph, the actress appears to be attempting to kiss the actor with an open mouth. Since the Lena Dunham kisses Brad Pitt image surfaced, many people have condemned the actress for allegedly assaulting Pitt.
Lena Durham is a successful and outspoken actress, writer, producer, and director. She made her breakthrough into mainstream media and entertainment industry after her short film, Tiny Furniture, commanded the attention of many people. She is best known for her work in the series Girls which lasted six seasons. Recently, she caused a stir online after the image of her appearing to be kissing Brad Pitt during the premiere of their movie in London surfaced online.
READ ALSO:
Richard Dawson bio: wife, net worth, cause of death
Francia Raisa bio: height, net worth, who is her best friend?
Source: Legit