If the Nigerian rapper's talent does not yet convince you, then, you need to watch his latest release that will probably change your mind. The Tension Gang records singer has dished out an impressive music video that is worth sparing some time to watch. Magnito - Pay Back is a unique song that will amaze you with its vibes.
Mohammed Usman, famously known as Magnito, has shown over the years why he is an artist endowed with much talent and creativity beyond doubt. His new video song features Juwhiz and three beautiful female rappers, Tasha, Nappygirl and Deachushiel alongside Mc Charlene. Magnito has recorded over 80 songs which generally have performed well in the music charts.
Magnito - Pay Back description
Date of release: 30 July 2019
Genre: Audio, video
Length: 2 minutes 04 seconds
Label: Tension Gang records
Producer: Juwhiz
Video director: Aaron Items
From the flow of verses to perfect turn-taking of the artists, everything in the music video is top-notch as Magnito presents one of his best piece to his audience. The rapper goes ahead to praise the new track on his Instagram account by comparing it with another of his hit song, Relationships Be Like.
Magnito - Pay Back reviews and reactions
Fans were also quick to pour out their views about the new creative work of the rapper. Here are some of their sampled comments on YouTube:
Andrey adeyeba dosumu: MAgnito you gat no rank in Nigeria gat a question for you how to you play with all them lyrics perfectly?
FiiGOVEVO: Magnito you're a legend, for that guy saying nor kill am 100% for you my guy see voice.
Solomon Solo: Liar,talk say na only me one wey dey rock he bone....where this magnito for dey get all this he concept sef.
BEM PEV: abeg i go must dey ur relationship ,i love it when the next go comot.
Timothy Adeola: Respect Magnito!!! Those female rappers the burst my skull.
Xtopher Lee: Magnito on fire .. my best rhyme song for the year.
Bolawale Somala: The girls...though..magnito surprising since 1830.
abubakar haruna: Nah you be the man,........when dey hear about your success they may end up death in the news.....you finish work boss lets go.
aminu abdullahi: Magnito deserve more recognition in the Nigerian music industry.
READ ALSO: Burna Boy - Collateral Damage: audio, lyrics, reactions
Wilfred Ogbe: if i be goat you be d yam..lol shout out to magnito meehn, LEGEND no doubt.
KONAV Muin: Can a video ever get simpler than this ? Magnito is class , following you from way back , Since Kaka days,. Fire.
Kenny Huffman: Dope as Usual. Verses are dope. But the hook is amateur.
Phlintify: Juwhiz why are you crying? ... dem gals dem threaten you LOL. NappyGirl wey nor dey fear God.
Phantom D Viper: If music is football I would say loan Maria Marley and zlatan and sign maginato.
Seun Alomasojo: Bro this guy is the best rapper for me.. the most creative artists. Not all those kom kom singers. Palangolo rubbish.
Sylverlyn Emeka: Wow I was not expecting this oooo nice one.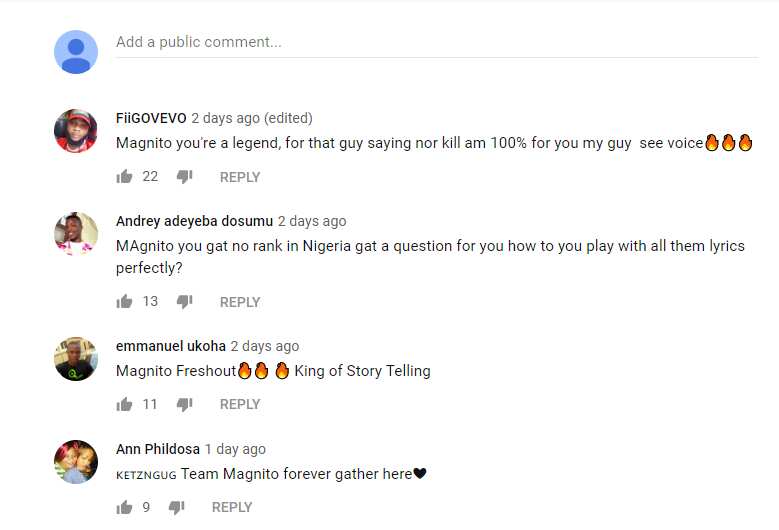 Magnito - Pay Back download
You can also listen to the new track or download it using the links below:
What do you think about Magnito - Pay Back? Tell us your views in the comment section below and do not forget to share the article with your friends.
READ ALSO: