Burna Boy - Different ft Damian Marley and Angelique Kidjo: audio, lyrics, reactions
Damini Ogulu, popularly known as Burna Boy, just dropped his African Giant album, making headlines all over the world. The much-anticipated album contains nineteen tracks, among which is the tune titled Different. This hit by Burna Boy - Different features Damian Marley and Angelique Kidjo, and if you listen to it intently, you will find out why it is among the best in the album.
You do not have to be a a connoisseur of music to appreciate Burna Boy's songs. The artist always manages to release hit after hit, something many artists have failed to do. The new tune by Burna Boy - Different proves why Burna Boy is one of the greatest, if not the greatest artist in Africa.
Burna Boy - Different description
Audio release date: 25th July, 2019
Format: Audio
Length: 3 minutes 16 seconds
Album: African Giant
Label: Atlantic Records
This is an iconic song that will probably be in people's playlists for a long time.
Burna Boy - Different reviews and comments
How have people received the tune? Here are some comments about the song from YouTube:
Egwuatu omezie victor: who else agree with me that burna boy is our living fela?d boy got no fear for any man......kpoooonkammmm
samuel asante: Someone call 911 cos this African Giant is on fire...
Musah Hassan: Burnaboy is his own GENRE! Only true music lovers go understand...
Ancent King'oo: It's now official.. Burna boy is Africa's biggest artist...#African giant
iruero Adrian Aibangbee: Burna Boy is channeling something even bigger than himself, Burna leads a movement to usher in a period of true african supremacy. The oils and resources of Africa has fuelled the industrialisation of the world the same way the percussions of our culture has formed the background of every true sound of the earth. This is more than just music, it is about the awakening of civilisation to the realisation of Africa's true position in global schematics - Africa Arise. God bless you Damini Ogulu for this sound
Ifeatu Bojas: We can all agree now that this guy is the best in Nigeria. Please let us rise for this explosive artist called BURNA BOY! Just picked up the album because that is ma way of saying 'I GOT YOUR BACK'.
Everald Tochukwu: This is the first time i have ever commented on a music video and i spend most of my days watching Youtube videos, smash the like button if you love this song more
emeka o: This is my best track. Burna boy please do a video of this song please please please
Ras Ruhuhuma: fire back to roots ..MUch respect n love from Burundi Africa ..Kidjo mama Africa, Burna Boy n Damian Jr Gong Marley
Babatunde Lamidi: There is one problem with this track...It ends.
Katumba Victor: Burna a real breakthrough artist. Love from Uganda...
Malcolm: My soul needed this....... At this point, I think #Burna and #Junior Gong should come together and make an album. Better yet, #Burna,#Damian and #Nas......Like a Distant Relatives 2 album.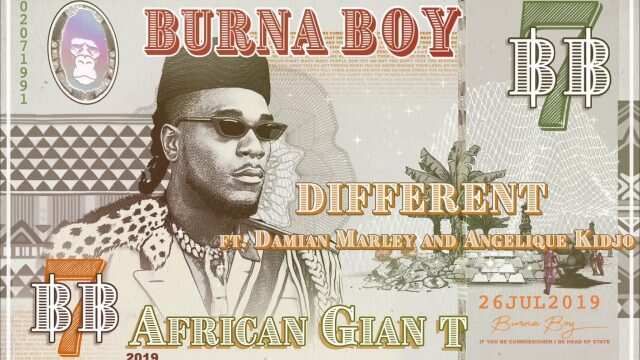 Burna Boy - Different lyrics
[Intro: Damian Marley]
Now greetings to the world
Voice of the one called Big Gong-Zilla alongside Burna Boy, ya know
Yes rude boy!
[Verse 1: Burna Boy]
Ya dun know we different
Different style we delivering
I don't have no equivalent
Different predicament
Every day a different problem
Different life from the government
Different politics, people with different qualities
Different tings dem happening
Different feeling, looking for a different healing
Read it with a different meaning
Different book
Come with the different look
Same spliff, different toke
Different election, sell a different false hope
Then they make us with the different [?]
It's a different time, different tings pon de mind
Different steps we a climb
While dem conive
Different egos collide
[Verse 2: Damian Marley]
Different [?]
I hear no difference still be similar
Every man bleed blood, that's a big similarity
Seven million show one cinema
What a world we live in
And through social media become the new encyclopedia
Exposing reality in a real time
Click a button, and watch a video
Then you might just find
Every man love dem family
That is another familiarity
To demonstrate the similarity
That doesn't mean another big difference up in a quality
Ya cut from the real original
Ya dun know we different
[Verse 3 : Burna Boy]
Different acts of belligerence
But differently intelligent
Different medicine, [?] chemical medicine
Different leaves and remedies
Different studying of my roots and origin
Tell my truth in melodies
It's the [?] to the different lifestyle
Different from what me find out
You know [?] use key and I got em a hide out
F**k up the youth dem mind
Bringing a different force
To different gong we a boss
You know it ain't hard to find us
[Bridge: Angelique Kidjo]
Burna Boy - Different download
Would you like to download the song? If yes, use the following links to do so:
Do you like Burna Boy - Different? What do you love about it? Let us know in the comments section below.
READ ALSO:
Burna Boy - Show & Tell ft Future: audio, lyrics, reactions
DavoLee – Lock Up ft. Zlatan Ibile: audio, lyrics, reactions
Davido & Chris Brown - Blow My Mind: audio, lyrics, reactions
Tshego - No Ties ft. King Monada audio, lyrics, reactions
Sean Kingston - Peace of Mind Remix ft. Stefflon Don, Trey Songz, Davido: audio, lyrics, reactions
Source: Legit