The famous Ghanaian star returns with a brand-new track Joey B - La Familia. Because it was created with two other first-class musicians, this record will impress you with its quality. Prepare to be smothered by this powerful song.
The singer is known for his high-quality works. However, when many people take part in the creation of one song, many things can go awry. Thus, will this particular record be as successful as its predecessors?
Joey B - La Familia ft Sarkodie, Kwesi Arthur song description
Released: July 19, 2019
Format: mp3
Genre: Rap, Hip-hop
Length: 3:21 min
Label: World Records
Producer(s): Nova
To create this track, Joey B invited two other artists for a collaboration. They are Sarkodie and Kwesi Arthur. Each member of the trio is an experienced and talented singer; therefore, each artist invested something unique in this record. Indeed, the song has a memorable tune, powerful beats, and meaningful lyrics. All these features make this track worthy of becoming the next ultimate banger.
Joey B - La Familia ft Sarkodie, Kwesi Arthur song reviews and comments
People are excited to hear the voices of such prominent singers in one song. They also appreciate the quality of the track. Here is what YouTube users have to say about it:
Joey B really got the flair for HIPHOP, and Sark is the real boss of spitting bars, Arthur was also cool with his side. - @Bismark Frimps
King Sark is taking us to another planet. Big ups Joey and small god Arthur. - @Nickels Nas
Dope, sick, ill, awesome, top-notch, fat. - @Vinz Cent
Joey B is the real definition of talent. He sings. He raps. He does reggae. - @FameUp Tv
READ ALSO: Crayon - Bamiloke: audio, lyrics, reactions
Joey B never disappoints, I love his hip pop style. - @AHUREIN
We need visuals for this one. - @samed bawah
This is the kind of collabo I was expecting. Anyway, thank you guys for making it happen. - @Richie Hill
Dope tune! Pure flows. - @Fiifi Boateng
Cool vibe. - @Royal news
Fire. - @Joseph Laryea
Joey B - La Familia ft Sarkodie, Kwesi Arthur lyrics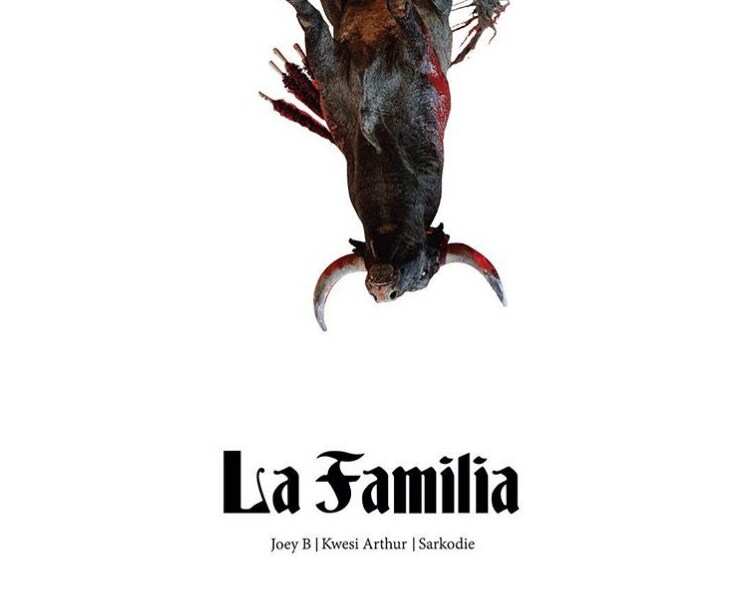 [Verse 1: Joey B]
Seven years in the game
Are  you not entertained?
Can  you feel it in your brain?
Still self ye sei mu
Met a couple of niggas met a couple of chicks
No  be all be the same
Some  they fuck with the fame
When they loss them go change
I  used to tray all the bottles
I uses to tell all my brothers
I used to wear them a shadas
I used to wear them a canvas
Now  we day paint pictures
....... with the Sixers
Gang gang till I leave Earth
Who I go spend with my interest?
[Hook: Joey B]
Gang gang gang gang
Gang gang gang gang
We thuging Bangin
Thugin bangin
We thugin Banging
Thugin Bangin
Gang gang gang gang
Gang gang gang gang
We thugin Bangin
Thugin bangin
We thugin Bangin
Thugin Bangin
[Verse 2: Kwesi Arthur]
Came in the age of the internet
Nsemkwaa I no be into that
..... so he do mind you
What I chop is not your business
They don't really wanna see me win
My real nigga start to shine now
Still no ye gyina pintiin ticks ko timeout
Who am I? Find out
Me da fie kraa standout
Me nyaa some issue with TV3
Apologise now we fine now
Nsemfoo soso ho mea wano
I go add you for my block-list
Wo ye fon nsemfo tu me fon a
We go show up at your workplace
Yeah I no be saint
Wosu (wosu) kora a me ye no more
Ma me ndwen
You no get standard gyere my under
Them they want answer I no get answer
Lartey Kwamena Mole then Twish
Sold that show for......
[Hook: Joey B]
[Verse 3: Sarkodie]
Started rapping back in 98'
So tell me why niggas tryna hate
Way before you we dey pernetrate
Ebi dollar signs we dey generate
Big beef for my dinner table
Duck rap this is real talk
Adwen bone nti na metee me label
Even before niggas start to crib-walk
Mood switches man I'm bipolar
Possible say I no go fuck with you
ECG fuck up a try solar
Cos nobody deserve to give attitude
Jay Z with the boss moves
Eminem with the sick bars
Kennedy Agyapong with the lawsuits
Just give a toast with a big glass
Money money money money gang
They wanna kill me just many men
Yese me ngyae nie omo feeli nee?
Make you put your hands up in the air
I'm feeling like I'm King Kong
Obia ntumi nye me hwee bossman
Makoma ba koraa me twa Shanton
Mo bisa me nso a mese God's plan
[Hook: Joey B]
Joey B - La Familia ft Sarkodie, Kwesi Arthur song download
If you like the track and want to add it to your playlist, you can easily download it by following the links provided below.
Joey B - La Familia download on Google Play
Joey B - La Familia download on Apple Music
Joey B - La Familia download on Spotify
Joey B - La Familia download on SoundCloud
Joey B - La Familia ft Sarkodie, Kwesi Arthur is a powerful song. It has everything it takes to become a true hit. What do you think about this record? Tell us in the comments section below. Do not forget to share this article with your friends. Stay tuned for more updates about your favorite singers.
READ ALSO: Patoranking - Wilmer ft. Bera: video, lyrics, reactions