20 fall wedding colors ideas of 2019
As fall 2019 approaches, many newly engaged couples are planning for their weddings. Picking the right fall wedding colors can imbue the occasion with a dash of cozy richness. However, it is challenging selecting the right theme given the broad range of colors available.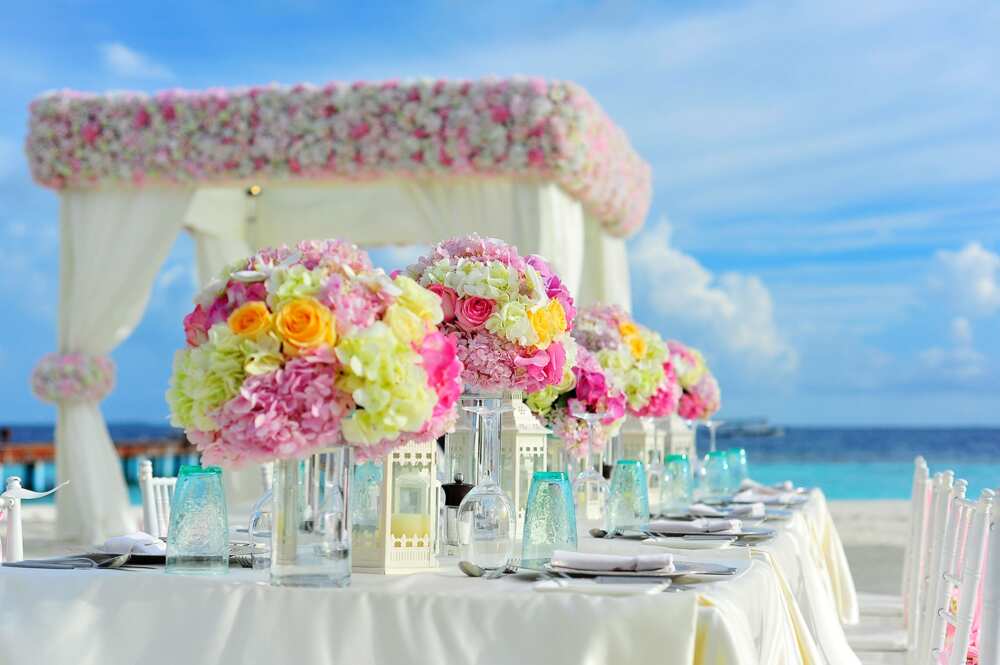 If you plan to hold your nuptials this fall, you can obtain inspiration from this list of wedding color ideas for fall 2019 and tips that will help you make the perfect decision for your big day.
Best fall wedding colors for formal settings
Some of the most notable formal fall wedding color palettes are listed below.
1. Amber + sage
Do you fancy the idea of neutral fall wedding colors? Then, add a dash of bold sage with amber yellow. Mix this theme with amaranths for the centerpieces, table linen, glassware, and taper candles. Pick yellow flowers such as dahlias to compliment your fall nuptials set.
2. Black + blush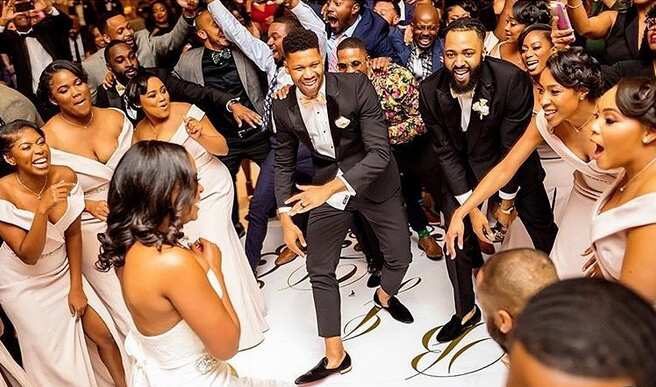 This is a palette suitable for formal, glamorous, and garden events. Blush and black colors combine beautifully. Add a dash of blush to create an edgy aura of beauty and romance during the event. The two hues complement each other well from centerpieces and bouquets to decorative lamps. Choose blush dresses for your bridesmaids and black suits for the groomsmen.
3. Orange + red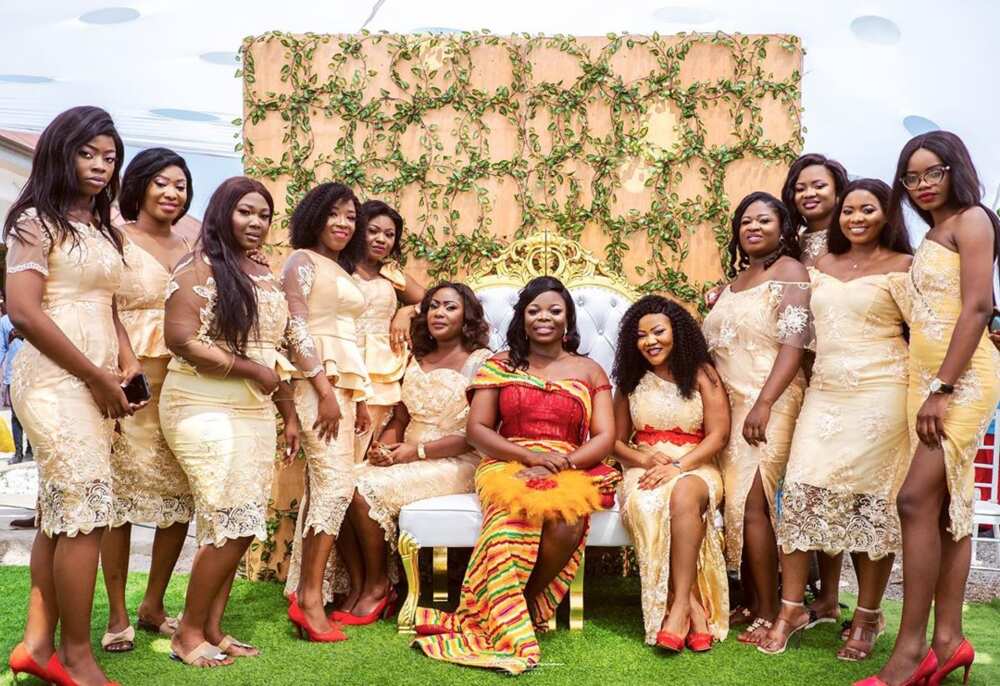 If you intend to hold a rustic fall event, then pair red with bright orange. Spice it up with a dash of black and brown colors to liven up your countryside event.
4. Coral, mustard + blush
Create a cohesive blend of autumnal themed palettes by pairing hues from the same color family. Example hues include coral, blush, and mustard yellow. Use this fall wedding idea if you plan to hold your event in late summer or early fall.
5. Cornflower + purple + white
Do you believe that pastels are for spring nuptials only? That is not entirely true as all you need is a good plan. With a plan, you can make pastels work with your fall wedding decorations. Incorporate dry florals such as palm leaves in centerpieces. Also, consider using dark accents to achieve an autumnal look.
6. Emerald + green + burgundy
With this wedding color palette, you can achieve an elegant and classy glow to your occasion. Pair white lace gown with green bridesmaids' dresses for a vintage look. Go for burgundy colored flowers for bouquets and centerpieces. Use fall fruits to decorate cakes and opt for green table linens, and white drapes.
7. Grey + pink
This is one of the most romantic wedding ideas this fall. Pink is always beautiful, and grey is the new black. Achieve a timeless and romantic vibe using lush pink bouquets, grey bridesmaids' dresses, grey cakes, grey invitations, and grey tablecloths with pink runner drapes.
Best fall wedding colors for demure weddings
Here are excellent wedding color schemes for rustic weddings.
8. Grey, red + green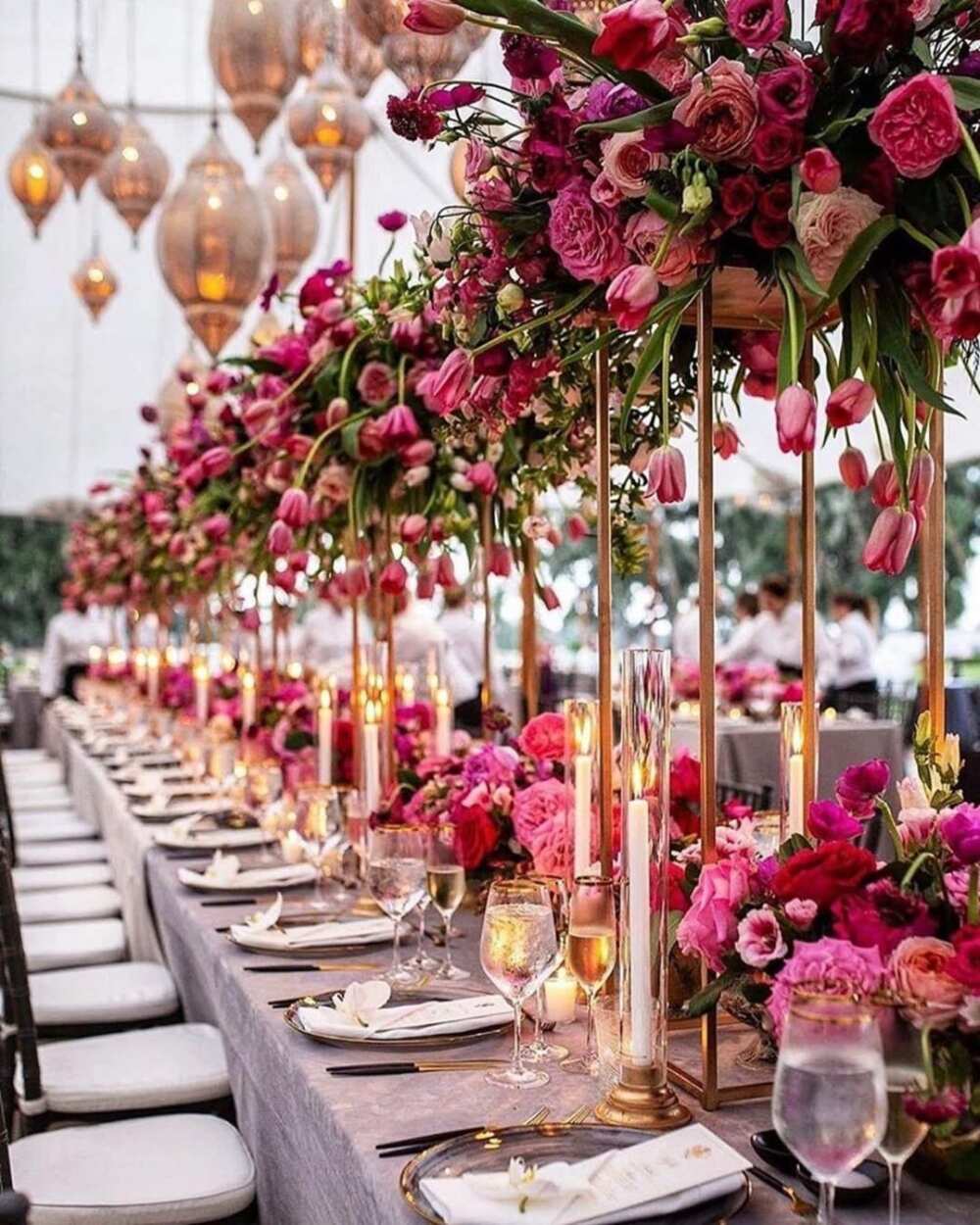 If you love fruits, apples can inspire your September wedding colors. This is an excellent idea for rustic events too. It is an ideal scheme for an autumn event held in orchards, vineyards, or farms. Plus, you can source for products from the venue.
9. Hunter green + gold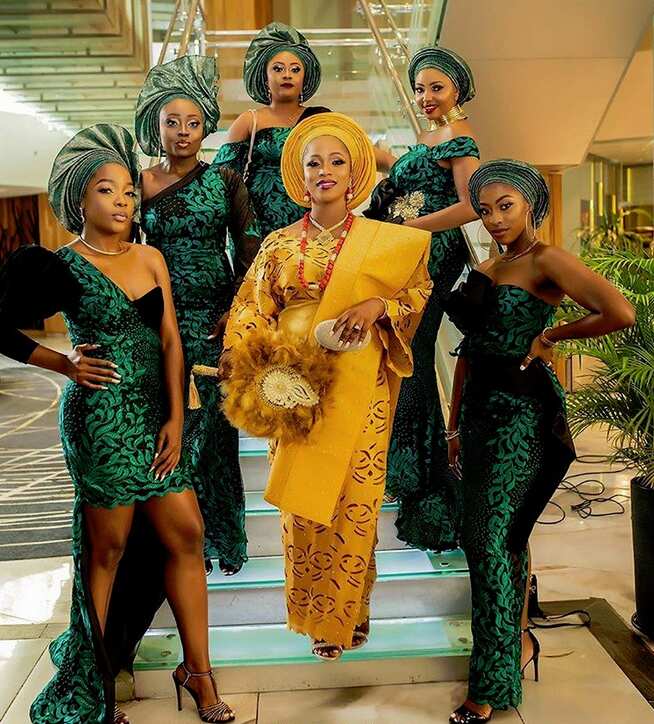 Use these colors on wedding cakes and centerpieces to obtain a magical green aura. For decorations, use gold and white to introduce a lingering vibrancy.
READ ALSO: Wedding fashion: Seven stunning bridal looks that will leave you impressed
10. Purple + white+dark blue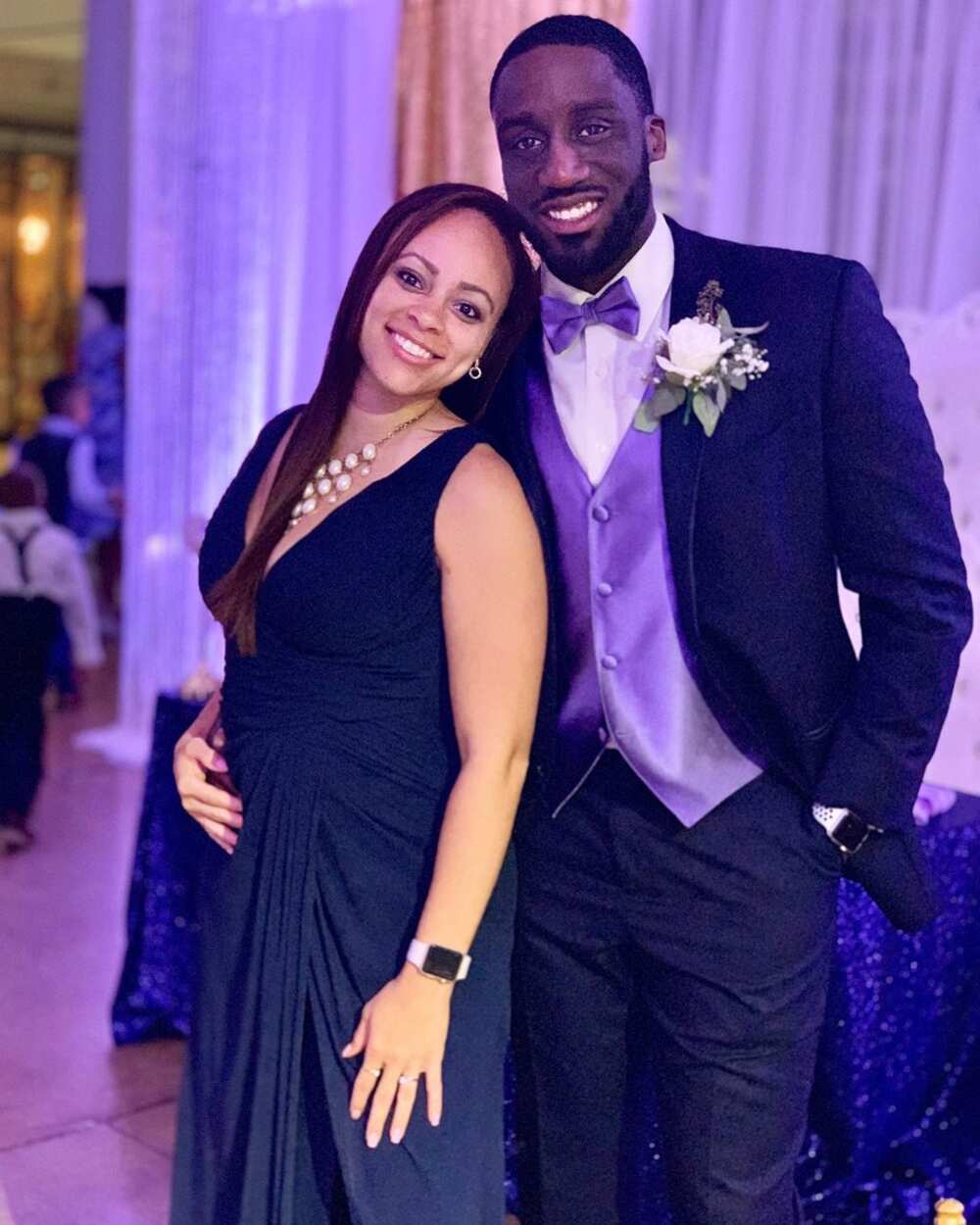 This scheme incorporates the fruity dark purple twist of figs and grapes to create an exquisite autumn palette. Pair this color scheme with a splash of purple and white. This way, you attain a theme that is both elegant and fresh.
11. Jewel tones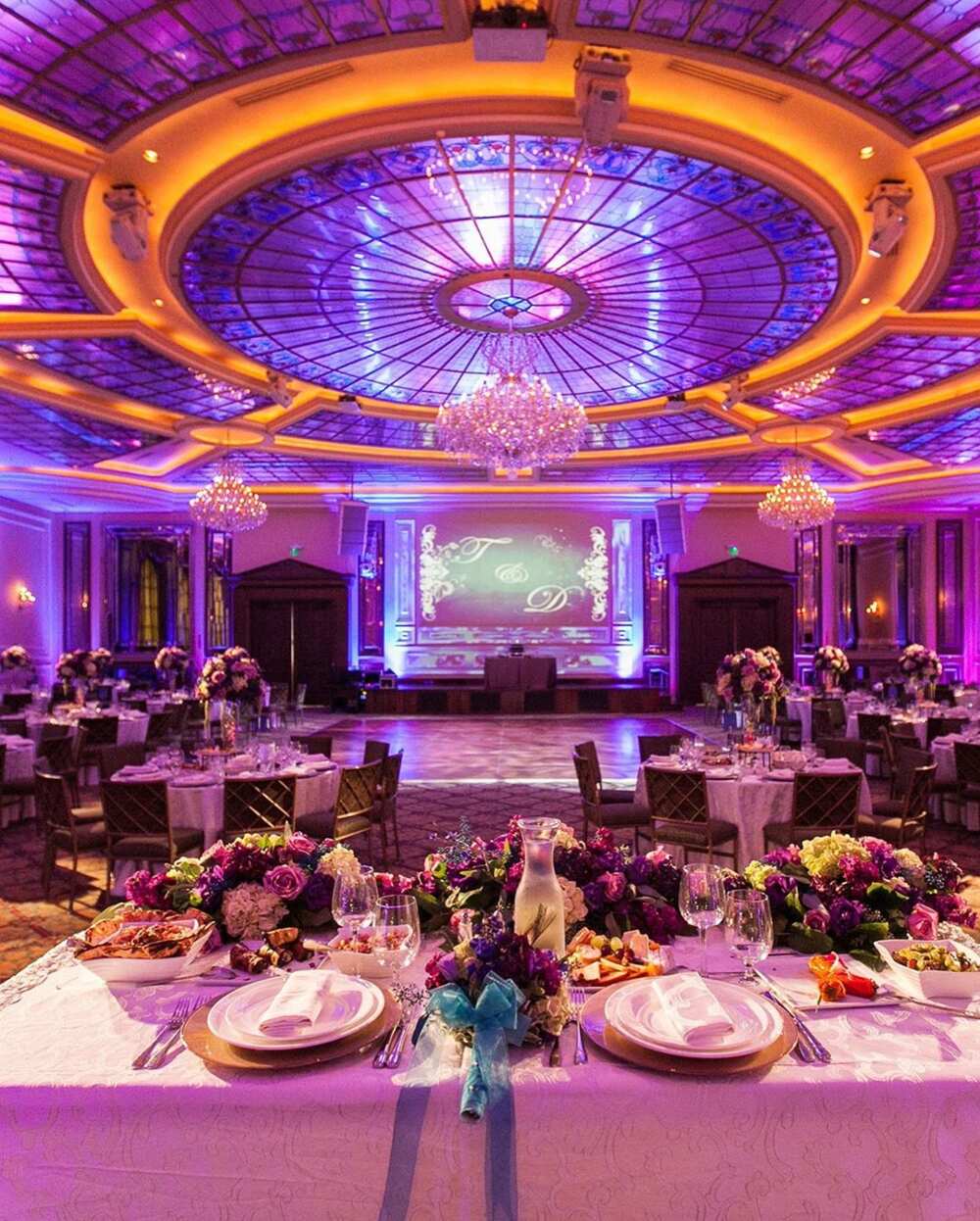 Jewel-toned fall wedding ideas never disappoint. This is why they are popular fall color schemes year in, year out. For a regal vibe, pair this scheme with colors like dark purple, green, navy blue, and burgundy. What is more, decking out adornment's such as candlesticks, tablecloths, and flatware with gilded accents introduces a distinctive shimmer and burst of romantic dalliance.
Most popular fall wedding colors for low key events
Here are the most popular fall color schemes autumn wedding for low key events.
12. Lavender + amethyst
We recommend this fall palette for those looking for a vintage-themed look. No matter how you style this scheme, it is edgy and dreamy..
13. Maroon + blush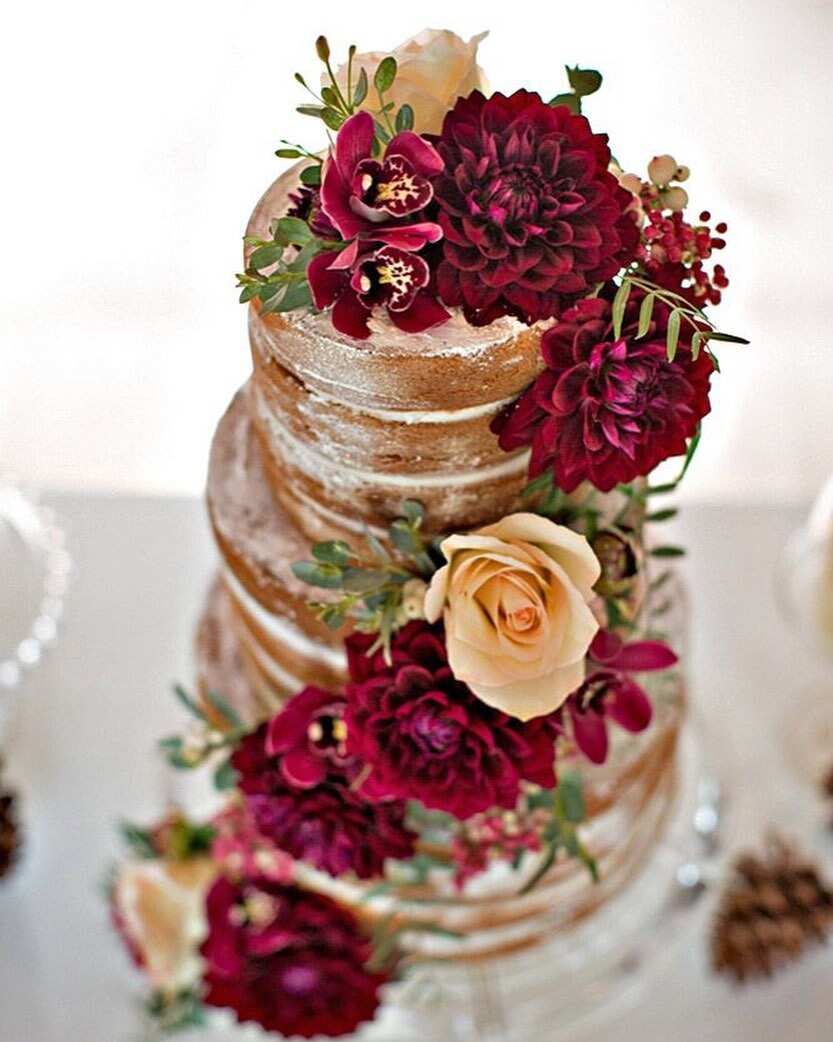 Maroon is a popular shade for fall weddings and it is trending this year. Choose a maroon wedding cake, maroon bow ties, and suspenders for the groom and groomsmen. Deck tables with yellow and red flowers too.
14. Mauve + navy
This is an excellent color palette for November weddings. It offers endless customization opportunities. For example, bridesmaids adorned in mauve dresses will complement a bride in a white lace gown. Also, white and green bouquets, mauve napkins, white plates, mauve tablecloths, and navy-blue suits are potential choices.
15. Midnight blue + marigold
Try these yellow theme color palettes. It may seem like an unexpected choice for fall weddings, but its wow factor will undoubtedly leave guests astounded! Pair this scheme with hues such as ivory, gold, and dark blue.
16. Mix-match purple
This is a soft and romantic palette for autumn events. The wide range of purple shades creates lots of options for cakes, clothing, invitations, and floral wedding color ideas.
17. Rainbow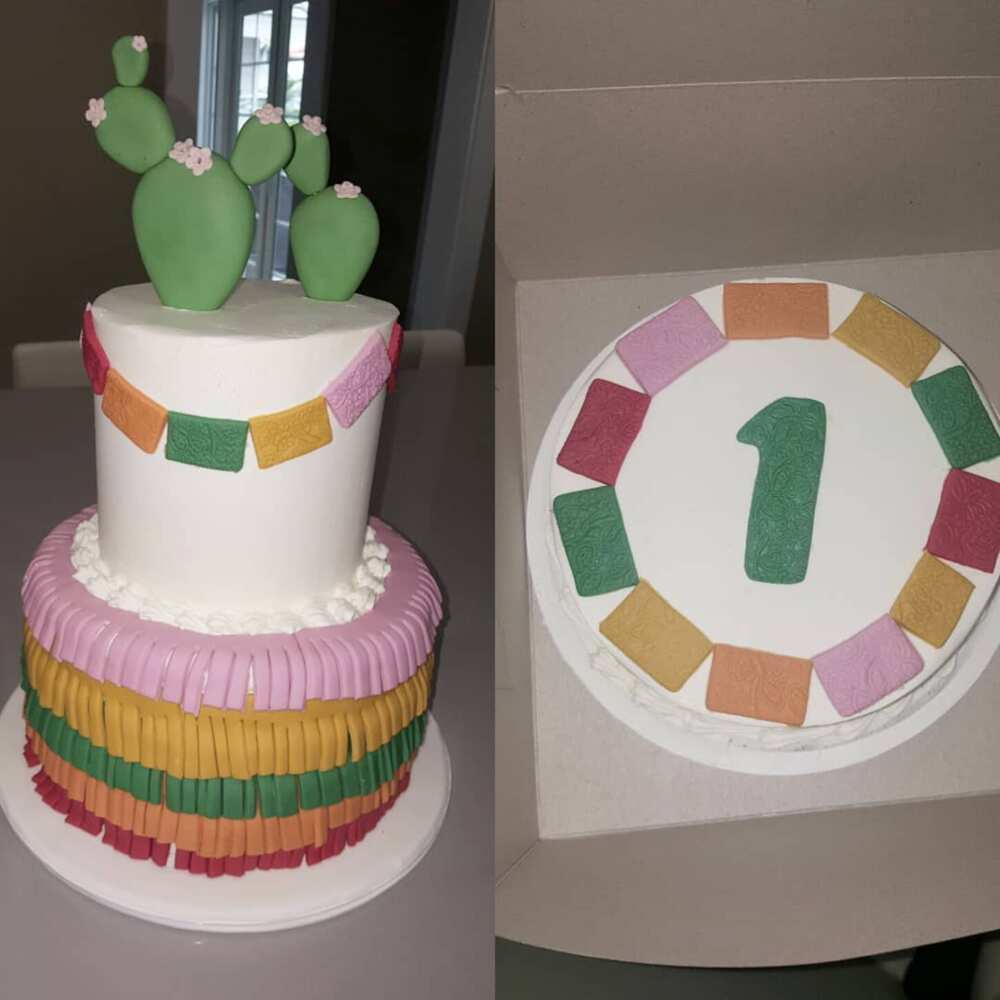 Do you want to host a bohemian-themed nuptial? Do not limit yourself to several colors. Instead, go for a rainbow-inspired fall color palette. With this theme, you can incorporate darker hues of bright colors to create an eclectic aura.
18. Neutral
Do you wish to go for a softer look that evokes autumn color palette motifs at your wedding? Then, choose muted colors and neutrals. These color palettes let you easily combine colors such as dove gray, ivory, and eucalyptus green for unpretentious and chic elegance.
19. Navy blue + cream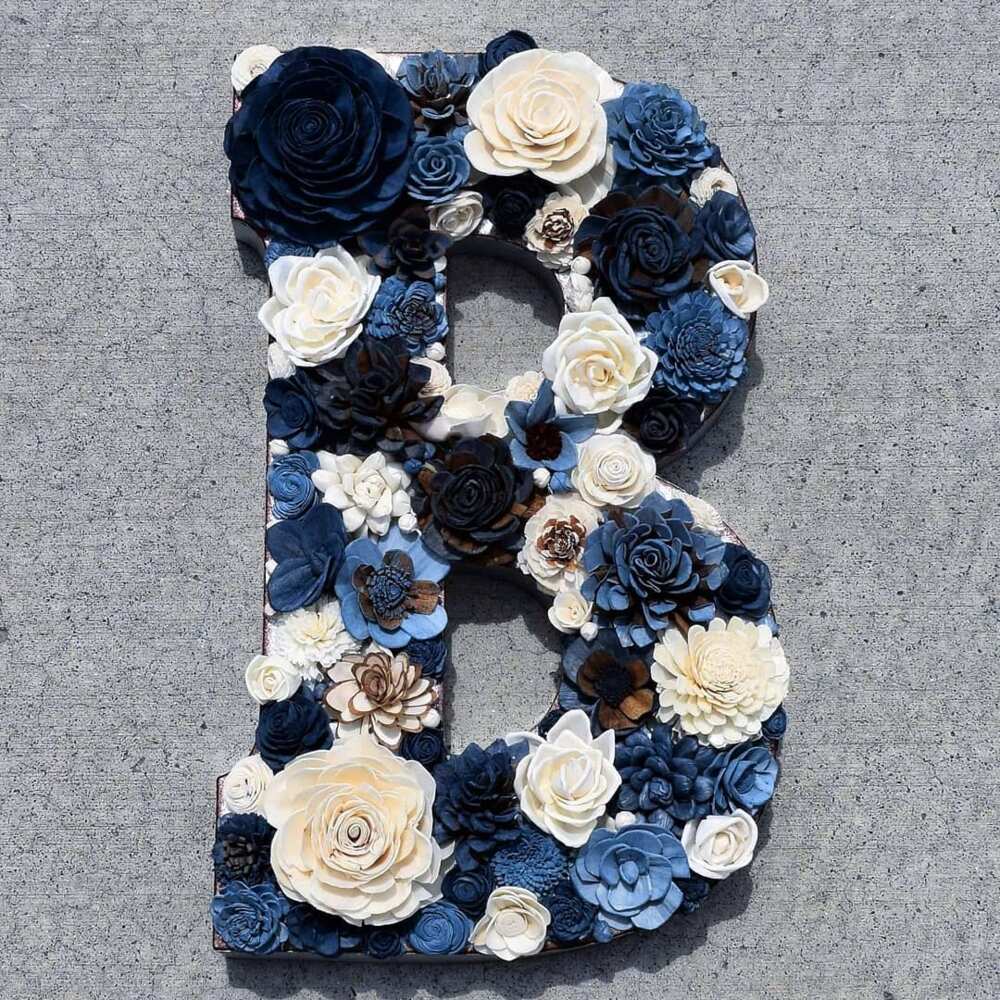 Navy is the color of the year. It is a dependable fall wedding color. Do you think it is too soft? Navy blue and cream will have your bridesmaids looking splendid. Also, it is an appropriate palette for a bride's gown, bouquets, shoes, and tablecloths, especially when paired with gold accents.
20. Rust + blush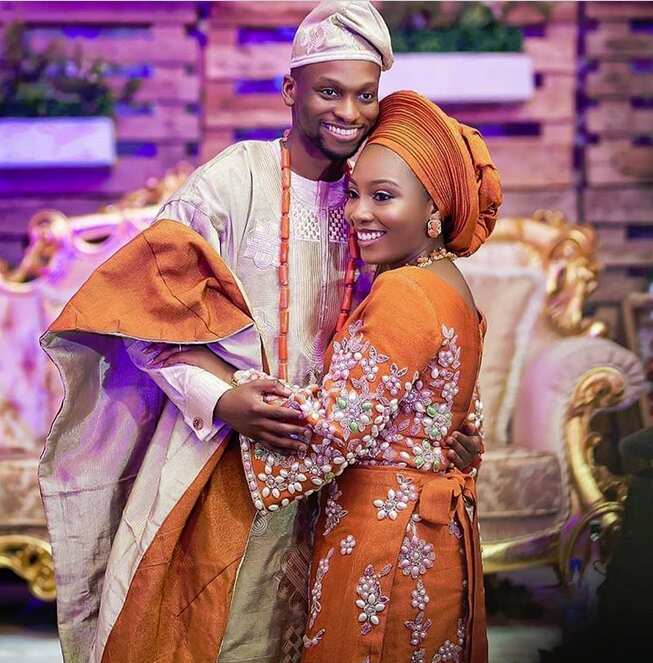 Blush pink is one of the most popular wedding themes for fall. To make it dazzling, pair this color with green and rust orange.
Dozens of fall wedding colors are out there. They range from natural neutrals, pastels to jewel tones. What is more, these fall colors palette capture the magic of the season while remaining trendy and stylish. We hope this roundup sparks your imagination.
READ ALSO: Plus size wedding dresses for stylish brides
Source: Legit.ng