30 wedding quotes for your most special day
Finding true love and a lasting union is equivalent to finding four-leaf clover. It is rare to find but precious. Marriage is a long journey that mostly commences with a wedding ceremony. Beautiful wedding quotes are some of the things you can use to spice up the beginning of your life together.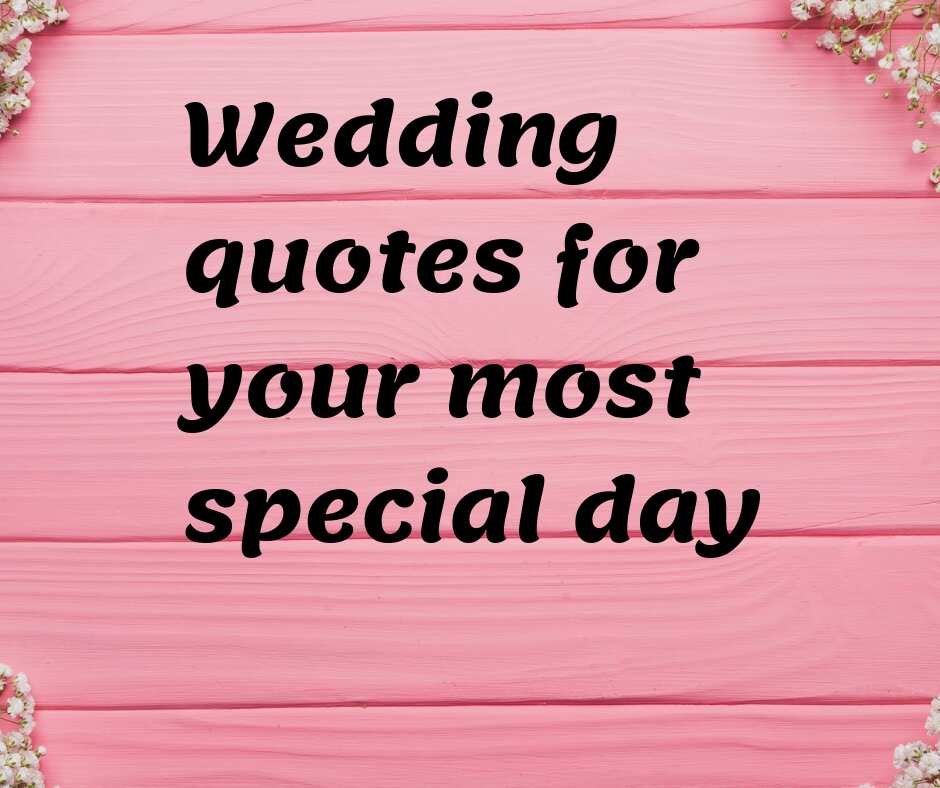 Wedding quotes will go a long way in warming the heart of your partner. It makes them know how much the union means to you. You can also use wedding day quotes on your anniversary as a reminder of your love. A wedding quote will always bring a good vibe on your special day and in your union.
Beautiful wedding quotes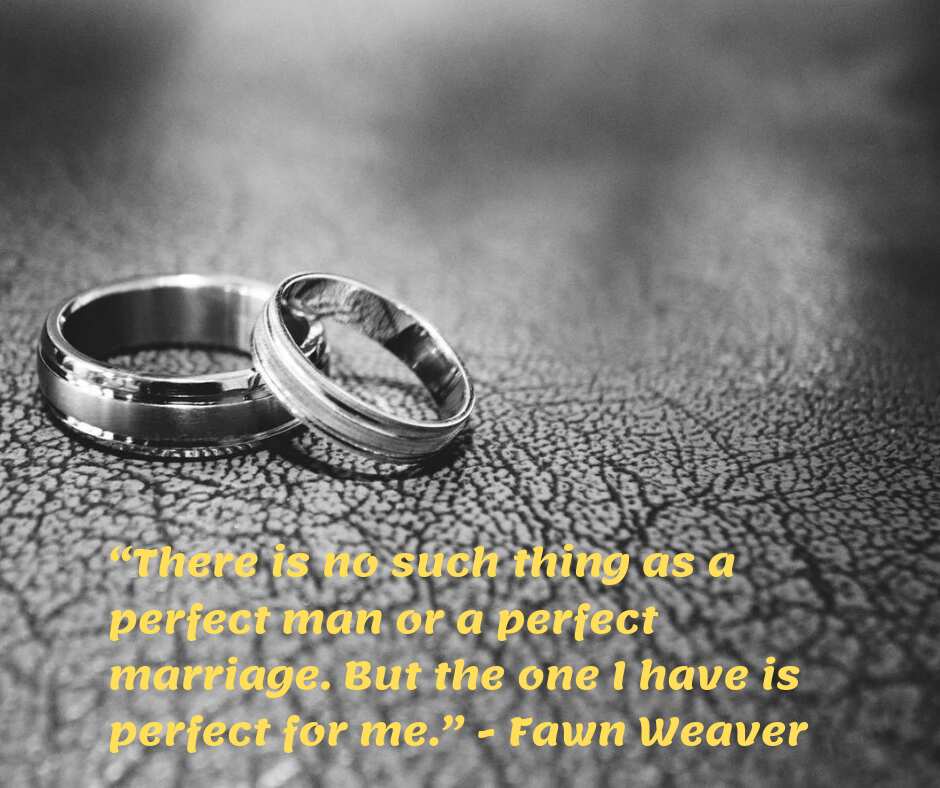 Below are some of the quotes you can use during your wedding and even throughout your marriage. They are simple and romantic.
"If I had a flower for every time I thought of you, I could walk through my garden forever." – Alfred Tennyson
"A great marriage is not when the 'perfect couple' comes together. It is when an imperfect couple learns to enjoy their differences." – Dave Meurer
"There is a no lovelier, friendly, and charming relationship, communion or company than a good marriage." – Martin Luther
"There is no such thing as a perfect man or a perfect marriage. But the one I have is perfect for me." – Fawn Weaver
"A successful marriage requires falling in love many times, always with the same person." – Mignon McLaughlin
"A good marriage is one which allows for change and growth in the individuals and in the way they express their love." – Pearl S. Buck
"The greatest marriages are built on teamwork, mutual respect, a healthy dose of admiration, and a never-ending portion of love and grace." – Fawn Weaver
"It's so great to find one special person you want to annoy for the rest of your life." Rita Rudner
"If you live to be a hundred, I want to live to be a hundred minus one day, so I never have to live without you." – Winnie the Poob
"When you realize you want to spend the rest of your life with somebody, you want the rest of your life to start as soon as possible". – Harry
READ ALSO: 50 wedding wishes, messages and quotes
Wedding love quotes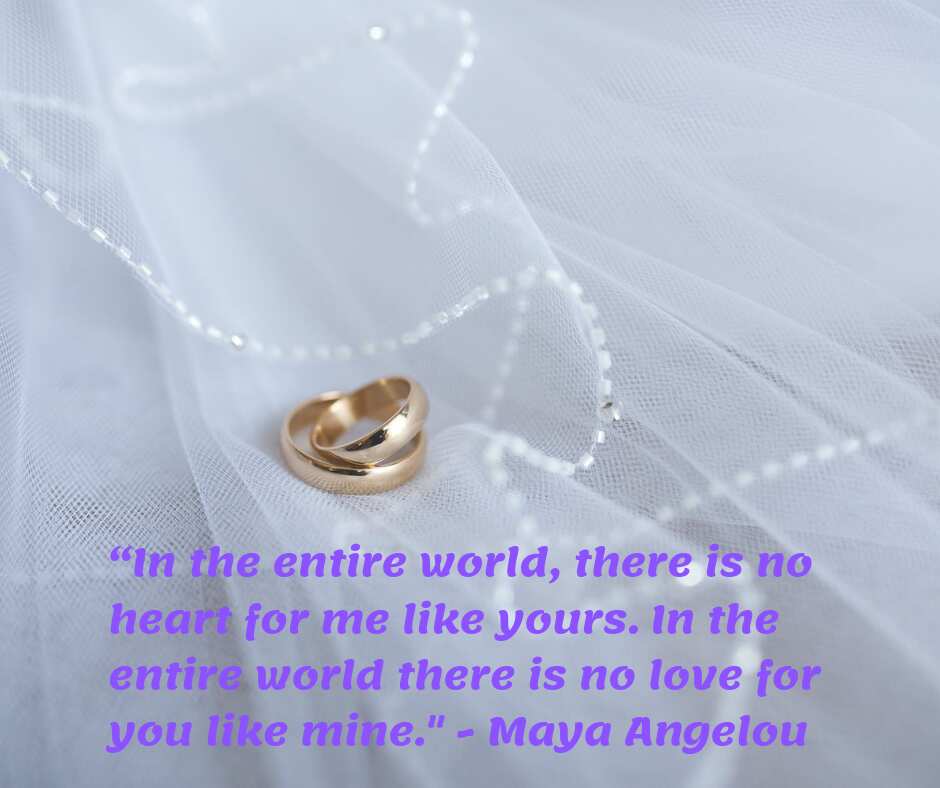 Love is like a flower that should be watered every day, and these love quotes for wedding will make your union bloom:
"Where there is love there is life". – Mahatma Gandhi
"Love recognizes no barriers. It jumps hurdles, leaps fences, penetrates walls to arrive at its destination full of hope." – Maya Angelou
"There is no remedy for love but to love more." – Henry David Thoreau
"Being deeply loved by someone gives you strength while loving someone deeply gives you courage." – Lao Tzu
"Love is like a beautiful flower which I may not touch, but whose fragrance makes the garden a place of delight just the same." – Helen Keller
Love your feet because they have wandered over the earth and through the wind and water until they brought you to me." – Pablo Neruda
"Love does not just sit there like a stone; it has to be made, like bread; remade all the time, made new." – Ursula K. Le Guin, The Lathe of Heaven
"In the entire world, there is no heart for me like yours. In the entire world there is no love for you like mine." – Maya Angelou
"If the sun refused to shine, I would still love you. When mountains crumble to the sea, there will still be you and me." – Led Zeppelin
"You know you are in love when you cannot fall asleep because reality is finally better than your dreams". – Dr Seuss
READ ALSO: 50 sweet I love my wife messages and quotes
Short wedding quotes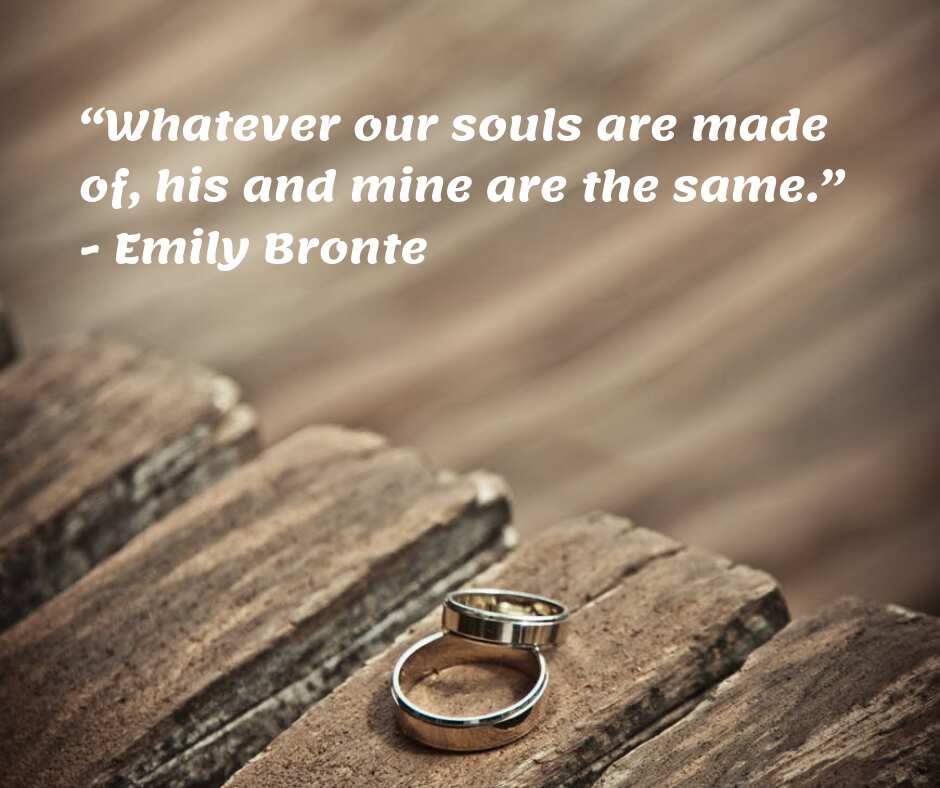 Some wedding sayings are short yet perfect for the special day. They include:
"The heart has its reasons which reason knows not". – Blaise Pascal
"Romance is the glamour which turns the dust of everyday life into a golden haze." – Elinor Glyn
"One word frees us of all the weight and pain of life. That word is love." – Sophocles
"When I saw you, I fell in love, and you smiled because you knew." – Arrigo Boito
"I would find you in any lifetime." – Kanye West
"We loved with a love that was more than love." – Edgar Allan Poe
"Grow old with me; the best is yet to be." – Robert Browning
"A happy marriage is a long conversation, which always seems too short." – Andre Maurois
"Whatever our souls are made of, his and mine are the same." – Emily Bronte
"The highest happiness on earth is the happiness of marriage." – William Lyon Phelps
Wedding sentiments are thoughts and feelings that you express on that special day. Wedding quotes mainly show how you feel about your partner and the impact they have in your life. Wedding sayings are also a perfect way of uniquely defining the journey you had with your partner before you tied the knot.
READ ALSO: Beautiful toasts for wedding cards
Source: Legit.ng