50 best wedding songs that will fit any taste
A perfect wedding is one where all aspects are well selected and executed. You may have the perfect dress, cake and food, but perfection may remain a far-fetched dream in the absence of good music. When planning for your big day, it is essential to carefully choose the songs that will play during each session of the event. These best wedding songs will guide you in selecting the most appropriate songs to play throughout your special day.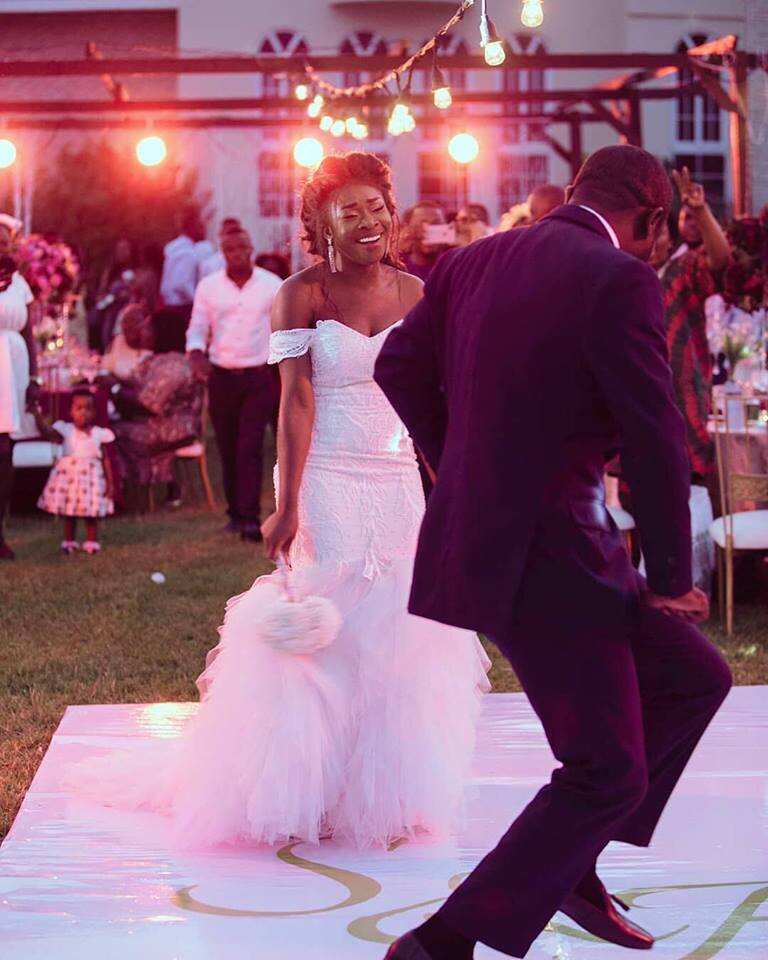 On your big day, each song that plays should be able to send shivers down your spine and create a lifetime memory. The best wedding songs are those that will take you back to that magical moment years from the big day. Every time you hear the songs, they should remind you of the reason and the moment you said your vows to your partner. To select amazing wedding songs for your big day, you should take time to listen to the lyrics. It is also essential to consult with priests (for those conducting religious ceremonies) to ascertain that your preferred wedding music is acceptable.
50 best wedding songs for any taste
The perfect selection of wedding music is that which caters to all the audiences that are present. In a typical Nigerian wedding, the guests are from different age groups. The selected music, therefore, should also consider the people present for the event. Mixing different genres of the top wedding songs both in Nigeria and globally is the best approach to use when choosing the songs.
Wedding processional songs
In a wedding procession, groomsmen may walk-in or dance to a song. Usually, they are followed by bridesmaids and matron of honour who also have a different song. Alternatively, the couple may choose to have both groomsmen and bridesmaids dancing together. Some grooms may also choose to have a special song just for them! Regardless of the style that a couple selects, some of the best songs for a wedding processional are:
1. Stay With Me by Sam Smith
As the title suggests, this song is profound! It is a lovely song for a groom as he makes his procession. Some of the lyrics are:
Oh, won't you stay with me
'Cause you're all I need
This ain't love, it's clear to see
But, darling, stay with me
Why am I so emotional
This is not a good look, gain some self-control
And deep down I know this never works
But you can lay with me so it doesn't hurt
Watch Sam Smith's Stay With Me!
2. On Top of The World by Imagine Dragons
It is a particularly good song for the groom to have his special moment. Some of the lyrics are:
'Cause I'm on top of the world, 'ey
I'm on top of the world, 'ey
Waiting on this for a while now
Paying my dues to the dirt
I've been waiting to smile, 'ey
Been holding it in for a while, 'ey
Take it with me if I can
Been dreaming of this since a child
I'm on top of the world
3. Happy by Pharrell Williams
A wedding is a fun and glorious event. Happy Williams is a lovely song for bridesmaids and groomsmen to make an entrance!
4. The Man by Aloe Blacc
The Man is a good selection for the groom to make his processional walk or dance because it gives him a special moment, just like the bride does as she walks down the aisle.
Watch The Mannow!
5. Marry Me by Jason Derulo
105 is the number that comes to my head
When I think of all the years I wanna be with you
Wake up every morning with you in my bed
That's precisely what I plan to do...
Listen to Jason Derulo's Marry Me!
6. I Do by Colbie Caillat
I Do is a fun song to dance to, especially as the bridesmaids make their way into the wedding venue. Check out I Do!
Wedding entrance songs for the bride
Walking down the aisle is an extraordinary and emotional moment for every bride. The song that a bride picks to walk down the aisle to sets the tone for the entire event. Any bride is at liberty to choose a romantic song or even a sweet and light-hearted one. It is her day, after all. Some of the special wedding entrance songs for the bride are as listed below.
7. A Thousand Years by Christina Perri
This song is powerful, emotional and sweet. It speaks volumes about a bride being happy to have found her true love whom she will love for at least a thousand years. Catch a glimpse of the lyrics below:
The day we met,
Frozen I held my breath
Right from the start
I knew that I'd found a home for my heart
Beats fast
Colours and promises
How to be brave?
How can I love when I'm afraid to fall
But watching you stand alone?
All of my doubt suddenly goes away somehow
One step closer
I have died every day waiting for you
Darling don't be afraid I have loved you
For a thousand years
I'll love you for a thousand more
8. Ave Maria by Beyoncé
Ave Maria is a fantastic pick for a more traditional wedding. The song is versatile because you can choose to have the version by Beyoncé or you can select the instrumentals version only. You may even have a special guest singing their rendition of the song live! Regardless of how you choose to play it, it is a timeless song that sets the right mood for making vows. Some of the lines in this song are:
I found Heaven on earth
You are my last, my first
And then I hear this voice inside
Ave Maria
I've been alone when I'm surrounded by friends
How could the silence be so loud?
But I still go home knowing that I've got you
There's only us when the lights go down
You are my Heaven on earth
You are my hunger, my thirst
9. The Book of Love by Peter Gabriel
The Book of Lovecelebrates love and is a timeless song that will give you goosebumps and arouse plenty of emotions as you walk down the aisle. Some of the lines from the song are:
The book of love is long and boring
No one can lift the damn thing
It's full of charts and facts and figures
And instructions for dancing
But I
I love it when you read to me
And you
You can read me anything
The book of love has music in it
In fact that's where music comes from
10. I'm Yours by Jason Mraz
I'm Yours is the best choice for a bride who is eager to be officially united in matrimony with her partnerr. It sets the tone for a fun wedding ceremony. See some of the lyrics here:
Well you done done me and you bet I felt it
I tried to be chill, but you're so hot that I melted
I fell right through the cracks
And now I'm trying to get back
Before the cool done run out
I'll be giving it my best-est
And nothing's going to stop me but divine intervention
I reckon it's again my turn
To win some or learn some
But I won't hesitate no more, no more
It cannot wait, I'm yours
Listen to Jason Mraz'snow!
11. Thinking Out Loud by Ed Sheeran
Is there a better way of walking down the aisle than by making a promise right before your official vows? In this song, a commitment to love your partner both today and in old age is made. It is a beautiful song with profound lyrics, some of which are:
When your legs don't work like they used to before
And I can't sweep you off of your feet
Will your mouth still remember the taste of my love
Will your eyes still smile from your cheeks
And darling I will be loving you 'til we're 70
And baby my heart could still fall as hard at 23
And I'm thinking 'bout how people fall in love in mysterious ways
Maybe just the touch of a hand
Oh me I fall in love with you every single day
Watch the official video of Thinking Out Loud.
12. Hallelujah by Leonard Cohen
Hallelujah is a classic song that is the perfect song to walk down the aisle to for many brides. The lyrics are well thought out, and it sets a relaxed tone for the ceremony. The song Hallelujah has over 300 covers, among them being performed by Alexandra Burke, Pentatonix and Jeff Buckley. The beauty of this song is you can either play the original version as sung by Leonard Cohen or select the cover you like best. Some of the lines from the song are:
Now, I've heard there was a secret chord
That David played, and it pleased the Lord
But you don't really care for music, do you?
It goes like this, the fourth, the fifth
The minor fall, the major lift
The baffled king composing hallelujah
Watch this classic song by Leonard Cohen.
13. I Swear by All-4-One
I Swear is a timeless song. As a bride walks down the aisle, it is a perfect promise that she will be by her husband's side regardless of the situation as seen in the lines below:
'Cause I'll stand beside you through the years
You'll only cry those happy tears
And though I make mistakes
I'll never break your heart
And I swear by the moon and the stars in the sky
I'll be there
I swear like a shadow that's by your side
I'll be there
Wedding recessional songs
These are the perfect songs for a couple that has just exchanged their vows.
READ ALSO: Plus size wedding dresses for stylish brides
14. Better Together by Jack Johnson
Life is better when a groom and bride are together!
Love is the answer, at least for most of the questions in my heart
Like why are we here? And where do we go?
And how come it's so hard?
It's not always easy and
Sometimes life can be deceiving
I'll tell you one thing, it's always better when we're together
Listen to Jack Jackson's Better Together !
15. Just The Way You Are by Bruno Mars
I love you just the way you are!
Listen to this fantastic song with profound lyrics and a catchy beat.
16. Everything by Michael Bublé
You're a carousel, you're a wishing well,
And you light me up, when you ring my bell.
You're a mystery, you're from outer space,
You're every minute of my everyday.
And I can't believe, uh that I'm your man,
And I get to kiss you baby just because I can.
Whatever comes our way, ah we'll see it through,
And you know that's what our love can do…
Watch this song and enjoy its powerful lyrics.
17. Footprints in the Sand by Leona Lewis
You walked with me
When I was all alone
With so much unknown
Along the way
I heard you say
I promise you
I'm always there
When your heart is filled with sorrow
And despair
Listen to this fantastic jam now!
18. Can't Help Falling In Love by Elvis Presley
This one is a timeless classic and a good choice for more traditional families.
Listen to the audio of Can't Help Falling In Love by Elvis Presley!
19. Sky Full of Stars by Coldplay
Sky Full of Stars is a colourful and playful song that will make your recessional dance fun and lively.
Watch the equally colourful video right now!
Wedding dance songs
Get dancing to these mega-hits on your special day!
20. Love On Top by Beyoncé
Love will always win!
Listen to Queen Beyoncé singing Love on Top!
21. Get The Party Started by P!nk
A newly married couple making an entrance to their reception by dancing to this song is the cutest thing.
Watch Get the Party Started !
22. Single Ladies by Beyoncé
Everyone, married or not, will dance to this song!
Dance along to Single Ladies .
23. Shape of You by Ed Sheeran
The beats in this song are irresistible. All wedding guests will have fun dancing to this song!
24. Shut Up and Dance by Walk the Moon
The title of the song sums it all!
Listen to this amazing tune now!
25. Electric Boogie by Marcia Griffiths
Electric Boogie is the best song for a wedding flash mob! The song is easy to dance to, and everyone is likely to have fun joining in the dance party!
Start practicing your dance moves by watching the video.
Wedding reception songs
A wedding reception is a success when everyone gets on their feet to dance regardless of their age. Some of the best songs that both the couple and their guests can dance to are.
26. I Wanna Dance With Somebody (Who Loves Me) by Whitney Houston
Hit the floor in the 80s style!
Listen to this amazing mega-hit!
27. Best Day of my Life by American Authors
The beat in this song is irresistible!
Listen and sing along to Best Day of my Lifenow!
28. Still Falling For You by Ellie Goulding
When the dance floor gets too steamy, this the perfect song to slow people down!
Listen to this cool tune!
29. Love Me Now by John Legend
Love Me Now is a thoughtful way to remind everyone else who is married or in a relationship to love their partner or spouse because tomorrow is never a guarantee.
Watch the video of Love Me Now.
30. Taki Taki by DJ Snake feat. Selena Gomez, Ozuna, and Cardi B
Taki Takiwill get both the young and the old on the dance floor!
31. Marry You by Bruno Mars
"It's a beautiful night, We're looking for something dumb to do. Hey baby, I think I wanna marry you!" Marry You is a lovely song to play during the reception of your wedding.
Listen to it right now!
First dance wedding songs in 2019
The first dance is a special moment for any newly married couple. Some of the fantastic love songs to dance to are as listed below.
32. Perfect by Ed Sheeran
Perfec is an easy pick for couples who are looking for an easy tune with profound lyrics.
Baby, I'm dancing in the dark, with you between my arms
Barefoot on the grass, listening to our favourite song
I have faith in what I see
Now I know I have met an angel in person
And she looks perfect
I don't deserve this
You look perfect tonight
33. Killing Me Softly by Frank Sinatra
The words in this song are the best part about it! It is a lovely song for a groom to dedicate to his bride on their special day.
34. At Last by Etta James
At Lastis a song that combines sexy and glamour perfectly. The diction is fantastic for a first dance:
At last my love has come along
My lonely days are over, and life is like a song, oh yeah
At last the skies above are blue
My heart was wrapped up clover the night I looked at you
I found a dream that I could speak to
A dream that I can call my own
35. All of Me by John Legend
All of Me is a song that is soaked in love. Many couples have danced to this song, and it is not about to become outdated!
My head's under water
But I'm breathing fine
You're crazy, and I'm out of my mind
'Cause all of me
Loves all of you
36. Millionaire by Chris Stapleton
They say "Love is more precious than gold"
Can't be bought and it can't be sold
I got love enough to spare
That makes me a millionaire
I got a woman with eyes that shine
Down deep as a diamond mine
She's my treasure so very rare
She's made me a millionaire
Check out the rest of the song.
37. You Are the Best Thing by Ray LaMontagne
You Are the Best Thing is a sweet and romantic song for every couple to dance to on their special day. Some of the lines in the song are:
Baby
We've come a long way
And, baby
You know I hope and I pray
That you believe me
When I say this love will never fade away
Oh, because
You are the best thing
Listen to the entire tune now!
Country wedding songs
If you have a country theme wedding, some of the top songs for your big day are listed below.
38. God Gave Me You by Blake Shelton
God Gave Me You is a song with profound words. From the chorus, it is evident that a couple is celebrating being each other's God-given gift for a lifetime.
'Cause God gave me you for the ups and downs
God gave me you for the days of doubt
For when I think I've lost my way
There are no words here left to say, it's true
God gave me you, gave me you
39. Making Memories of Us by Keith Urban
In this song, a groom makes a heartfelt promise to love their partner for all eternity.
I'm gonna be here for you baby
I'll be a man of my word
Speak the language in a voice that you have never heard
I wanna sleep with you forever
And I wanna die in your arms
In a cabin by a meadow where the wild bees swarm
And I'm gonna love you like nobody loves you
Watch Making Memories of Us by Keith Urban now!
40. To Make You Feel My Love by Garth Brooks
This beautiful song, when played during a wedding, shows that a couple promises to love each other even when life is stormy.
When the rain is blowing in your face
And the whole world is on your case
I would offer you a warm embrace
To make you feel my love
41. From this Moment On by Shania Twain
From this moment life has begun
From this moment you are the one
Right beside you is where I belong
From this moment on
From this moment, I have been blessed
I live only, for your happiness
And for your love, I give my last breath
From this moment on
The above lyrics sum up the feelings of every groom and bride on their big day. Check out the song now.
42. Lost in This Moment by Big & Rich
Lost in This Moment is a deep love song. It is one of the best country songs to have playing during the first dance:
Lost in this moment with you
I am completely consumed
My feeling's so absolute
There's no doubt
Sealing our love with a kiss
Waited my whole life for this
Watching all my dreams come true
Lost in this moment with you
43. I Cross My Heart by George Strait
There are no words to explain how beautiful this song is. Check out some of its lyrics below:
Our love is unconditional
We knew it from the start
I can see it in your eyes
You can feel it from my heart
From here on after
Let's stay the way we are right now
And share all the love and laughter
That a lifetime will allow...
Top songs in a Nigerian wedding playlist
A Nigerian wedding without a proper Nigerian playlist is no fun. Nigerians love dancing. Some of the top Nigerian wedding songs in 2019 are below.
44. Ada Ada by Flavour
This song sets the tone for a perfect Nigerian wedding.
45. Today Today by elDee
Today Today by elDee is the ideal song for a just married couple to dance to as they enter their wedding reception!
Practice your Today Today!
46. Ife Wa Gbona by Tiwa Savage featuring Leo Wonder
Ife Wa Gbona by Tiwa Savage featuring Leo Wonder teolls of an amazing love story. Watch this cute song now!
47. Marry Me by Prince Chinedu Nwadike
The song Marry Meis a fun song to dance to on your big day.
48. Limpopo by Kcee
An authentic Nigerian wedding must have a dance-off! Listen to Limpopo now as you practice your moves for the big day.
49. Fine Fine Love by J-Martins
Another lovely song for a dance-off during the reception! Listen to Fine Fine Lovenow.
50. No One Like You by P-Square
No One Like You never gets old. It is still one of the best songs to play during your wedding.
Selecting the songs to play on your big day is a daunting task. The playlist is as important as all other details at a wedding. It is essential for couples to go through the lyrics of their selected wedding songs to ensure that they are relevant and match the theme of the function. The above selection of the best wedding songs guides you as you choose the music for your special day. We wish you all the best in your marriage!
READ ALSO:
8 celebrity weddings that took place in 2018
Simi and Adekunle Gold's wedding: how it was
Source: Legit.ng