- Thousands of seized vehicles estimated to cost about N30 billion are currently wasting away according to a report by The Guardian
- The vehicles valued at about N30 billion are wasting away due to unnecessary delay and ineffective auctioning system
- The delay in auctioning, according to the report, is being exploited by some unscrupulous people to defraud innocent Nigerians
Thousands of seized vehicles estimated to cost about N30 billion are currently wasting away at various warehouses of the Nigeria Customs Service (NCS) nationwide, The Guardian reports.
The newspaper reports that the vehicles, including exotic brands and top models, were either abandoned by importers or seized from smugglers across the borders, seaports and other locations.
Among those reportedly sighted are Mercedes Benz G wagon and various Mercedes Benz 4matic models, Hummer, Mercedes Benz, Range Rover Evolution, Ford Edge, Toyota Land Cruiser, Highlander, Toyota Hilux, various models of Lexus, Porsche cars and a host of other sport utility vehicles (SUVs) from Ford and Toyota brands. There were also a variety of trucks, salon cars and buses.
READ ALSO: CJN: Buhari nominates Justice Muhammad for appointment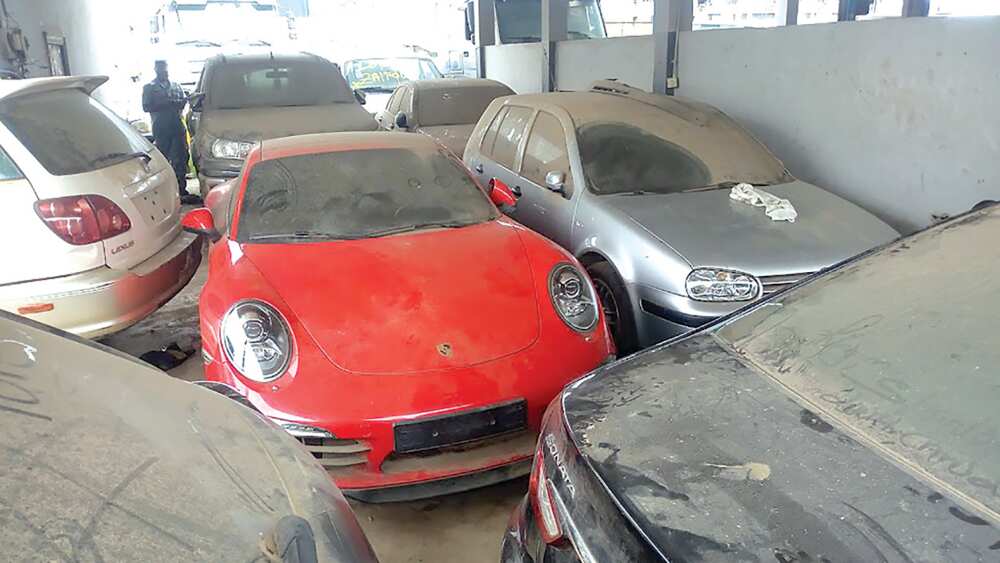 Many of the seized vehicles have reportedly gone through the process of court condemnation and are awaiting auction.
The vehicles are detained at the border stations, seaports commands and at the Federal Operation Units (FOU) in Lagos, Owerri, Benin, Bauchi, Kaduna and Kano.
Some of the vehicles at Seme Customs, FOU Zone A, Ikeja, Idoroko Command, and TinCan Island Command in Lagos are already depreciating and losing value due to the wear-and-tear caused by the long period of packing.
In its reports, the NCS said some of the vehicles were intercepted during attempts to smuggle them into Nigeria. Others were seized for being used to convey smuggled items.
The spokesman for Seaport Terminal Operators of Nigeria (STOAN), Bolaji Akinola, claimed over 5,000 vehicles were rotting away at the ports alone, taking over the space that could have been used for incoming goods.
Akinola said: "The available spaces in the ports are being overtaken by overtime cargoes, including vehicles, and this is unfortunate. For several years, government has refused to auction the vehicles, and nobody can remove them except they are auctioned by the customs.
"The advantage of auction is two-fold: it will make valuable space available in the port for other cargoes. The law provides that any cargo in the port, after 45 days, has become overtime cargo, and it automatically becomes government property, and in a move to free the space, government auctions them. Apart from freeing the space and reducing ports congestion, it will also help raise the much-needed government revenue.
"What is the economic sense in leaving vehicles at a particular space to rot away for years? So, we appeal to customs that whatever modality they want to use, (e-auction or manual auction), they should auction them."
A clearing agent, Benson Izuora, also decried a situation whereby vehicles would be allowed to rot away when millions of Nigerians want to buy them.
"It is unpatriotic and a waste of resources. Sometimes I begin to wonder what is happening to this government, some officials seem not to know what they are doing. We all know that the country is in dire need of funds to implement the 2019 budget. Why not auction all of those vehicles and earn money, rather than letting them waste away. If the e-auction is not working, they need to do something about it, or go back to the manual system," Izuora was quoted to have said.
The Comptroller-General of the NCS, Hameed Ali, had introduced an e-auction platform (app.trade.gov.ng/e-auction) on July 3rd, 2017, which recorded little progress due to some glitches being experienced with the digital technology.
The last phase of the auction had only 806 vehicles uploaded on the platform, and bought by 753 bidders. It generated about N346.1 million.
Another phase began late May this year but it did not last one month before it was shut, The Guardian states.
At present, the e-auction process has reportedly stalled, due to the banks' e-wallet challenges.
Customs public relations officer, Deputy Comptroller Joseph Attah, reportedly confirmed that the banks' e-wallet challenges posed difficulties for bidders in making payment.
"The e-auction is active and still on. Just that bidders at a point were experiencing difficulties in making payments through the e-wallet. The CGC had a meeting with the managing directors of the affected banks who promised to sort out the challenges at their own end. Uploading will continue immediately the banks are ready," he said.
Attah had earlier said that some of the vehicles in their custody were due for auction, while others were still undergoing court processes.
"It's not everything that you see there that must be auctioned. There are several conditions that are keeping some of them. There are those whose cases are still in court, and we have no right to auction them. We don't have control over the court, and we don't know how long the cases will take," he stated.
Some unscrupulous people are already taking advantage of the delay in auctioning to exploit innocent Nigerians on the social media by posing as officers coordinating the auction, among others.
READ ALSO: NAIJ.com upgrades to Legit.ng: a letter from our Editor-in-Chief Bayo Olupohunda
Meanwhile, Legit.ng previously reported that a Federal High Court in Abuja, on Wednesday, July 10, awarded a N5.5 billion damages against the Nigerian Customs Service over an unlawful seizure of 90 containers of rice imported by a firm.
Also affected by the N5.5 billion damages is the chairman of the Nigerian Customs Service Board (NCSB).
NAIJ.com (naija.ng) -> Legit.ng. We have upgraded to serve you better.
Customs Seize N1bn Worth of Codeine: Importation of Fairly-Used Bags, Shoes Banned | Legit TV