Everyone knows that nuts have a lot of health benefits: they are rich in vitamins, minerals, and unsaturated omega-3 fatty acids. The striking fact is that walnut exceeds citrus fruits by vitamin C content 50 times more. These are not all the unique walnut health benefits. What are the other benefits and side effects of this incredible nut?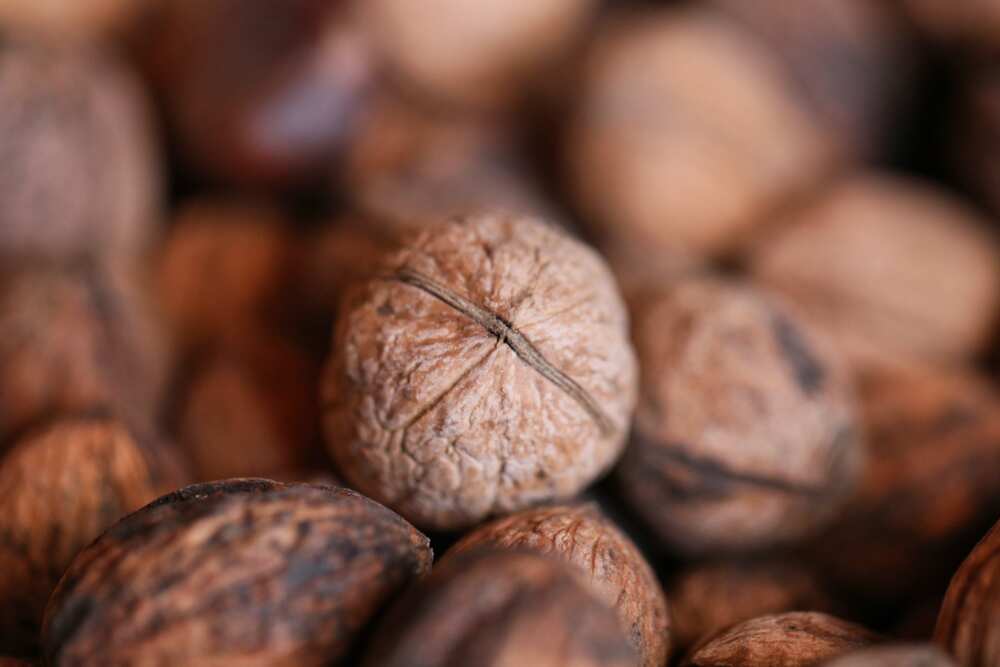 This nut makes richer the taste of meat, vegetable and dessert dishes. It is used as a medicine and prophylactic agent, and even its shells are used in divination.
Walnut health benefits
Ripened and ready to consume nuts contain many substances we need in our diet. Therefore, by including this product in your daily diet, you satisfy the body's need for vitamins, essential trace elements and amino acids, as well as fats, proteins and carbohydrates. What are walnut health benefits? What components make walnuts so beneficial for our health? They include the following elements:
Vitamins: A, E, K, and group B
Trace elements: magnesium, phosphorus, potassium, calcium, iodine, cobalt, iron, zinc, manganese
Amino acids: glutamic, phenylalanine, serine, cysteine, asparagine, histidine, valine
Proteins up to 21%
Fats up to 76%
Carbohydrates up to 7%
Substances contained in walnuts bind and remove heavy metals, normalize the endocrine system, help to cure diseases of the lungs, help in recovering from certain surgeries, burns, childbirth and severe, long-lasting diseases.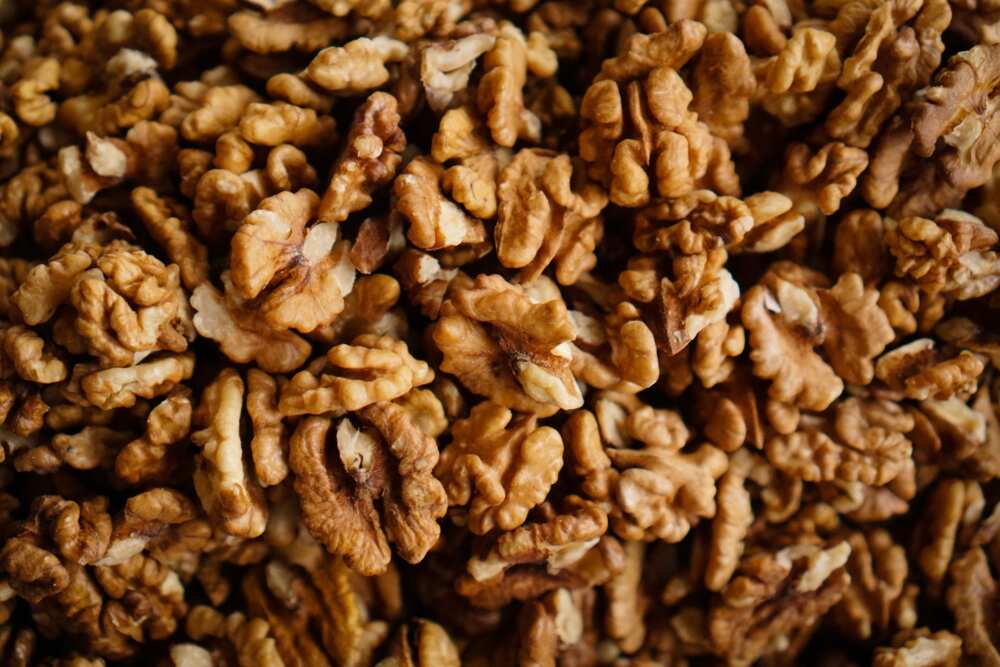 Regular consumption of walnuts has a positive effect on the cardiovascular system. Studies show that this product helps blood vessels maintain elasticity, slowing the formation of atherosclerotic plaques, lowers blood pressure and increases the tone of the heart muscle.
Due to the fact that the composition of walnuts harmoniously combines potassium and magnesium, as well as vitamins of group B, this product helps to restore the nervous system, increases stress resistance and helps to cope with depression.
READ ALSO: Soursop fruit benefits and uses
Walnuts help to strengthen bones, teeth and nails. Therefore, they should be included in the diet of children and older people. For children, walnuts help children grow faster and develop harmoniously, while for the elderly, the nuts protect all components of their skeleton from fragility.
This product has a beneficial effect on brain activity — it strengthens memory and increases the efficiency of the grey matter.Even 3-4 nuts help to relieve fatigue and restore full concentration.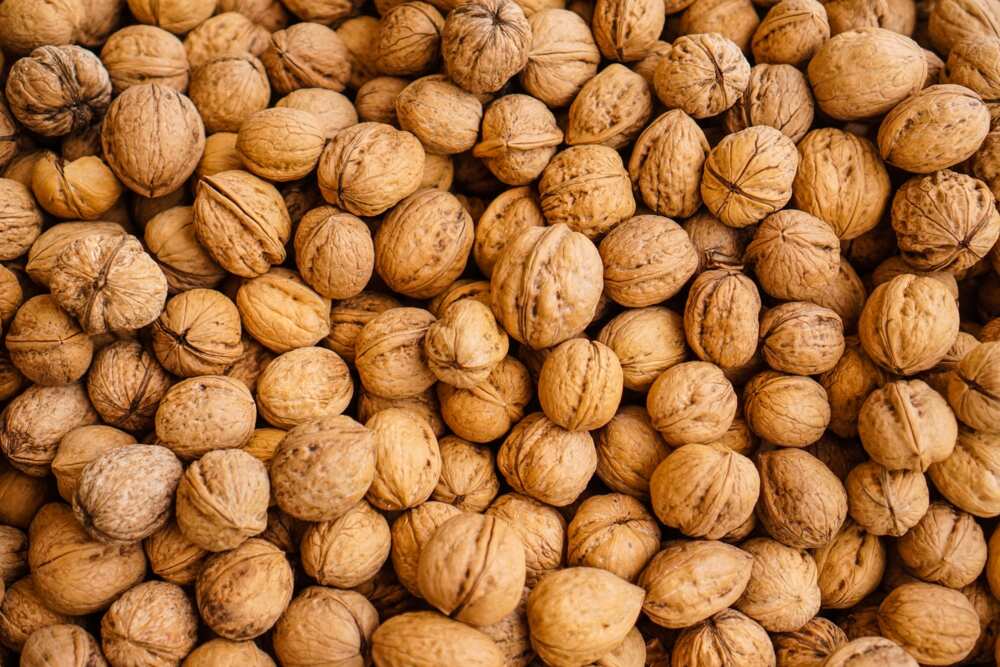 Besides, it is an excellent prophylactic agent as it protects against anaemia, prostatitis, atherosclerosis and from the occurrence of thyroid diseases. Only 2-3 nuts per day significantly increase the body's resistance and help it resist colds and many other infections.
Walnuts are recommended for those who live in places with high background radiation. The substances contained in this product help reduce the harmful effects of radiation, as they bind and excrete many of the harmful chemical elements that a person receives from oxygen and through the skin.
These wonderful nuts help maintain reproductive function. Ladies who dream of conception are advised to eat them, as well as men who have problems with potency.
Due to the high content of fats and proteins, walnuts in some cases can serve as a substitute for meat. They can be included in the diet of vegetarians, vegans, as well as those who adhere to strict fasting. They increase the nutritional value of the dish and allow you not to feel hungry for a long time. 100 g of walnuts (about 4 large nuts) includes more than 650 calories.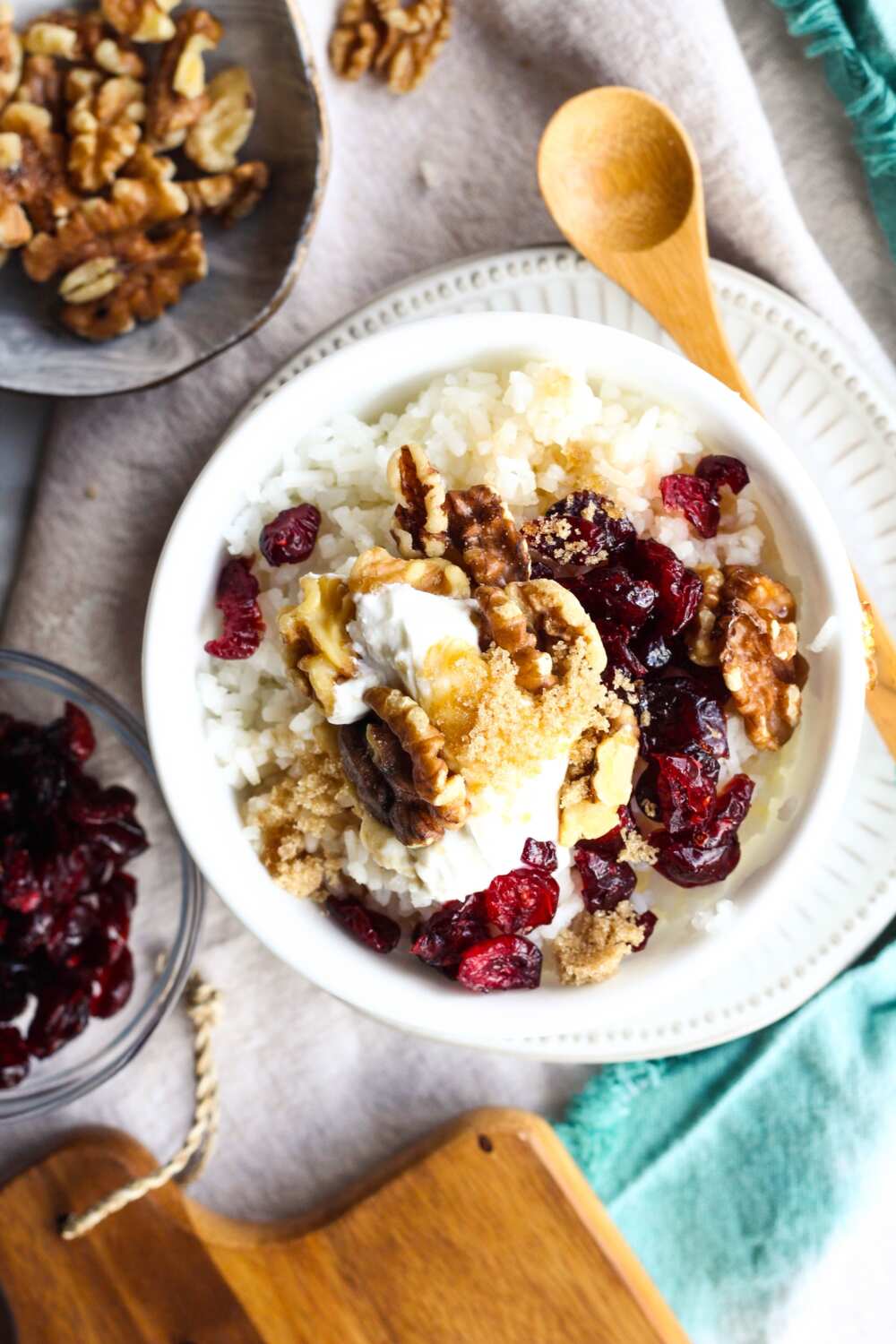 Walnuts can be used as snacks, and also after intense physical exertion. Note that you should eat nuts no earlier than 2 hours after the end of a workout.
Health benefits of walnuts oil and leaves
Walnut oil has incomparable beneficial properties. It is an unsurpassed nutritious product in the recovery period after illness and surgery. The oil contains unsaturated fatty acids, vitamins (especially vitamin E), macro-and microelements (zinc, copper, iodine, calcium, magnesium, iron, phosphorus, cobalt), and biologically active substances.
Walnut oil is recommended for people who have chronic arthritis. You can apply it on burns, wounds, ulcers. It is also recommended for those with chronic colitis, accompanied by constipation. Use it during the treatment of ulcerative diseases of the intestine and stomach.
Walnut oil helps people who suffer from hypertension, atherosclerosis, coronary heart disease, and diabetes.
This product effectively protects the body from carcinogenic substances.
Despite its high-fat content, walnuts help to lower blood cholesterol. Doctors recommend the nut and its oil as a preventative and treatment of atherosclerosis, beriberi, iron deficiency, cardiovascular diseases, liver diseases and metabolic disorders.
The beneficial properties of walnuts and its oil have found application in cosmetology. It is used for masks, scrubs, creams and is recommended for sensitive, irritated skin. The oil is prescribed for the treatment of psoriasis, eczema, furunculosis, and varicose veins.
It is believed that the most useful are walnut green nuts, just plucked from the branches. They contain vitamins C, B1, B2, PP, carotene and quinones. Mature nuts are significantly richer in their useful elements. They contain vitamins C, B1, B2, PP, carotene, tannins, quinones and fatty oils (linoleic, linolenic, oleic, palmitic acids), fibre, and salts of iron and cobalt.
READ ALSO: Cod liver oil benefits for your health
There is a big amount of vitamin C in the leaves of walnut tree. The leaves contain a large amount of carotene. and vitamins B1, tannins and the dye juglone, which has a bactericidal effect. Traces of essential oil can also be found on its leaves.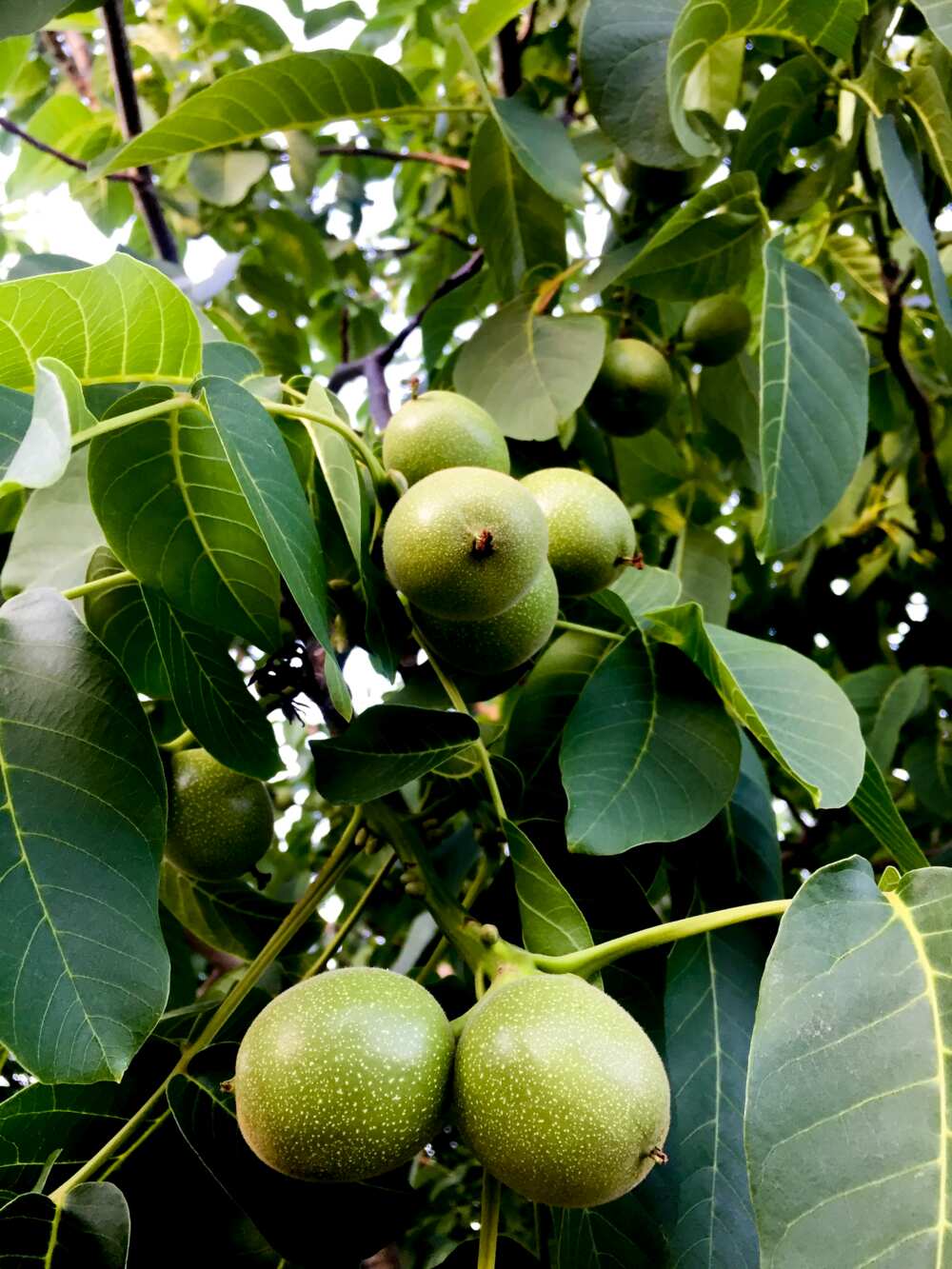 Walnut side effects
It is important to remember that walnuts and its oil have not only beneficial properties but also serious contraindications. How can walnuts be dangerous?
Vitamin K contained in these nuts increases blood viscosity, so they are not recommended for those who suffer from varicose veins, thrombophlebitis, certain types of migraines, as well as people with high cholesterol.
If you suffer from any nut allergies, you should not eat them so much. The protein contained in nuts can cause urticaria, rashes, oedema and other unpleasant manifestations of allergic reactions.
Do not eat walnuts if you have quinsy. They can cause additional irritation of the throat and tonsils.
This product is contraindicated for people who suffer from diarrhoea.
Walnuts are very high in calories (about 650 Kcal per 100 g), so they should not be consumed in large quantities by those who are on a strict diet. However, 2-3 nuts a day are not harmful.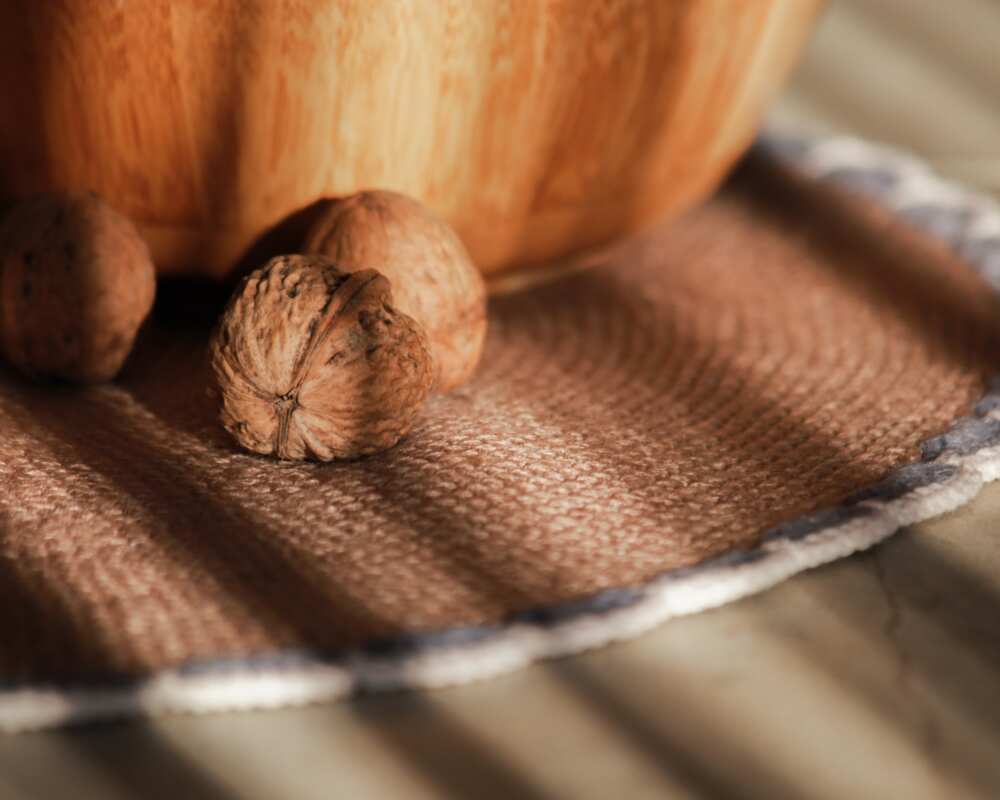 Now you know more about walnut health benefits and side effects. Remember that the recommended maximum daily intake is 5 whole kernels. A higher number can lead to allergies, digestive and oral problems, as well as exacerbation of existing diseases.
DISCLAIMER: This article is intended for general informational purposes only and does not address individual circumstances. It is not a substitute for professional advice or help and should not be relied on to make decisions of any kind. Any action you take upon the information presented in this article is strictly at your own risk and responsibility!
READ ALSO: Health benefits of guava leaves tea