Akpororo - Biggi God: video, lyrics, reactions
Akpororo - Biggi God is the newest tune on the block. Apart from the fact that its catchy dance video will get you all fired up to dance for the Lord, the lyrics are also on point. Indeed, God is a big God.
Are you looking for a fabulous praise song to thank the Lord for all He has done for you? Are you in the mood to recognize and praise your heavenly Father? Well, Akpororo helps you out here.
Akpororo - Biggi God descriptions
Released: 3rd July 2019
Producer: TY Mix
Genre: Afrobeat
Length: 4:13 minutes
Format: Video and audio
Reviews and comments
The hit that is barely several days old is already attracting comments on social media. There are a couple of Akpororo's fans who have expressed their liking for the song, whereas there are those that have not been shamed to speak their truth about their opinion on the hit. These are some of the comments that were made:
Ed Kasey: What an amazing way to praise God. Take it or leave it, Nigeria is the greatest country on planet earth blessed with rich human and natural resources. May God bless Nigeria with a selfless leader that will restructure and reposition the country the way it ought to be .Amen
Daily Activities: Wow! Multi-Talented guy. I really appreciate your effort on this song. You should have sold d song na.
konatee Greg Morris: Hahahahahahahah, Akpororo don do am again; lol . The devil don geh pressure forever; no more wahala
Fans are still up showing love to the artist for working on this banger. These are some of the comments that they made about it: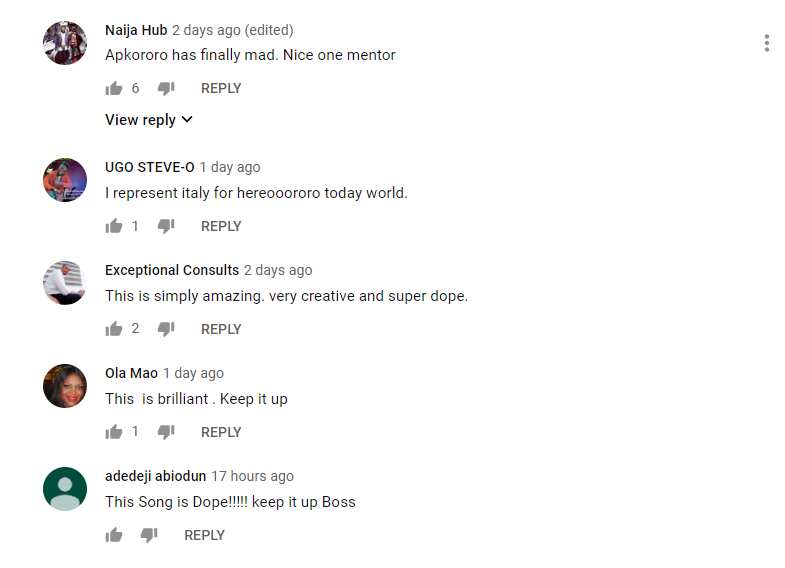 Despite some of the fans were showing their love for the hit, there were those who were not impressed with it. They were not afraid to show their dissatisfaction in the hit that the artist had done, these are some of the comments that were not so good: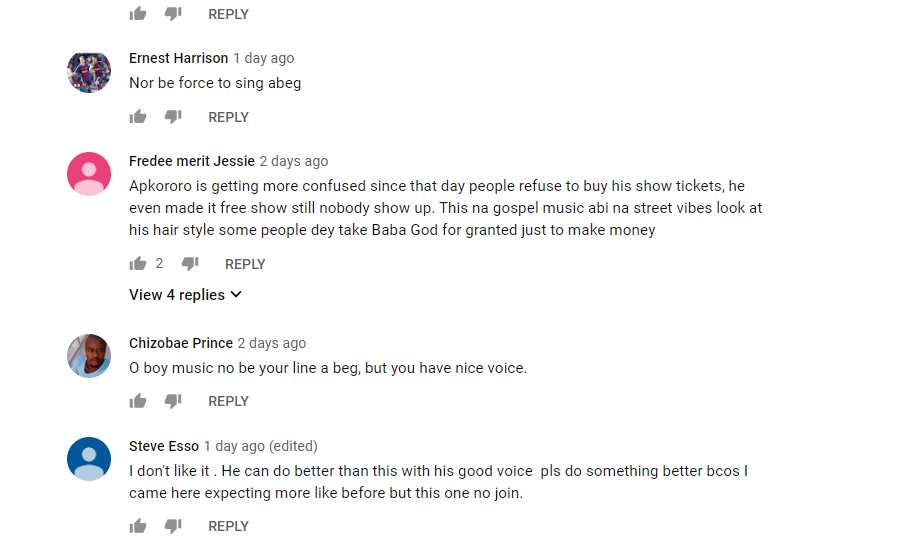 Steve Esso: I don't like it . He can do better than this with his good voice pls do something better bcos I came here expecting more like before but this one no join
Ernest Harrison: Nor be force to sing abeg
Prince Larry: Abeg this one nor follow. U can do better with that your amazing voice bro. Much love
Tastes differ. It is obvious that you should listen to the hit, maybe then will you make your judgement.
Akpororo - Biggi God is the artist's latest project. It is available online for download. You can also download its hyped video on YouTube.
READ ALSO:
Kelvyn Boy - Mea ft. Joey B: video, lyrics, reactions
Soft – Money (Remix) ft. Wizkid: audio, lyrics, reactions
Lil Frosh – KaGadaffi ft. Zlatan Ibile: audio, reactions
D'Banj - Mo Cover Eh ft. Slimcase: audio, lyrics, reactions
Source: Legit.ng