If you are a big fan of street hip-hop or just are looking for a new hot tune, then Lil Frosh– KaGadaffi is what you have been searching for. Enjoy the newest banger from the rising hip-hop and rap star ad find out what other people think about the song.
Guys, are you ready to listen to something amazing? This addictive song will find its place in your playlist of favourites. Be sure it is worth downloading any time.
Lil Frosh– KaGadaffi description
Released: July 3d, 2019
Format: mp3
Genre: Hip-hop
Length: 3:09 min
Label: Indie
Producer(s): Spititual Beats
The rapper pleases us with his music. Lil Frosh– KaGadaffi is not an exception. Do you agree? Can the musician prove his musical prowess?
Lil Frosh– KaGadaffi reviews and comments
Fans are satisfied with the new banger. They are glad to hear something fresh. Here are some of the comments from the rapper`s Instagram. What do you think about this track?
iam_qd: Abeg drop am oooo❤️❤️❤️❤️❤️❤️
haystixx_israel: Drop am naw before I vex
g_afeez: ❤️
i_am_bennyhay: eruku makanaki pls drop it quickly nao....I'm in eager to hear this jamz nao,.... I v been searching for on every website nao
michealbest_: Banger
mammy_richy_01: Lover's
official__diamond_1: Omo kagadaffi oya
READ ALSO: Ruffcoin - Yati Yati ft. Rudeboy: video, reactions
official_yanking: Is a banger
pappy_kay_fundz: Drop am ooo
bob_j_j: Man on fire...
kendrick_lawal: ❤️
biodun_gram: Hit already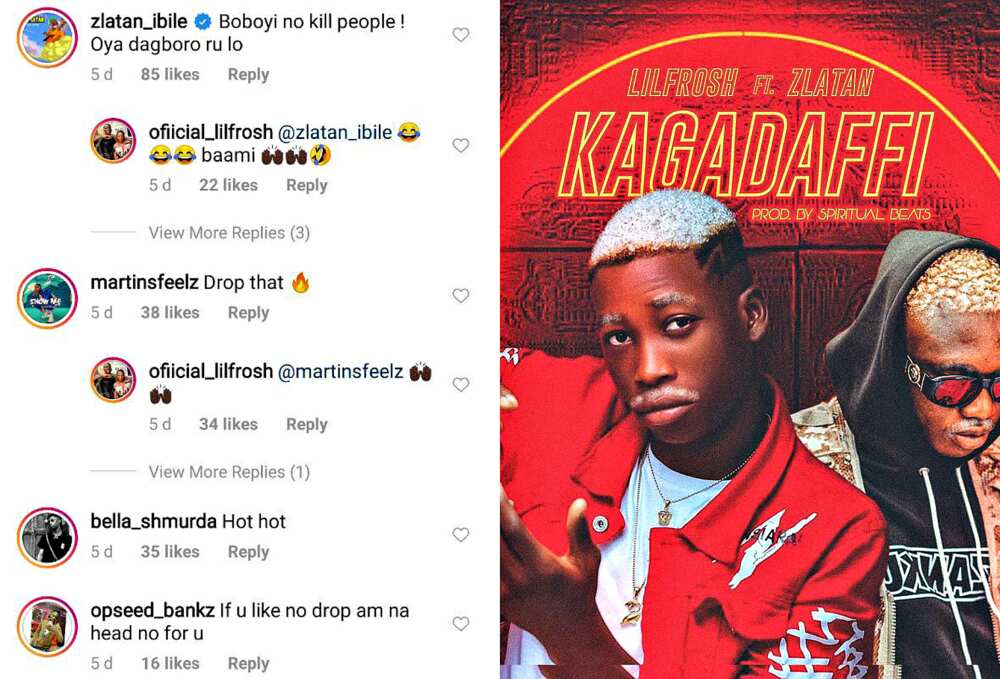 Lil Frosh– KaGadaffi download
You can download this song on the following source and enjoy it anytime:
Lil Frosh– KaGadaffi is the newest banger you need to listen to. Download this track and enjoy. Do not forget to share with us your impressions in the comments section.
READ ALSO: Shatta Wale - Tournament: audio, reactions