Naira Marley - Soapy: audio, lyrics, reactions
The most anticipated release from the rising star Naira Marley is finally here! The singer decided to put out his brand new jam, and the fans instantly got excited to listen to the tune. Why is Naira Marley - Soapy such a special song? Check out reactions to it and sing along having the lyrics!
Naira Marley, the young Nigerian star who fondly calls his fans "Marlians", just got out of prison recently for his controversial opinions on Yahoo boy culture. However, his personal difficulties did not prevent him from releasing fresh music for his fans.
Naira Marley - Soapy description
Release date: June 28, 2019
Artist: Naira Marley
Producer: Rexxie
Genre: Afrobeat, shepeteri
Length: 02:54 min
The young artist with countless fans and free spirit has been on fire lately, releasing song after song. Naira Marley already proved that all of his releases are of high quality and have enough potential to become ultimate jams. After his new super hits "Why" and "Opotoyi", which are still being played at every party, the musician did not rest and put out a brand new track, which has an original sound and theme. Rexxie became a producer of this possible banger, and he clearly did a fantastic job.
Even though Naira Marley's arrest and EFCC prosecutions have been the hottest news in Nigeria for the last couple of months, it seems like the legal trouble only boosted his career and gained him a lot of new listeners. Today, he is one of the most relevant artists in the country, and his new music is always anticipated. In his fresh track, he sings about everything that happened to him in custody, as well as about real and fake friends. The melody is very catchy, so entire Nigeria will dance to this new release very soon!
Naira Marley - Soapy lyrics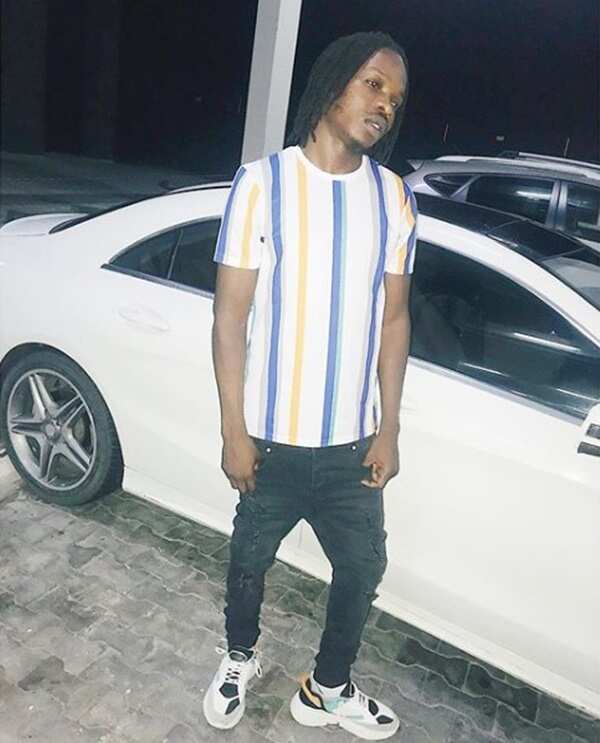 The lyrics of Naira Marley's new song are quite personal, and the artist most likely hoped they would resonate with everyone. Learn the words of his new release and sing along with one of Nigeria's hottest artists!
Intro:
Ote sele bo
Yahoo ni babalawo
Ole ni everybody
Eni ile moba sani barawo
Verse 1:
Ote sele bo
Yahoo ni babalawo
Ole ni everybody
Eni ile moba sani barawo
Ofe se ika fun mi
Mi ologun mo ni Quran
Mon de se adura mi
Bi nse se adura mi
Allah ngba adura mi
Ati lo atide
Eni ori yo odile
Eniba lo lo bade
Igba tin kpa da de
Se na de mi ni ade
Kade kope lori
Ki bata ko pelese
Ki awon ota mi kan lese
Ki awon ota mi kan lese
Chorus:
Inside Life, loti ri 5 Alive
Inside life, loti ri Deeper life
Inside life, awon kan je iya
Awon nkan chop life
Inside life, Inside life
Awon kan shepe
Awon kan je ewa
Jo soapy (x2)
Kirikiri njo soapy (Kirikiri njo soapy)
Jo soapy (x2)
Ikoyi prison njo soapy
Jo soapy (Soapy)
Ninu cell EFCC won njo soapy
Jo soapy (Soapy)
To ba ni iyawo nle ko jo soapy
Soapy (x3)
Brother yi njo soapy
Jo soapy (x2)
Abi eyin na soapy
Jo soapy (x2)
Single father njo soapy
Jo soapy (x2)
Malo lo OMO to ba lon soapy (Soapy)
Verse 2:
Se oda owo mo
Owa sope omo Naira
Owu wo lowo, iwo sa se si Naira
Aja fe dena de ekun
Kekere ekun o ma nse egbe aja
Wonbe ni, mafo, awon na ofe wahala
I just want make mama proud
They want to make mama cry
Mama you aint gonna cry no more
Teba sukun gan e sukun ayo
Eba jo keba yo
Gbe oro mi ja si ayo
Inside life Inside life
I do what I want coz its my life (Kuonbe)
Chorus
Inside Life, loti ri 5 Alive...
READ ALSO: Naira Marley - Opotoyi: video, lyrics, reactions
Naira Marley - Soapy reactions
The majority of Marlians was thrilled to see their idol treat them with a new tune. While Naira is on the peak of his popularity, he wants to spoil his admirers as much as possible, and they appreciate it. YouTube comments are mostly positive, with people expressing their love and fondness for Marley's songs, and wishing him all the best.
Olalekan Ayinde: Marlians marlians that's so deep naira❤️
Large Moni: Finally it is here... Let me dance away my sorrow...
Ako Aya: Naira Marley is very talented, he does not stress when singing
Nurudeen Adeniyi: My love for this guy is 100% more success bro
Akubuedubem: I have not even recovered from opotoyi and you have released another one
The singer has a little tradition to show the dance moves to his songs and then repost people jamming to the tunes. This time, he also demonstrated a dance routine for his followers to repeat and send to him.
You can support and listen to Naira's new single using the following services:
In addition, you can also watch his YouTube video for this song — it will greatly help the artist to achieve views.
Naira Marley - Soapy is the biggest indication of this bright young singer's talent! He quickly became Nigeria's big sensation and does not plan to stop releasing new bangers anytime soon. If you enjoyed the song and it made you dance, you can leave the comments here or send some love to the artist on his social media.
READ ALSO: Naira Marley – Why: audio, lyrics, reactions
Source: Legit.ng