Ruffcoin has a new and juicy hit. Can we say that this is his amazing come back? Before you give the answer, we suggest you listen Ruffcoin - Yati Yati and watch his new video.
Enjoy the video and the new sweet tune.
Ruffcoin - Yati Yati description
Released: June 26th, 2019
Format: mp3, video
Genre: Afro-pop, hip pop
Length: 3:23 min
Label: Ruffy Recordz
Ruffcoin - Yati Yati is the perfect blend of Afro-pop music and street hip hop. Collaborating with Rudeboy, the artist presents smashing sound and a high quality video.
Ruffcoin - Yati Yati reviews and comments
Fans have waited for this song for so long, and their comments on YouTube shows that they are excited. What do they have to say?
Nwachukwu Uche: There's one man that is in another planet this year and that's Baba Rudy let the fire continue
Jonathan Godstime: Rudy I'm feeling you... My fire department members...let me see you
Precious Ogarekpe: Rudeboy forever giving us back to back! #firedepartment
francis freedom: King Rudy the king of music has done it again Kudos Ruffcoin, More grace
Brice Tambe: I don't understand Igbo but Rudeboy ur voice makes me wanna cry. U are too good brooooo. Those disliking this song are from team ''one more pants''. Go and increase the views of ur wack song and leave King Ruddy alone.
READ ALSO: Magnito x Falz – If To Say I Be Girl Ehn: audio, lyrics, reactions
Great Okoh: Who else has watched this video more than 10times? Indicate by hitting the like button. NICE ONE RUFFCOIN AND KING RUDY. THIS SONG IS DA BOMB..
Real Chinnydan: Dope Song, my 2 Lovely Artists from Eastside 9ja ,High definition Video
success me: The concept of the video is boom. All about this is superb bro more money more grace
Dave Willamette: King Rudboy and Nwa Aba my people much love, this is wonderful, i will be playing it for days now
Rudeboy Fire: This video deserves one million view in less than 23 hours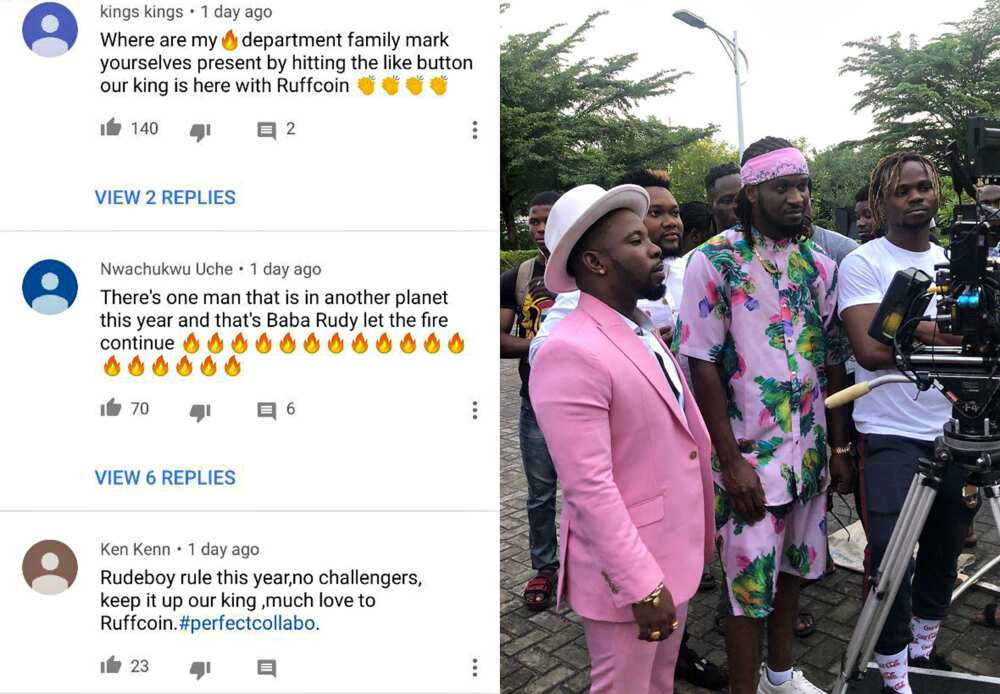 Ruffcoin - Yati Yati download
Choose one of the following music platforms to download this song:
Ruffcoin - Yati Yati is a tune that sounds fresh and hot at the same time. It is difficult to stop listening to it.
READ ALSO: Runtown - International Badman Killer: audio, lyrics, reactions