… As part of the annual MTN Y'ello Care activities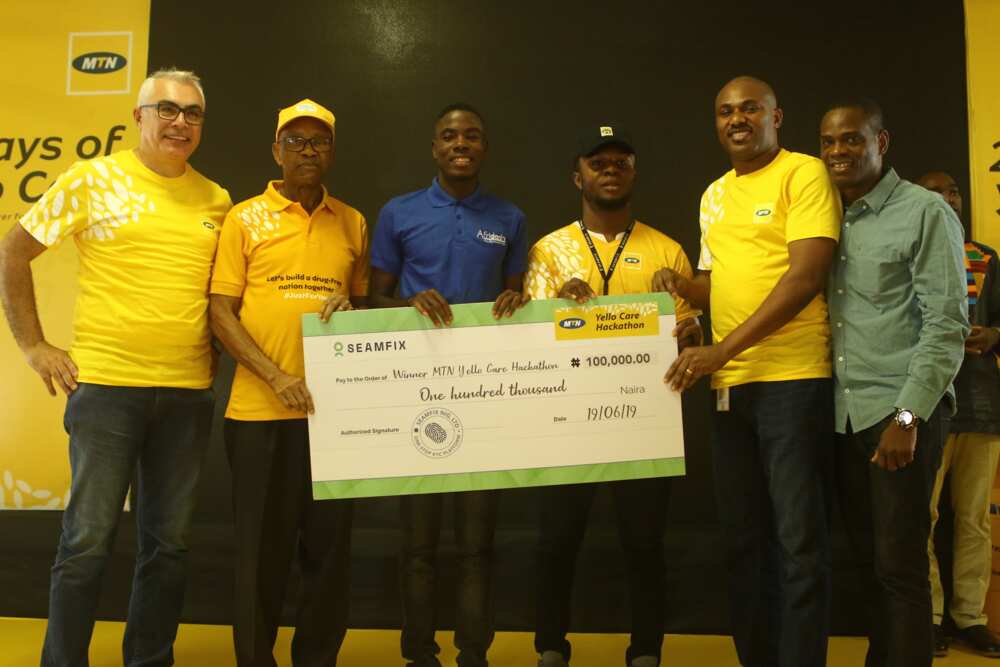 Chief operating officer, MTN Nigeria, Mazen Mroue; Director MTN Foundation, MTN Nigeria, Dennis Okoro; Winner, MTN Nigeria Hackathon, Richard Igbiriki, Representative Seamfix, Frank Atube;Chief Transformation Officer, MTN Nigeria, Olubayo Adekanmiand Partner at Chinook Capital Limited Suru Avoseh at the just-concluded MTN 21 Days of Y'ello Care 2019 in Lagos, on June 21.
He just came in from Bayelsa a day before with a bag containing a T-shirt, his laptop and a lot of hope. Richard Igbiriki, applied for the challenge after he saw a tweet on his timeline. The Twenty-three-year-old came with a lot of enthusiasm as he contended with the other 4 groups.
According to him, the death of a friend's daughter due to lack of blood spurred him to put up for the Hackathon after seeing a tweet on it. His presentation was Blood Share. A technological solution that got hospitals linked together for anyone who needs to find health services, buy blood from an available blood bank, donate blood at an accredited hospital and get general services. In Bayelsa where the incident that prompted him to apply happened, his friend's sister lost her baby due to lack of blood in the hospital. A non-refundable fee of N10,000 was paid.
Richard and four other finalists were chosen out of the over 100 applicants that submitted their proposals.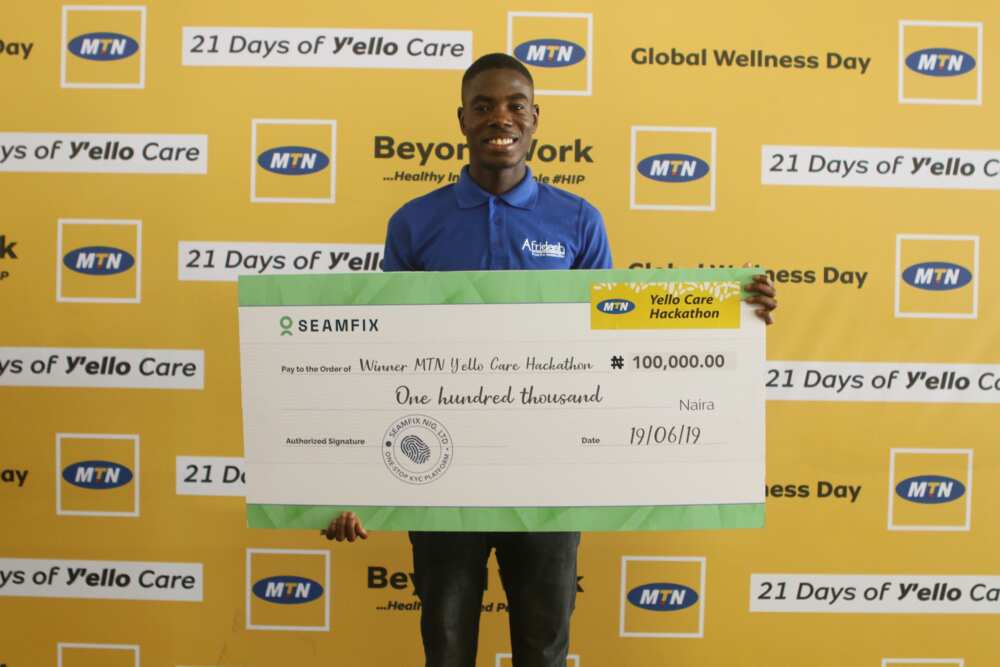 Winner, MTN Nigeria Hackathon, Richard Igbiriki with a part of his cash prize by a partner, Seamfix, at the just-concluded MTN Nigeria 21 Days of Yello care that held on Friday the 21st of June 2019 in Lagos.
According to Mr Suru Avoseh a partner working with Chinook Capital, the parameters used in selecting the top ten included;
• Originality; Something currently non-existent.
• Impactful; Will reach a lot of Nigerians.
• Purpose; How well it addresses the identified United Nations SDGs.
• Relatability; How easy can people apply it to their daily lives.
• Innovation: Something tech-led and easy to do.
Wednesday, June 19, saw them make their presentations to the team. Each team was given 10 mins to make their presentation. The judges were excused from the room to collate the results. During the recess, the COO of MTN Nigeria, Mazen Mroue gave a speech where he appreciated the five contenders. He told them to see themselves as winners.
The MTN Hackathon challenge, which kicked from the May 31st to June 7th as part of the 2019 MTN Y'ello Care, recorded over 100 applicants across Nigeria. The Hackathon was platform to encourage young Nigerians to proffer ICT solutions to address one of five SDGs: hunger, poverty, quality education, good health and industry innovation.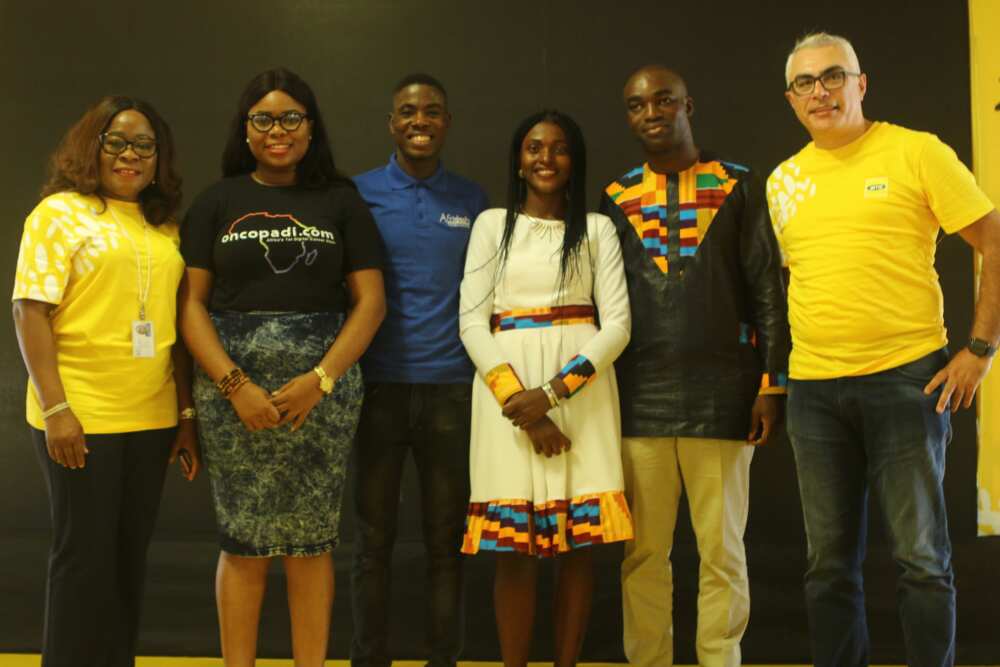 L-R: Top three finalists of the MTN Y'ello Hackathon Challenge flanked by the left, the Chief Human Resource Officer, Esther Akinnukawa and far right by the Chief Operating Officer, MTN Nigeria, Mazen Mroue at the closing ceremony of the just concluded MTN 21 Days of Y'ello Care 2019 in Lagos, on June 21.
The management of MTN gave all finalists a brand new laptop for being the top five. Final winner was announced on Friday, June 21, at the grand finale where he beat other three contenders to win the first MTN Hackathon challenge.
The MTN Y'ello Care is a Corporate Social Investment which takes place in the first 21 days of June. During this time, MTN staffs around Nigeria as part of their corporate social Investment, give back to society.
[Sponsored]