Legit.ng success stories: How did we get the silver button on YouTube
In 2016, Legit.ng created its YouTube channel. But because it was mainly for aggregated content, another channel arose in February 2017 to post original videos created by Legit TV team.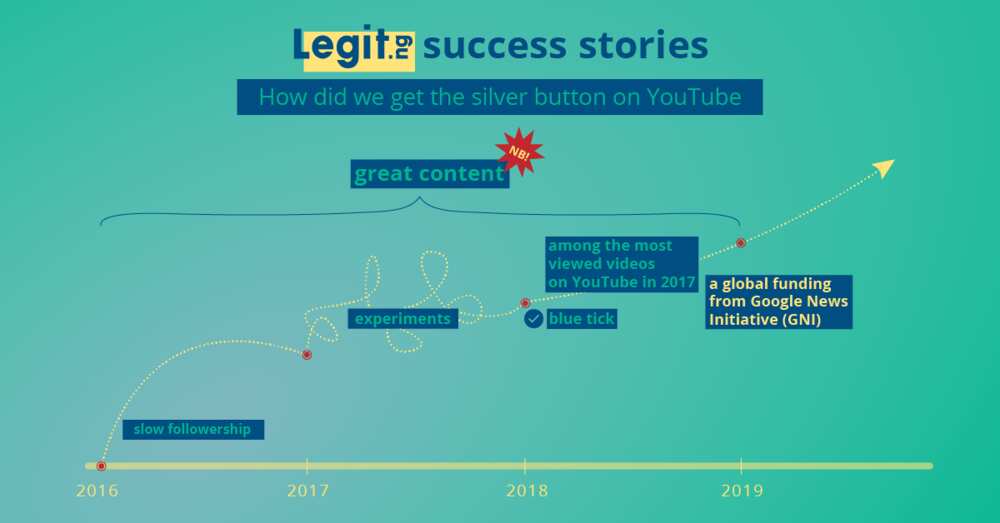 Challenges faced
When the first channel was opened, it did not attract loads of subscribers. Although our videos could boast of being quality and exciting (in terms of content and production), our followership was slow. It was quite frustrating as we kept churning out a great content week in, week out. Yet we didn't give up.
How we overcame the challenges
With the support of the management, Legit TV could keep up with the consistency of posting excellent content. We learned and experimented to finally get to know what worked best for our audience. In less than a year, Legit TV made it to the list of most viewed videos on YouTube in 2017.
Contents that interests Legit TV's viewers
Breaking news, people's stories, and documentaries are the most popular formats within our audience. Some of our great hits were also the street gist vox pop where we allowed Nigerians to air their views on topical issues of national importance. These types of content, as well as our consistency, became a guarantee of regular visitors on our YouTube channel.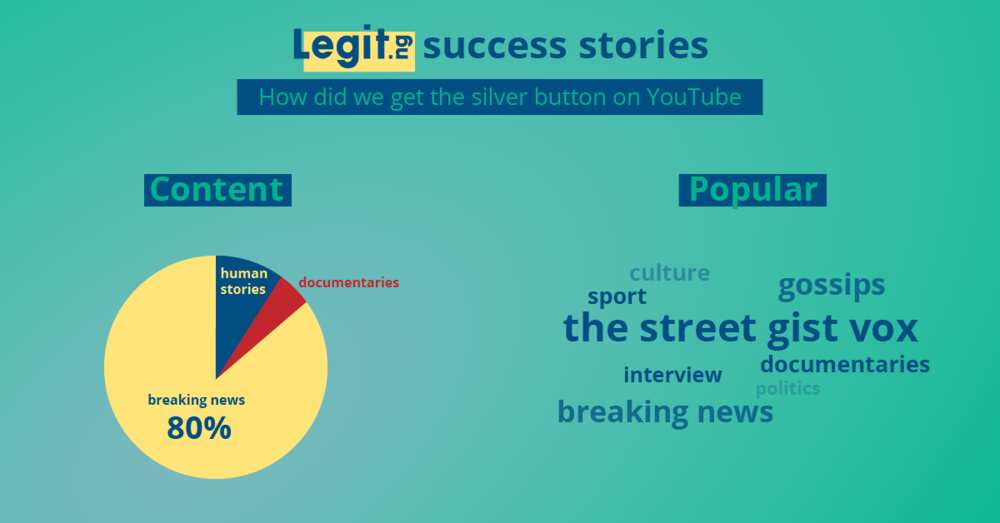 Verification on YouTube
Legit TV got its verification after hitting a hundred thousand subscribers on YouTube. It was another level of excitement for the team when we saw the blue tick beside our name on our channel towards the end of the year 2018.
YouTube's most estimable selection criteria include a commitment to quality journalism and a spirit of innovation. As a leading media platform in Nigeria, Legit.ng always uses cutting-edge technology and the latest analytical tools to create outstanding content, track its performance, and study audience preferences.
Following this success, in 2019, Legit TV received massive funding from Google News Initiative (GNI). Legit was included among broadcasters, publishers, and 87 organizations in 23 countries. Among those media, there were such giants as BuzzFeed News, The Economist, The New York Times, and others.
Subscribers
Like we mentioned earlier, we started the channel from scratch, so we had zero subscribers. But today, after two years, we have over 135,000 subscribers with over 35 million views.
Improvement
Now, we are working on different formats to consolidate on what we've been doing. In the coming weeks, we are going to roll out the new content for our numerous audience.
Thanks for being with Legit.ng. None of these would be possible without you. We are proud of this achievement and looking forward to sharing more inspiring, educating videos with you.
Source: Legit.ng