Nicolas Kim Coppola, famously known as Nicholas Cage, is an American producer, actor, and director who is renowned for his job in different films. He also has his production firm known as Saturn Films. Nicolas has received so many awards, like the Screen Actors Guild Award, a Golden Globe and an Academy Award. He is a highly talented individual.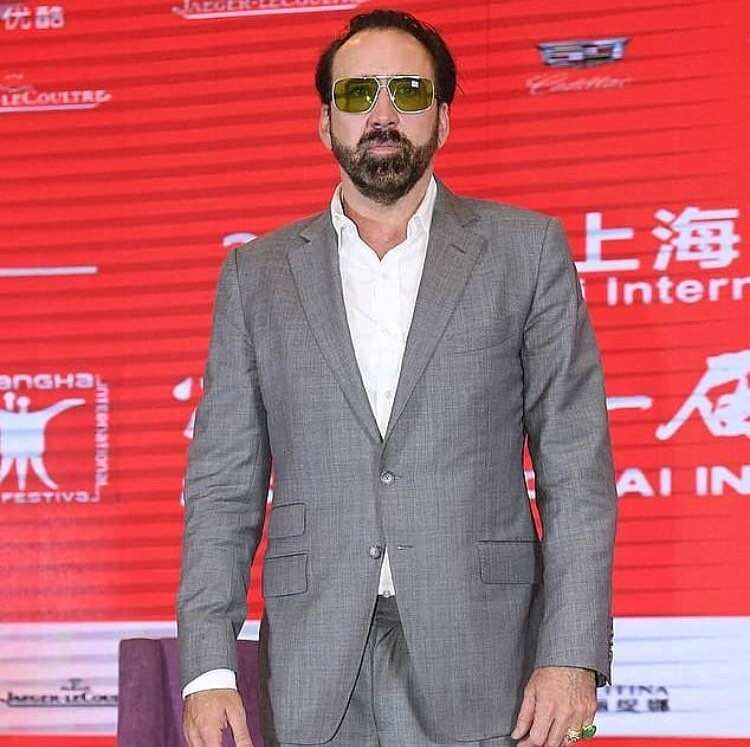 The career of Nicholas Cage has spanned for about four decades, and the diversity of the roles he is assigned is quite amazing. He has taken part in deeply personal indie movies, huge box office blockbusters and any other role assigned to him.
Nicolas Cage profile summary
Full name: Nicolas Cage
Age: 55 years old
Gender: Male
Famous as: Actor, producer, director
Birthdate: January 07, 1964
Place of birth: California
Nationality: American
Ethnicity: Mixed
Horoscope: Capricorn
Marital status: Divorced
Sexual orientation: Straight
Source of wealth: Movie career
Father: August Coppola
Mother: Joy Vogelsang
Ex-spouses: Patricia Arquette, Lisa Marie Presley, Alice Kim, Erika Koike
Children: 2
Siblings: Marc "The Cope" Coppola and Christopher Coppola
Hair colour: Brown
Eye colour: Blue
Height: 1.83 m
Weight: 90 kg
Net worth: $25 million
High school: Beverly Hills High School
Debut movie: Fast Times at Ridgemont High
Biography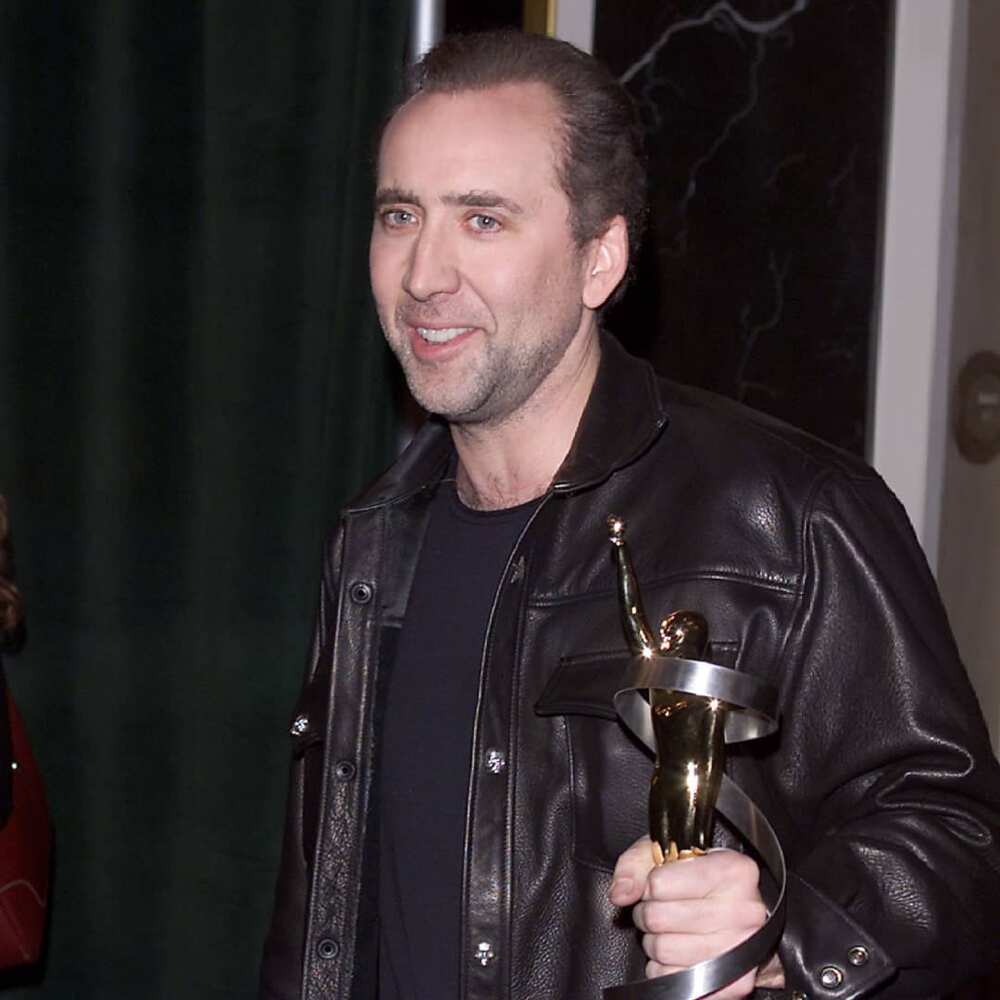 This award-winning actor was born in California's Long Beach, on January 7, 1964, to Joy Vogelsang and August Coppola. Even though his father was Italian, the mother was of Polish and German descent. Cage was brought up in a Catholic family that was surrounded by entertainers. They include:
His aunt Talia Shire who is an actress
His uncle Francis Ford Coppola who is a well-known director
Two brothers: Christopher Coppola (director) and Mark Coppola (New York radio personality)
Cousins: Sofia Coppola and Roman Coppola (both are directors), actors Jason Schwartzman and Robert Carmine, and film producer Gian-Carlo Coppola
READ ALSO: Kylie Jenner net worth: house, cars, cosmetic line
Nicolas Cage movies
Nicolas made his first appearance in 1982, in a role in Fast Times at Ridgemont High. After this, he took part in a variety of both offbeat and mainstream films. Some of his top films include Lord of War, Spider-Man: Into the Spider-Verse, National Treasure: Book of Secrets, Leaving Las Vegas, Ghost Rider, Face/Off, Ghost Rider: Spirit of Vengeance, National Treasure, The Rock, Con Air, Sonny, and Adaptation.
Some other films by the actor include The Family Man between 1983 and 2000, Trapped in Paradise, Kiss of Death, Zandalee, The Cotton Club, Valley Girl, Vampire's Kiss, Wild at Heart, 8 mm, Red Rock West, Moonstruck, Never on Tuesday, Raising Arizona, Rumble Fish, The Boy in Blue, Amos and Andrew, Welcome to Hollywood, Guarding Tess It Could Happen to You, Racing with the Moon, Honeymoon in Vegas, Deadfall, City of Angels, Peggy Sue Got Married, Bringing out the Dead, Snake Eyes, Time to Kill, and Birdy.
He has also made appearances in The Weather Man, The Sorcerer's Apprentice between 2001 and 2010, Grindhouse, Christmas Carol: The Movie, Captain Corelli's Mandolin, Matchstick Men, Windtalkers, Bangkok Dangerous, World Trade Center, Knowing, Bad Lieutenant: Port of Call New Orleans, The Wicker Man, and Next. Other films he appeared in are 2011, The Humanity Bureau, Looking Glass, Drive Angry, Snowden, USS Indianapolis: Men of Courage, Stolen, Trespass, Dog Eat Dog, The Frozen Ground, Seeking Justice, Rage Left Behind, Pay the Ghost, Arsenal, The Runner, Outcast, Dying of the Light, The Trust, Joe, Vengeance: A Love Story, Mandy, Inconceivable, Army of One, Between Worlds between 2011 and 2018, and Mom and Dad.
This actor also had voice roles in Jiu-Jitsu, The Ant Bully, The Movie, The Croods, Teen Titans Go! To the Movies, Love Antosha (documentary), Christmas Carol: G-Force, Spider-Man: Into the Spider-Verse, and Astro Boy.
Nicolas Cage Oscar
The list of actor's awards and nominations is impressive. It is not surprising that this talented actor was even nominated and won Oscar. In 1996, Nicolas Cage became the winner in the nomination Best Actor in a Leading Role for his role in the movie Leaving Las Vegas (1995). In 2003, he was nominated again for Best Actor in a Leading Role, but that time Adrien Brody got the award.
Directing and producing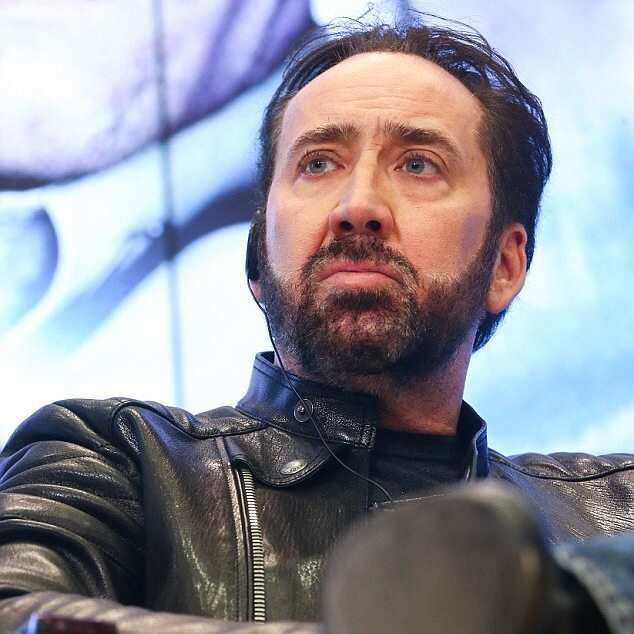 He has not only starred in a drama film known as Sonny, but he also directed it in 2002. Saturn Films is a production firm that was founded by Nicolas. The production house has produced such movies as The Life of David Gale and Shadow of the Vampire. Other numerous films produced by this production firm are: The Dresden Files for the Sci-Fi Channel, The Sorcerer% Apprentice, Lord of War, A Thousand Words, Bangkok Dangerous, The Wicker Man, Next, Knowing, and Sonny. Other films he has helped in producing are Vengeance: A Love Story, National Treasure franchise, The Family Man, Drive Angry, Rage, World Trade Center, Matchstick Men, Stolen, Trespass, among others.
Nicolas Cage spouse
To date, Nicolas Cage has been in four different marriages. The first wife was known as Patricia Arquette. They got married in 1995, and the union did not last since they went their separate ways in early 1996. The divorce process was official in 2000.
The other marriage was also short-lived with a lady named Lisa Marie Presley, Elvis Presley's daughter. The relationship was an on and off one for about two years before getting married in 2002. Not long after this in 2004, they divorced.
Alice Kim was the third wife to Cage. She was at first a fanatic of this actor. There is a twenty year age difference between Alice and Nicolas. The couple tied the knot in 2004 after they dated for two months only. They stayed married for eleven long years, although they divorced in 2016.
Caged married Erika Koike in Las Vegas in March 2019 and annulled the marriage after four days.
READ ALSO: Wiz Khalifa net worth: house, albums, stores
Nicolas Cage son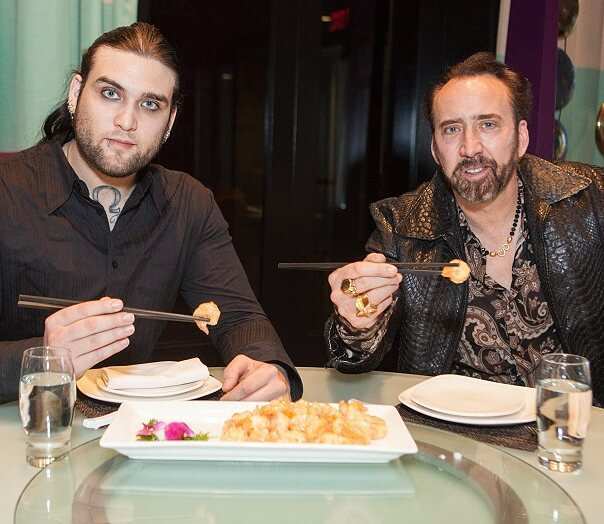 There are two sons of Nicolas Cage from different mothers. The oldest son is from a past girlfriend known as Christina Fulton, called Weston Cage Coppola. Weston also pursued an acting career just like his dad. The younger son of Cage is known as Kal-El and is from the third marriage with Alice Kim.
Nicolas Cage net wоrth
The primary income source of this actor accrues from acting. He was among the top paid Hollywood actors in 2009 earning $40 million. He additionally invested in the real estate business and has consequently made profitable sales in this industry. Nonetheless, this real estate business was not bringing in profits due to debts and taxes. To sort out the debt and tax problems, he continued venturing into acting. The actor also made appearances in several TV commercials. As of 2019, the net worth of Nicolas Cage is estimated to be $25 million. A while back, his net worth was $150 million, and he appeared on the list of the highest paid actors in Hollywood.
Other works
Nicolas is a passionate book fan. He auctioned around 400 vintage books in 2002, through Heritage Auctions for approximately $16 million. In 2007, he wrote a comic book with Weston, his son, known as Voodoo Child. Cage has also bought the painting called Death on the Boards and written Juxtapoz introductions.
READ ALSO: Kobe Bryant net worth: house, salary, how much is he worth in 2019?
Nicholas Cage quotes
"I am not a demon. I am a lizard, a shark, a heat-seeking panther. I want to be Bob Denver on acid playing the accordion."
"Some things are true whether you believe in them or not."
"I'm going to steal the Declaration of Independence."
"Those who have the ability to take action have the responsibility to take action."
"To be a good actor you have to be something like a criminal, to be willing to break the rules to strive for something new."
"Every great story seems to begin with a snake."
"Passion is very important to me. If you stop enjoying things, you've got to look at it, because it can lead to all kinds of depressing scenarios."
"The end of the world is on people's minds. We have the power to destroy or save ourselves, but the question is what do you do with that responsibility."
"I think it's no secret that I've tried to take chances in my career and also in my life, and I believe to not live in fear."
"I don't like it when people on the street say "smile" or "cheer up." It's a real cheap line. I'm feeling good. I'm feeling real grateful for everything. It's a solid time in my life. When people say I look sad, they're wrong."
"I think what makes people fascinating is conflict, it's drama, it's the human condition. Nobody wants to watch perfection."
"I like being at that place where you can either fall or stand. That's where I think you really have a shot at doing something truthful."
"If you're really special, meaning you're doing something unique and original, it could scare people."
"I'm a seeker. I'm very much a believer in science. But I do think there are times when science and mysticism intersect."
Nicolas Cage is famously known for his intense and edgy personality, and for the passion that is portrayed in his way of acting. He brings to the table something that most actors are incapable of executing. As he continues acting, his net worth is bound to increase through the years.
READ ALSO: Lionel Messi net worth: Salary, cars, house, contract