Wiz Khalifa net worth: house, albums, stores
Did you know that Wiz Khalifa net worth is mentioned in the rankings of the highest-paid and wealthiest rappers in the world? His musical prowess has made him become a legend in the music industry. Besides, he is one of the remarkable artists in the world, making millions from music.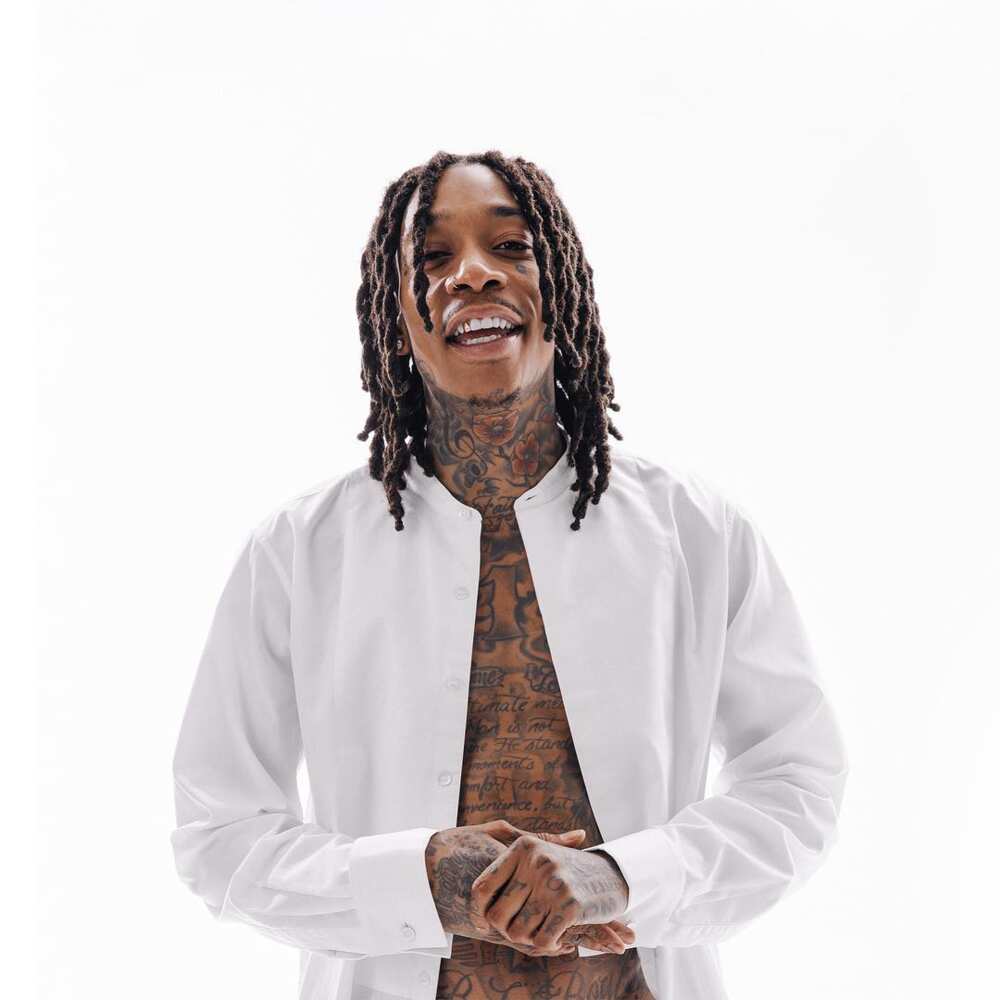 Wiz Khalifa, whose real name is Cameron Jibril Thomaz, was born on September 8, 1987. He was raised in Minot, North Dakota. His parents served in the military. They divorced when he was three years old. Wiz Khalifa net worth currently proves that his decision to follow his music career after school was worthwhile. His choice of music genre and career path has earned him quite a fortune. On top of that, his business-oriented mind has made him become one of the top 50 wealthiest rappers in the world.
Music career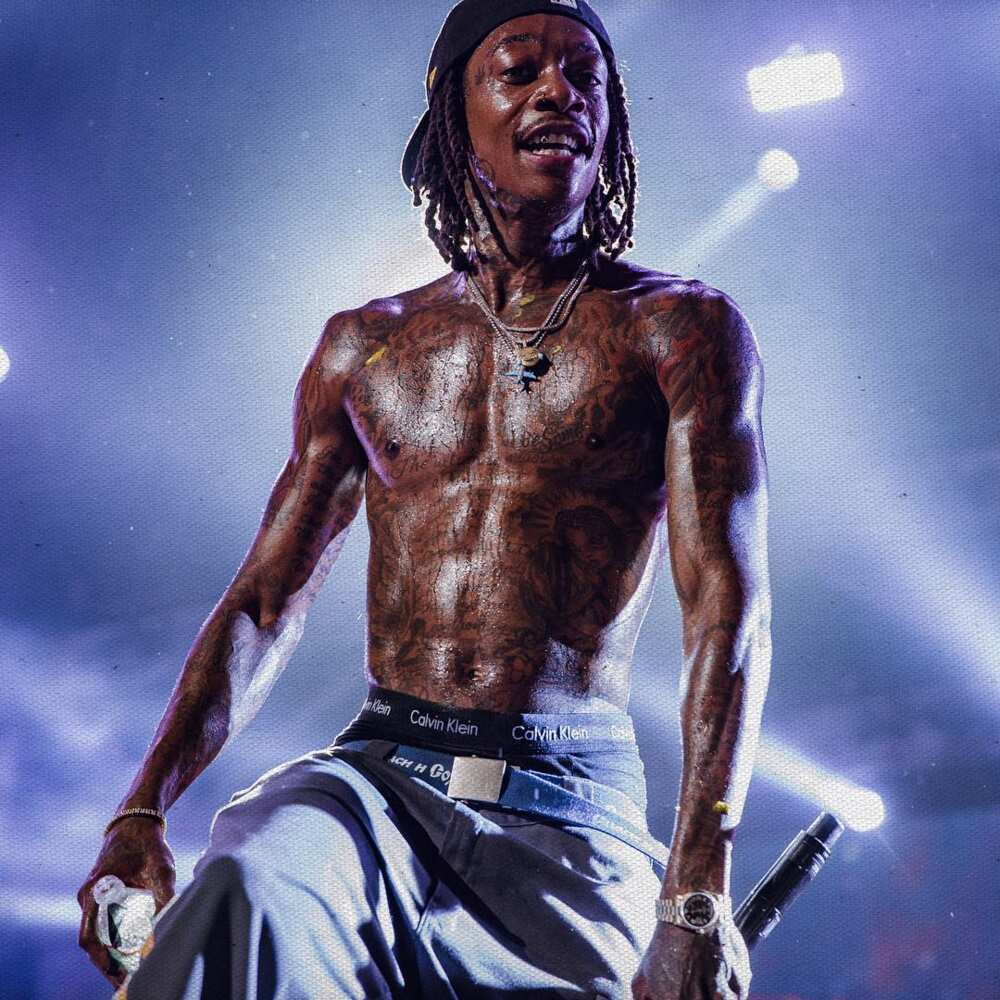 People dare to achieve the impossible and Wiz is one of those personalities. He started to chase his dream at a young age, and for sure, that step was the best he ever made. Wiz Khalifa made his first debut in the music industry in 2006 after he signed to Warner Bros. Later on, Cameron released smashing single "Say Yeah", which was played on the radio. In 2008, the song was ranked on the Rhythmic Top 40 and Hot Rap Tracks charts. Wiz later left Warner Bros and released his second album "Deal or No Deal" in November 2009. In April 2010, he signed with Atlantic Records after releasing his mixtape called "Kush and Orange Juice".
One of the most significant accomplishments for Wiz was when his song "Black and Yellow" made it on the Billboard Hot 100. The hit song peaked at number one and trended for quite some time. He later released 'Rolling Papers" on March 29, 2011. Wiz Khalifa then released another album — "ONIFC" on December 4, 2012. The album included singles like Work Hard, Play Hard and Remember You. At this point, Wiz Khalifa had already caught the eyes of many, and his fans increased in number. He further released his fifth album, called Blacc Hollywood on August 18, 2014. The album included his hot single We Dem Boyz. The farewell song See You Again by Wiz was released in March 2015.
The famous hit song peaked at number one on the Billboard 100 for almost 12 non-consecutive weeks. The song was a big hit as he made collaboration with Charlie Puth leading to the song's successful release. Wiz Khalifa albums are considered unique and offering something different in the music industry.
Acting profession
Wiz is also an awesome actor, as he can blend well with the storylines that the movie producers assign him. His talent is evident as his roles in most of the movies led to huge turn ups in cinemas. Some of Wiz Khalifa movies include:
Gang of Roses 2: Next Generation as Timmy
Mac & Devin Go to High School as Devin
Duncanville
Master of the Mix
Punk'd
This Is How I Made It
Ridiculousness
The Eric Andre Show Himself
American Dad!
READ ALSO: Ali Nuhu net worth
Highlights
Winning is a common phrase that Wiz Khalifa has experienced in his career. He has been known to release great hits that never went unappreciated. Some of the awards that the talented rapper received are listed below:
BET Awards 2011 – He was nominated under the category of "Best New Artist".
Billboard Music Award 2012 – The success continued after bagging this award under the category of 'Top New Artist" nominations.
Billboard Music Award 2016 Top Hot 100 Song and Top Rap Song – The epic hit "See You Again" by Wiz featuring Charlie Puth led him to win two categories successively.
Teen Choice Award – The farewell song "See You Again" seemed to be the hottest song bagging him two awards under the categories of "Choice R&B/Hip-Hop Song" and "Choice Song from a Movie or TV Show".
Wiz Khalifa net worth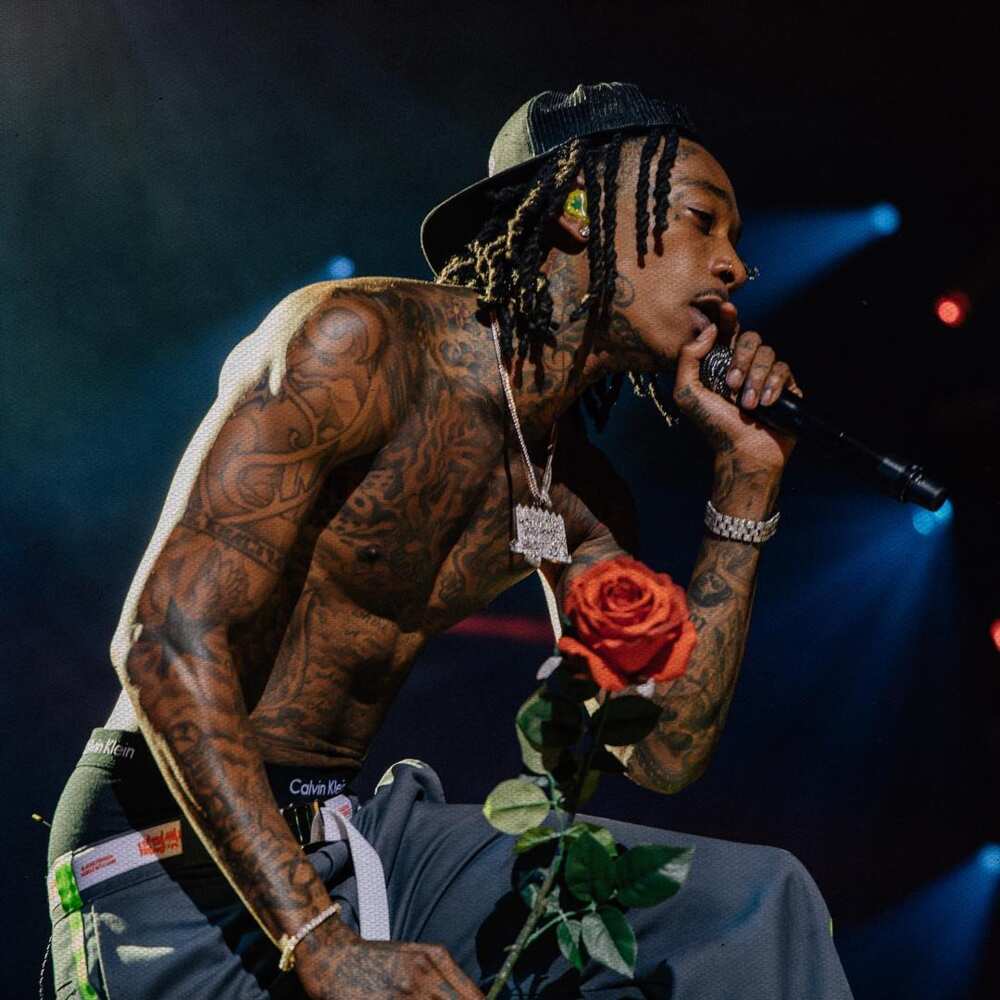 Cameron has made a fortune from his music career. His current net worth is quite commendable. Wiz Khalifa net worth 2019 is estimated to be $45 million and is set to increase over time. The fantastic work he has done in the music industry has seen him secure a position on the list of top rappers worldwide.
READ ALSO: Who is the richest Yahoo boy in Lagos 2019?
How does Wiz make money?
Apart from rapping and releasing albums, the famous musician also has other means of getting money, as shown below:
YouTube
Khalifa has a YouTube channel that has quite a huge number of subscribers. Wiz is getting paid through the advertisements that run on his channel. He also earns from the number of views earned on each of his videos.
Kush brand
One of Wiz favourite activities is to smoke pot. He has taken his love for pot on a business level where he started his brand. The brand "Khalifa Kush" is rolling in various marketable stores including ones in Canada. Wiz is earning big from his love for marijuana and his weed farm.
Supreme Cannabis Company
Wiz Khalifa has partnered with Supreme Cannabis Company Incorporation to sell his pot brand in Canada. "Khalifa Kush" founded by Wiz, has been in Canada's marijuana market. The Supreme Cannabis pays the rapper $1 million and an additional 5.7 million shares in the Toronto-based pot.
Wiz Khalifa stores
Becoming a famous person and a man of the people pays. Wiz made customized merchandise that people could buy to show support to his music brand. He has an online web store that offers customized items such as T-shirts, hoodies and much more. You can visit the store and purchase the clothing you like.
Bash cloth line
One evident factor is that Wiz Khalifa loves his son with all his fatherly heart. His son inspired him to launch a clothing line called "Bash". He further stated that his son was young to know the importance of having his cloth line. However, Wiz had customized the design of the clothes to have every favourite item of his son put on them to make him feel special.
Wiz Khalifa son is one lucky child as his father is rich enough. Some of the collections featured in Bash clothing include sweatshirts, accessories, shirts and bomber jackets. The designs are available for both adults and children. Everything is available in both adult and child sizes.
Amazon
Wiz is also selling his music and merchandise on Amazon, and people can access his merchandise. He sells his branded T-shirts and other items on this renowned online platform.
Endorsements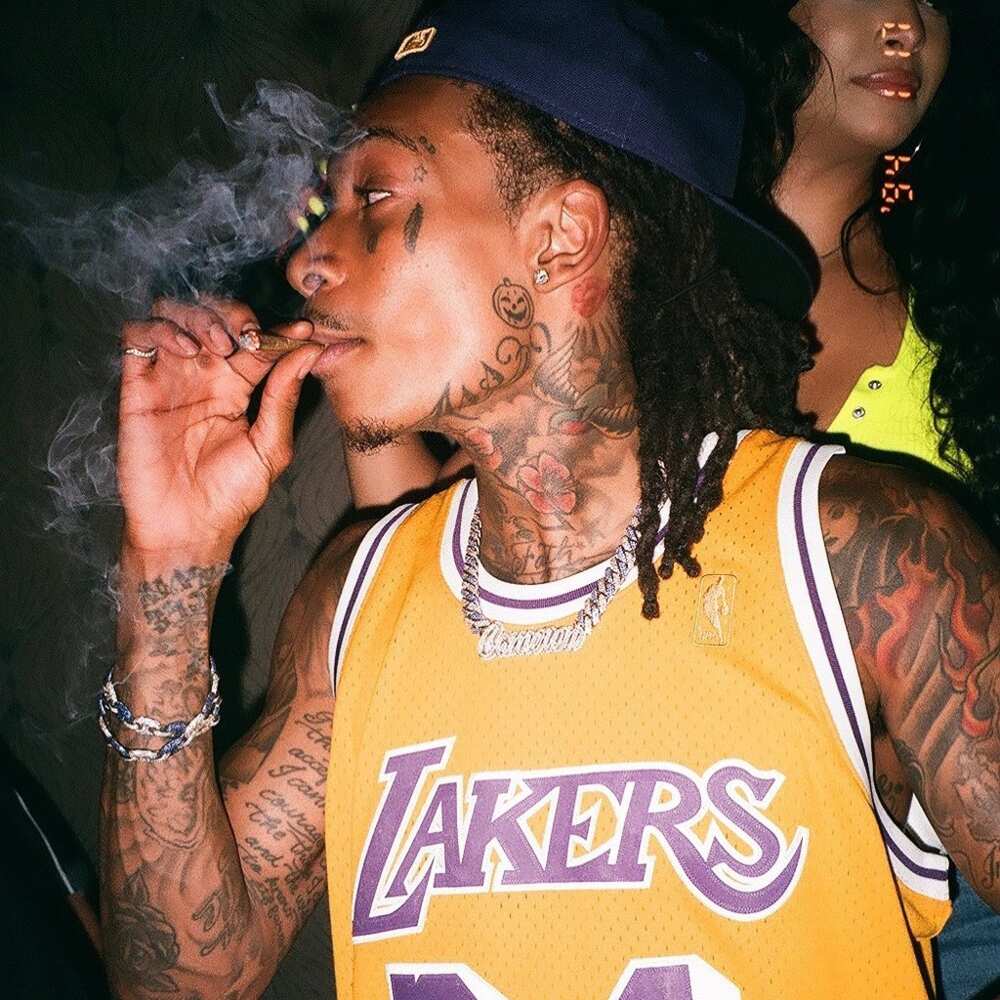 Some of the endorsement deals that Wiz Khalifa made include:
Converse deal
The talented artist signed an endorsement deal with Converse brand. He has been a big fan of Converse fashion designs and decided to take his interest to another level. After receiving the deal, he was much fascinated about it. Other endorsements that Wiz has made include Bing, Flat Fitty, Gap and Grenco Science.
Houses
Wiz Khalifa houses have a modern style and architectural taste that is very impressive. Below are some of the homes owned by the talented musician:
Los Angeles home
He currently has a house in Los Angeles, California. Wiz stays with his five-year-old son Sebastian on this magnificent home. The specific location was suitable as it gives him some good privacy.
The house is indeed equipped with perfect accessories. Blue remains to be the colour of attraction in the house. Wiz seems to love his son so much such that the house has a playroom and other exciting places for his child.
He likes to keep his private life away from the public eyes. The six and a half bedroom is equipped with a section for smoking marijuana. Wiz is a big fan of "pot" such that he made that part of the house branded with a stand "High life". The expensive house also has its studio that is Wiz Khalifa's favourite spot.
Canonsburg, Pennsylvania home
In 2012, Wiz purchased a house in Canonsburg, Pennsylvania for $900,000. The location of this house is 18 miles away from the area he spent his childhood. The house occupies 2.8 acres of land with an additional guest house.
Inside Wiz Khalifa's Garage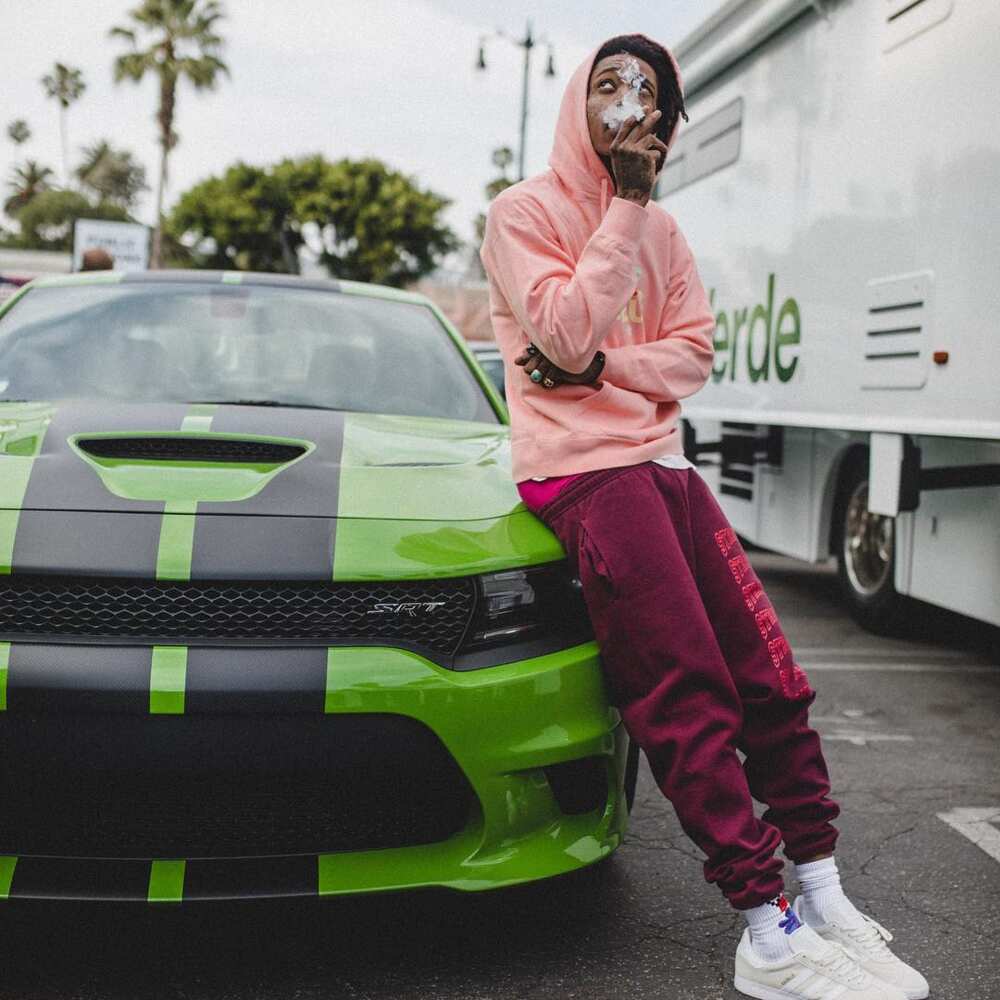 The millionaire has quite a hot taste for the cars he rides. He maintains a touch of class and perfection on his fleet of vehicles. Some of the vehicles that Wiz owns include:
1969 Blue Chevy Chevelle
This classic hot ride is well known to be one of the most reliable muscle cars in the world. The vehicle has a perfect blue colour that distinguishes it from most cars. It has a 396-325 HP engine, T-400 automatic and 12 bolt rears on end. Besides, it comes with power disc brakes, steering, power windows, and a tilt column.
1962 Chevrolet Impala SS
This ride is one of the famous cars in the world and has been part of Wiz Khalifa's expensive fleet. It has been featured in most popular car craze for hip-hop music. The car has hydraulic and wire wheels that fit its perfect look.
2015 Cadillac Escalade
The car has undergone various upgrades that have made it quite modernized. It has some ideal features that include rear-wheel drive, 6.2L V8 engine, chrome wheels and front air condition.
1998 Pontiac Bonneville
Wiz had this car in his list of favourite rides due to its perfect room interior. It also uniquely has a supercharged engine that ready to hit the roads in style. It also has a 3.8L V6 4-speed automatic feature.
2005 GMC Envoy
This was his first car purchase. The car is a rear-wheel drive and comes with 17" silver aluminium wheels, premium cloth seat trim and lumbar driver support. It also has a 4.2L I6 engine.
READ ALSO: Birdman net worth and assets 2018-2019
1985 Chevrolet Monte Carlos SS
Wiz Khalifa has a sense of taste for the Chevrolet branded cars. This one produces 180 horsepower with its big 5.0-litre V6 or V8 engine.
1968 Chevelle convertible
Any car of the convertible class is an attraction to many. This perfect piece came with desirable features that made it roar on the streets. It is also a fantastic muscle car.
2010 Dodge Challenger SRT-8
The black dub edition was a sleek choice for Wiz. Some of the specifications include a 392-cubic inch (6.4-litre) output, which delivers 470 horsepower. It also has a flat torque to allow for strong standing starts and improved performance.
Chevrolet Camino SS
This custom model made a perfect design for passengers. Its features are well placed and located in desirable ways to provide a good experience for the driver.
Porsche 991
This outstanding ride comes with 10 mm lowered suspension, dynamic engine mounts, and a Porsche torque vectoring system. It also includes LED daytime lights which come with Porsche dynamic lighting system.
Heart for charity
One of the rapper's great philanthropic moments was when he participated in a clean water campaign. He teamed up with Green For All on World Water Day. The campaign called "Keep It Fresh" was meant to remind people of the importance of "Green" on the planet.
Giving back to society is a virtue that Wiz Khalifa has embraced in his path of musical success. He is known to be in support of Pencils of Promise and Music for Relief charitable institutions. The Pencils of Promise foundation benefits children not lucky enough to receive quality and affordable education. Wiz stated that children are supposed to chase their dreams, and the foundation is making that promise come true.
Wiz also has a big heart for sharing. He donated 1,700 backpacks to his former school in 2015. The students in Taylor Allderdice High School took his surprise gratefully. The school fraternity was indeed thankful as Wiz was one of their graduates and was supporting the Pittsburgh Promise program.
During the donations made to the people of Flint city in Michigan, Wiz pledged to help the people access fresh water. This was after the residents had suffered after being exposed to contaminated water. Celebrities like Eminem and Diddy also made donations to the program.
Family, love life and tattoos
Sources have it that Wiz Khalifa is dating the pretty supermodel, Winnie Harlow. The lovely lady has a breathtaking body. Wiz previously divorced his ex-wife Amber Rose. The two have a son. Nevertheless, the two are good co-parents even after finalizing their divorce.
Wiz Khalifa tattoos are one aspect of his uniqueness. His tattoos have made him one of the hottest tattooed celebrities in the industry. The tattoos on his body have different meanings and are exclusively designed to stand out from any other.
Wiz Khalifa net worth will for sure increase as years progress. He is a talented guy who has had his fair share of struggles and storms but has still made it to the top. He also has luck with the ladies, dating hot personalities including his ex-wife Amber Rose. However, Winnie Harlow currently occupies a position that many ladies wish they could hold-Khalifa's girlfriend. Wiz Khalifa is set to continue releasing great hits in his other upcoming projects.
READ ALSO: Jim Iyke's net worth and property in 2018
Source: Legit.ng