Zoro - Iheanacho is a song that will give you the chance to enjoy a hot Afro-beat tune and to simply listen to cool music. We have waited for the comeback of Zoro for so long, and now we can enjoy it. We suggest you listen to this absolutely gorgeous song.
His fans have often said that he has never disappointed them. Do you agree with this statement?
Zoro - Iheanacho description
Released: June 7th, 2019
Format: mp3, video
Genre: Afro-beat
Length: 3: 46 min
Label: Zoroswagbag
Producer(s): Skelly
The song is a musical masterpiece. It is impossible to stop listening to it. The star took a big break after the success of Upandan, but now he is back with a new hit.
Song reviews and comments
All the fans of the star and other listeners have been waiting for such a hit for so long. Here are some of their comments on YouTube.
@Large Moni: No wonder the mix is wow and classic.. Mix monster..... Everything in this song is dope.. If you agree.. Hit the like for zoro
@Dunk Gawd23: Zoro keep spitting Nigerian heat
@blessing ezekiel: Dope Gbedu, Nice beat.
@Katia Chiure: Congrats Zoro one love from mozambique. ❤
@GeeGlow Hairstyles: Replay button on fire
READ ALSO: Yemi Alade - Bounce: audio, lyrics, reactions
@Ezichi Okeke wow very nice: You are on top, bro
@Godgift Godwin: More grace blood keep making us proud Zoro
@Lovelyn Ukpe: CLASSIC
@ZUBtv: zoro is dope.... I swear
@kinsley bobo: So....wooooooow Dope one He never fails..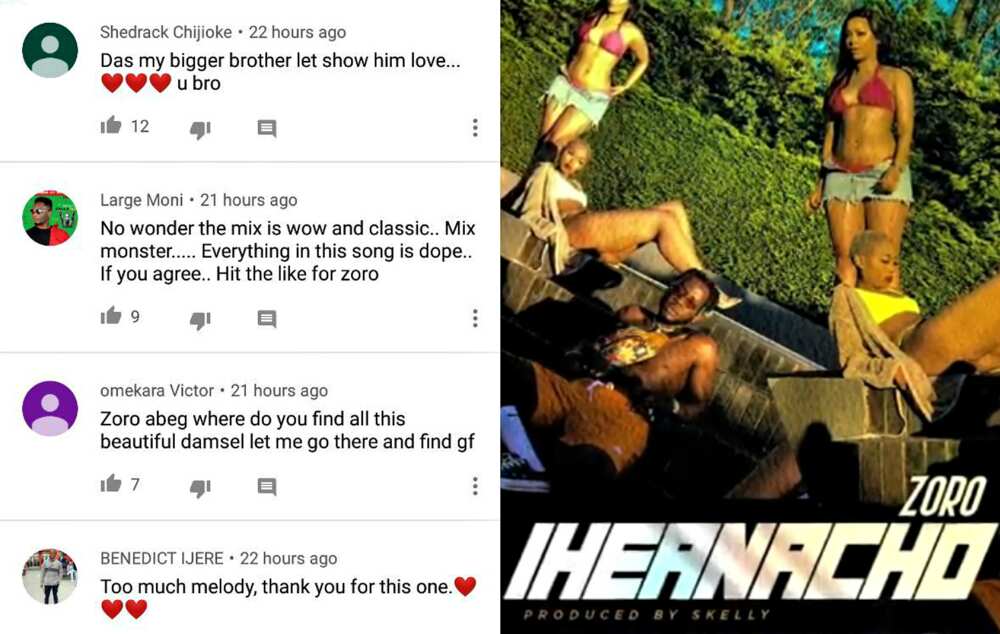 Where to download the song
Download this hot track using the following sources:
Do you like Zoro - Iheanacho? The musician has pleased us with a gorgeous song again. It was well worth the wait!
READ ALSO: Kizz Daniel - Eko: audio, lyrics, reactions