63-year-old Nigerian publisher, Betty Irabor, has taken to Instagram to share a thoughtful piece on how infinite the peace of mind everyone thinks they will get when they they attain a new level.
Appealing to anyone suffering depression to seek help and deal with the root cause of their hollowness, Mrs Irabor went on to note that getting married, pregnant or buying material things, would not make them feel any better when the root cause of their depression is not dealt with.
She wrote;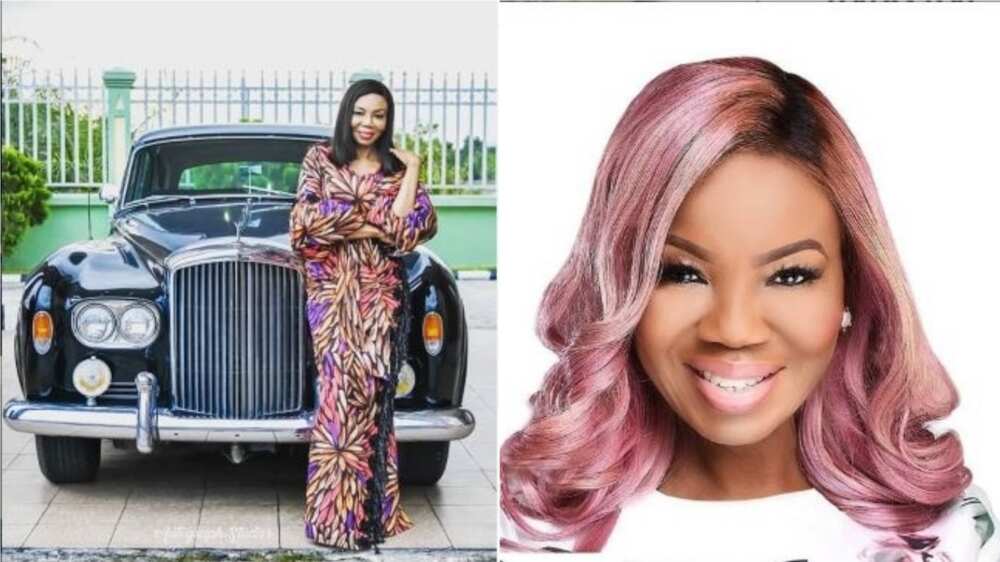 I was about 12 when I first saw a Rolls Royce. It's owner was a guest of mum. Did I show off on that day? I earned renewed respect in the hood on Akinwunmi street.. well at least for few days! Sigh!! Yesterday I took the liberty of posing by this vintage monster of a ride In Warri. Na pose I pose o, I didn't say it's mine before you people will come for me!!
READ ALSO: Betty Irabor gets praises from husband as she turns a year older
I remember thinking while in the throes of depression that as soon as my new ride arrived I would feel better. I didn't feel better. And that's how it goes on; when I get married I will feel better, when I am rich I will feel better, when I have children I will feel better, when I get that designer bag I will feel better, when I move into my new house I will feel better. Truth is, things or people don't make us feel better until we fix the cancer within and own up to the fact that we feel hollow within and need help. We carry around burdens and pains that we need to offload so we can travel light. We cannot fake true happiness, it expires as soon as we are alone and the reality of what we are masking hits us. We can lie to the world about how well we are on the outside but we can't deceive our selves...
Life is about finding joy in little abundance and trusting that our current situation is only a part of our long journey....This present challenge is only a comma in a sentence and not the full stop... Focus on what truly counts and live one day at a time. Most of us dont have it all figured out... na packaging... Don't give up on yourself, believe in endless possibilities and don't focus on what could have been...
READ ALSO: Ebuka praises Nigerian women, says they have redefined their looks (photos)
This is your time, make it count.
Just recently, Yoruba comedian, Abidemi Hope Nathaniel, who lost her baby girl took to Instagram to lament the pain and depression that have accompanied her loss. Reverend Sista as popularly called on Instagram published a series of grieving posts, recalling how life has been awful without her daughter.
She also recounted how she was in total anguish on children's day. She posted photos of her being pregnant and carrying the baby while she was alive with the caption:
You have never known any real pain until you have lost a baby..... The death of my baby is one pain that has refused to go away. I have cried, I have mourned and I have tried to pull myself together. I thought I was a strong woman, I thought I was strong enough to pray myself out of this pain & depression but it has really eaten me up. Not even a loving & supportive husband, my beloved mother or my manager @tribemanglobal could help me get through this pain that is still coming back every time I see other female daughters run to their mother.
NAIJ.com (naija.ng) -> Legit.ng We have upgraded to serve you better
Nigeria Celebrities: How Much Do They Spend On Luxury Life? | Legit.ng TV