Popular types of ear piercings and pain chart
There are various types of piercings. Gone are the days when people had just one ear piercing. Now, you can have up to five and adorn your ears with refined jewellery.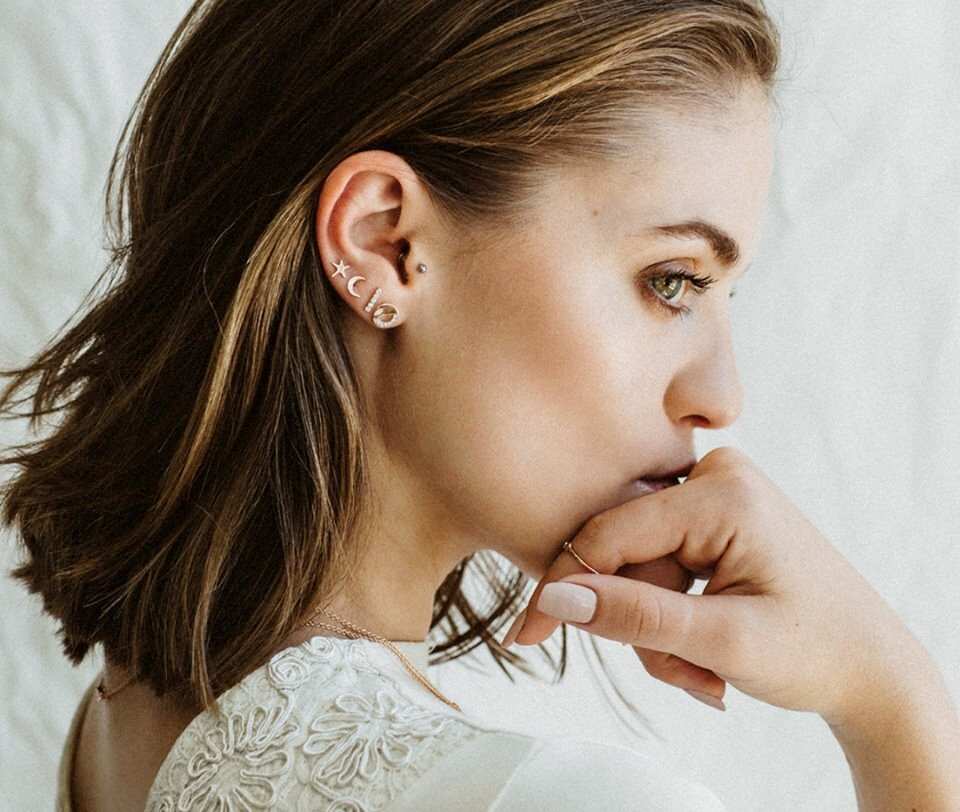 Ear piercings are a particular trend that is always in fashion. Big, small, combined and interlaced, different ear piercings help us to look more stylish. However, if you still doubt which one to choose to begin with, then our ear piercings chart will be quite a useful thing that will convince you to try them out.
Types of ear piercings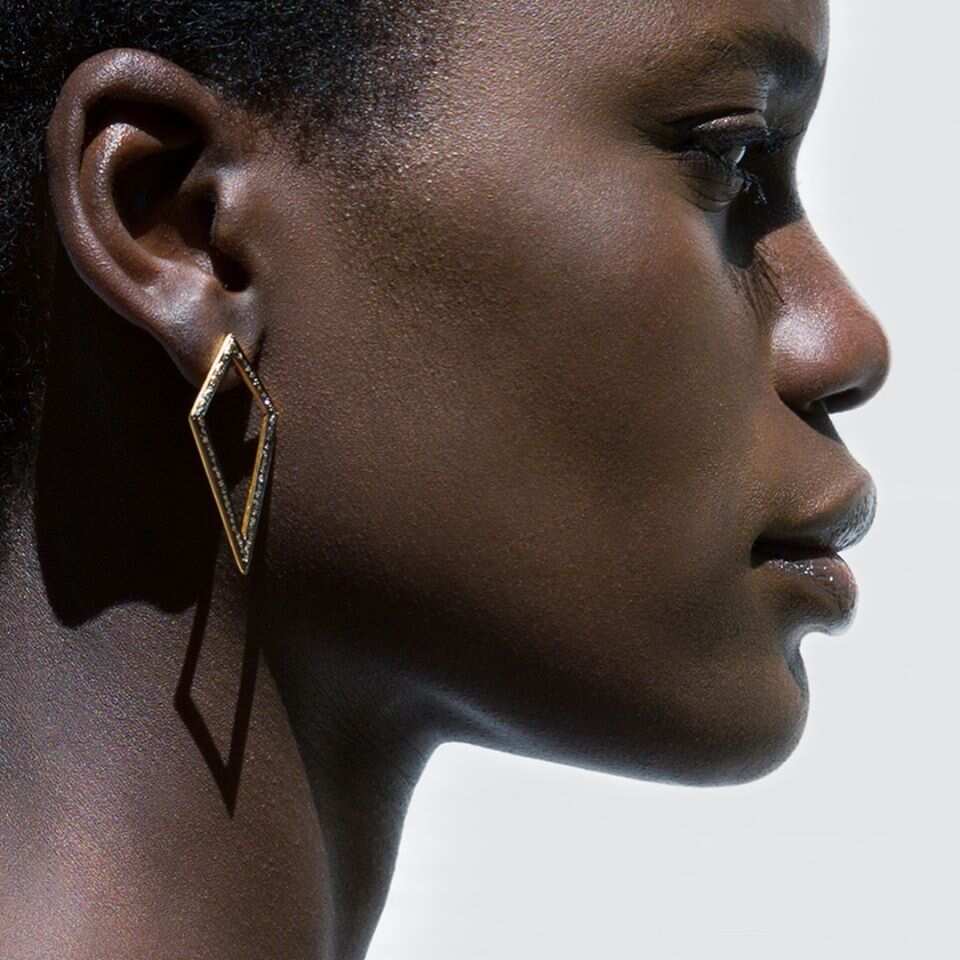 There are a lot of different types of ear piercings apart from the classic earlobe puncture. Each of them looks awesome and has a particular name. Before you get your ears pierced, you have to learn more about the puncture types, their location, and effect on health beforehand. Moreover, do not forget to check the reliability of the professional who will carry out the procedure.
1. Classic ear piercing
The puncture of lobes is one of the most popular ones. It allows you to wear jewellery of any type and size: from tiny studs to large earrings with precious gems.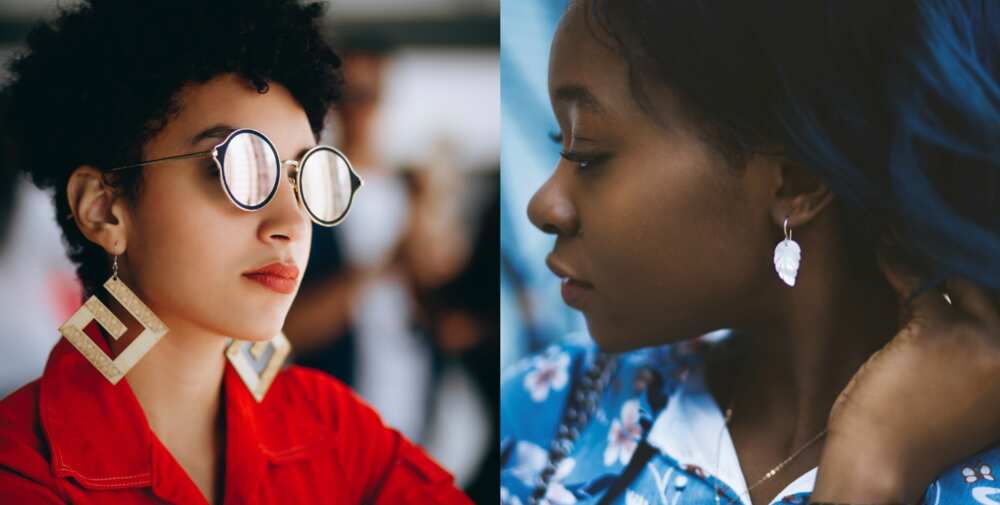 2. Double or triple upper lobe piercing ideas
The double or triple lobe puncture will make you look stylish. Use minimalistic accessories (like triangles, flowers, hearts, etc.) to give your appearance a fresh look.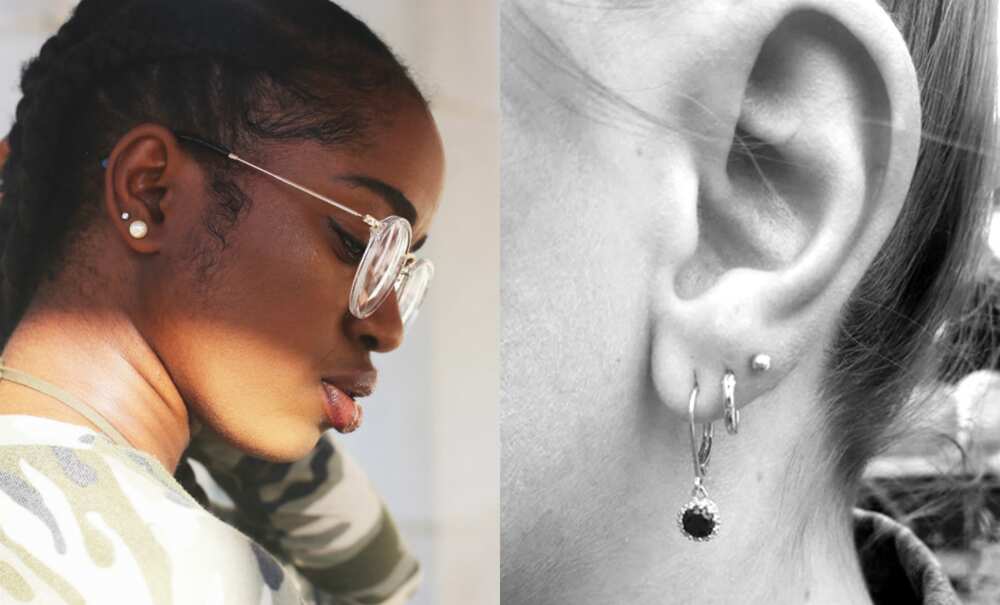 3. Lobe "gauging" idea (tunnels)
These small and big gauges have already obtained the appreciation of young people all over the globe. This stretching concept will make your look funky and help you to stand out from the crowd.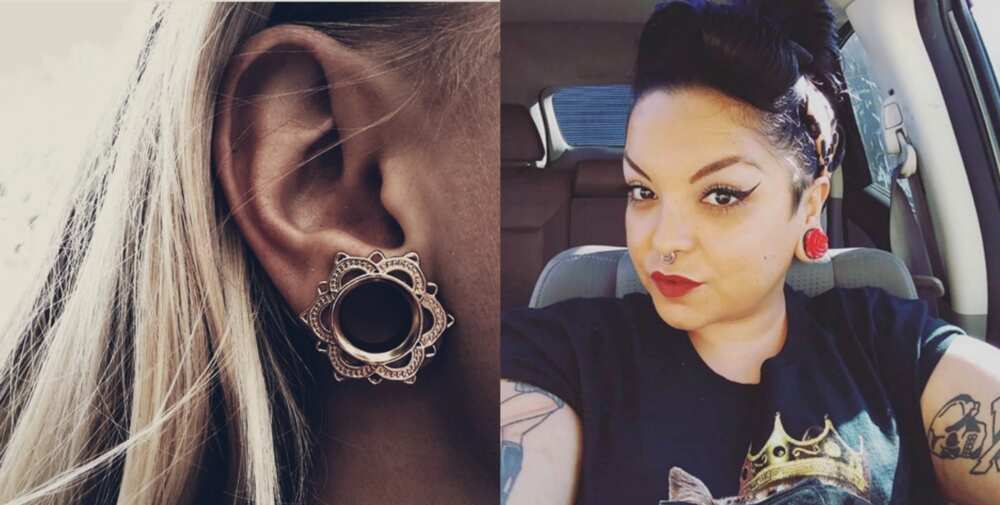 4. Helix
This is one of the ear piercings names that are connected to cartilage piercing. It is a trend that is on a steady rise among both men and women. It enhances attractiveness and creates an edgy look. The choice of appropriate jewellery will help you express your individuality to the best advantage.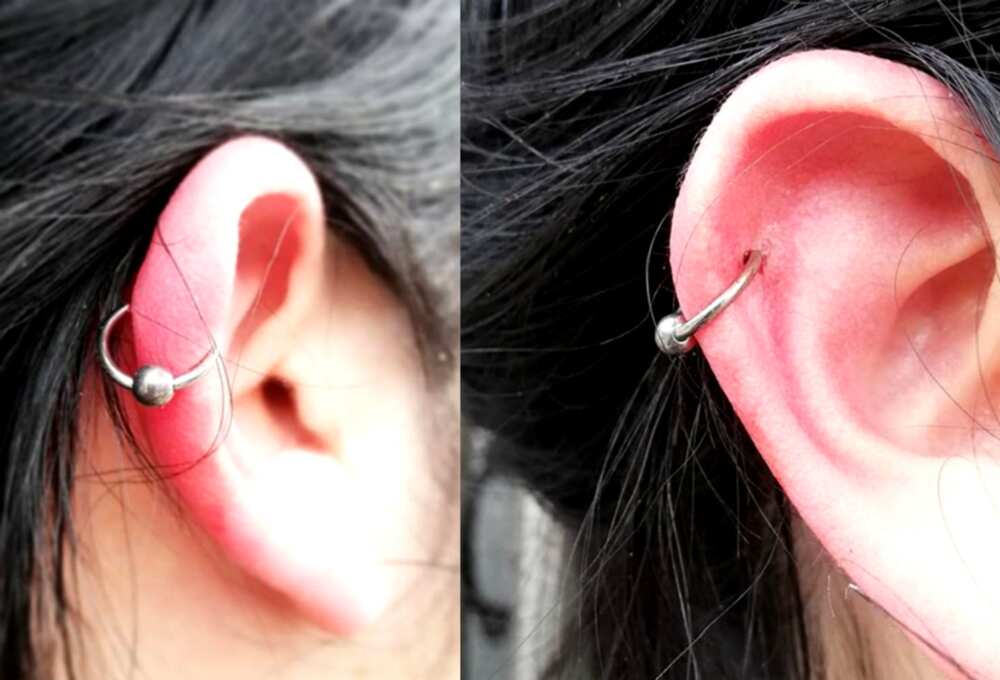 5. Forward Helix
The forward helix brings a precise balance, looks pristine, and enchanting.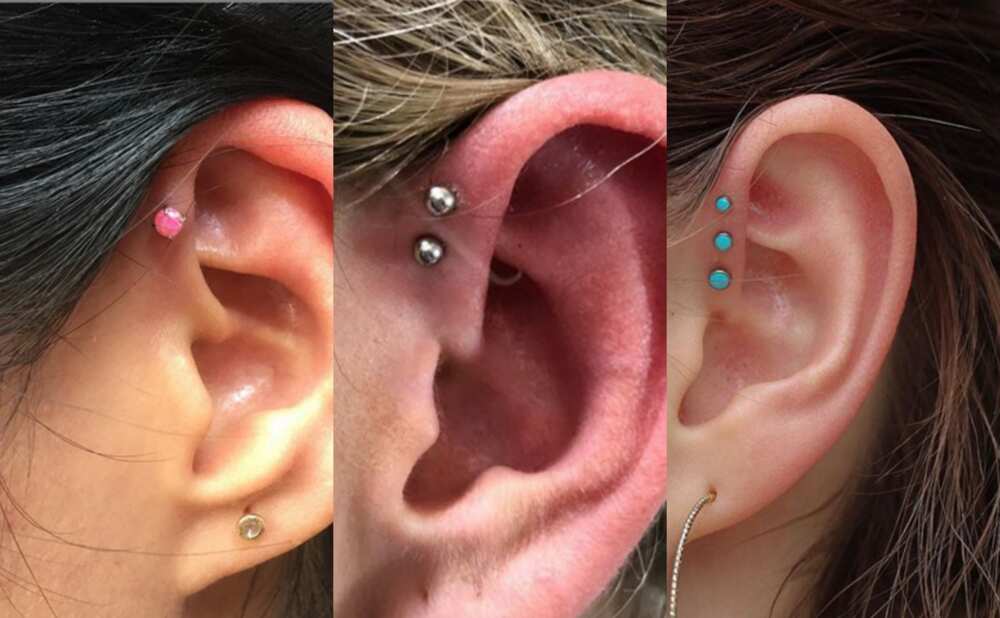 6. The Snug
This is one of the ear piercing names that are usually used to denote the anti-helix puncture. It has an unusual placement and looks excellent with both standard and other accessories.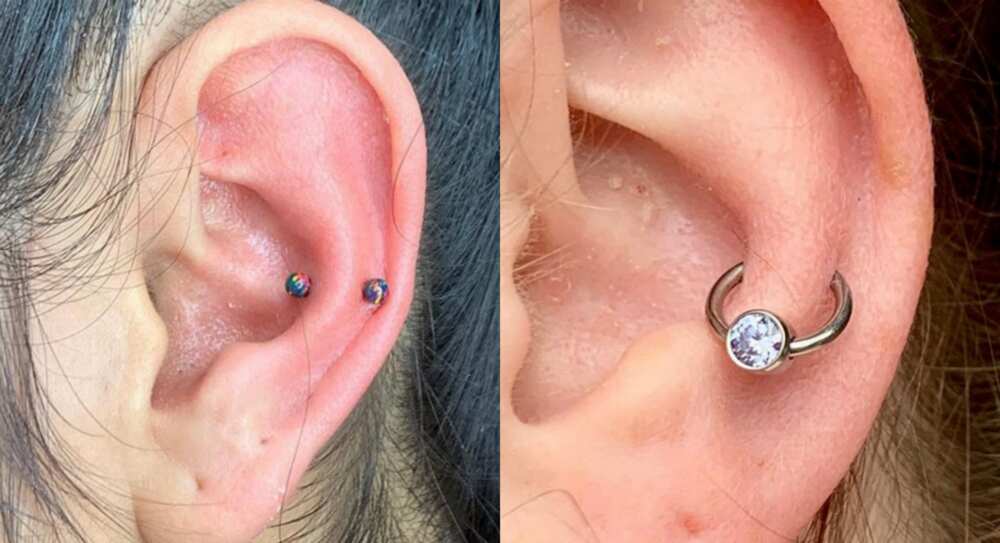 7. Industrial
It is undoubtedly one of the most eye-catching ear piercing types that always looks fashionable. This idea represents a double puncture at the top of your ear with one long jewellery bar.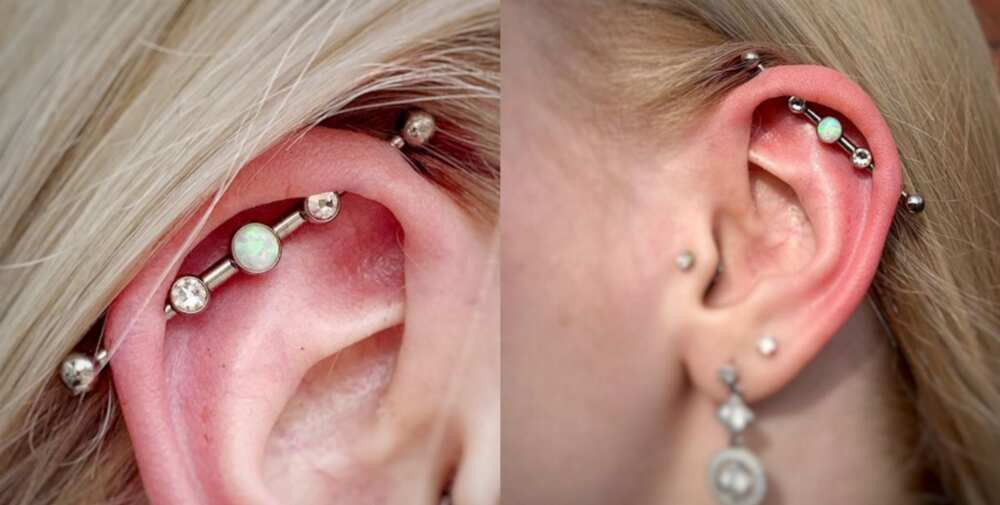 8. Conch
An accessorized inner conch will ideally supplement your already modified appearance.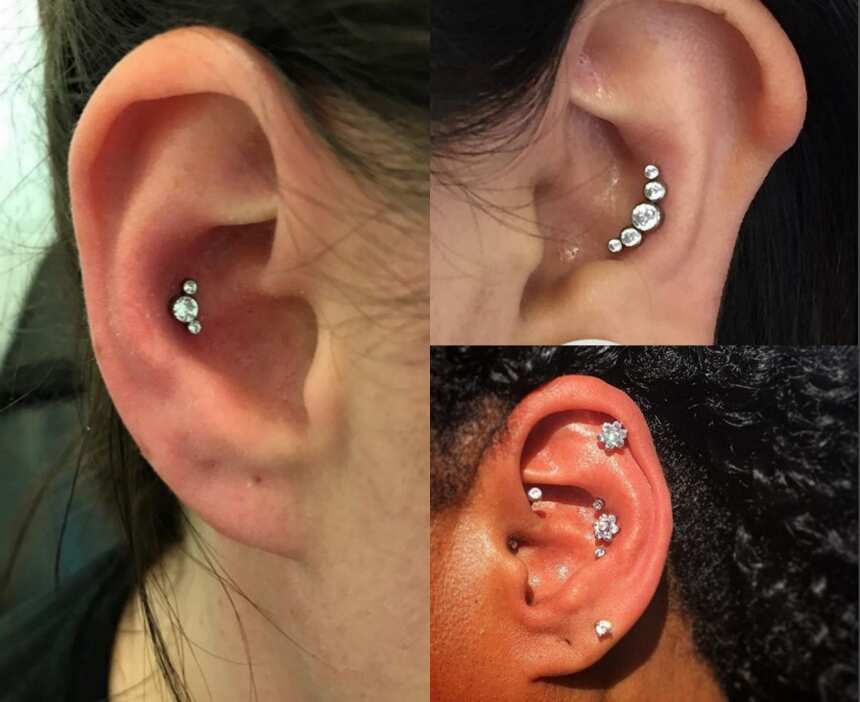 9. Tragus
It is a perfect choice to adorn your ears with studs, rings, barbells. It will make your look trendier and stylish.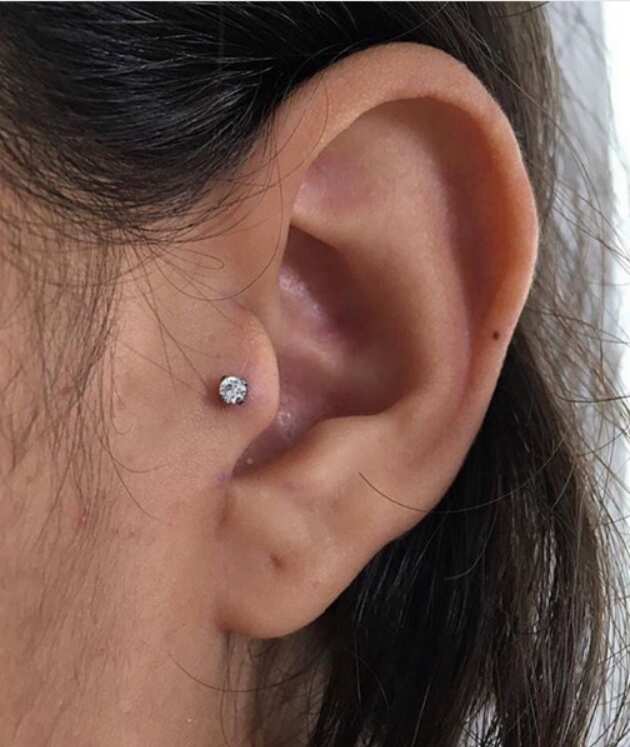 10. Anti-tragus
This is another terrific option for those of you who wish to be a little different and look both fashionable and attractive at the same time.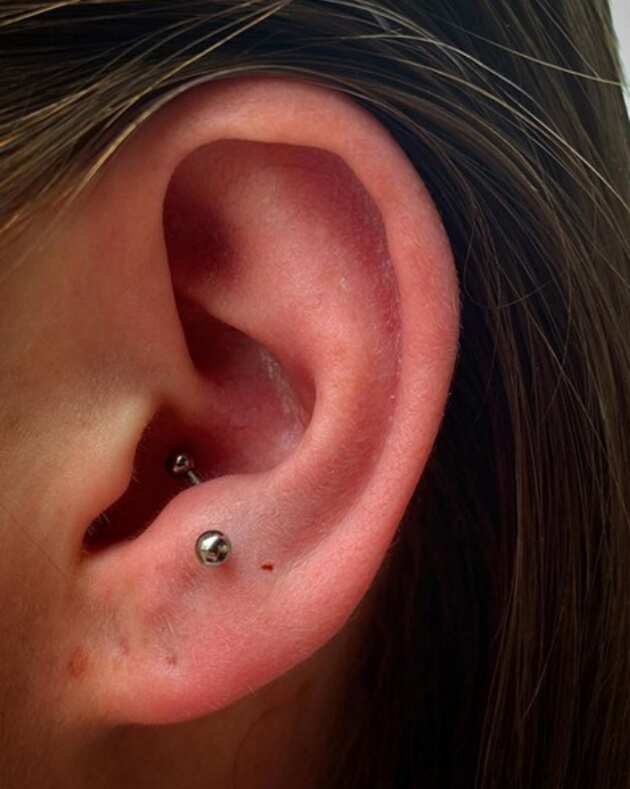 11. Surface tragus
It is an excellent concept for people who prefer minimalism. This combo will draw attention to your ears, especially if you wear different accessories in each hole.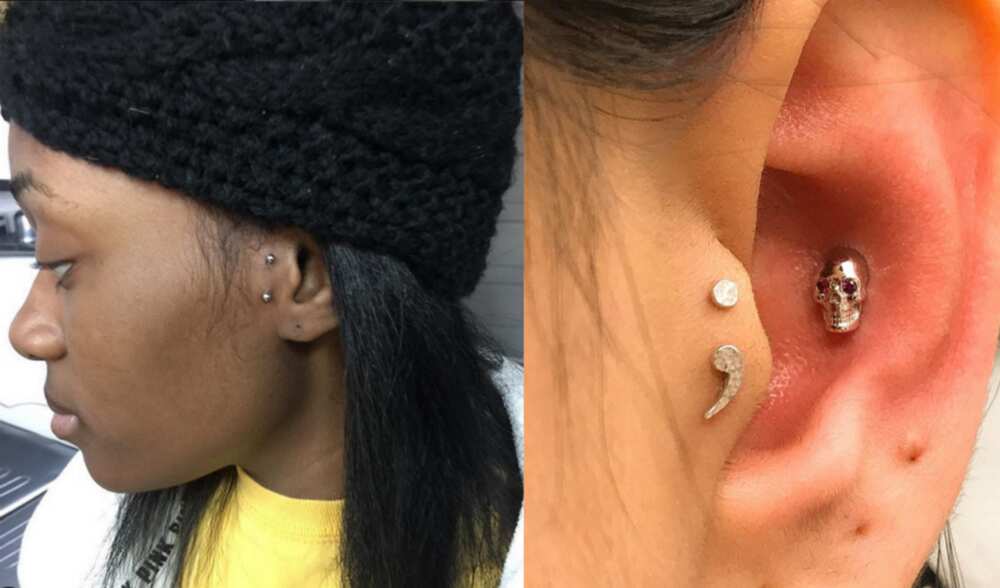 12. Rook
It is one of the freshest choices for a puncture that will make you look fantastic with a specific type of jewellery. It should be small.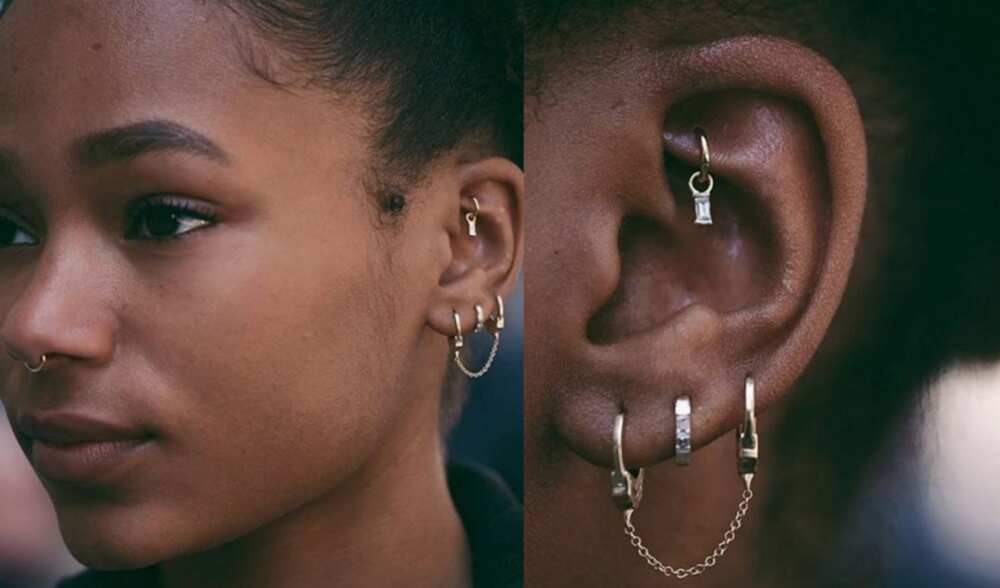 13. Daith piercing
This inner perforation is one more trendy solution that is popular this year. If you pair it with other types of jewellery, it can look amazing.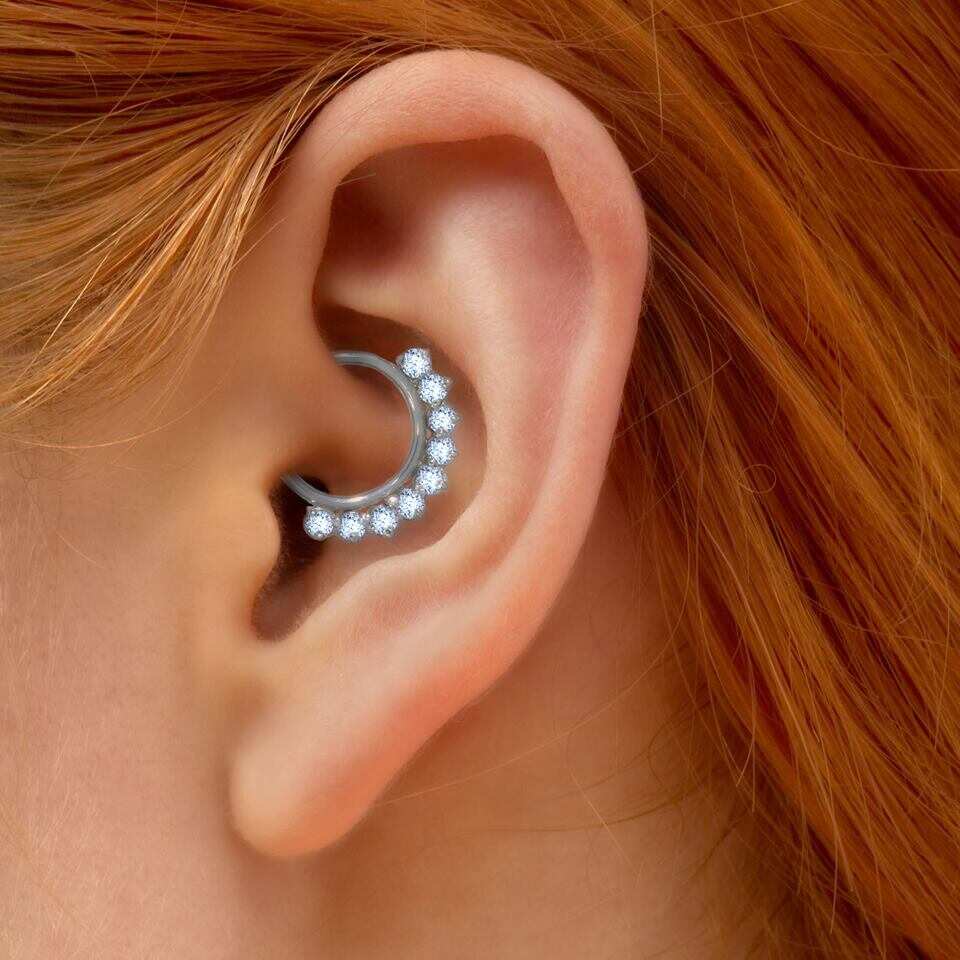 14. Transverse lobe
This attention-grabbing puncture plays well alone and in combination with different piercing variations.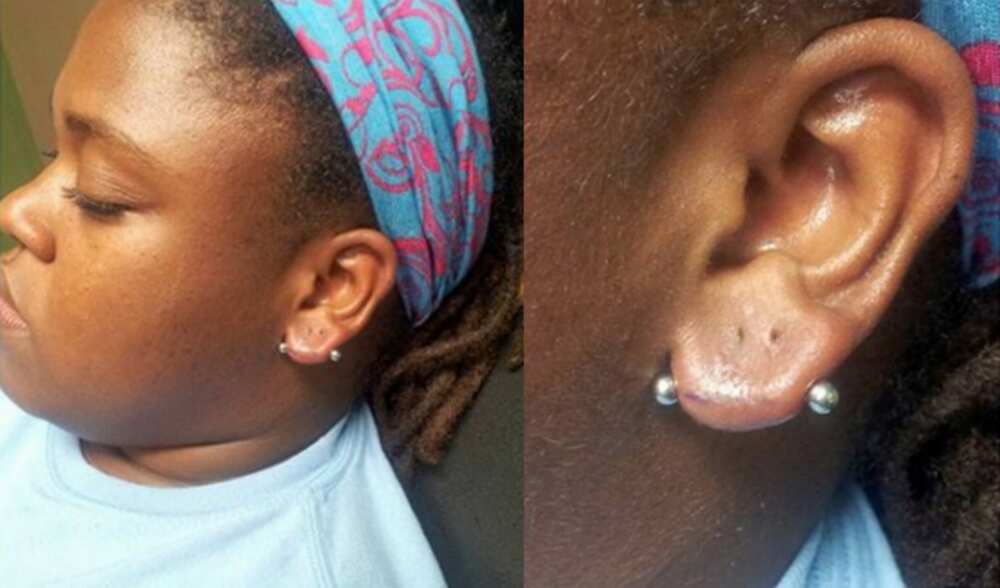 15. Flat
It is one of the ideal options to highlight the inner nook area of your ears. This stunning piercing will surely get your friends talking.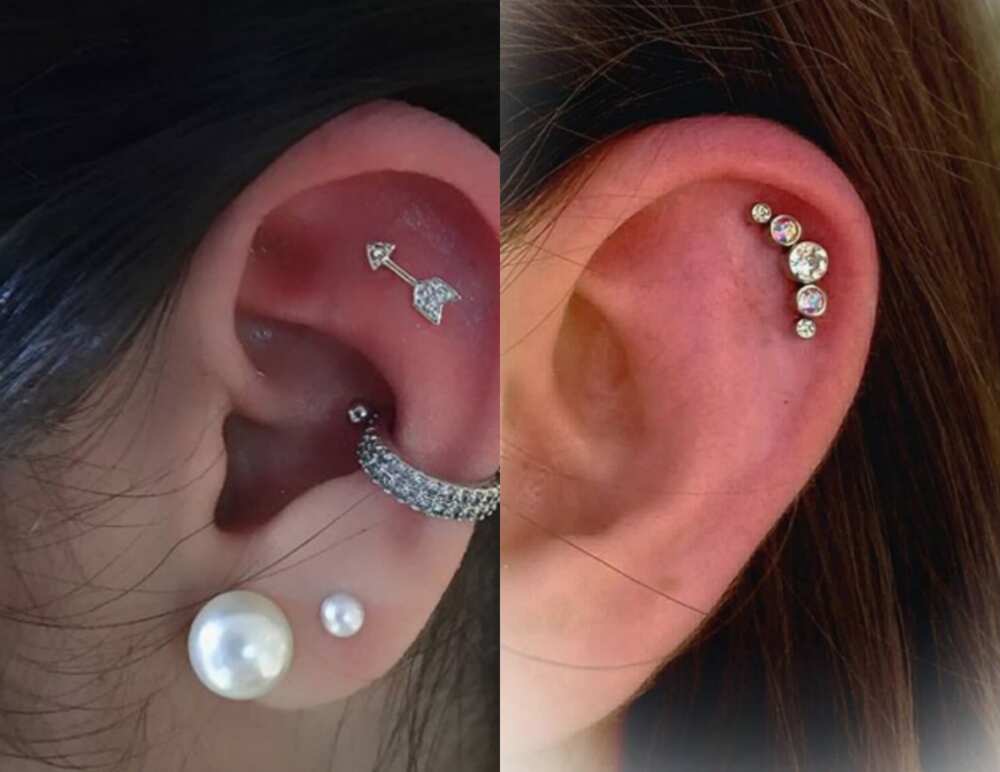 All types of pierced ears undoubtedly look astonishing. However, some people still hesitate to try even one of them. Why? It is all about pain. Some ear piercing locations are more painful if compared to other ones, and they require more time to heal as well as different daily aftercare procedures. So, how much does it hurt?
READ ALSO: Conch Piercing: a guide to pain, healing, aftercare, inner vs outer piercing
Ear piercing pain chart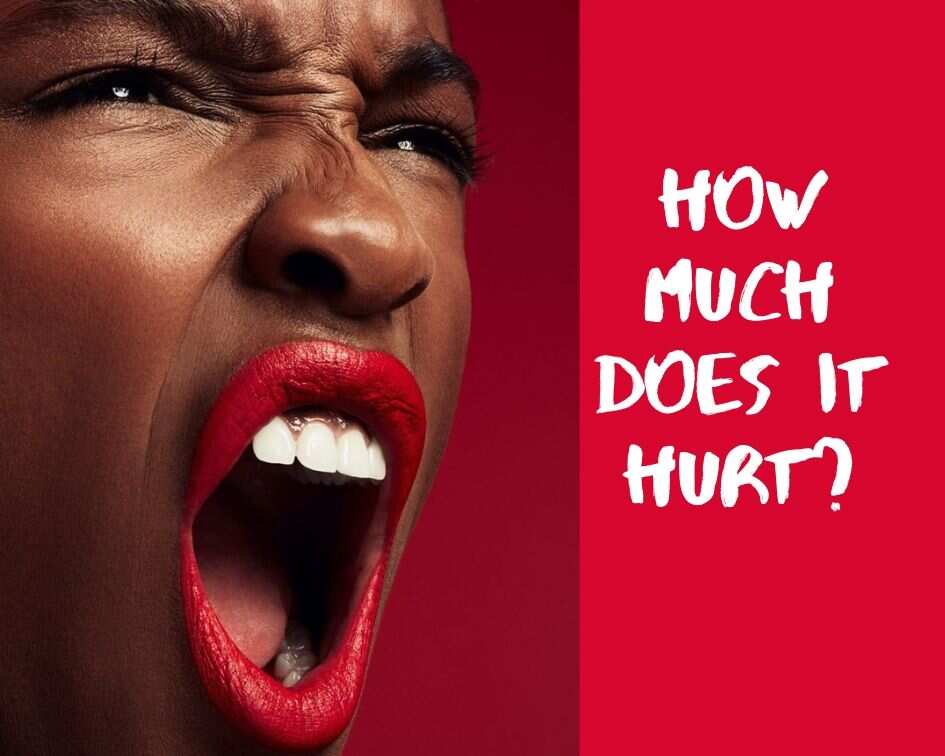 Here is our scale that will help you find out the ear-piercing locations with the highest and the lowest pain rates. We used a scale ranging from 1 to 10 for measurement. Of course, you need to understand that the pain chart is a very individual matter. Various people have different pain limits. The numbers in parentheses represent the time required for healing.
Ear lobe puncture – 3 (8-10 weeks)
Helix – 4 (3-6 months)
Forward helix – 5 (4-6 months)
Daith puncture – 6 (3-6 months)
Tragus – 6 (3-8 months)
Rook – 7 (3-9 months)
Snug – 7 (6-12 months)
Conch – 7 (3-9 months)
Industrial – 7 (3-9 months)
Transverse lobe puncture – 6 (5-10 weeks)
Anti-tragus – 7 (4-9 months)
Cartilage piercing – 5 (4-8 months)
Surface piercings – 6 (3-5 months)
READ ALSO: Cartilage piercing: a guide to pain, cost, healing, and aftercare
Our appearance tells about us more than we suspect. Choose the most exciting types of ear piercings to show your individuality and define your beauty.
READ ALSO: Tragus piercing: a guide to pain, cost, healing, and aftercare
Source: Legit.ng