Thinking of a way to scare your parents? Tell them you are thinking of going into a career in the media, they will do all they can to discourage you. This is due to the negative stories they hear happen to journalists who are carrying out special investigative duties.However, this is just one part of the job as there are thousands of options out there for individuals who are interested in the media.
Some of these careers include being a writer, marketer, video production, social media manager, blogger, public relations expert, you name it!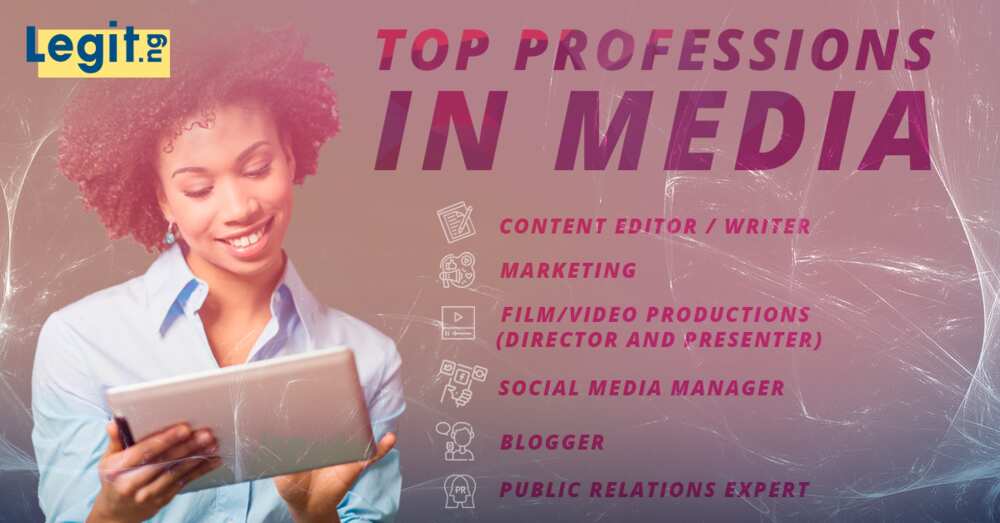 1. Content editor/writer:
Technical writers create everything from instruction manuals to articles and documentation. Aside from your university degree, you will need the ability to explain complex concepts to a variety of different audiences.
Possessing strong writing skills is one of the things most needed for you to excel in any media business. Either you are writing for a blog, newspaper, or magazine, be aware that whatever you write travels far and wide, informs, educates, and inspires millions of people.
2. Marketing:
In every media house, there is always the marketing team which aims at bringing in clients to advertise their goods and services on your media platform. It does not matter whether you run an online media or print, you need to have marketers to promote the brand in order to make money for the company.
3. Film/video productions (director and presenter):
If you spend time online, you have probably noticed that video is taking over your favorite sites. Someone has to create those eye-catching, meme-inspiring video moments, and that person is a video producer. Video production takes the efforts of a producer, director, editor and presenter before you get to watch it on your TV screens.
4. Social media manager:
We have good news! Scrolling the feed on Twitter, Instagram, Snapchat, Facebook, and much more, is no longer a waste of time. If you're willing to embrace the strategic marketing side of social media, you have every chance to turn your passion into a career. he duty of this individual to promote the brand on all social media platforms.
5. Blogger:
Some companies often employ bloggers as part of their marketing strategy. An engaging blog provides a friendly public face for the company while potentially helping the organization's ranking on Google and other search engines. Writers who work primarily on blogs have to be able to turn out attention seeking content that adheres to the organization's tone of voice and style guidelines while keeping social media and SEO principles in mind.
A good example is Legit.ng.
6. Public Relations expert:
If you have exceptional communication skills and are comfortable with talking up the merits of your favorite brand or product, a career in Public Relations (PR) might be a perfect fit for you. These specialists typically work for advertising agencies, public relations firms, or companies with in-house PR teams. They design and execute media strategies to keep their employer's products and services in the news, in a good way.