The Presidential Election Petitions Tribunal continues hearing today, Wednesday, May 22.
Atiku and his party are challenging President Muhammadu Buhari's victory in the February 23 presidential poll.
INEC had declared President Buhari the winner of the 2019 presidential election. According to the electoral body, Buhari polled 15,191,847 votes to defeat Atiku who polled 11,262,978 to lose the election with a margin of 3,928,869 votes.
However, Atiku and his party claimed they won the election, citing a presidential election result allegedly gotten from INEC's server.
Atiku claimed he scored 18,356,732 votes to defeat Buhari whom he claimed scored 16,741,430 votes.
Meanwhile, the tribunal's Wednesday sitting is scheduled to hear an application by Atiku and the PDP for the disqualification of the President of the Court of Appeal, Justice Zainab Bulkachuwa, as a member and head of the five-man tribunal.
They alleged that Justice Bulkachuwa would likely be biased against them in her handling of the hearing of their case due to her alleged family ties to top members of the All Progressives Congress (APC).
They alleged that her husband, Adamu Bulkachuwa, won the Bauchi North senatorial election on the platform of the APC.
They also added in their motion that her biological son, Aliyu Abubakar, was not only a card-carrying member of the APC, but also contested the Gombe state APC governorship primary election.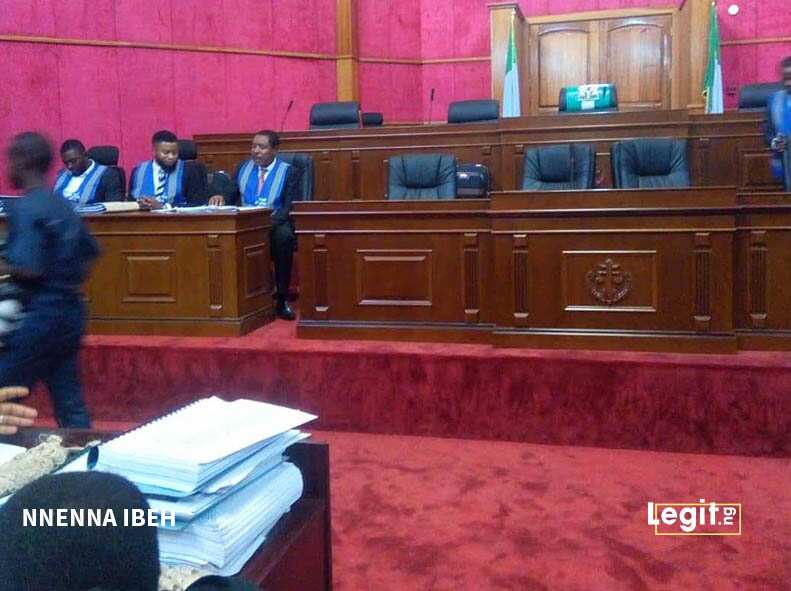 They, therefore, urged Bulkachuwa her to recuse herself from further participation in the proceedings of the tribunal and asked the tribunal to replace her with one of the over 80 other Justices of the court qualified to serve on the panel.
Legit.ng will be bringing live updates of the proceedings as the tribunal hears the PDP and Atiku's petitions.