Damilare Okunola is not a new face to Legit.ng and Legit TV, he is a street journalist and the head of department video department. The young man makes sure readers are updated with the latest videos on the website, Twitter, Facebook, Instagram and YouTube channel.
Aside from jumping from one street to another, there are so many things he does behind the camera that is unknown to many. These things are what he does on a daily basis that determines his output.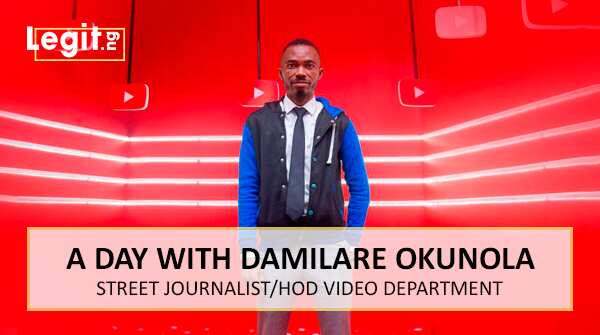 Below is Damilare Okunola's daily activities, this explains how he starts his day till how his day comes to an end:
What is the first thing you do once you get out of bed?
"The first thing I do when I wake up is to pray and do the general family devotion. Then, I pick up my phone to check WhatsApp, mails, Slack, Instagram and YouTube, in that order, and reply messages where necessary. If there are urgent messages that need attention, like messages in our official mailbox or on the social media, where people want to help respondents whose stories we shared, I quickly tackle that before setting out to do anything else."
Assigning responsibilities to team members:
"Next stop is to engage the members of my team in a conversation, asking if anyone has any update from previous events or plans for the week/day. Whatever their response is, there's always a task for somebody. In assigning responsibilities, I look at the nature of the event and the specialty of the team member and decide who goes where and when."
If not in the office, where would you be found?
"Most times, I'm not in the office because I'm also out on the field, either working on a story or searching for another. I leave the office after all the team members, so that I'll tighten up every loose end before the next day."
What happens when you get home?
"Finally when I get home, I don't leave the social media and our official communication platforms just to be abreast of every information. Sometimes, I sleep as late as 2am. Above all I love what I do and happy my wife understands the nature of my job."
How do you pick who to speak with while on the field?
"Sometimes, we target people who seem to be well-dressed for 'reasonable' comments but most of the time, they're not willing to talk, so we use people who are keen and are willing to talk."
Any form of harassment while on the field?
"Sometimes we get harassed but not more than we can handle. Equipment have been damaged and we've been manhandled before by overzealous security operatives, but it's not been beyond our reach."