Top 35 famous Disney quotes to live by
Many people all over the world have enjoyed Disney cartoons, in childhood or in adulthood in one way or another. Have you ever noticed that there are essential life lessons in the Disney quotes in these productions?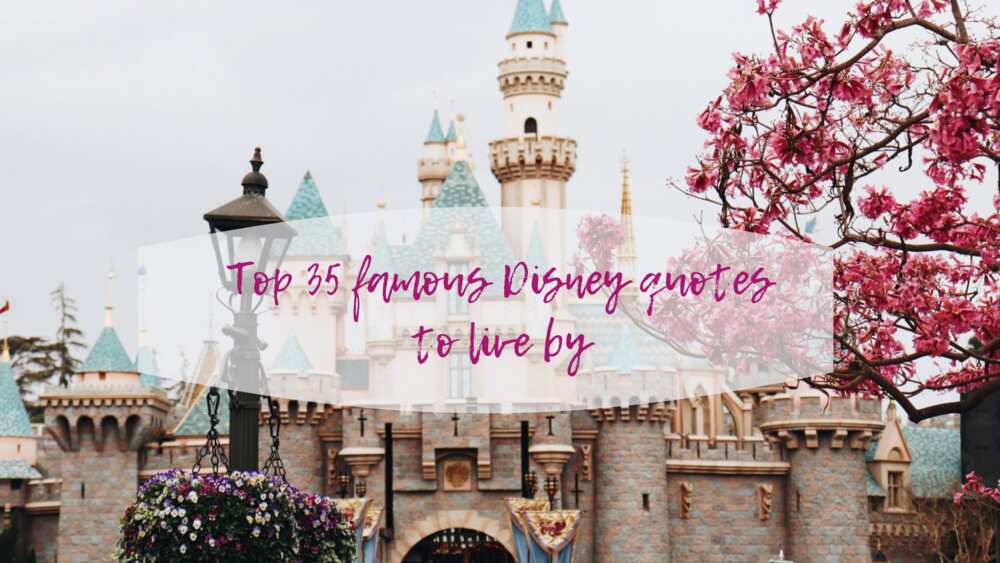 Funny Disney quotes will create a smile on your face. There is no magic in them, only inspiration coming from the mouths of amazing characters.
Inspirational Disney quotes
Many are in love with the great Walt Disney cartoons. Someone wants to become a Little Mermaid, someone wants to meet the Prince, like Cinderella, and certainly, everyone weeps over the loss of Simba. Even now, watching our favourite cartoons gives us great pleasure and takes us back to the times when we were children. Cute Disney quotes will definitely lift your spirit and inspire you.
"Of all the things I've done, the most vital is coordinating those who work with me and aiming their efforts at a certain goal." – Walt Disney
"Life's not a spectator sport. If watchin' is all you're gonna do, then you're gonna watch your life go by without ya." – Laverne (The Hunchback of Notre Dame)
"Yes, you'll be in my heart. From this day on, now and forever more." – Tarzan
READ ALSO: Top 50 funny food quotes for food lovers
"Everything that made that giant tree is already contained inside this tiny little seed. All it needs is some time, a little bit of sunshine and rain, and voilá! Now, y-you might not feel like you can do much now, but that's just because, well, you're not a tree yet. You just have to give yourself some time. You're still a seed." – Flik to Dot
"When life gets you down do you wanna know what you've gotta do? Just keep swimming!" – Dory (Finding Nemo)
"Ohana means family, family means nobody gets left behind. Or forgotten." — Stitch
"If you don't know where you want to go, then it doesn't matter which path you take." — The Cheshire Cat (Alice in Wonderland)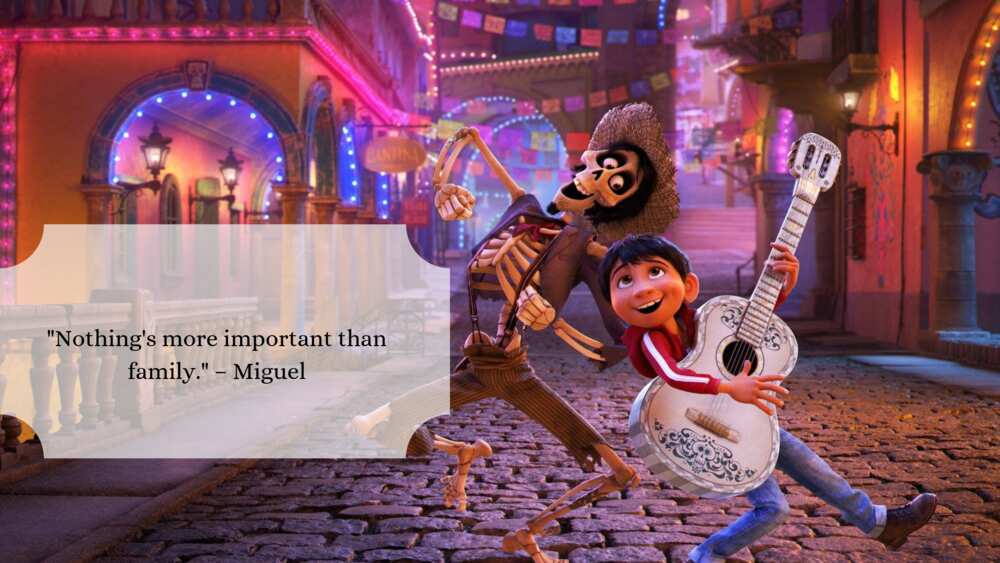 "Somehow I can't believe that there are any heights that can't be scaled by a man who knows the secrets of making dreams come true. This special secret, it seems to me, can be summarized in four Cs. They are curiosity, confidence, courage, and constancy, and the greatest of all is confidence. When you believe in a thing, believe in it all the way, implicitly and unquestionable." — Walt Disney
"If you walk the footsteps of a stranger, you'll learn things you never knew you never knew." — Pocahontas
"When you're the best of friends having so much fun together, you're not even aware you're such a funny pair." — The Fox and the Hound
"Fantasy, if it's really convincing, can't become dated, for the simple reason that it represents a flight into a dimension that lies beyond the reach of time." — Walt Disney
"Around here, however, we don't look backward for very long. We keep moving forward, opening new doors, and doing new things, because we're curious and curiosity keeps leading us down new paths." – Walt Disney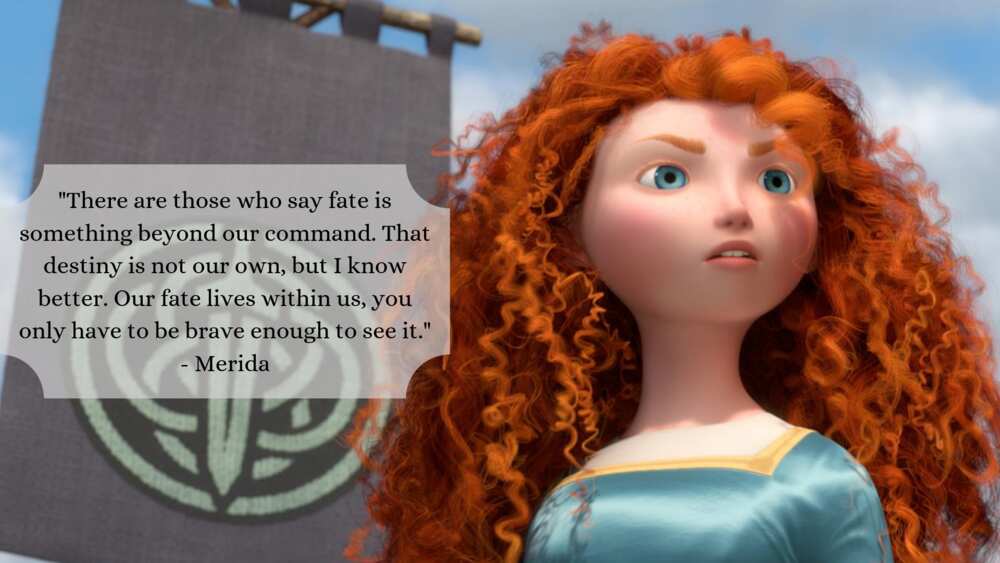 "Children are people, and they should have to reach to learn about things, to understand things, just as adults have to reach if they want to grow in mental stature. Life is composed of lights and shadows, and we would be untruthful, insincere, and saccharine if we tried to pretend there were no shadows. Most things are good, and they are the strongest things; but there are evil things too, and you are not doing a child a favor by trying to shield him from reality. The important thing is to teach a child that good can always triumph over evil." – Walt Disney
"Some things start out big, and some things start out small, very small. But sometimes the smallest thing can make the biggest changes of all." — Plio (Dinosaur)
"You're braver than you believe, and stronger than you seem, and smarter than you think." – Winnie the Pooh (Pooh's Most Grand Adventure)
"All the adversity I've had in my life, all my troubles and obstacles, have strengthened me... You may not realize it when it happens, but a kick in the teeth may be the best thing in the world for you." – Walt Disney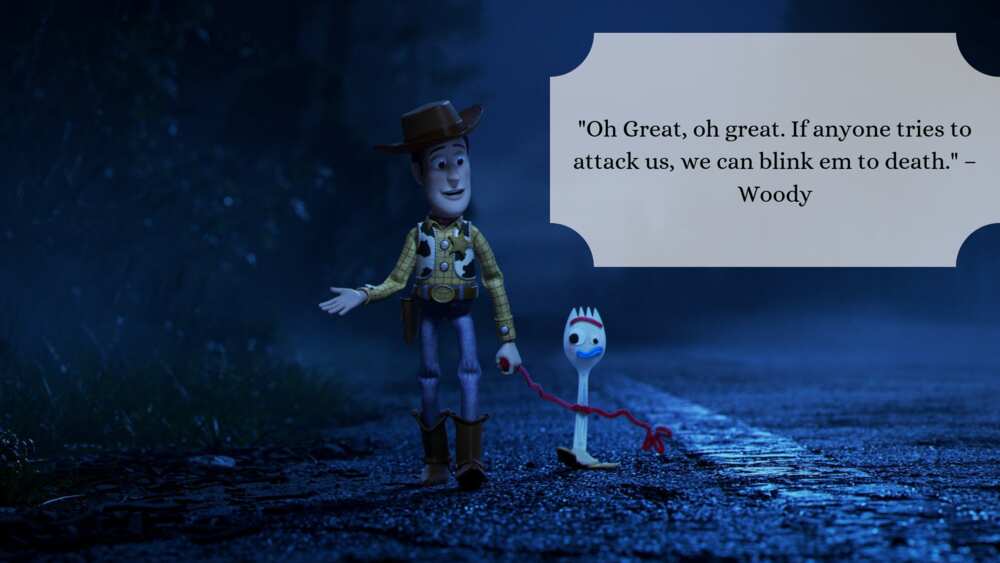 "Faith is a bluebird, we see from far. It's for real and as sure as the first evening star, you can't touch it, or buy it, or wrap it up tight, but it's there just the same, making things turn out right." — Rufus (The Rescuers)
"Do not be followed by its commonplace appearance. Like so many things, it is not what is outside, but what is inside that counts." — Merchant (Aladdin)
"To spend a life of endless bliss, just find who you love through true love's kiss." – Giselle (Enchanted)
"I'm only brave when I have to be. Being brave doesn't mean you go looking for trouble." – Mufasa
"Where one thing falls, another grows. Maybe not what was there before, but something new and wonderful all the same." — Bambi's mother (Bambi II)
"The moment you doubt whether you can fly, you cease for ever to be able to do it." – Peter Pan
"There are those who say fate is something beyond our command. That destiny is not our own, but I know better. Our fate lives within us, you only have to be brave enough to see it." — Merida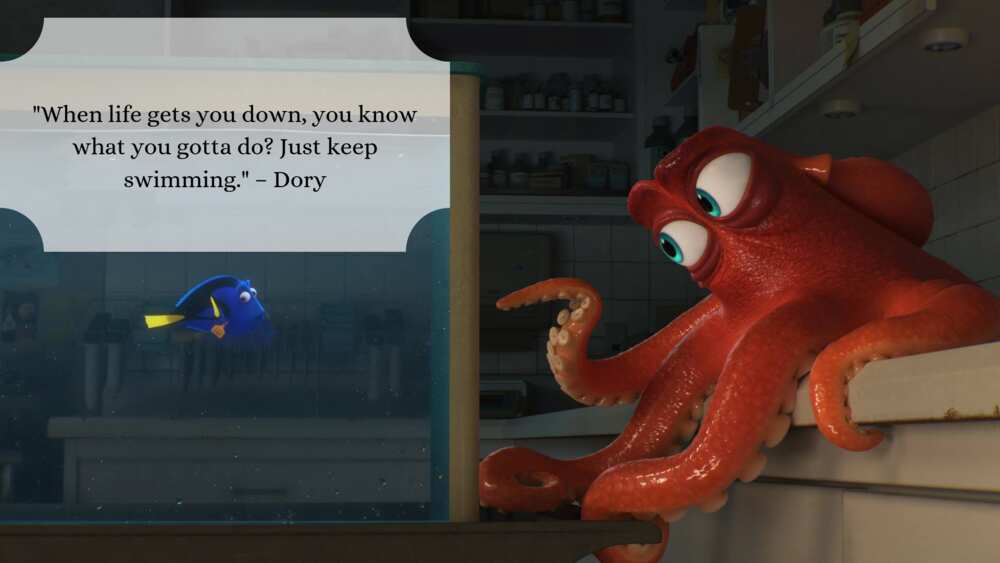 "The flower that blooms in adversity is the most rare and beautiful of all." — The Emperor (Mulan)
"Look at the stars. The great kings of the past look down on us from those stars. So whenever you feel alone, just remember that those kings will always be there to guide you. And so will I." — Mufasa
"For the strength of the Pack is the Wolf, and the strength of the Wolf is the Pack." — Mowgli
"You must not let anyone define your limits because of where you come from. Your only limit is your soul." — Gusteau (Ratatouille)
"I want adventure in the great wide somewhere. I want it more than I can tell." — Beauty and the Beast
"When there's a smile in your heart, there's no better time to start. Think of all the joy you'll find, when you leave the world behind and bid your cares goodbye. You can fly." — Peter Pan
"If everybody got somebody by the hand, maybe everyone could learn and understand." — Sebastian (The Little Mermaid)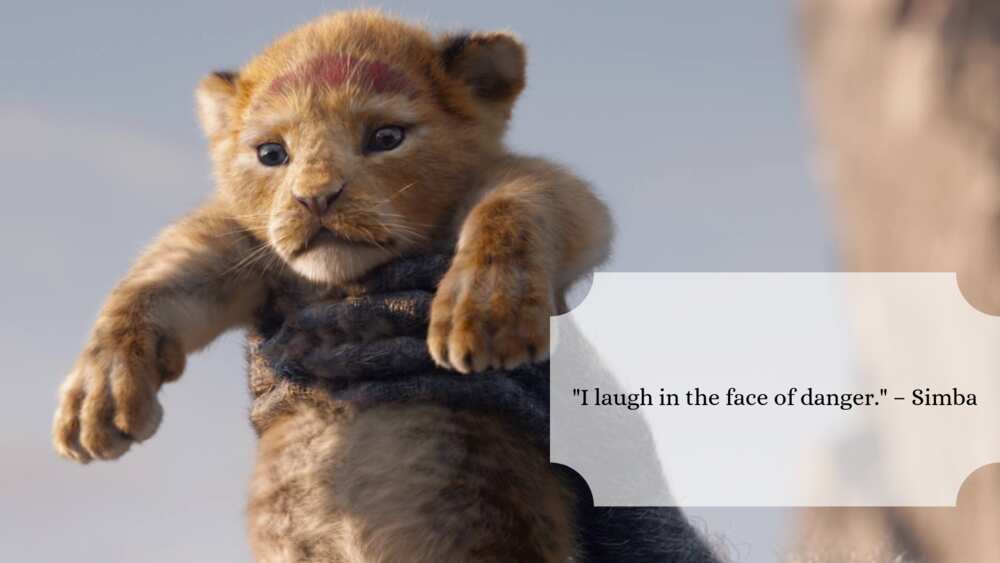 "A whole new world. A dazzling place I never knew, but when I'm way up here, it's crystal clear that now I'm in a whole new world with you." — Aladdin
"Remember me, though, I have to travel far. Remember me each time you hear a sad guitar. Know that I'm with you the only way that I can be. Until you're in my arms again, remember me." — Coco
"You are braver than you believe, stronger than you seem, and smarter than you think — Christopher Robin (Winnie the Pooh)
"Faith is the most important thing. If you believe in something, believe it till the end, unequivocally and without hesitation." – Walt Disney
"It is good to have a failure while you're young because it teaches you so much, and once you've lived through the worst, you're never quite as vulnerable afterward." – Walt Disney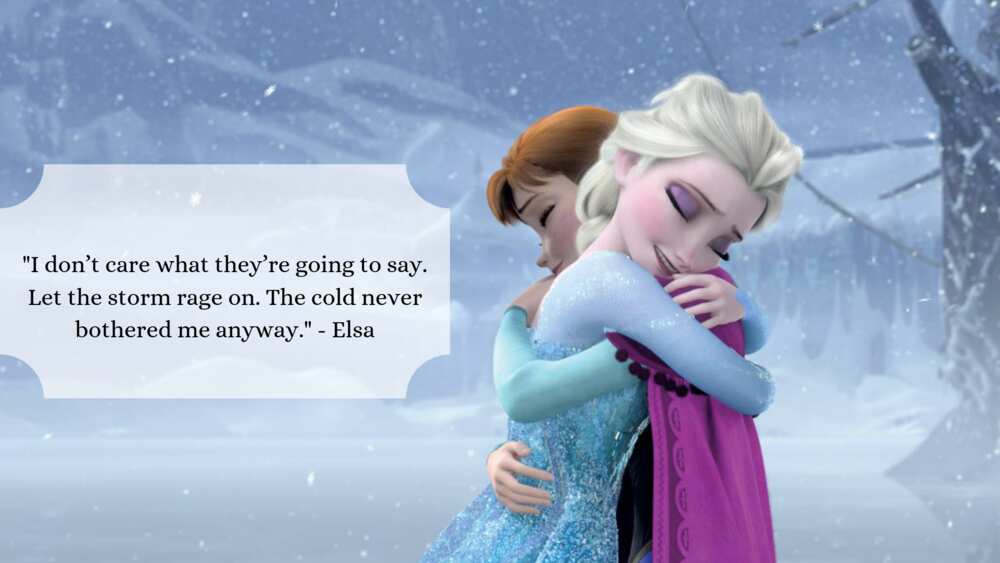 Despite the seeming simplicity, many cartoons contain deep wisdom, help us understand ourselves and form a new, positive view. These quotations cover vital life lessons that can teach us a lot. What is your favourite quote? Tell us in the comments!
READ ALSO: 50 achievement quotes for students' motivation
Source: Legit.ng