Just like any other chosen profession, videography can be very difficult to get into. The film/movie industry is a very competitive market so, anyone who wishes to best in this field needs to step up his or her game. Here your passion is not enough but one must be well equipped with technical knowledge and creativity.
After all necessary skills and knowledge has been acquired, it becomes a greater problem in securing a job and showing off your own unique style and level of creativity. There is no one way or shortcut to becoming a videographer. Many successful videographers have unique stories on how they followed similar steps differently before they got their big breaks.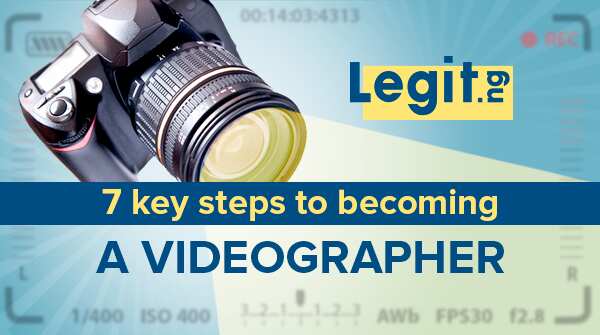 At Legit.ng, the video team work tirelessly to upload amazing videos on our YouTube channel. This video ranges from political events, entertainment, sports and street vox pops. All the videos are uploaded on a daily basis in order to keep viewers updated about recent events happening around them.
1. Know the basics by getting a degree:
When applying to agencies, they want to be assured that the videographer they would be working with is well educated and knows his/her onions. Fortunately, there are a handful of bachelor degrees that will provide you with valuable experiences and technical skills required in the field, such as screenwriting, film theory, video editing, cinematography, communications amongst other related courses.
2. Attend workshops:
Becoming a videographer is knowing how your camera works. This requires a whole of technical knowledge that might not have been taught in school. Once you are ready for a more intensive training, apply for a workshop (which can also be done online) or masterclasses that teaches you about manual camera settings, film-making/video editing techniques and much more.
3. Get the good camera:
As a beginner, you may find the Digital Single-Lens Reflex (DSLR) or mirrorless camera to be easier to use than camcorders for your videography training. After attending several workshops, you will have probably gotten a good idea of the type of cinema camera that you prefer to work with.
4. Internships:
All you need to do here is contact local television companies, film studios and others related companies that offer internships and look for opportunities to start out as an assistant. However, the main objective would be to get a glimpse of how film crews operate on set. You'll be surprised to learn that there are a lot of lessons from your internships that workshops won't teach you.
5. Create your own films:
Spending time on movie sets will surely inspire you to create your own short film or movie to practice your hand at executing specific camera movements and some film-making techniques. By all means, let yourself be driven to experiment and realize your own creative style, as this will help build your portfolios.
6. Promote your brand:
Once you've combined a collection of your short films and clips, you're ready to start promoting yourself as a brand. Create a website or online portfolio where you can show off your best work and your creative film-making style. This is what will help you stand out from the rest and establish your creative film-making identity to directors. Facebook, Twitter and Instagram can also help you promote yourself.
7. Join a film organization:
Joining a professional film organization is a great way to gain more experience and exposure in the field. This will help you build your network and find job opportunities. However, being able to label yourself a member of a reputable organization in your community adds to your credibility and may even help beef up your resume.
After fulfilling all these, you can begin to apply for jobs.