A wife is probably the most precious person to her husband. She not only looks after the children and the home but also acts as the support system of her husband. As a good husband, it is always good to regularly send your wife sweet love messages. It makes her feel loved and appreciated. The messages can be in the form of romantic cards or a simple text.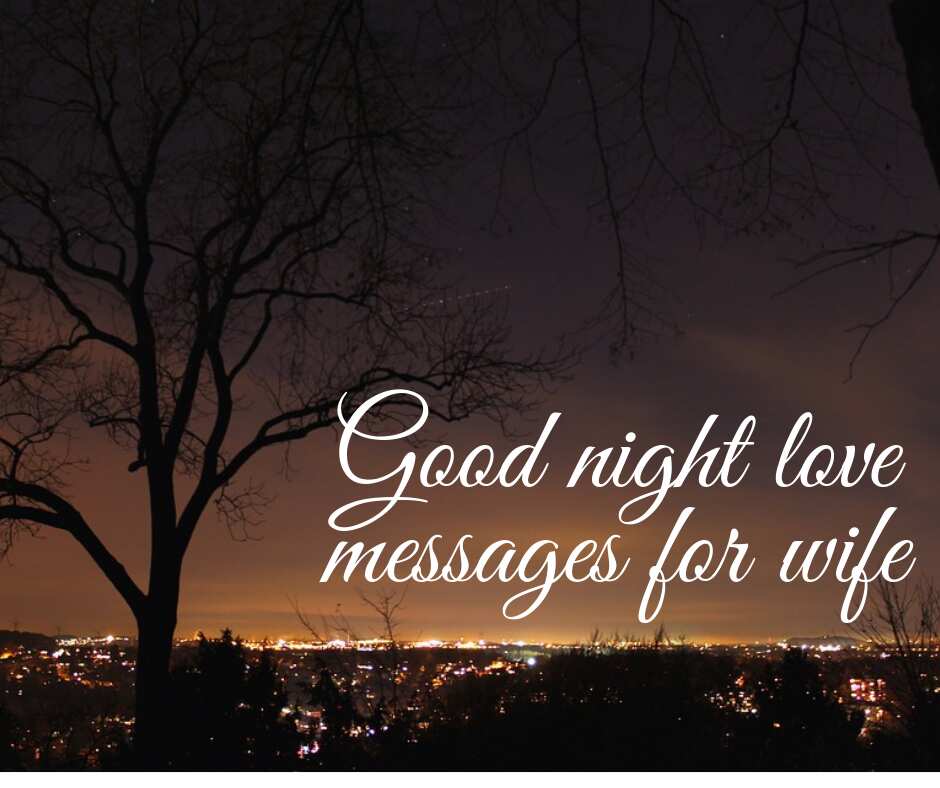 As a husband, you can also send sweet love messages on social media by uploading a goodnight picture and sending the good wished there. Additionally, you can surprise your wife by recording warm wishes on video clips and send them to your wife on a DVD. A good husband should not wait for Valentine's Day or wedding anniversary to make his wife feel special. For every married couple, every day should be a special day to love, to take care and to build strong their relationship. Though you may be having a busy life, your wife deserves to feel loved until she draws her last breath.
READ ALSO: 50 sweet goodnight texts, quotes and messages
Romantic messages for your wife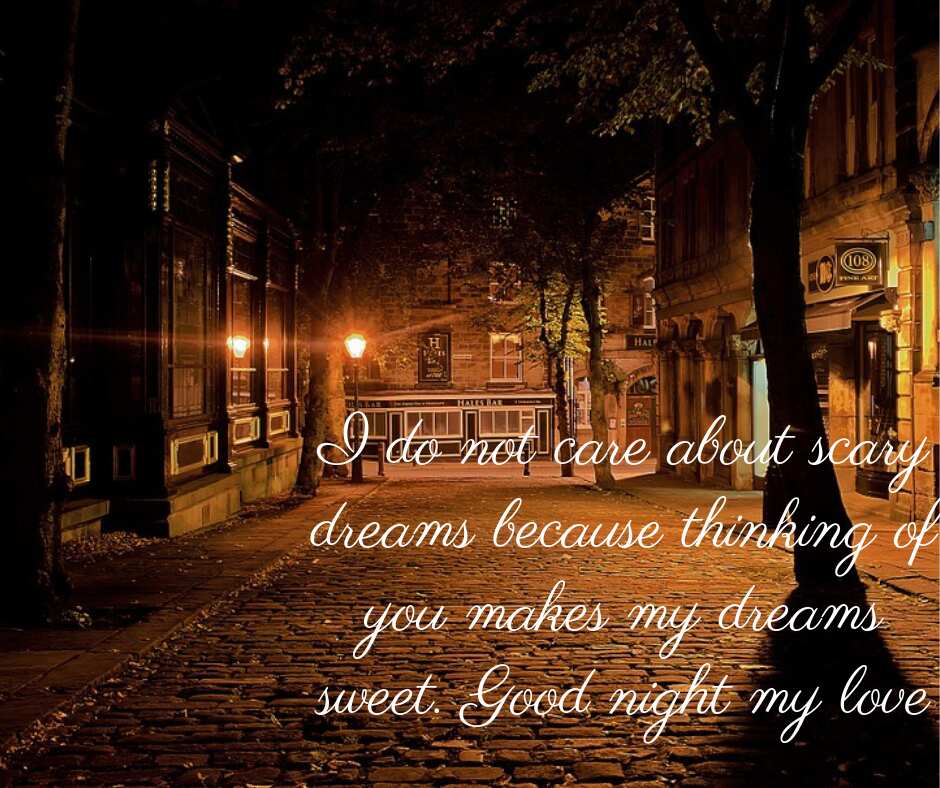 There is no doubt that a wife looks forward receiving a beautiful good night message from her husband. The messages only prove that a husband cares and adores his wife. When it comes to couples, a wife is always seeking affection and romance. Therefore, it the duty of a husband to keep showering his wife with gifts and deep sweet messages. Below are some of the best romantic gud night messages for your wife.
This is for the most beautiful person in the world. I send this warm good night wish and my affection for you to make your night beautiful. As I go to sleep, I make a prayer to the almighty God to bless our relationship memories of joy and affection always. Have a good night sleep dear.
I do not care about scary dreams because thinking of you makes my dreams sweet. Good night, my love.
Missing you is the only thing in the world I cannot explain. I love you. Good night.
At long last, the darkness has come, and it is the time when I am lying on my bed and missing you. I am just praying for your sweet dreams, good night.
Before I met you, I was pessimistic. You have taught me how to love things. Thank you for being in my life. Good night.
Passionate good night messages for your wife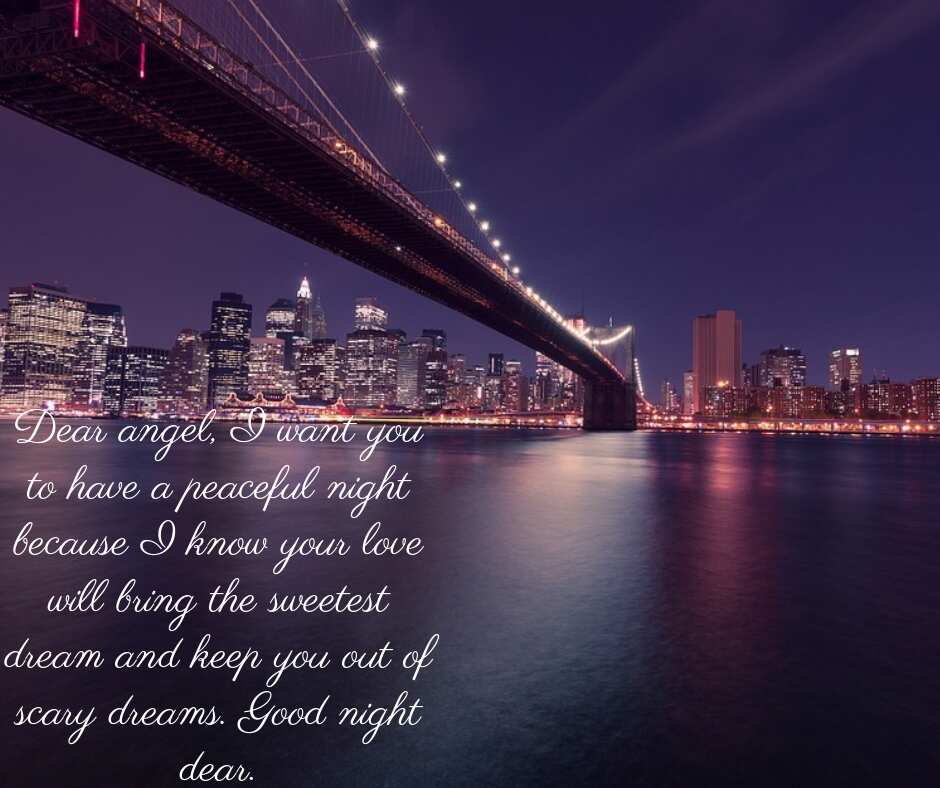 Darkness time is always a special time when your sweetheart needs to love and be loved in return. There is no other passionate way to put a smile on her face that sending some beautiful words their way. Here are some of the most passionate good night wishes messages for your lady.
There seems to be a delay at night every time I dream of you my queen. A day becomes more exciting and longer than any other time when you work to make your dreams come true. Good night, gorgeous.
When you open your eyes, you will see that the sky is infinite, full of stars and a bright shining moon. The sky narrates a story of affection and passion. When a star twinkles, it means the heavens are smiling at you. Good night, darling.
Dear angel, I want you to have a peaceful eventide because I know your affection will bring the sweetest dream and keep you out of scary dreams. Good night, dear.
This part of the world is very dark because it is time to sleep. At this very moment, I ask that you should think of all the sweet memories we have shared together. You know that I love and adore you very much. Have a good night, my baby.
The eventide has been designed for you to overcome every difficulty you might come across in the day. You are reminded that tomorrow is a new day to achieve your new goals. The princess of my heart your new age is blessed with all your heart desires.
READ ALSO: Heart touching love messages for husband
Sweet dreams messages for your lady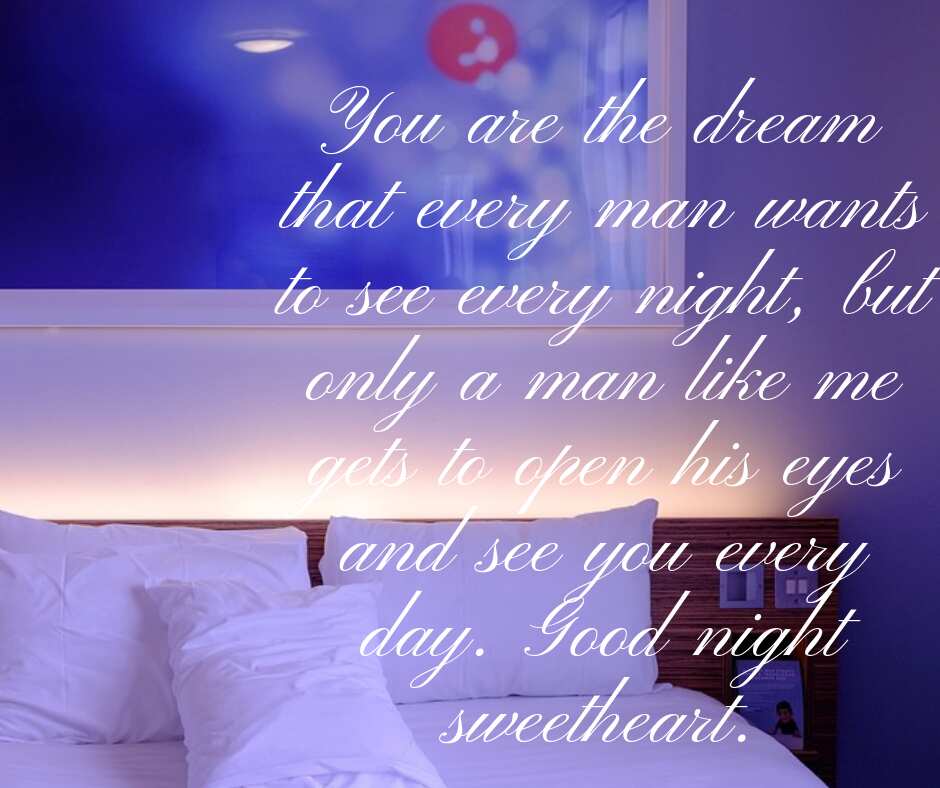 Sweet messages, especially at eventide, are a great way to show your wife that you do not take your marriage for granted. Send her the following messages and watch her smile endlessly as you pamper her for no reason.
You are the dream that every man wants to see every eventide, but only a man like me gets to open his eyes and see you every day. Good night, sweetheart.
The night sky of my life has got only one single star-YOU. Good night, my love.
Whether my day at work is good, bad or worse, I will always look forward to the eventide because you quench my heart and soul. Good night.
Whether weeks turn into years, months pass by or night becomes day, my feelings towards you will not change. Cute dreams, my lovely wife.
To my sweetest dream, loveliest thought my dearest wife and my prettiest fantasy, sweet dreams.
Ten hours of sleep are not enough for me. I require more time to enjoy cuddling in bed with my wife. Sweet dreams, darling.
Distance messages for your sweet wife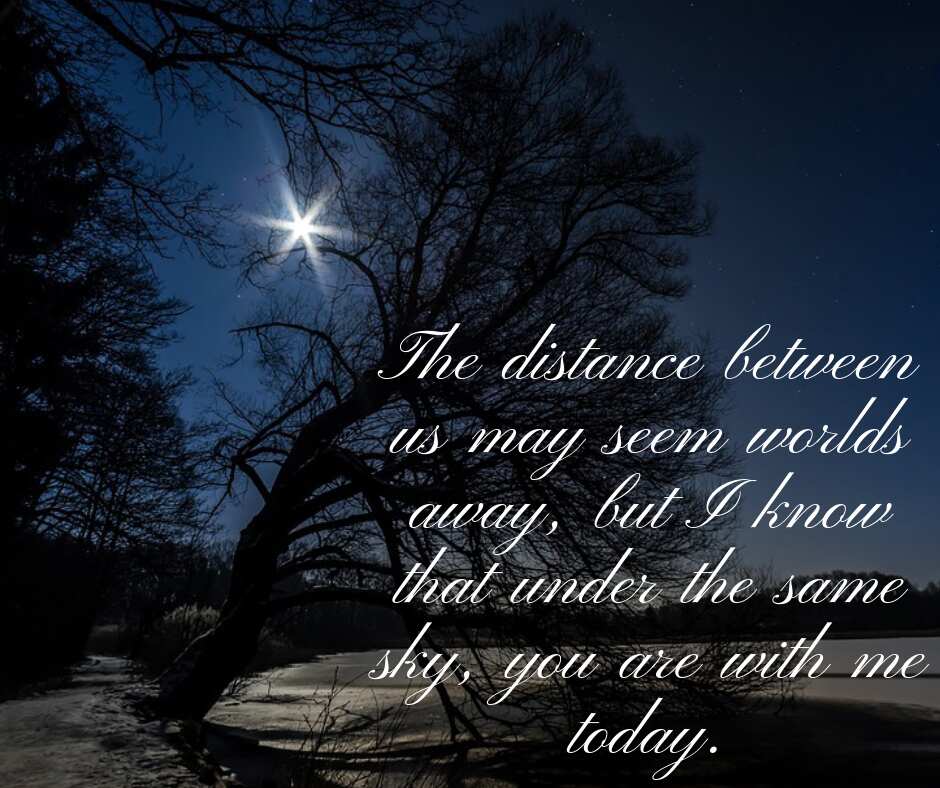 Being apart from your wife can be excruciating and the time spent alone is filled with a mixture of pain and love. Your affection is unlike any other, but many have also been in your shoes. Make your wife feel like a special friend by sending her the following good night messages.
The love I have for you is almost spiteful, but the challenge is worth, having in mind that by the end of this all I will be in your sweet arms. Lovely night, my love.
When I stare at the moon, it makes me smile because I know you are out there underneath the same one.
I look forward to the day when I can be beside you and know that this is the apart time spent over and has been worth it.
The distance between us may seem worlds away, but I know that under the same sky, you are with me today.
Some days I cry, and other days I laugh. You are the one that makes me smile, and the distance between us brings sadness.
READ ALSO: Romantic love messages for her
Good night messages to send to your wife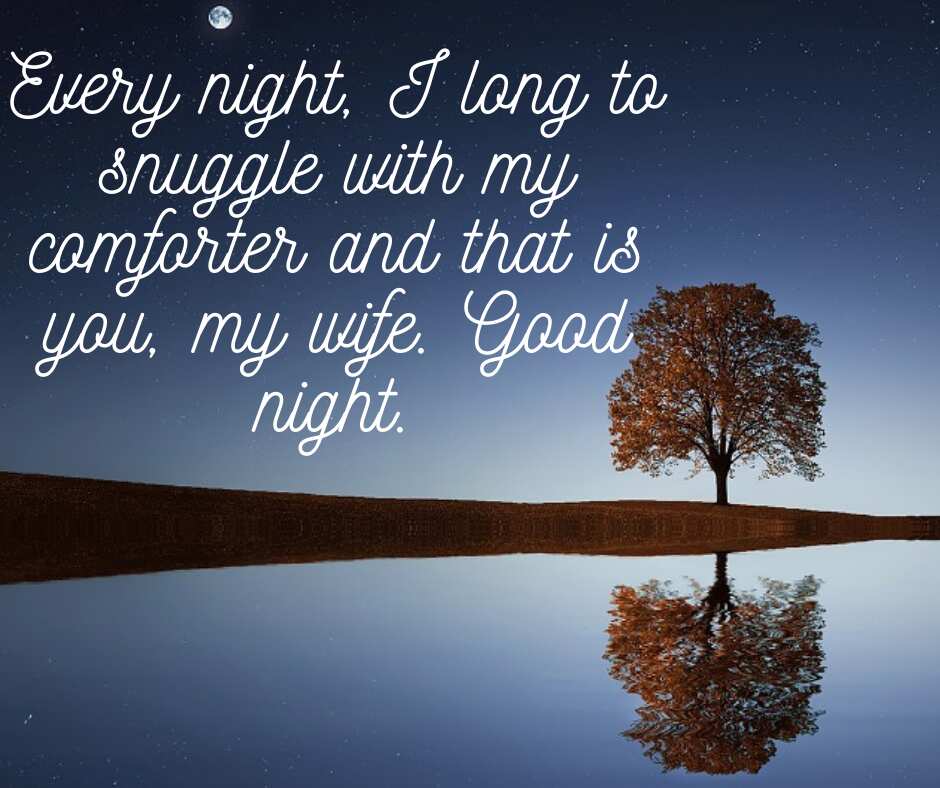 Never underestimate the impact of being a romantic boyfriend. Being romantic can strengthen the bond between you and your wife and make you feel like teenagers all over again. Below are some love friendship messages for your wife.
You are the flower that makes my garden beautiful, complete and fragrant. Good night, sweetheart.
Every eventide, I long to snuggle with my comforter, and that is you, my wife. Good night.
Days turn into eventide and eventide turns into the day because the earth goes around on its own support. However, my life is always complete because I revolve around strong support. That is you, my wife. Have a lovely night.
A good night message is too insipid a salutation for a wife who makes my eventides enjoyable. I love you.
I am so sorry for not being there to hold you. Sorry for not being there to hug you and kiss you, but you are always in my heart. Good night.
Goodnight sweetheart messages for your wife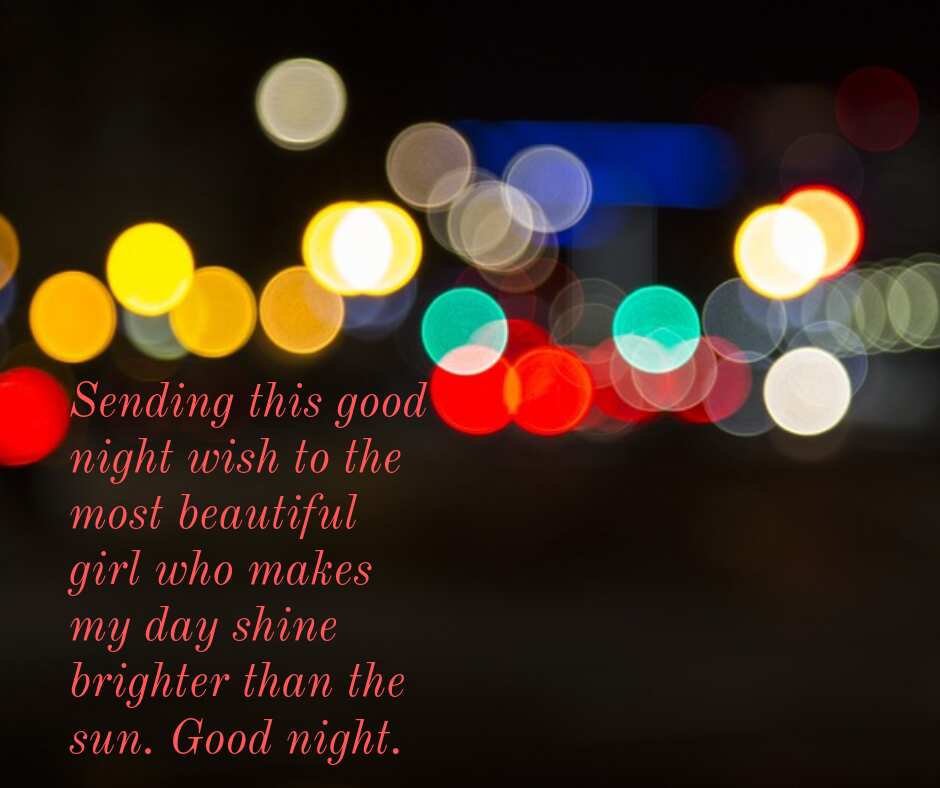 The following is a list of the best goodnight quotes for wife only.
The sun is upset, and the moon is happy. The sun is missing you, and the moon will be with you for the rest of the eventide. Have a good night, sweetheart.
Goodnight, sweetheart, sleep tight my love, pleasant dreams, my sweet wife. May tomorrow be sunny and right and may it bring you closer to me. Goodnight.
A day is going to end again. It is very nice to have someone like you making every day seem so great. Thank you, my love, and may all spiritual angels keep watch over you.
The first thought that comes to my mind every morning as I wake up is you. Before I retire to bed, i always see you in my mind. You are never out of my mind. Good night, my dearest wife.
Sending this gud night wish to the most beautiful girl who makes my day shine brighter than the sun. Good night.
Goodnight emotional messages for her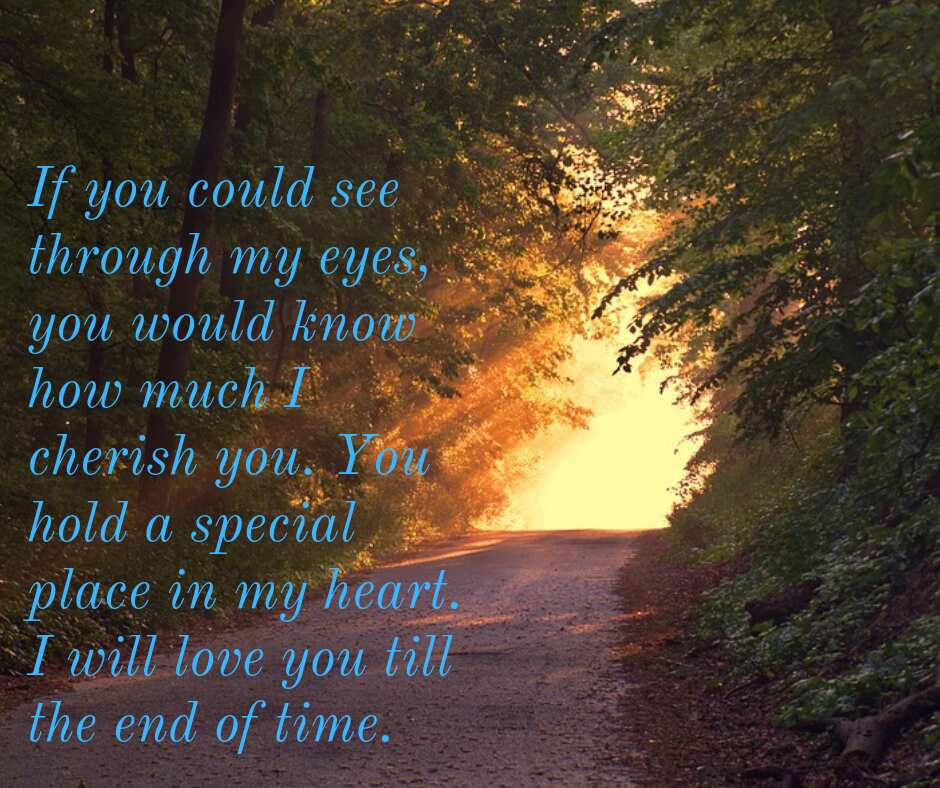 Heart touching texts serves the purpose of filling the heart of your precious wife with the romantic essence of deep affection. Find below some of the best emotional goodnight messages for wife only and to rekindle lost love.
I do not need a thousand reasons to feel special. All I need is you to live in this world. You are the light of my life.
I wish to be everything that brings a smile on your face and joy in your life. I want to love you like no one else will.
If you could see through my eyes, you would know how much I cherish you. You hold a special place in my heart. I will love you till the end of time.
I fell in love with you the first day I met you. I love you for everything you are. My love for you will never fade away.
READ ALSO: 30 birthday prayers, wishes and messages to a friend
Flirty messages for your wife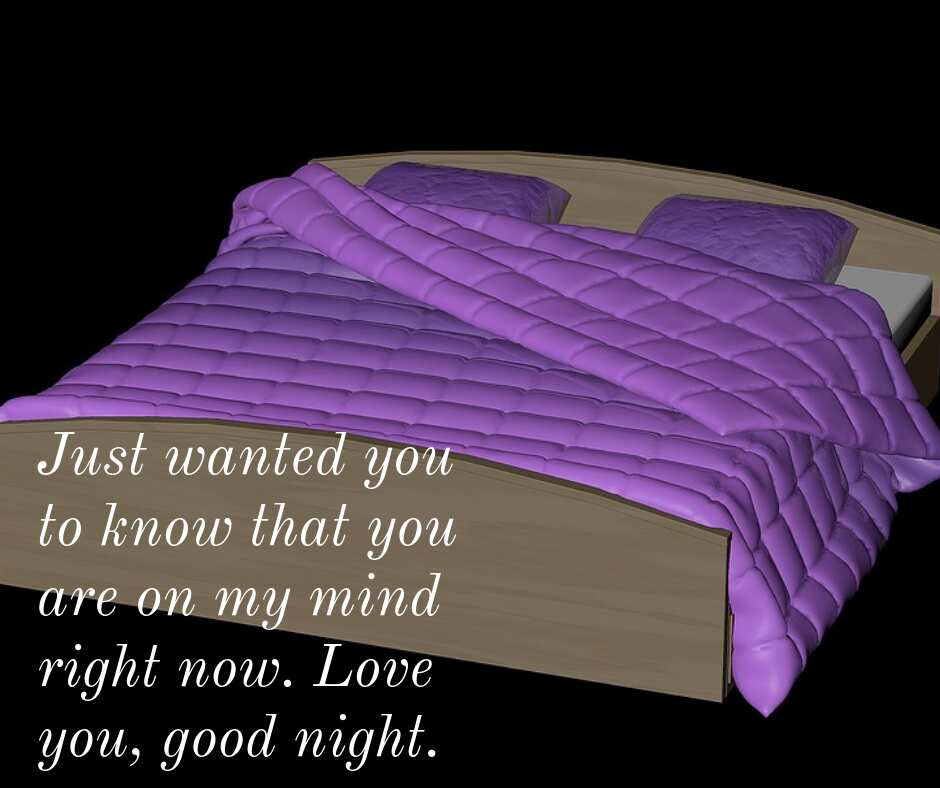 Flirty messages are not for teenagers only. Send the following good night messages to your wife to make her feel the affection you have for her.
Just wanted you to know that you are on my mind right now. Love you good night.
When you see a star in the sky, close your eyes then make a wish. I did the same, and it worked for me. I wished for you to be in my life. Good night.
When the wind blows at night and blows my hair, I like to think that those are your kisses. I cannot stand missing you this much. Good night, love.
Sleep well my love, but first, let me fill you with kisses and hugs, whispering in your ear, telling you how much I love you. Reminding you that no one in this world makes me feel special like you. I love you.
Caring messages her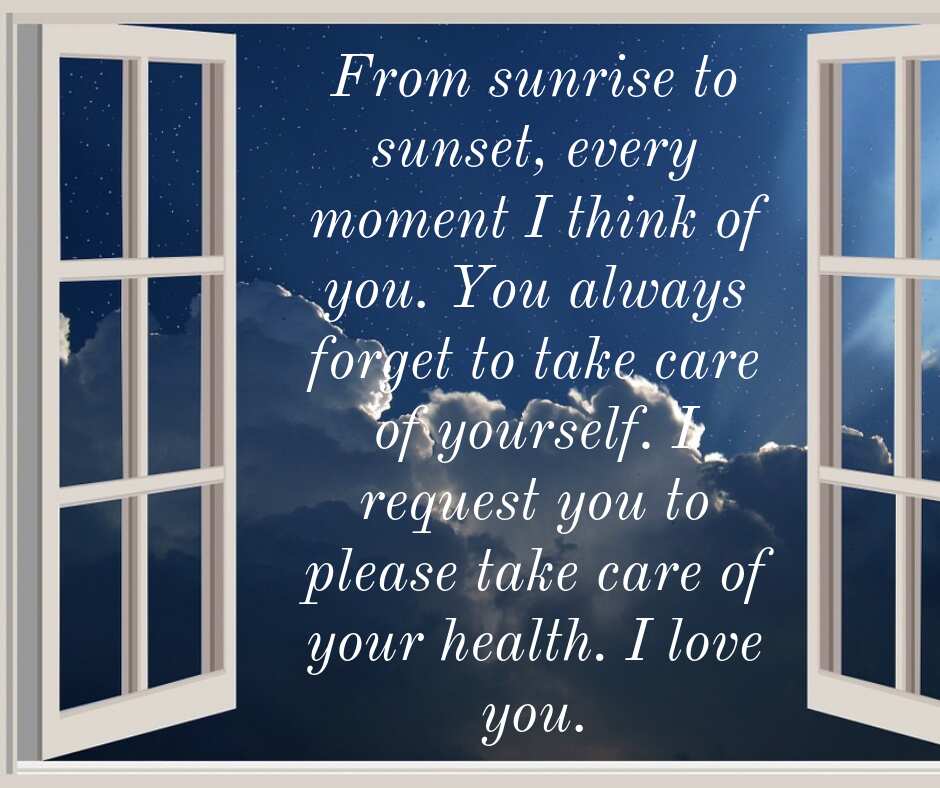 A wife is an angel that lives in every family. They make a husband handsome and complete. They create and take care of your home and make your day more beautiful than before. Send her the following caring, goodnight messages to remind her that you love and care about her.
Behind every successful man is a woman. This is 100% true. Only for you, I am here today, for you my lady. Goodnight and always take care of yourself.
You are the most precious thing in my life. My prayer is that you are always safe. Stay happy always and take care, sweetie. Goodnight.
From when the sun rises to when it sets in the evening, every thought in my mind is of you. You always seem to care about others and forget that you need to look after yourself. I, therefore, call for you to start thinking more of yourself. Love you, my wife.
My little angel goodnight messages for wife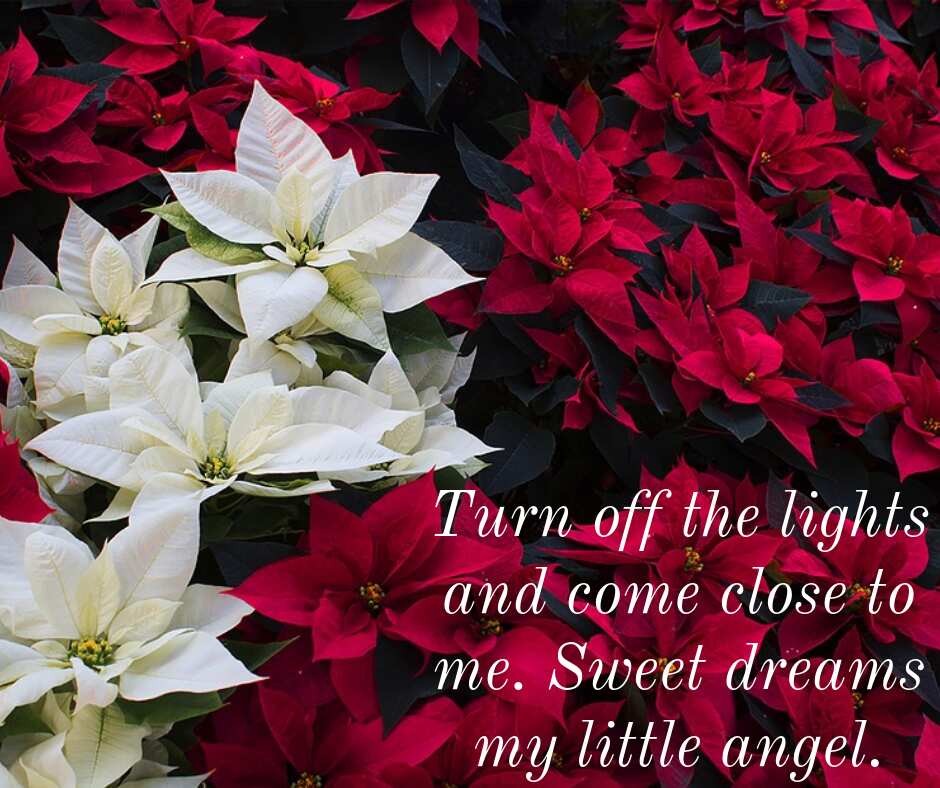 Send these sweet messages to show your wife that you still value her. Make her feel appreciated.
Turn off the lights and come close to me. Sweet dreams, my little angel.
Goodnight my, little angel. I love you to the moon and back.
Touch your heart, close your eyes and make a wish. The sky is so wide; the moon is shining bright. Goodnight, sweet angel.
The sun is gone, the moon is up. Goodnight, my love. I will always love you.
We all know that affection is one of the best feelings in the world. That is why our greatest wish is to be with someone who makes us feel loved and those that touch our hearts. It is always important to keep in touch with your partner and keep the romance alive. Being married involves making her feel fed in love every day with small gestures to keep the flame burning. An excellent way to express love and a great way to show your wife that you love her is by wishing her goodnight using sweet romantic messages. Use the above love messages to show how much you love her.
READ ALSO: Short romantic love messages for boyfriend