Sweet love messages to make her smile
Cute and funny love messages – this is what you need to make your sweetheart smile when you are away from her. Send her a short text message with sweet or spicy words of love, and her cheeks will blush, her eyes will shine, and her heart will beat faster.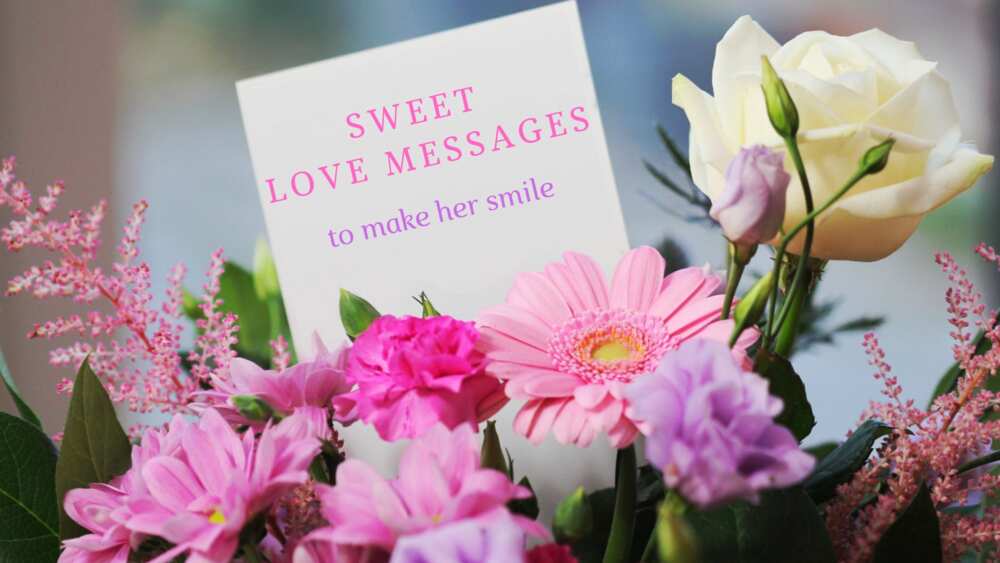 So, your goal is to make your woman feel excited and pleased. You know her better than anybody else and you know which words can make her shine. Now, your task is to compose or choose such a message that will stir her deep emotions and make her feel really high. You do not need to struggle with words because we are here for you with our collection of romantic quotes, spicy flirty messages and the cutest words of love any woman would like to receive. Just keep on reading and discover our collection.
Romantic quotes to make your girlfriend's heart melt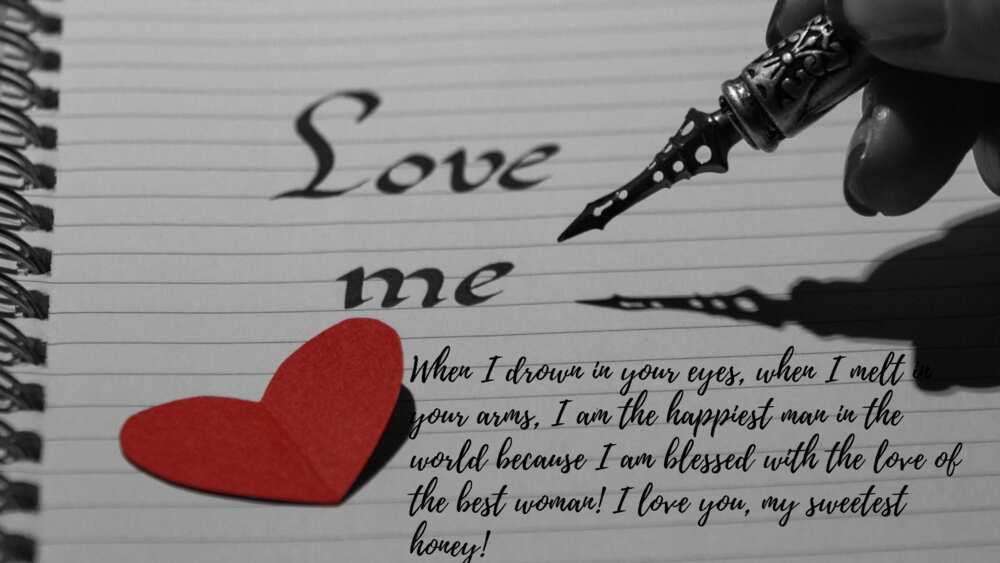 Sweet romantic words are never out of fashion. Send your dearest woman a couple of lines filled with good old romance, and her eyes will turn wet. You should not be afraid of looking slightly old-fashioned: it is classics!
Last night I dreamed that the most beautiful woman in the world was mine. I woke up and understood that it was not a dream. You are the most adorable, prettiest, most amazing woman in the world, and you are mine! I love you!
Since I have you in my life, there is no emptiness, no blank space in it. You fill my life with light, joy and adoration, and I will thank you for this until the end of my days!
When I feel your arms around me, all my imperfections seem to turn into perfections. Your love makes me the best version of myself. Your care is magic!
READ ALSO: 50 happy new month messages, wishes, prayers and quotes
I would never want to be immortal and live all those eternities without you. One life by your side is better than infinite ages without you. I will go crazy about you always, my beautiful wife!
Sometimes I think what so good I have done to deserve your love and care. Then, I understand that God has sent you to me just to teach me what the perfect shape of love is. I adore you more than anything in this world!
When I drown in your eyes, when I melt in your arms, I am the happiest man in the world because I am blessed with the love of the best woman! I adore you, my sweetest honey!
Good morning messages to help your girlfriend have a good day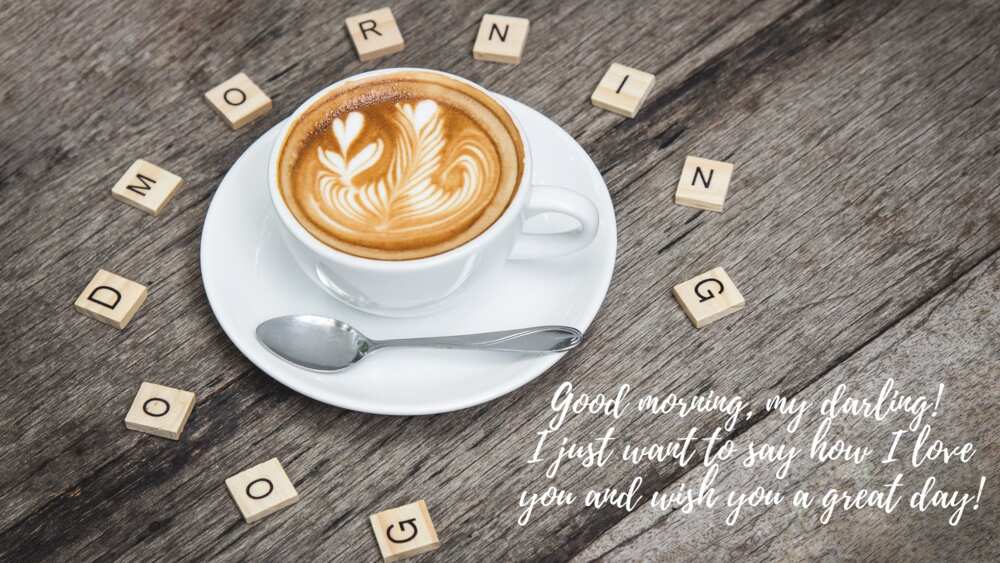 Even if you wake up at the same time and part only when each of you heads for their own workplace, never doubt to send your dear lady a couple of tender phrases. They will uplift her mood and help her cope with a working day.
Whatever challenges you face today, remember: you are the best! I am proud of you, and I cherish you more than anyone else!
I may not always start your day with words of love, but you must know: the first thing I feel when I wake up is adoration because you wake up next to me.
Sorry, I needed to rush out so early this morning, but I take my chance to say how I adore you right now! May your day be enjoyable and pleasant!
READ ALSO: 75 romantic good morning my love quotes and messages
Good morning, my sunshine! Being away from home is so tough because I cannot see your first smile when you wake up. Cannot wait to be back as soon as possible!
Good morning, my darling! May I take a minute of your time? I just want to say how I love you and wish you a great day!
I think we need to move in together finally. Sending you good morning texts is not likely to work forever.
Flirty text messages that will make her cheeks blush
Send your woman a flirty message of love in the morning, and you will be surprised by the effect in the evening. Waiting through the whole day will only heat the passion. However, you need to be very careful, there must be an individual line that must not be crossed.
The night we had was magical. Cannot wait to repeat it! Hope you enjoyed it, too, my beautiful babe!
Good morning, darling! I have been thinking of you all night long, and now I cannot wait to hold you in my arms!
Hey sweetie! Here I am at my working place, thinking only about the warmth of your embrace and getting more and more excited at the thought of our meeting in the evening!
Did you feel it right now on your lips? I was dreaming about kissing you, and the dream was so real! Going crazy about you, honey!
Good morning, honey! The day has only started, but I am already waiting for the evening to see you again and hold your amazing body so close to mine.
I have such a heap of work to do, but my mind is all distracted thinking about how beautiful you were last night among all those tossed bedsheets.
A thought about you was the first to wake up in my mind and body this morning. Hope you have a nice day, and I will try to make your evening even better.
Cute quotes that are as tender as a Teddy bear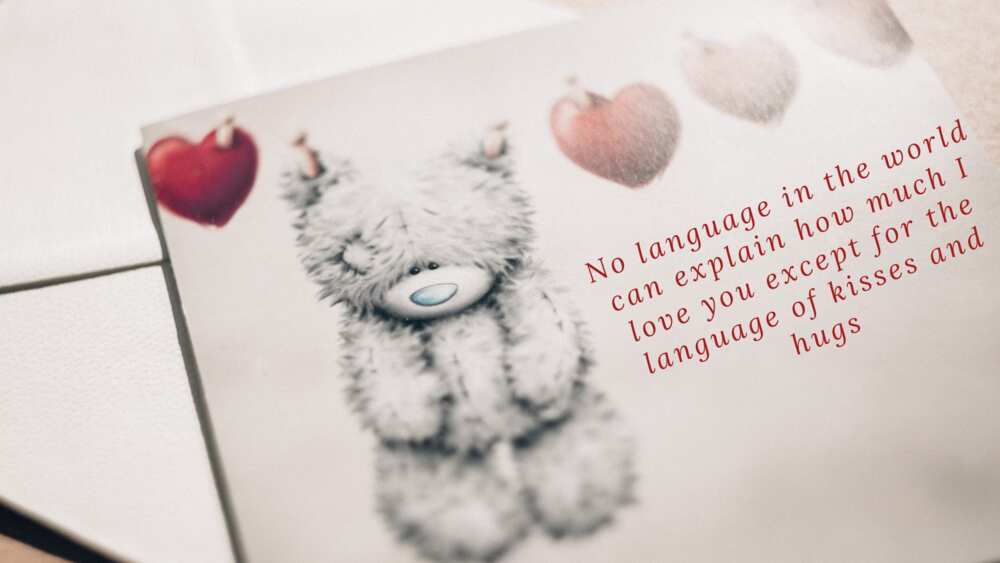 Sometimes, a woman needs to hear something warm, something that sounds as fluffy as a toy to cuddle with. Give her this pleasant emotion and let her feel cosy and comfortable with these love texts.
Whatever happens, I will always be by your side. I will never let this world hurt you because I adore you.
Your smile is my sunshine and joy. Promise I will do anything to protect this smile from fading. I adore you to the Moon and back.
This world may change, everything may change, but the only thing that does not is my love. You are the one I cherish now and forever.
I want to be the man who receives your most favourite hello and your toughest goodbye. Cannot live without you!
No language in the world can explain how much I love you except for the language of kisses and hugs.
Sweet love poems that will amaze her!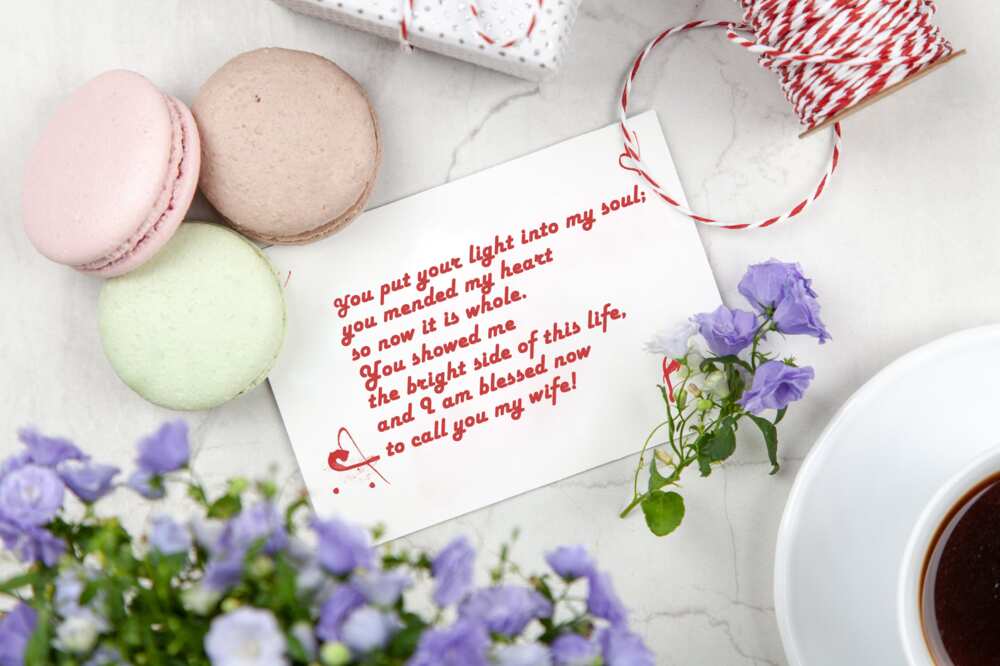 Okay, if you are not a poet, you still do not need to worry. There are fantastic poems you can use any way you like. Just send her such a poem, and your babe will be excited to have such a boyfriend!
My angel and my life, I dream of once calling you wife. My feeling is so true; my heart beats only for you. Of all other women, you are the one; if I am the Earth, you are my Sun.
When I first saw you, it was like a falling star. I think of you alone, no matter near or far. I want to hug you and hold you tight. Would you agree to date me tonight?
You are lightning that starts a fire. When I see you, I burn with desire. Your lips are red and intoxicating as wine. Through my whole life, I want to call you mine.
You put your light into my soul; you mended my heart so now it is whole. You showed me the bright side of this life, and I am blessed now to call you my wife!
The only thing I can now miss is your embrace and your sweetest kiss. I do not have enough of it even when we are together. I wish I could keep you in my arms forever.
Several short SMS texts about love with a deep meaning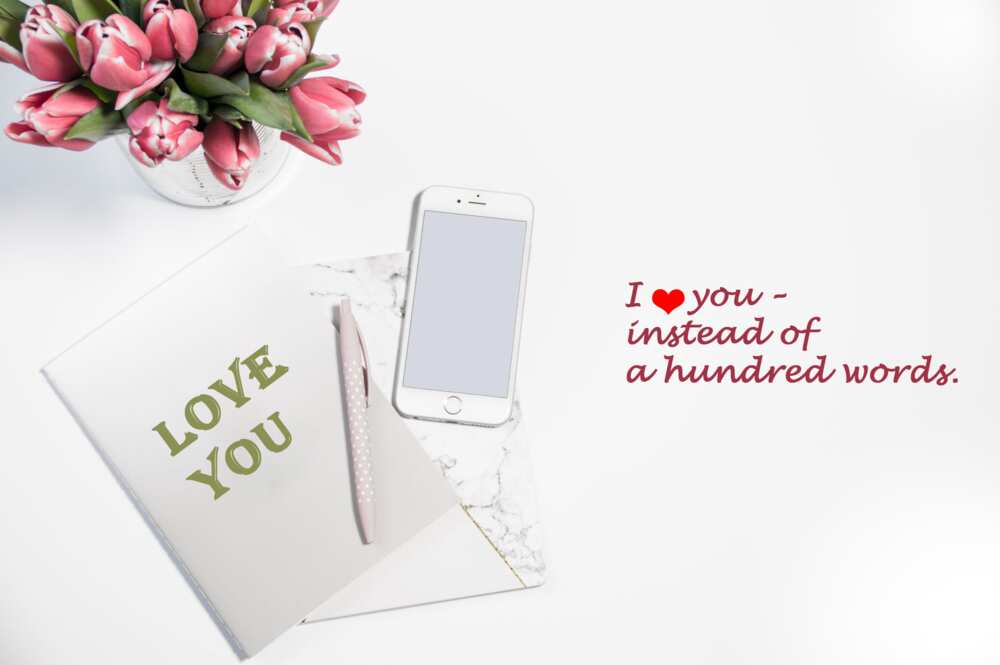 A short text message does not need much time to compose, to send, and to read. However, even such small lines can have a profound meaning, and your sweetheart will appreciate the emotional load.
I ❤️ you – instead of a hundred words.
Wake up next to you. Go to bed together with you. That is all I want.
Do you know the happiest man? It is me because I have you.
I want the entire world to know: I am the happiest man who has the best wife!
You are the song of my life. You are the light of my life. You are my life.
I never believed in fairy tales about love until I met you. Now I believe in you because you are this love.
Funny love quotes to make your dear woman laugh!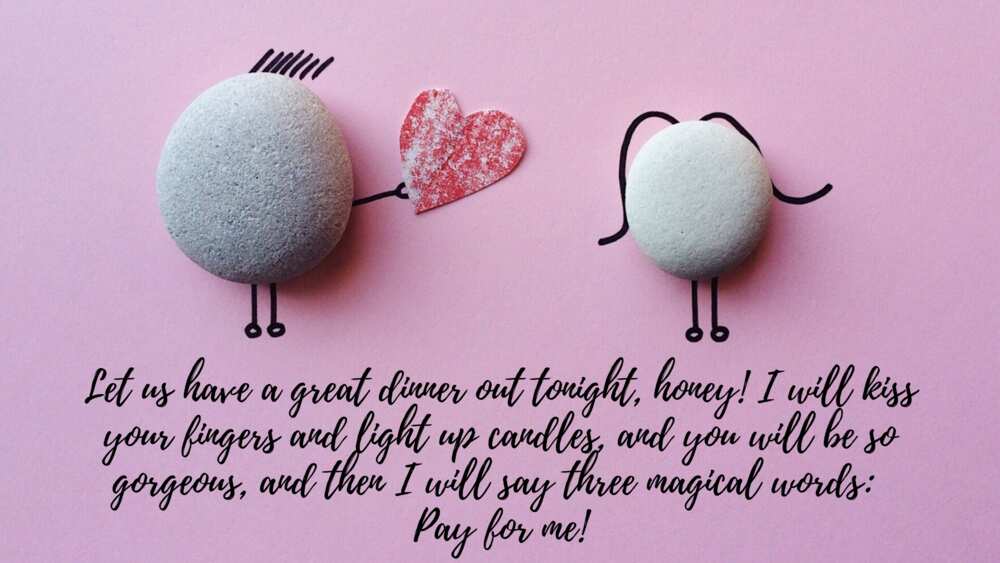 Being funny is very cool. Romantic and passionate messages are great, but if you add a pinch of fun, the dish will taste only better. Just try and see the amazing effect!
Wake up, sleeping beauty! No matter how pleasant those dreams about me are, meeting me in person can be even better! Good morning, princess.
Let us have a great dinner out tonight, honey! I will kiss your fingers and light up candles, and you will be so gorgeous, and then I will say three magical words: Pay for me!
Hey ma'am, you are arrested for driving me all crazy! Now I am going to put you into the prison of my tight hug and interrogate you with my hot kisses.
Do you know what I adore most of all in this world? It is the second word in this message.
Was your dad a thief? I mean, he must have stolen the light of stars and put it into your incredible eyes.
So, this collection of cute, funny, passionate and romantic love messages meant to make your darling woman smile and feel really cherished is at your disposal. Use these phrases as they are or build your own ones on their basis – it is up to you to choose the strategy. The only thing you can be sure of is the fact that your sweetie will appreciate any of them!
READ ALSO: Top 50 cute quotes and love messages for husband
Source: Legit.ng