Raven tattoo: meaning and 50 design ideas
A raven tattoo has to be one of the best existing tattoo designs at the moment. Considering the diversity of the designs for this tattoo, it is impossible not to fall in love with them. If you have come across people with a crow tattoo or even seen them in pictures, you can tell that they perfectly fit to be on different parts of the body.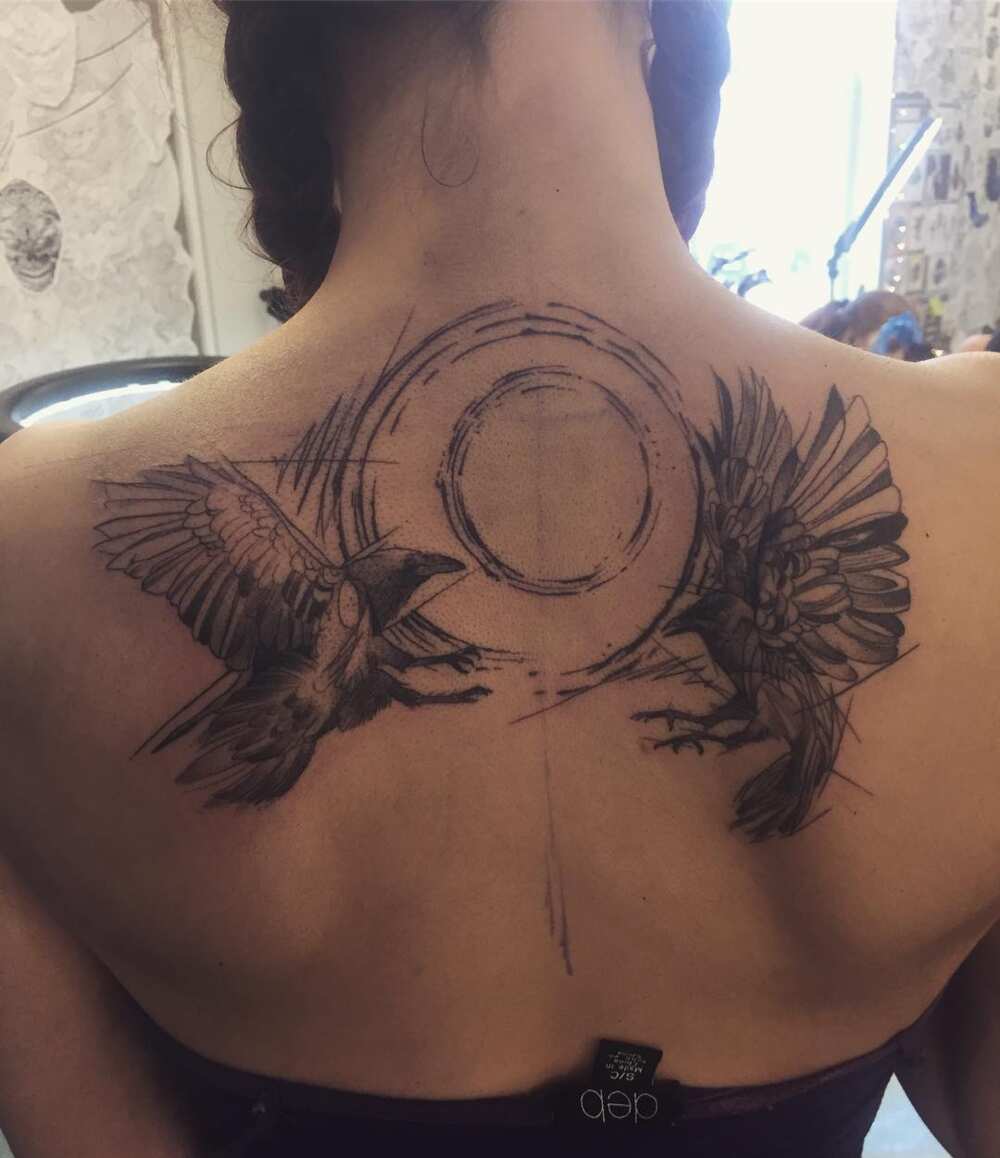 During the Neolithic times, the practice of tattooing was commonly done across the globe. The raven is often considered to be a mystical creature. However, there are different reasons that lead to people choosing to have a raven tattooed on their bodies. Some are fascinated by their mysterious nature and dark ambiance, others by their gloomy idolization, while others chose this particular species simply because they love and adore crows, among many other reasons.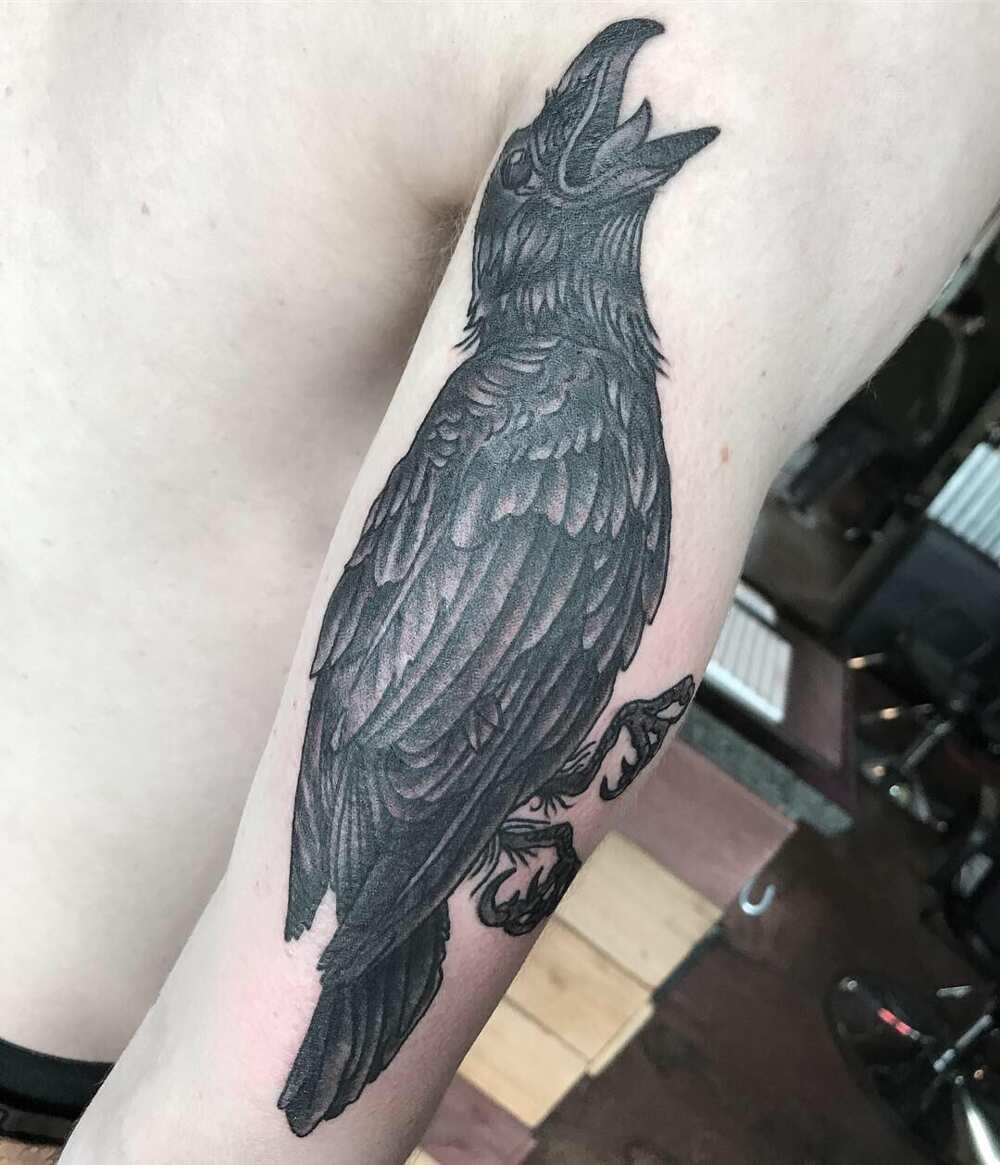 This design on the arm stands out and allows the details on the crow to be clearly seen even from a distance.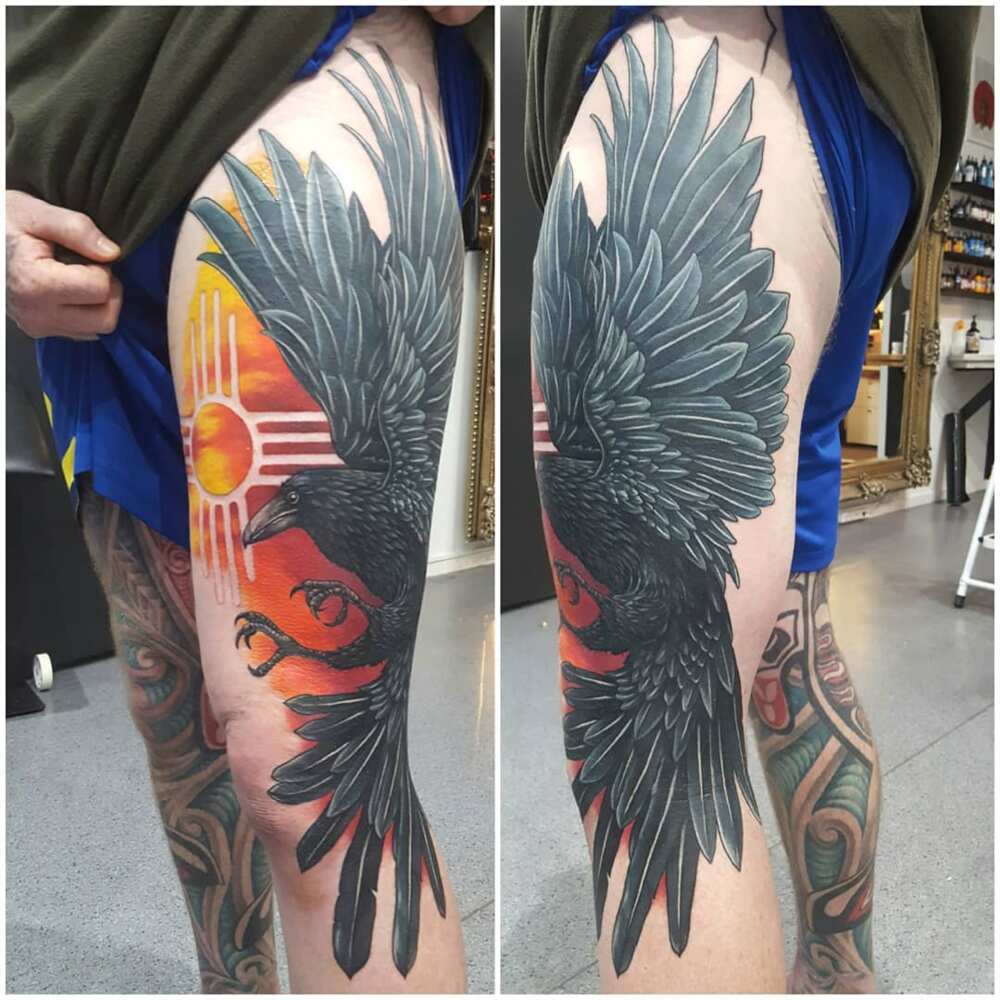 The distinct colors on this thigh tattoo allow it to pop even more. It is beautifully created and ultimately appealing to the eye!
Shoulder tattoos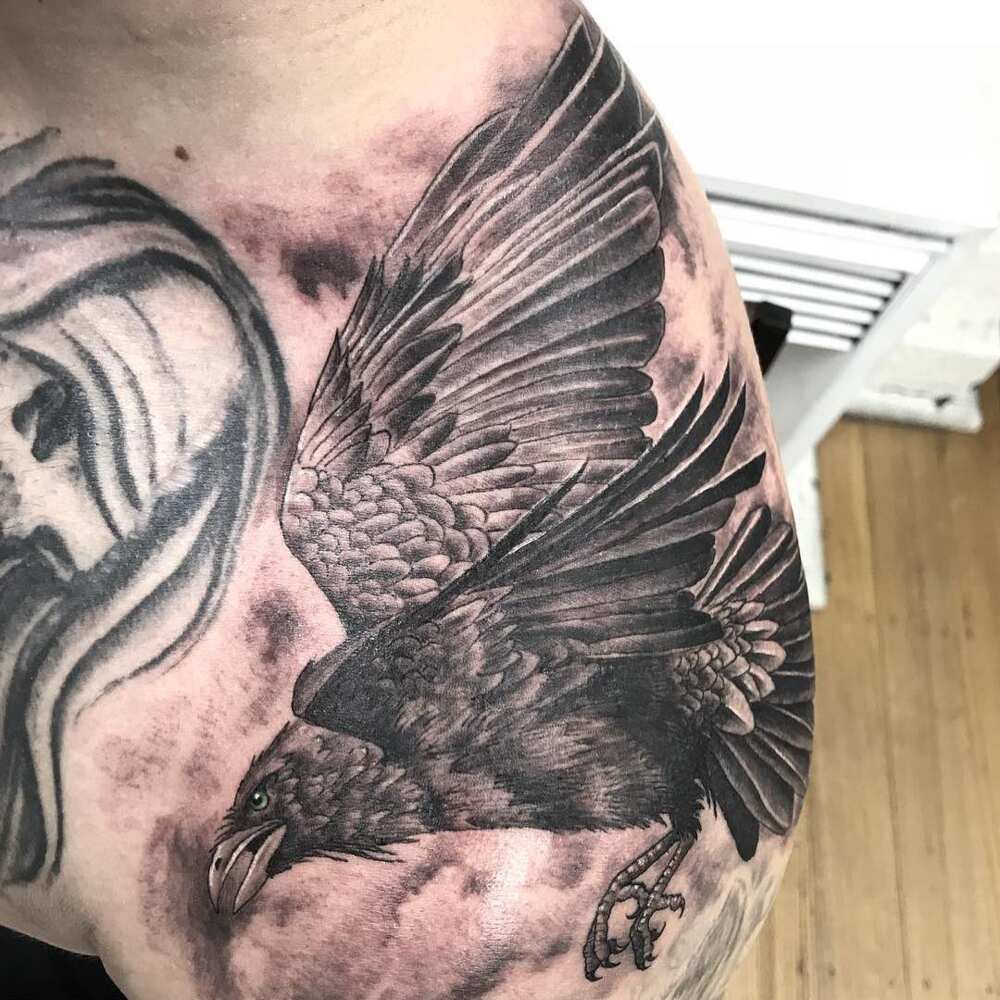 The beauty and sophistication in this skin-ink is something that you should seek to have in your tattoo of choice.
Fans of Edgar Allan Poe will definitely love this.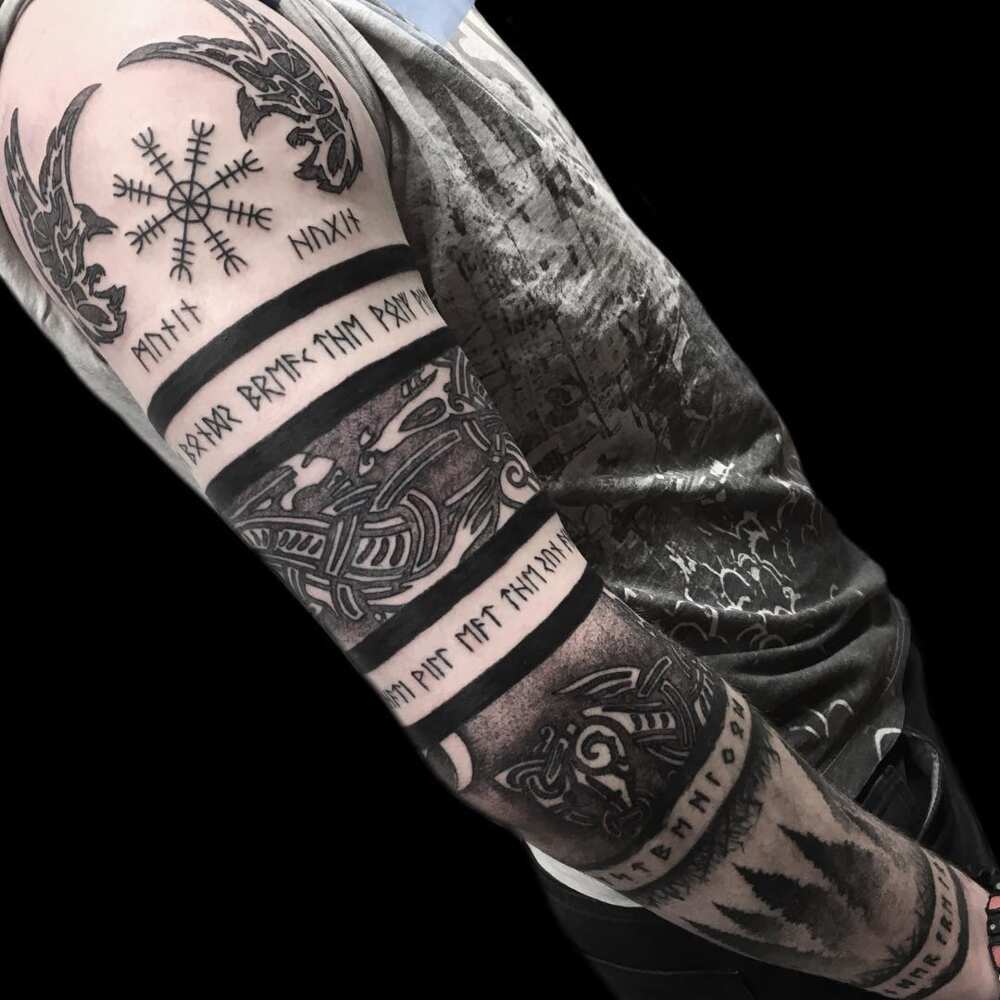 For this design, the crows appear at the very top of the shoulder followed by different images. In case you do not want your entire arm to be full of ink, you can choose to have the part that you like and leave out the rest.
READ ALSO: 35 simple henna designs to try in 2019
Flying crow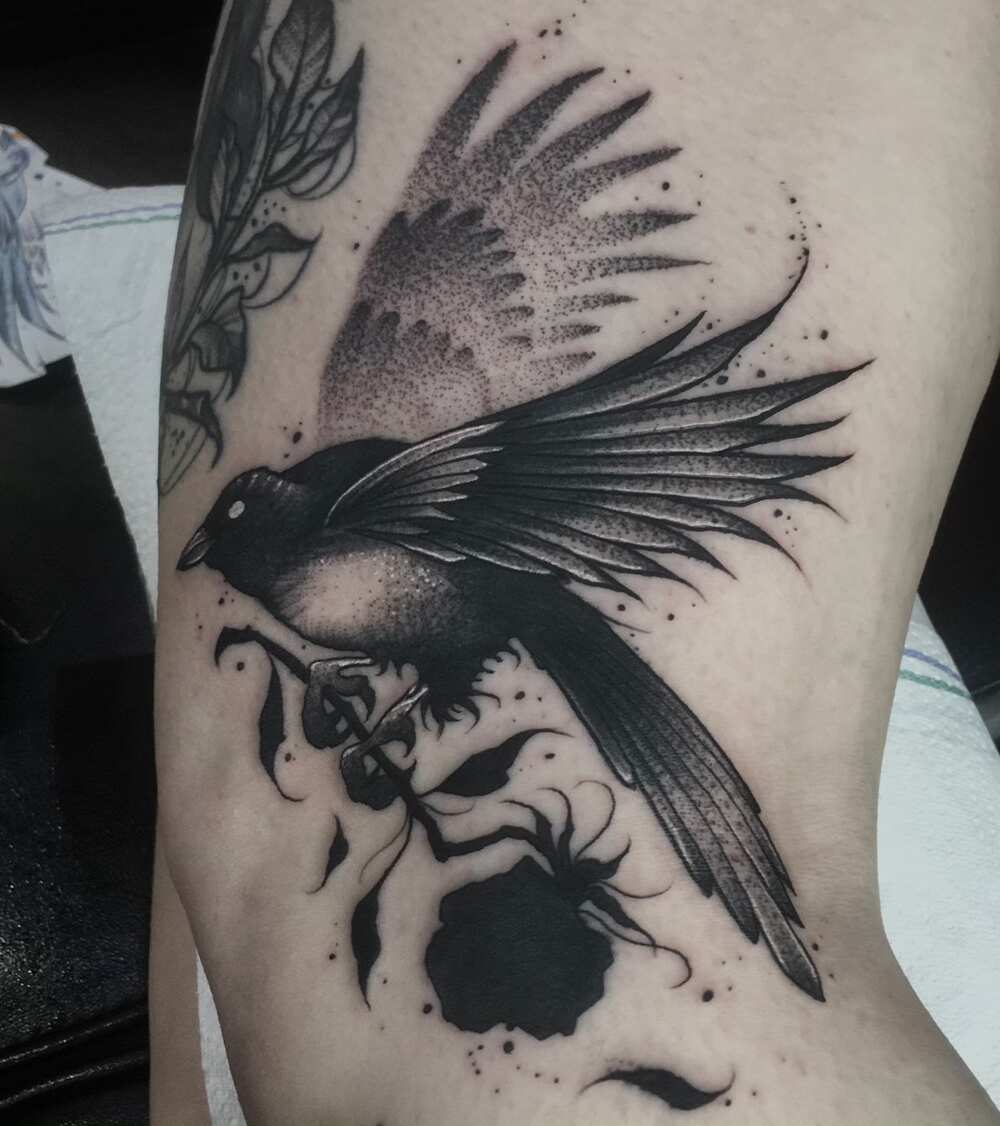 In this design, the crow has uprooted a small plant from the ground carrying it upwards. The most brilliant aspect of this one is how the soil particles are seen to be falling back to the ground as it would happen in real life.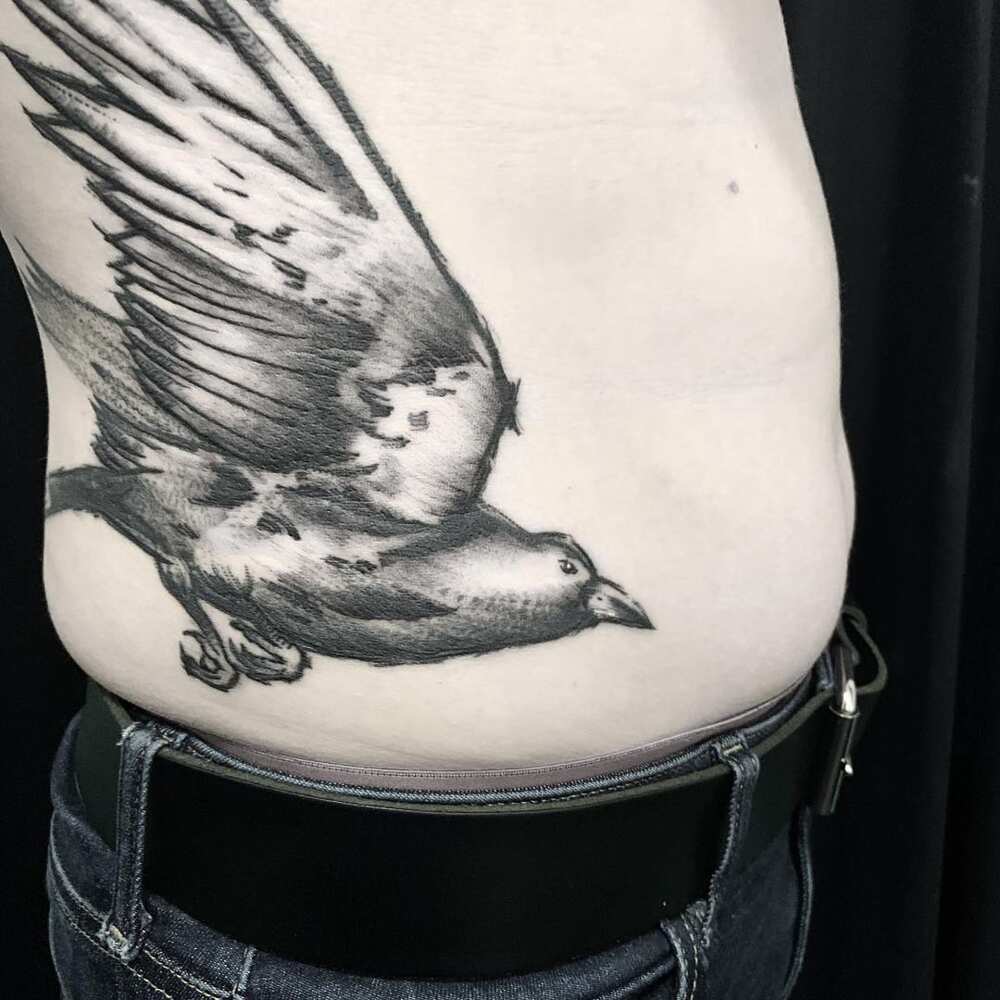 The large majestic wings of this crow have been able to portray the power that it holds intensively. The curved claws make the skin-inking appear to be even sleeker.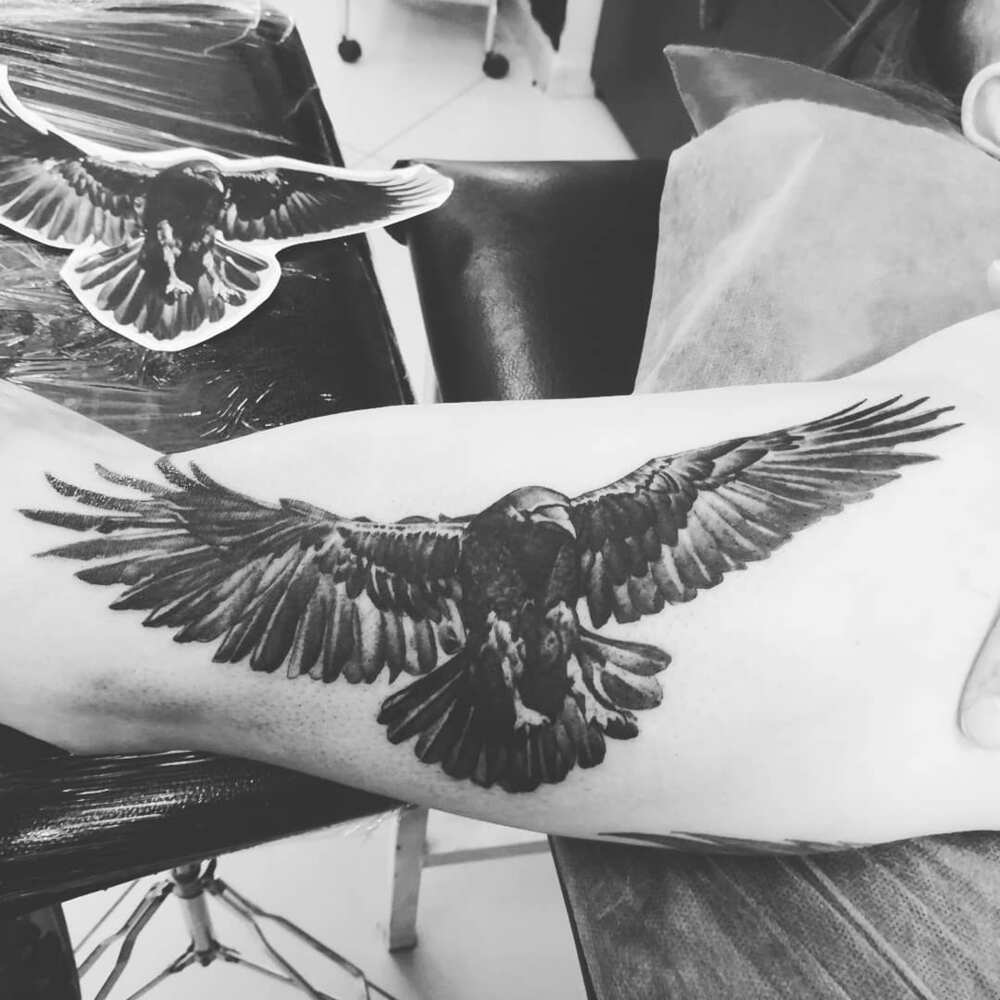 The crow here appears to be flying boldly with utmost confidence, showing no fear or intimidation.
White raven tattoos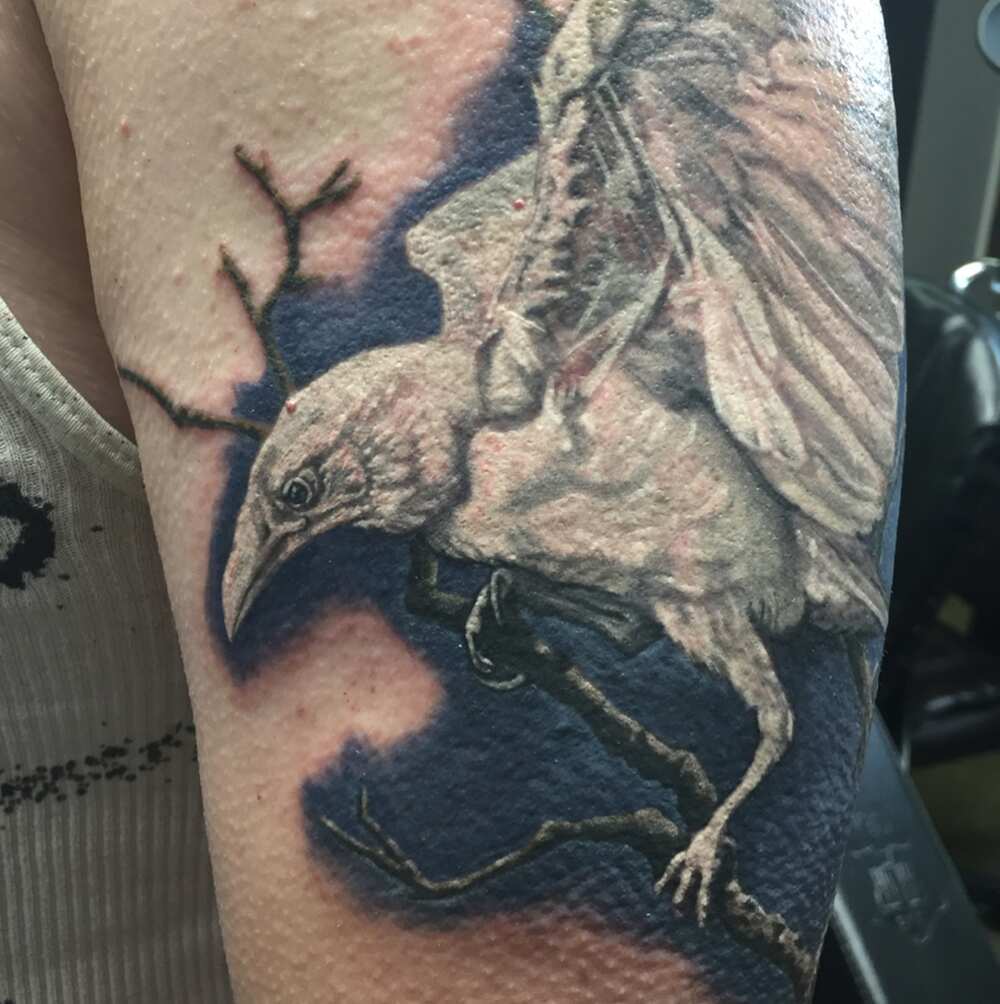 White is always such a beautiful color on everything, especially on animals. This crow appears to have an abundance of grace and purity.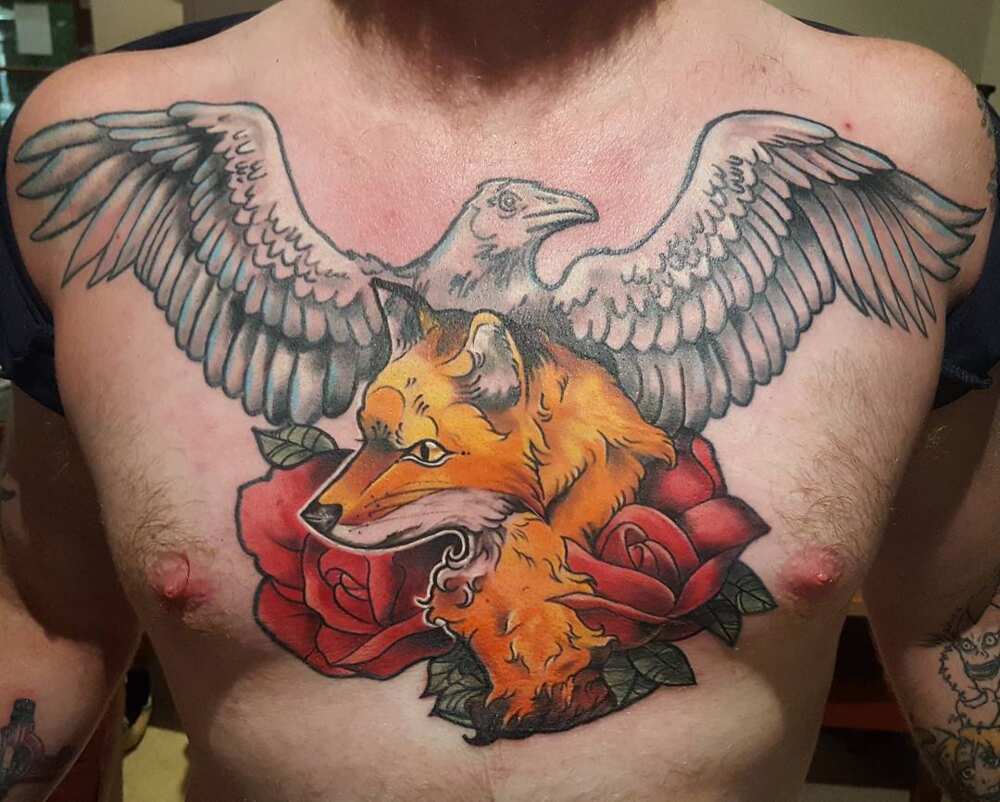 This is a unique design that consists of a wolf alongside a white crow whose feathers have a subtle hint of a blue color. The red roses warm up the skin-ink and allow the beauty of the raven to outshine the rest of the images.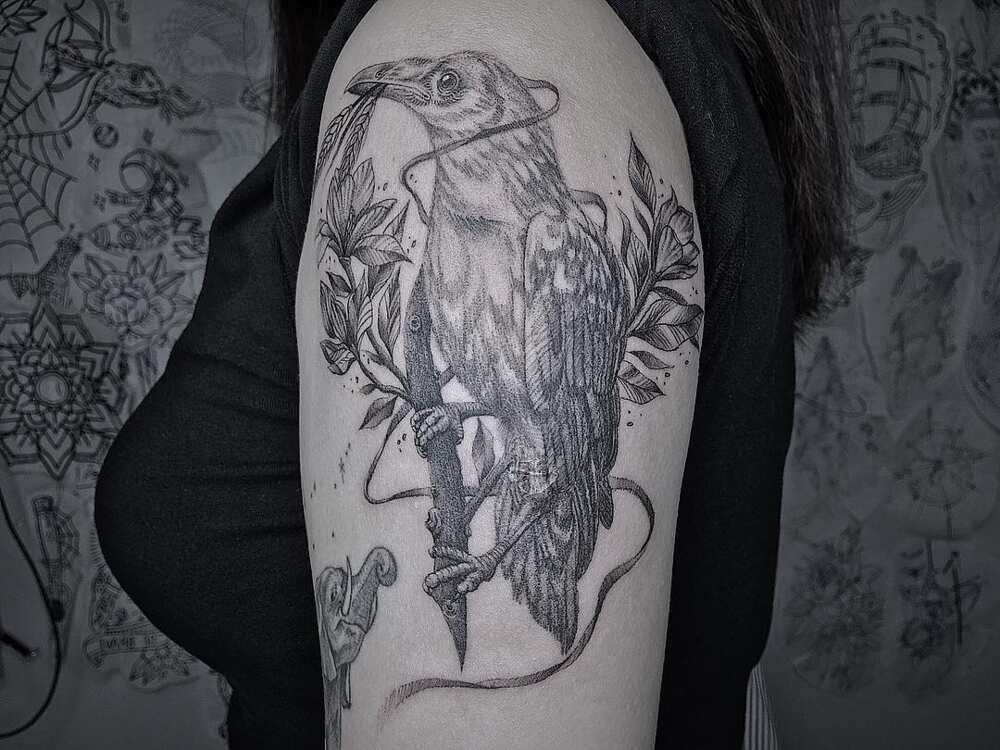 This appears to be a crow eating what seems to be wheat, holding onto a branch.
Crowned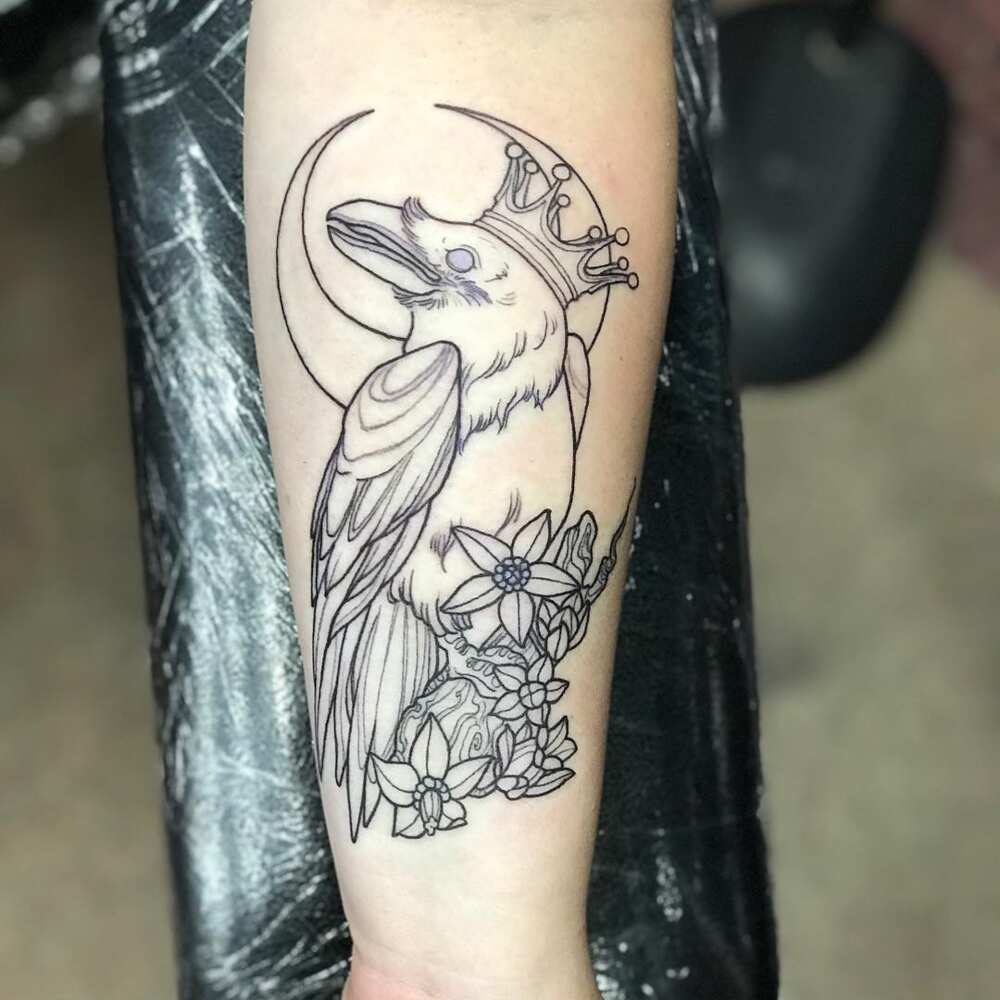 This design is something that anyone that loves to be in power should consider having because a crown is associated with authority, leadership, and outstanding qualities.
Purple flowers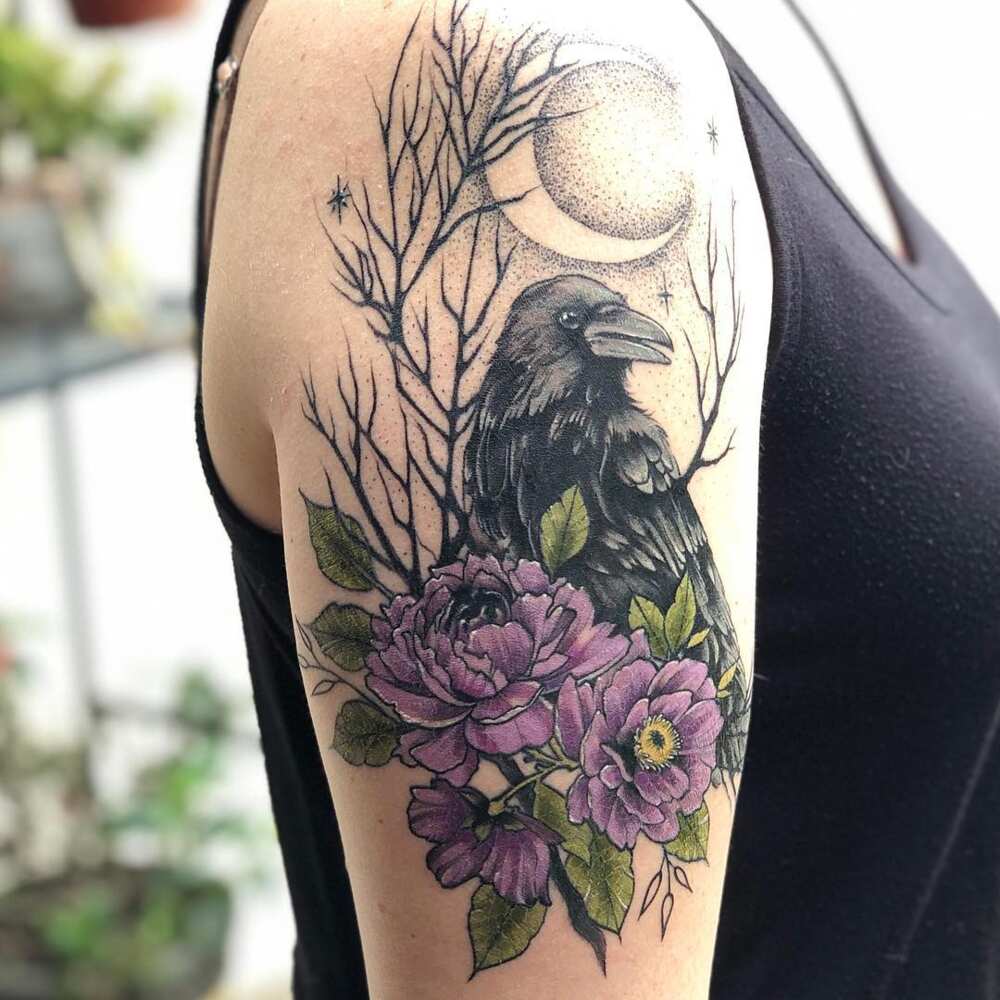 There is something about crows and purple flowers. They blend so well! The presence of the moon in this one gives further clarification that this is a night tattoo. How tiny details can change up the entire meaning and interpretation.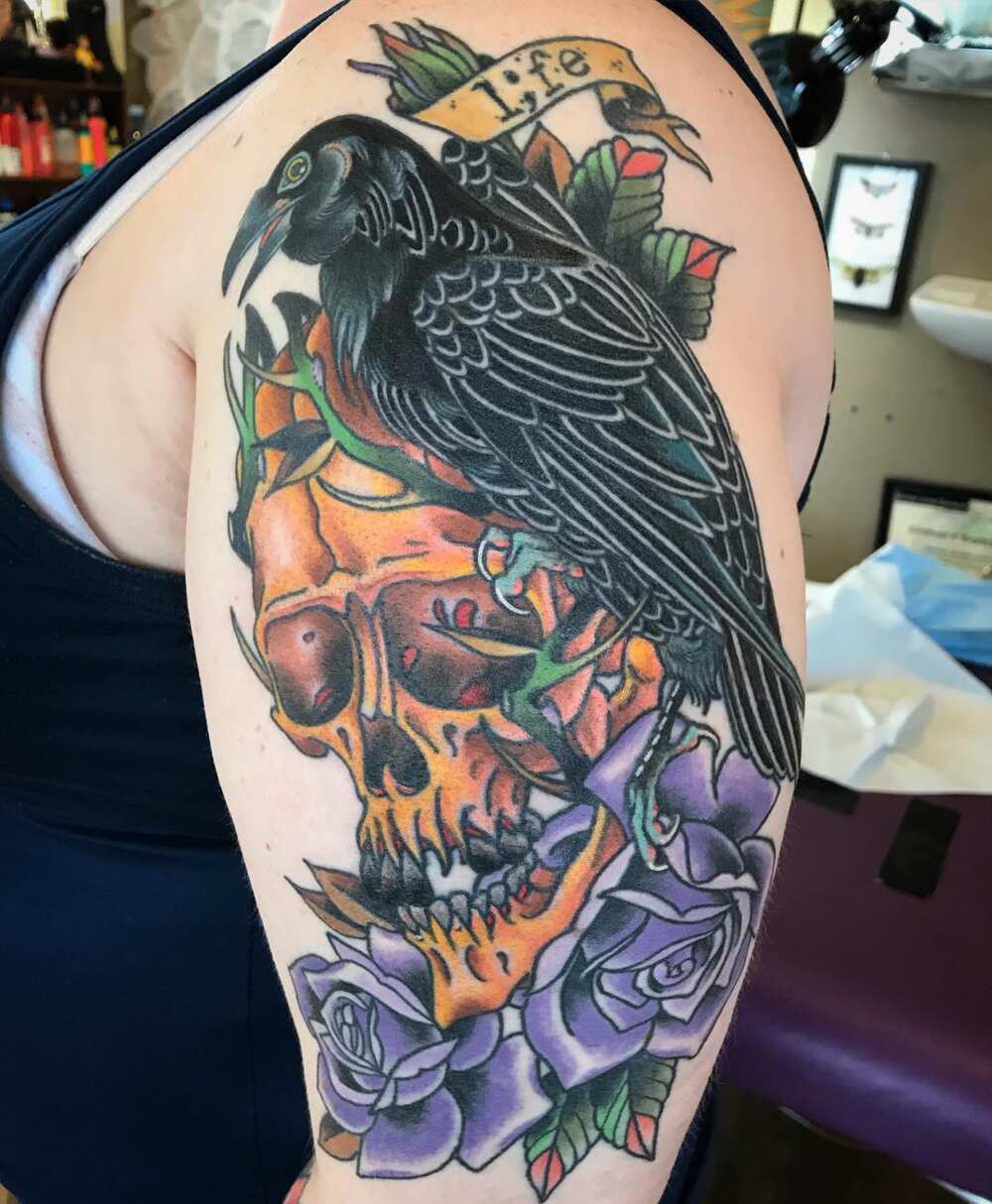 A pop of purple from the flowers, the orange skull, and green leaves and branches add more life to the ink.
Double ravens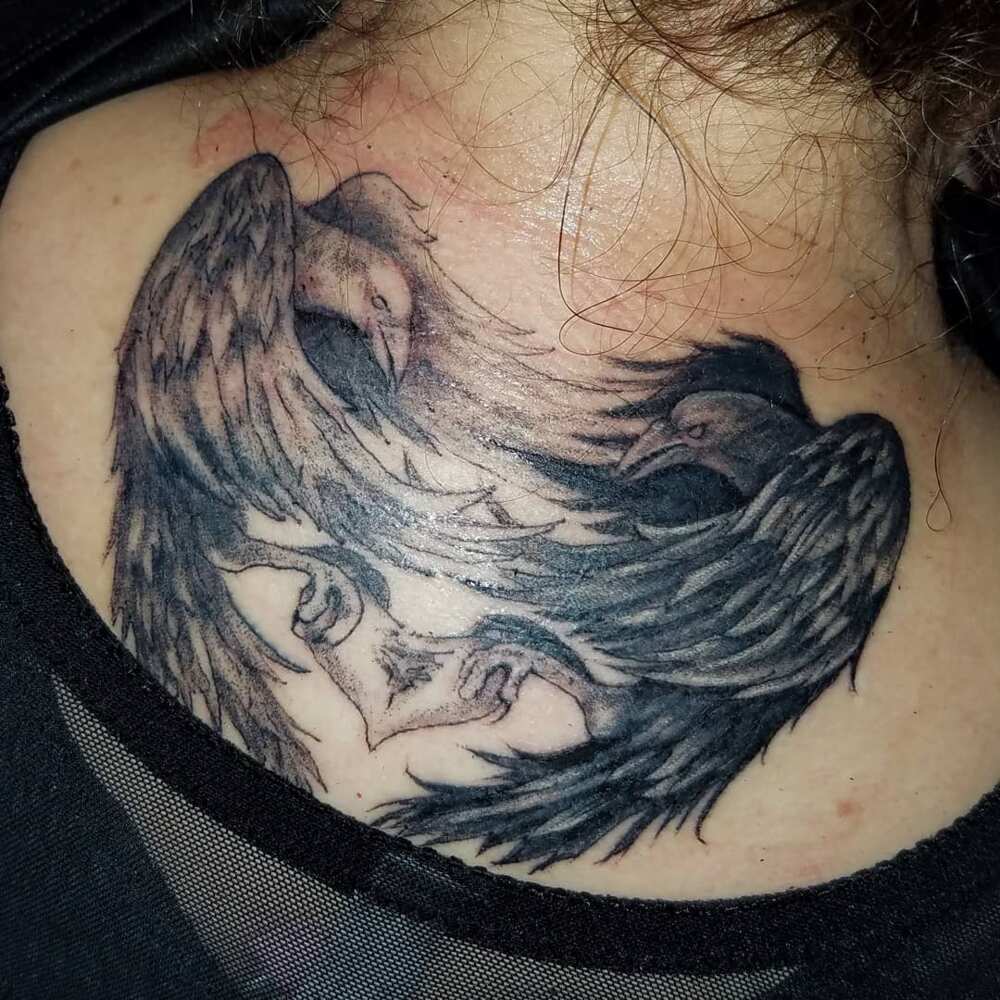 The crows in the image above seem to be connected by a heart, and none of them wants to let go. They could be in love or pulling away from each other. Such mystery is always intriguing.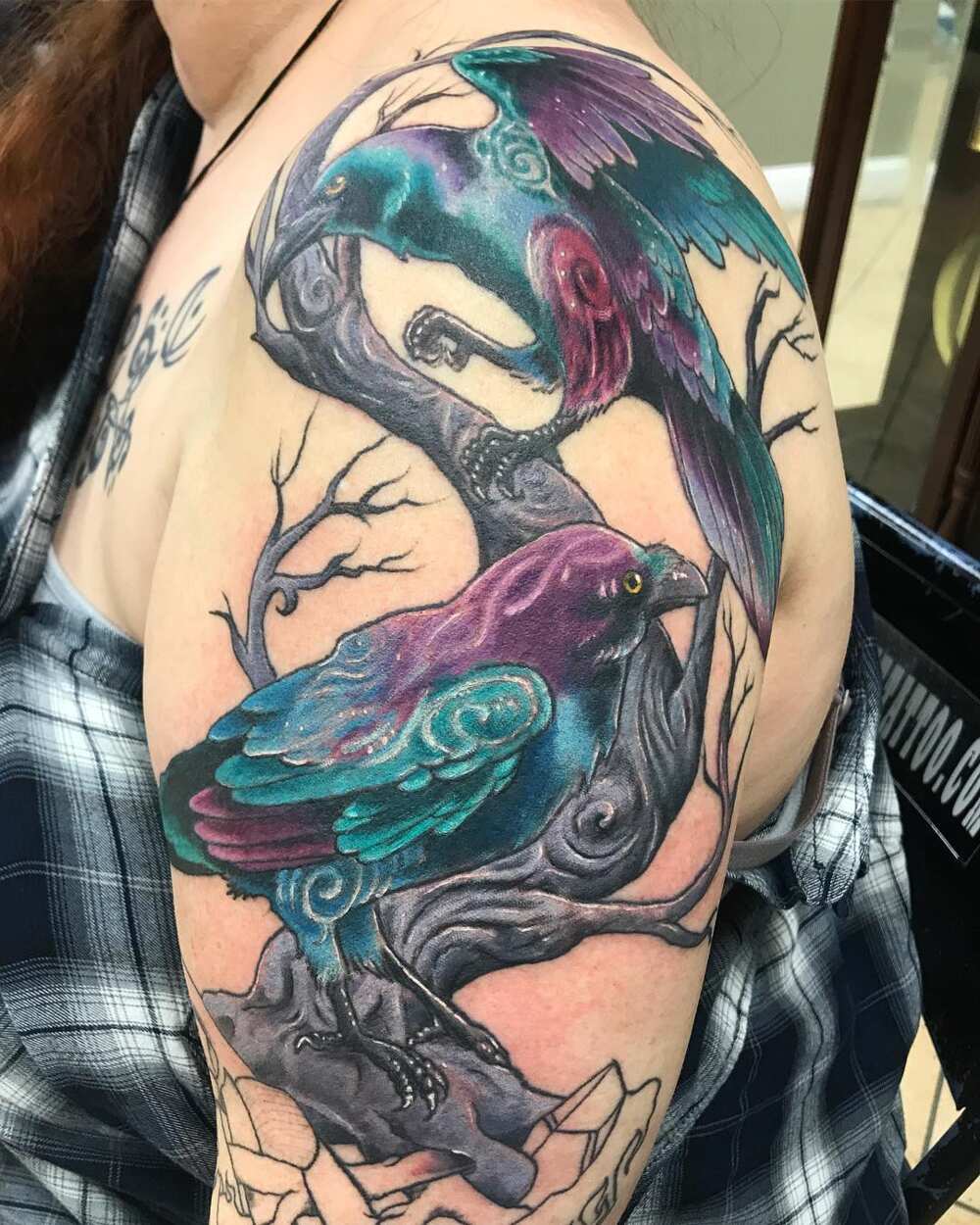 What's not to love about this design? The color combo in this skin-ink takes the vibe to a whole new level.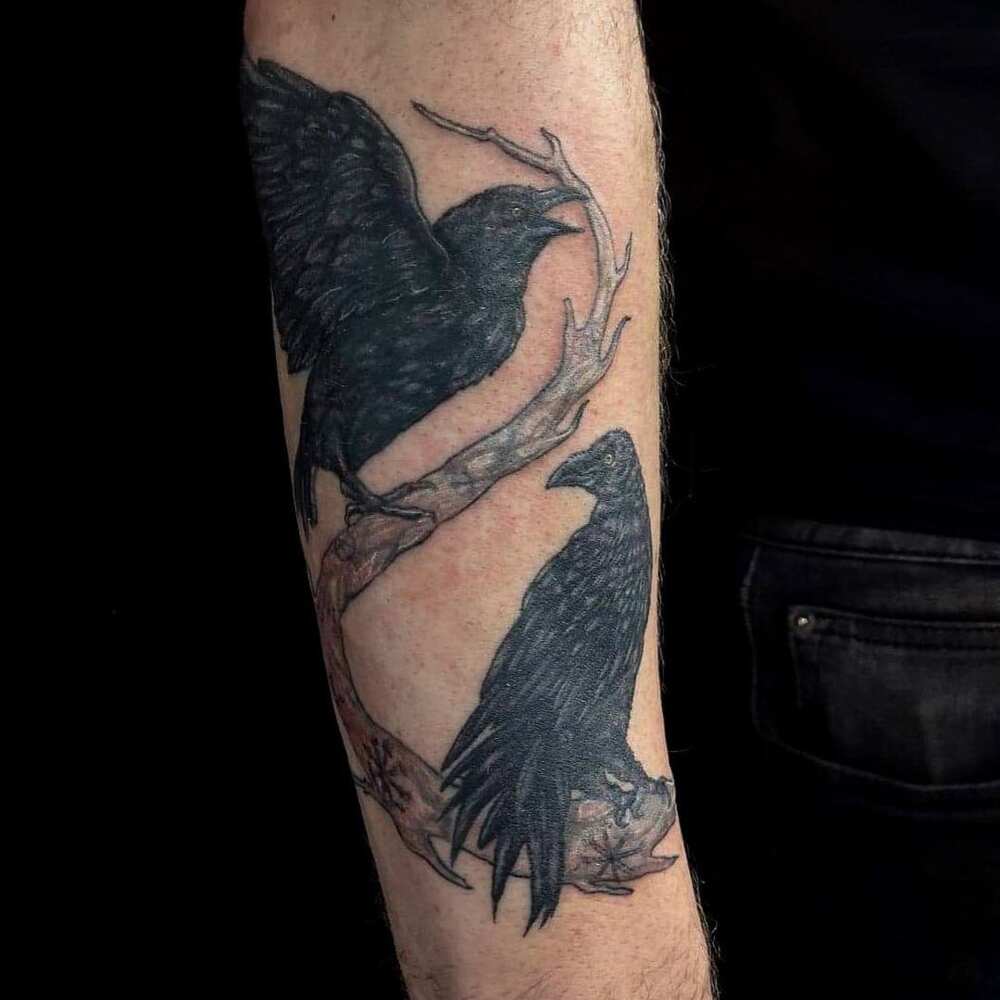 Unity and peace between living creatures are always so admirable. These crows are resting on one branch, appearing to be at peace and harmony with each other.
Colored ink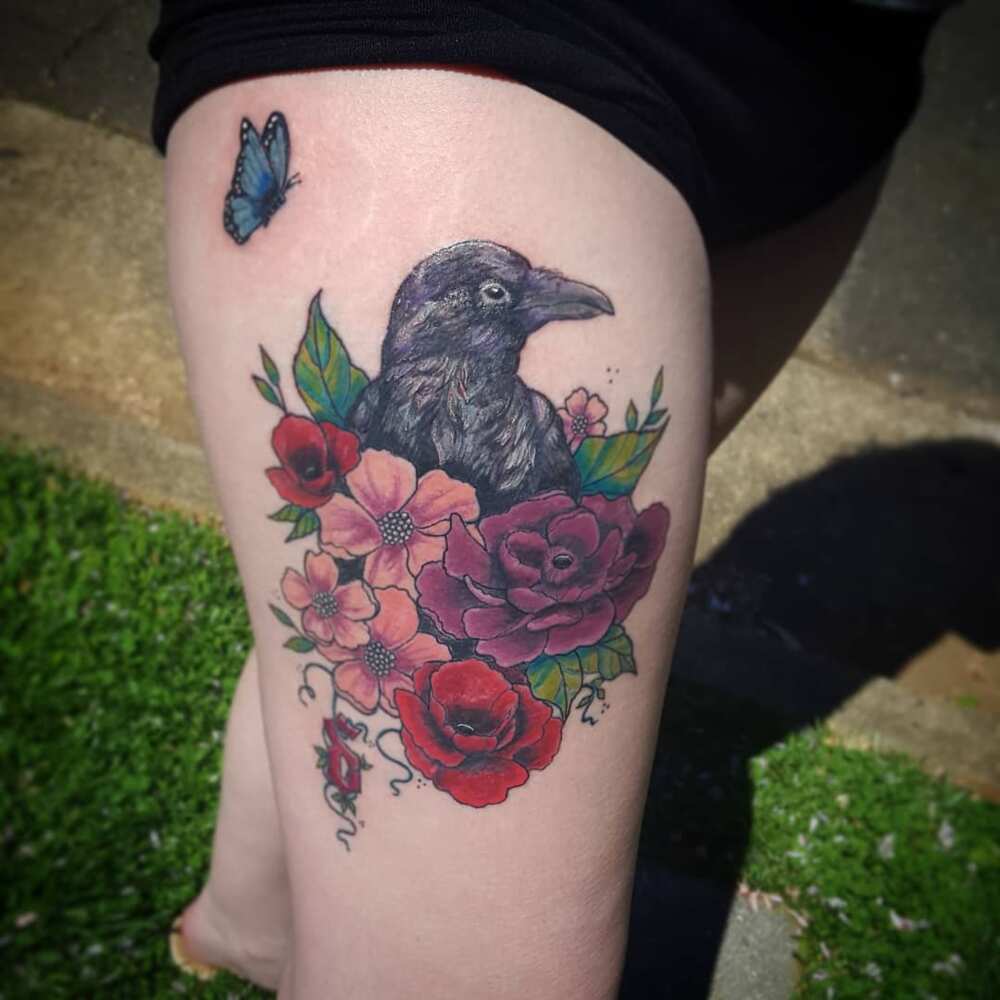 How does a tattoo even look this good? I mean! Clearly, colored flowers can completely transform the appearance of anything, including a tattoo. Keep that in mind.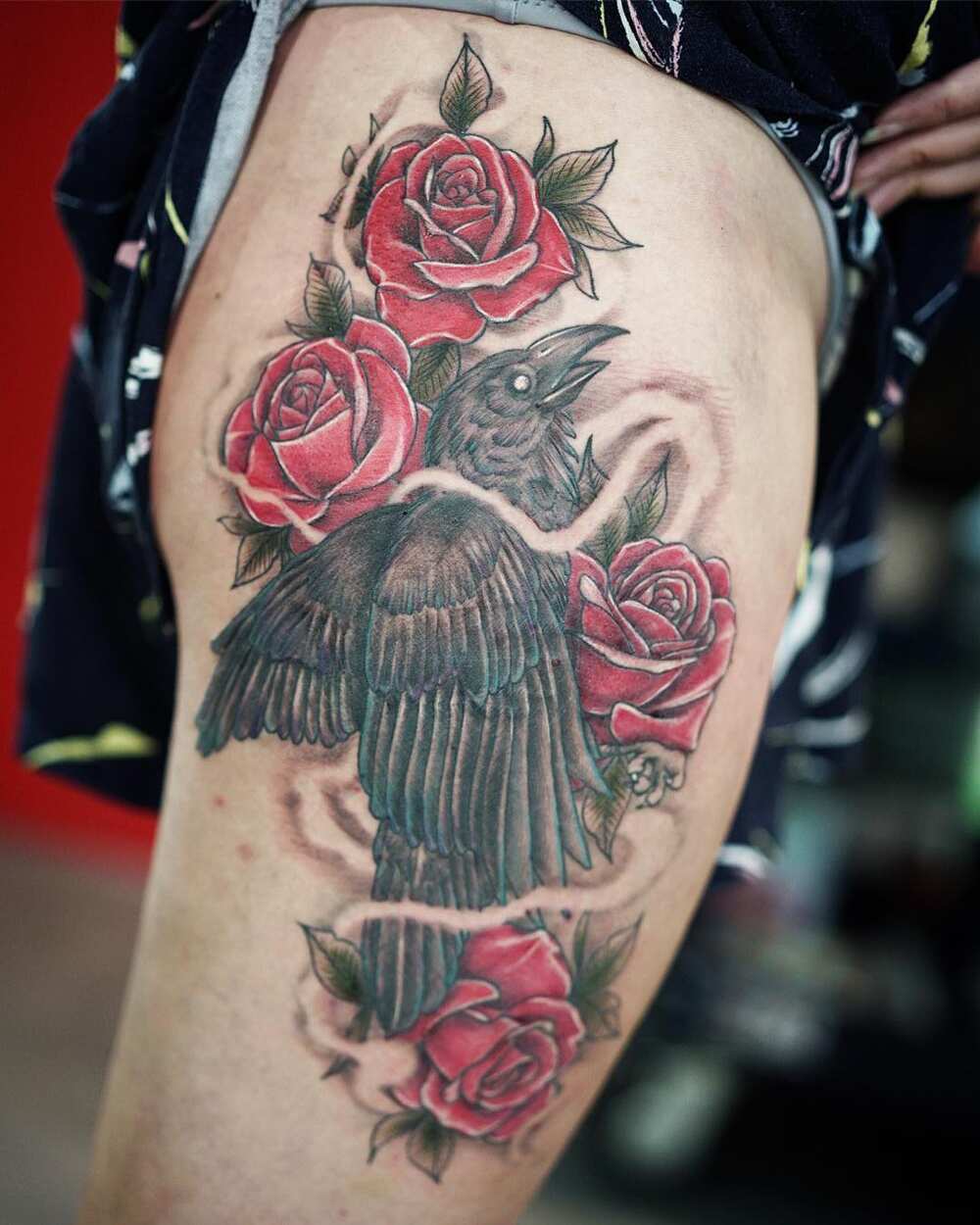 This crow appears to be entangled by the irresistible ambiance of the beautiful rose flowers.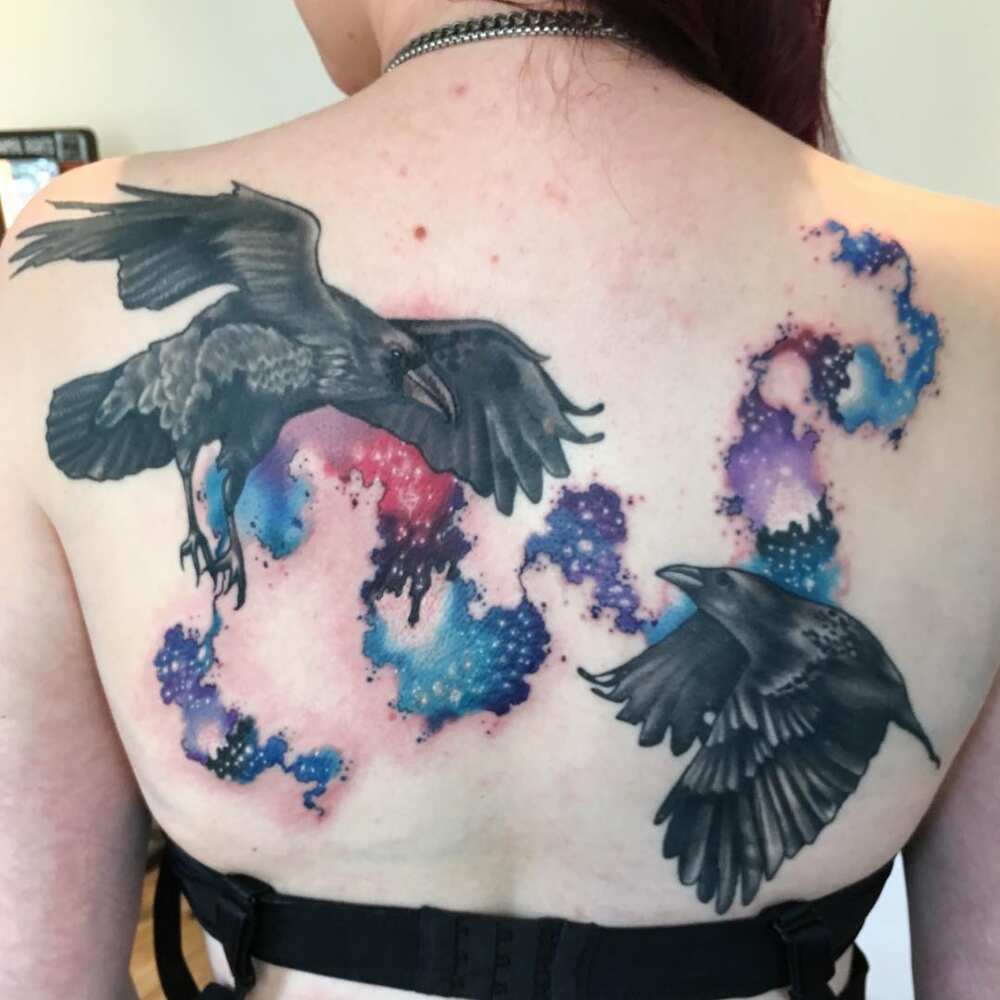 The specks of color in this design is definitely something worth trying as the outcome is stunning.
Crying out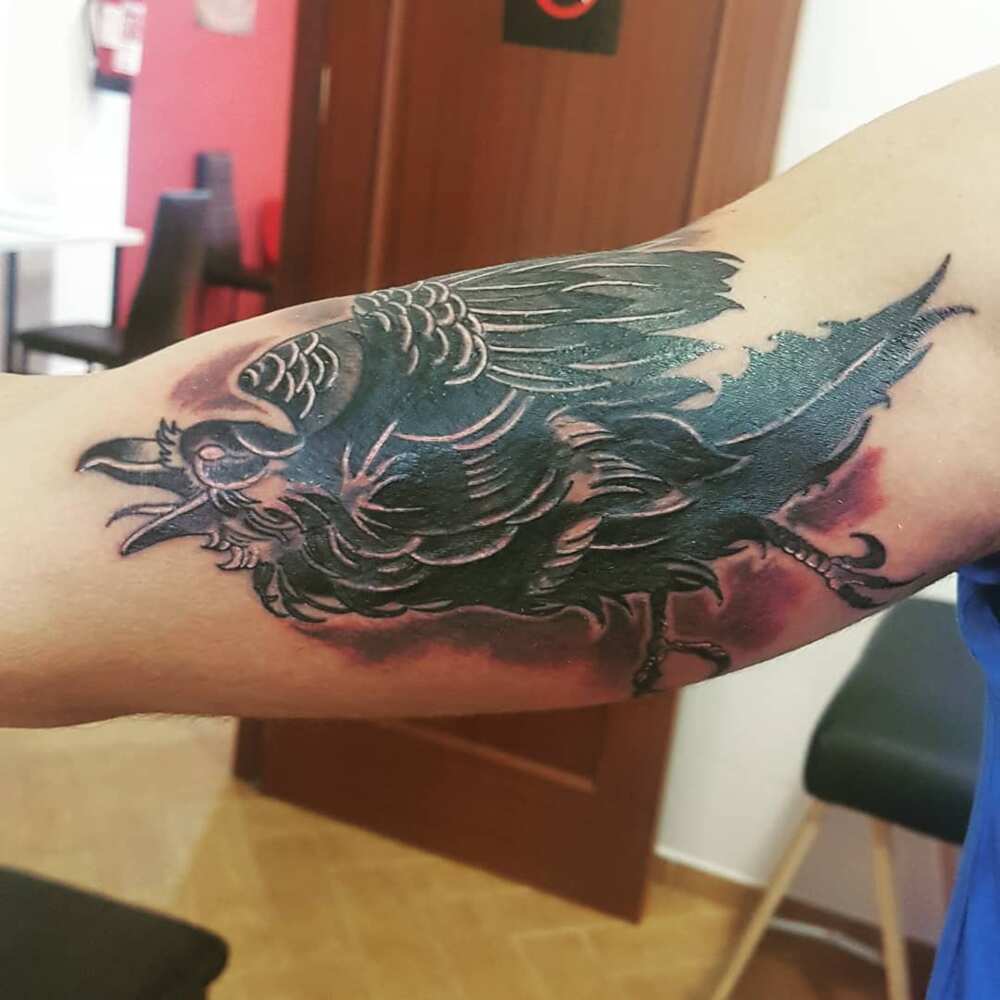 The sophistication in this design is breathtaking.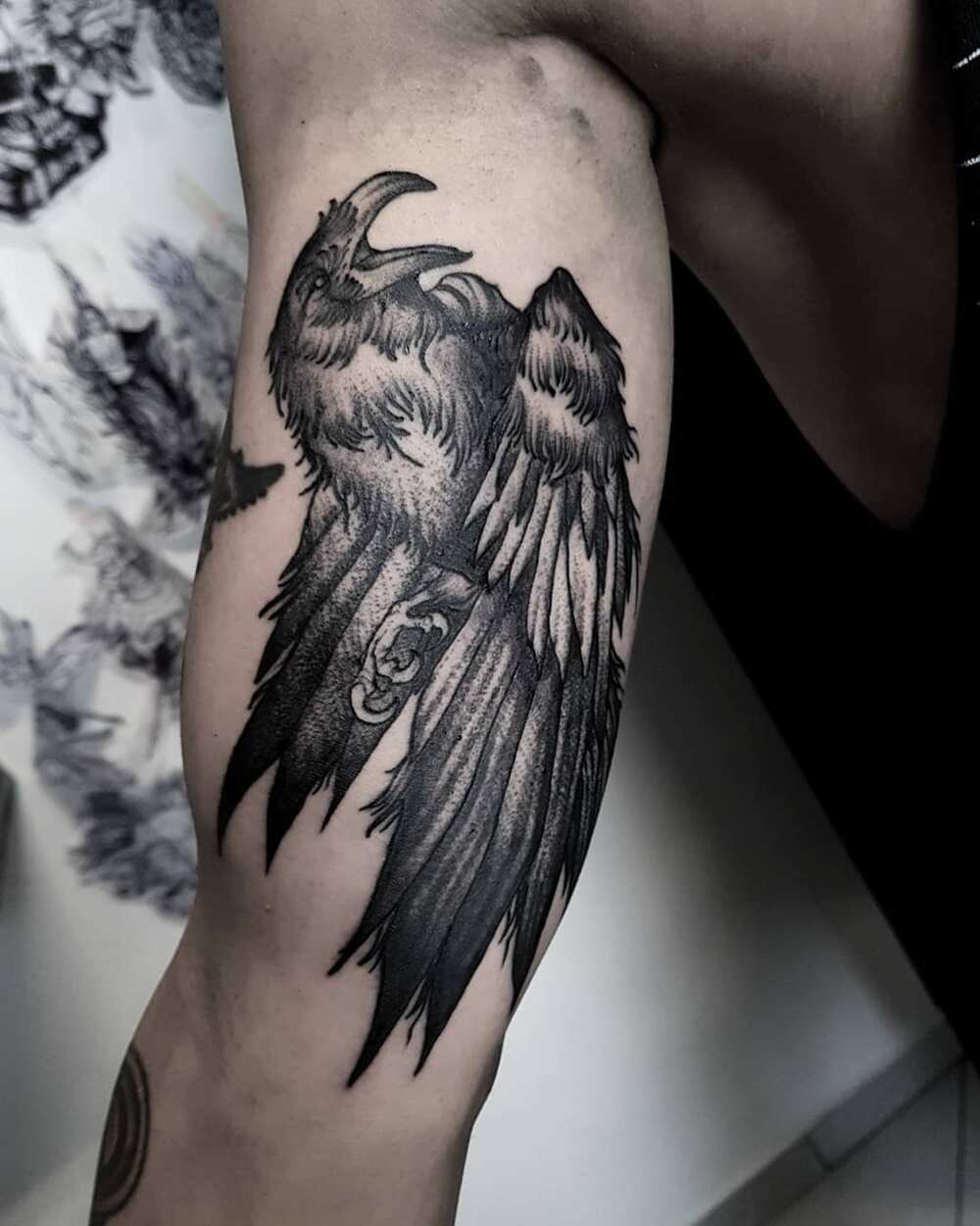 The feathers in this one are definitely the most eye-catching.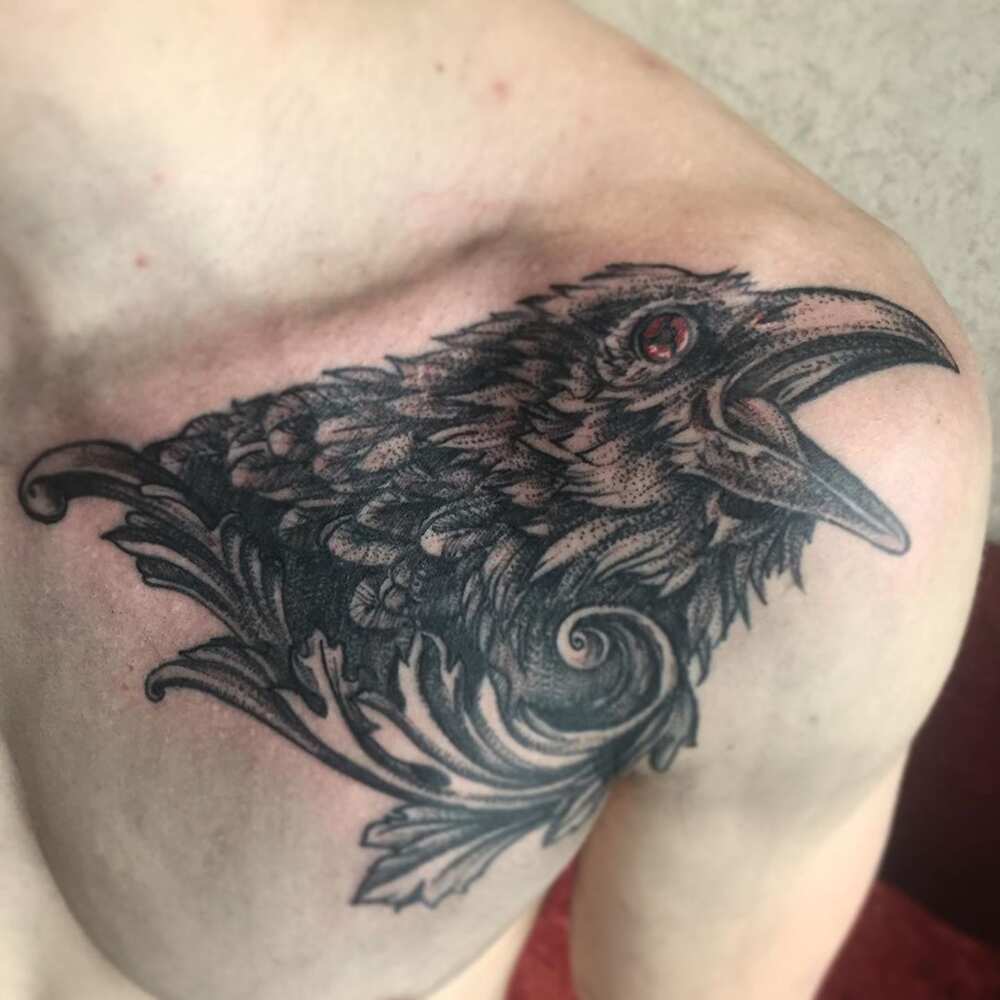 A red-eyed crow. Beautiful!
Skulled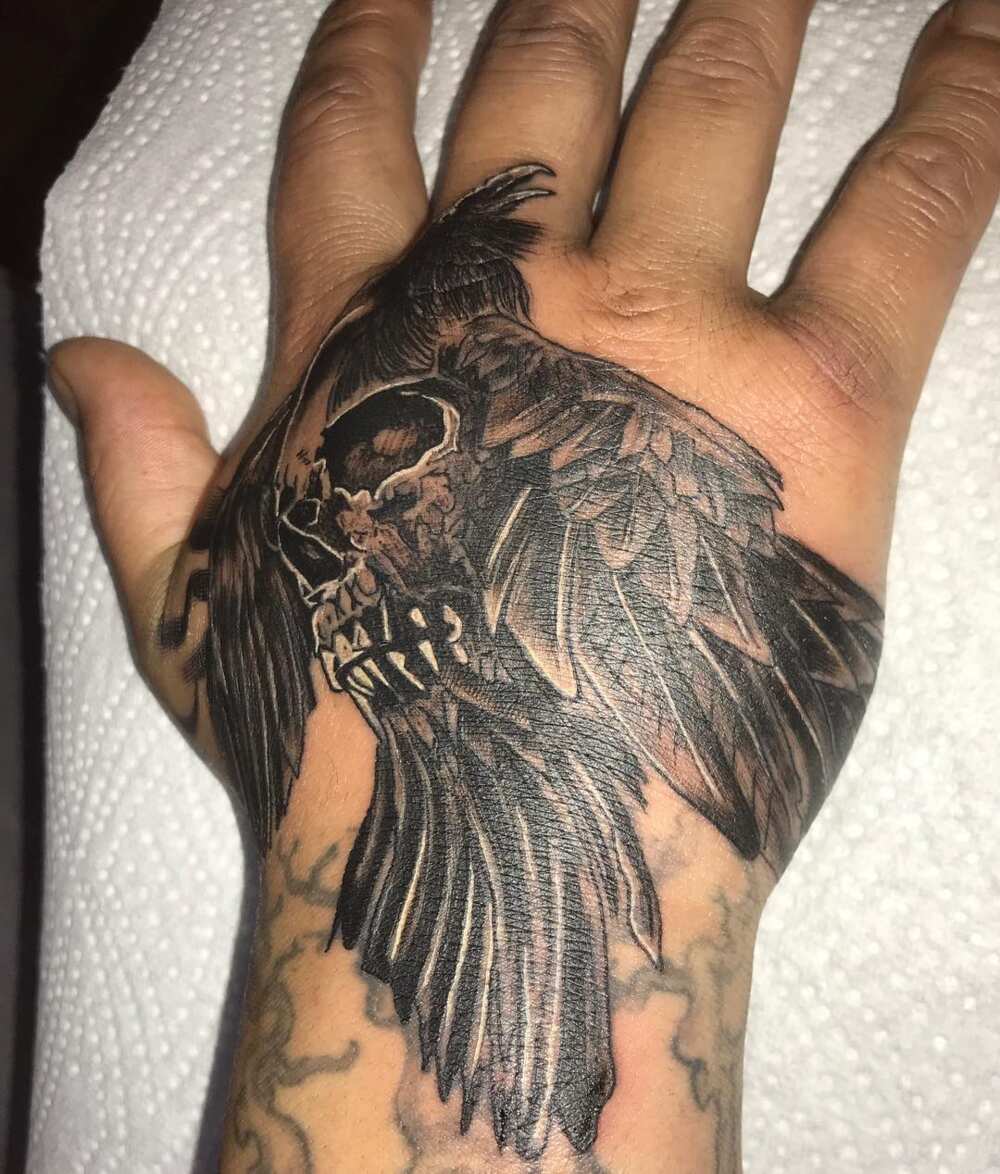 This piece of art is breathtaking! Considering that it is on the hand, this one definitely stands out for so many reasons.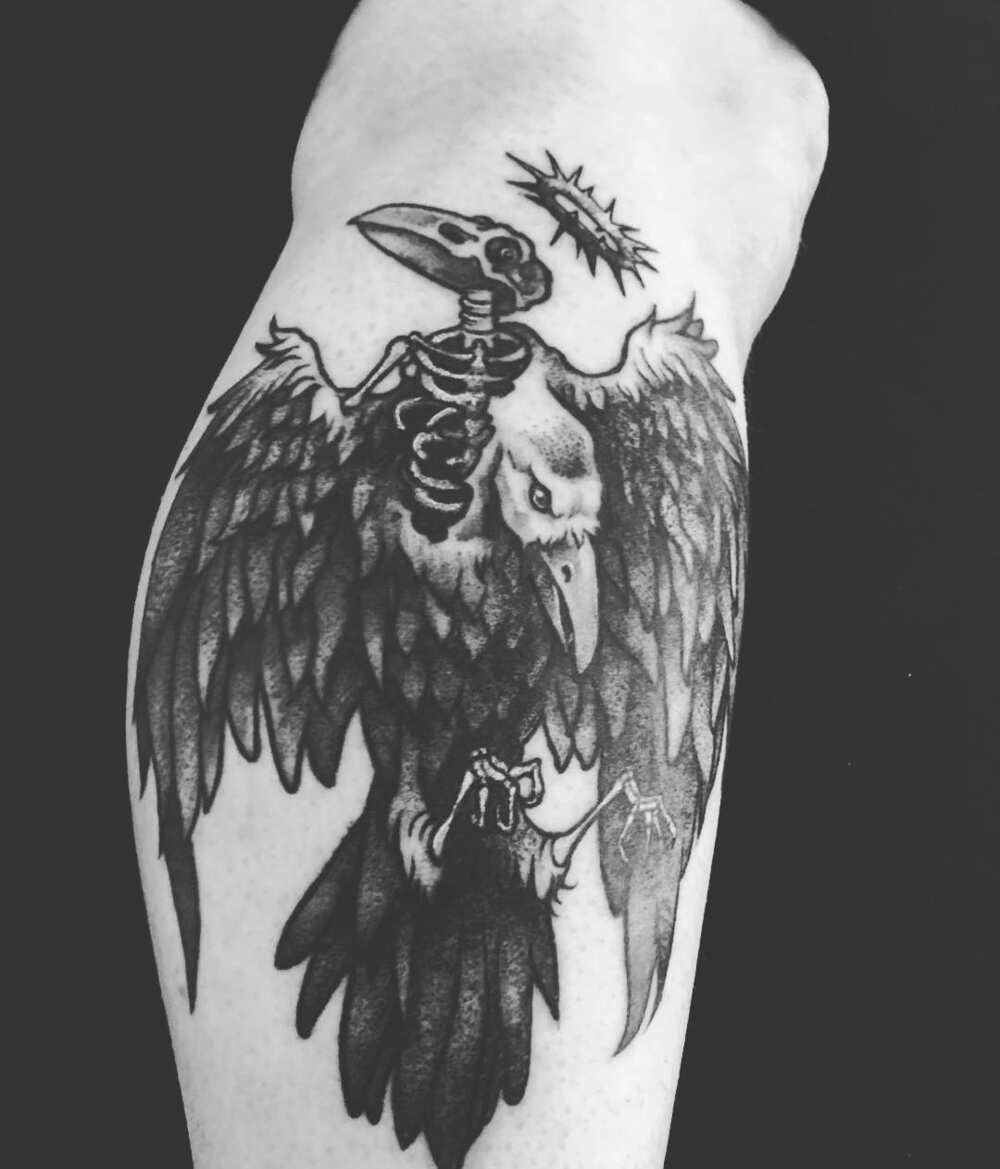 The contrast in this design is something that you should try out for your skin-ink idea. It looks like the crow has both its head and skull showing at the same time.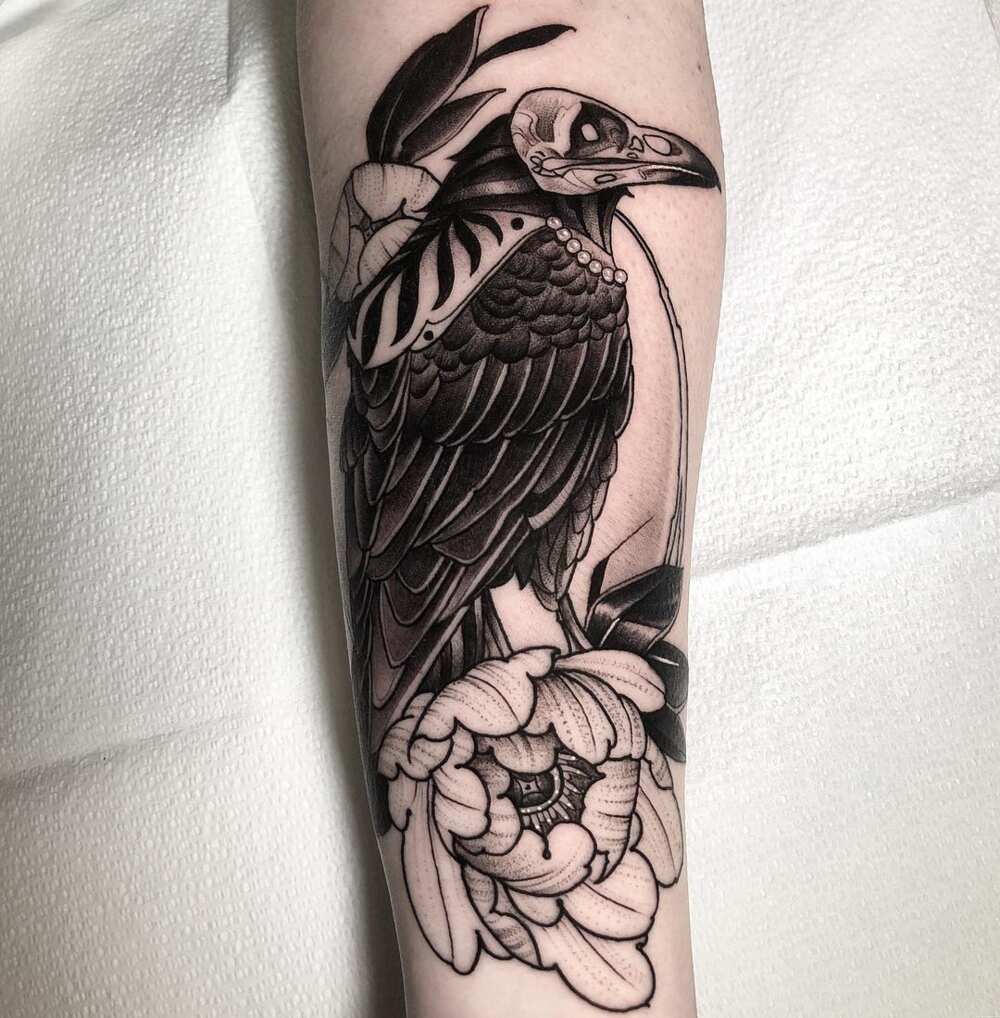 Looks dangerously good, right? This is such an exquisite artwork.
READ ALSO: Elephant tattoo: meaning and top 50 ideas
Resting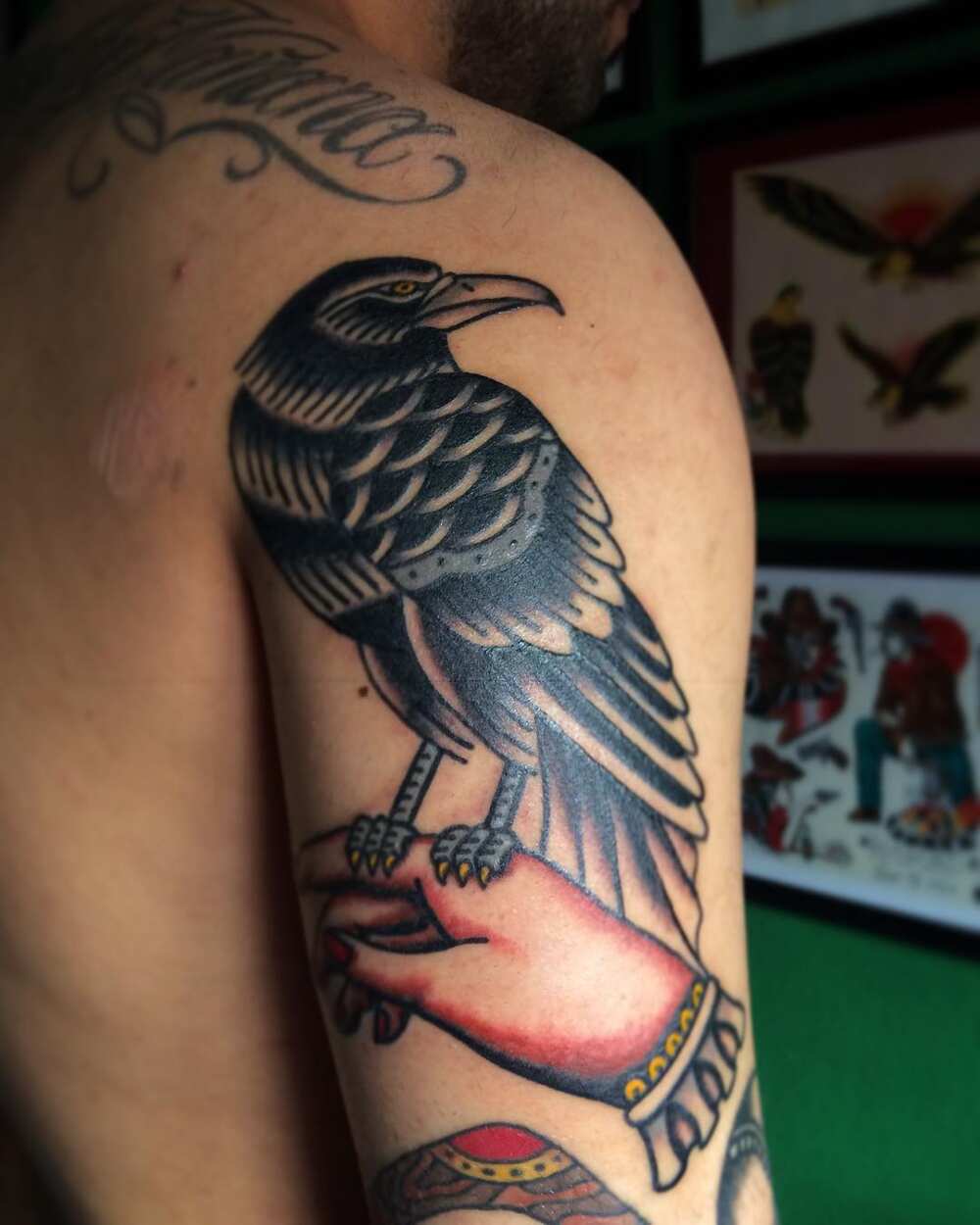 This looks like a well-kept and pampered crow. Would you consider having one as a pet? If yes, once you get it, consider having it inked on you. How does that sound?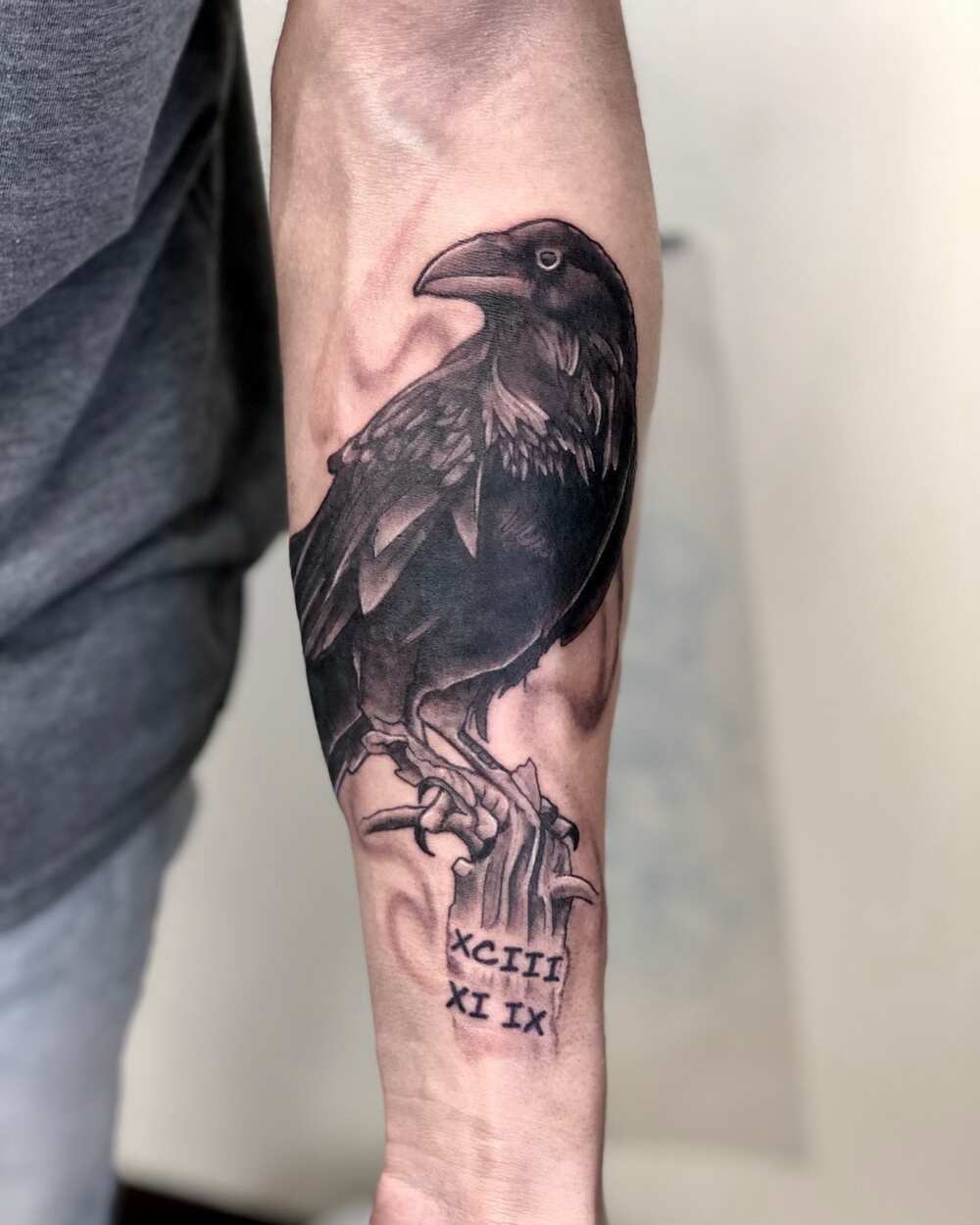 This is quite a dark design but pretty impressive. The roman numerals included intensify its meaning, thus making it a rather more personalized tattoo which is highly encouraged. You ought to feel comfortable and in touch with the tattoo that you chose to have.
Injured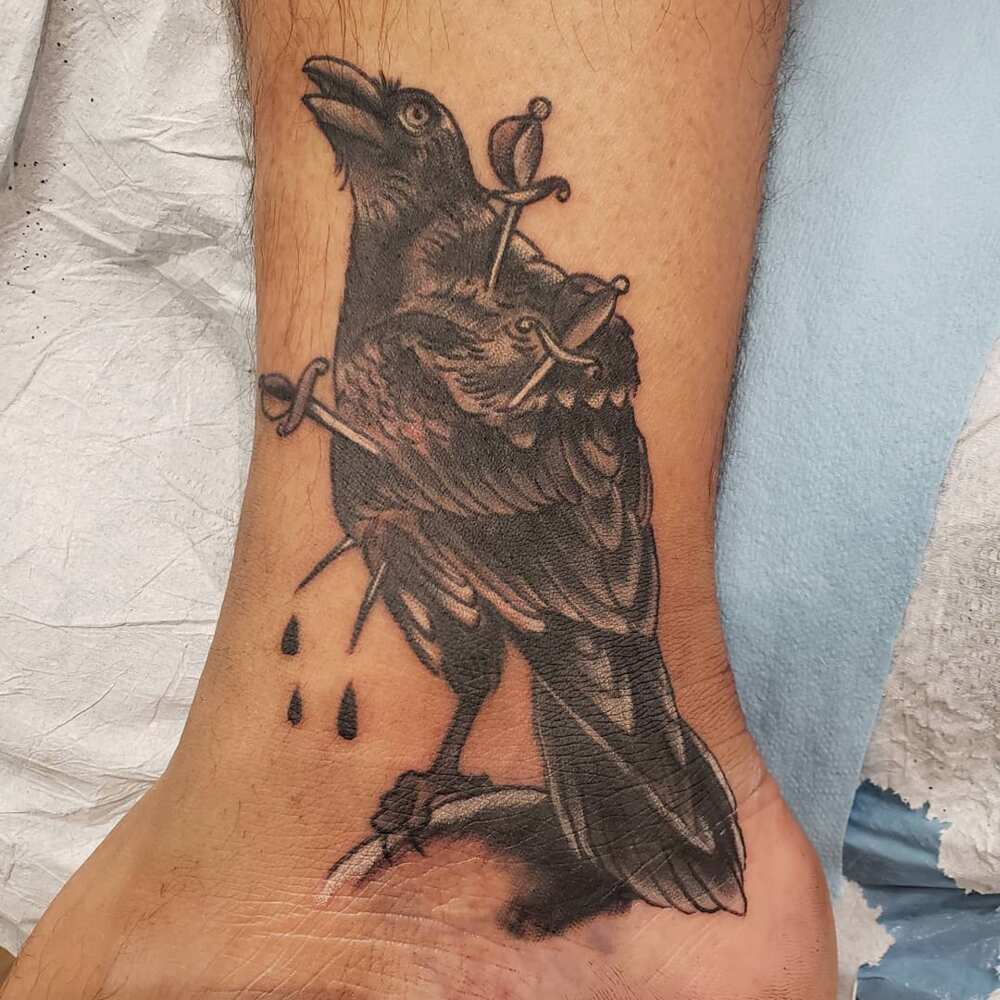 This crow appears to be injured and in pain but still standing strong. I believe we have all been in such a place in life. The best choice is always to get up and push on since challenges never end.
Bold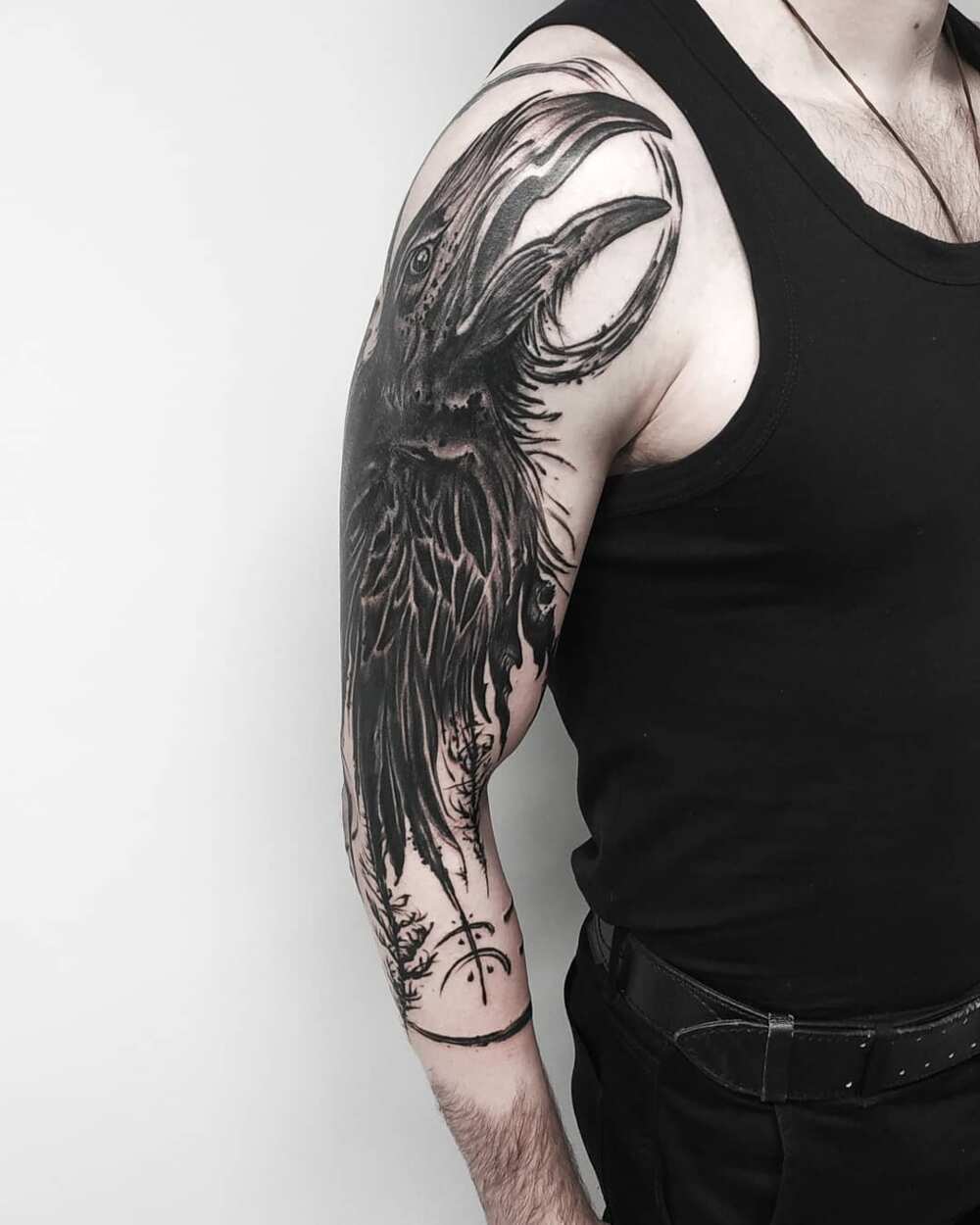 Walk in a room with this tattoo and all the eyes will be on you! Let it speak for you.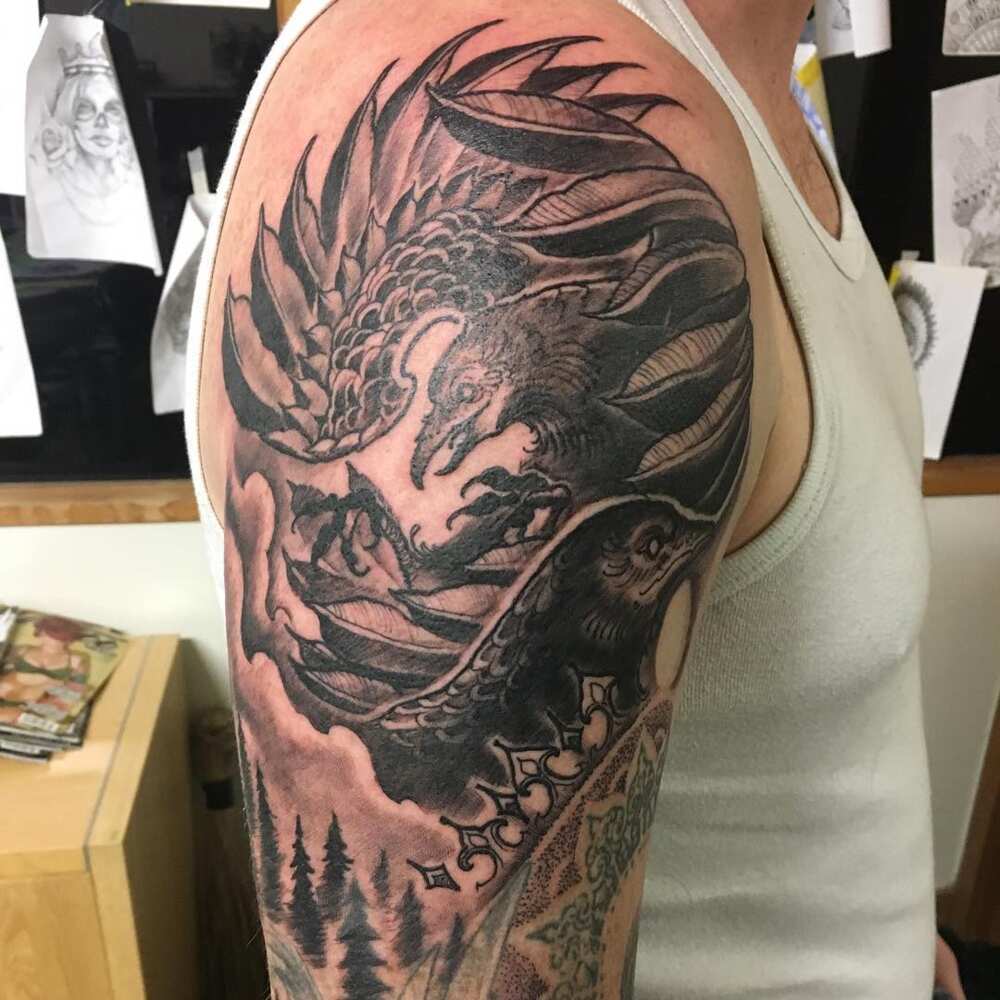 The detail and complexity in this design is something worth trying out.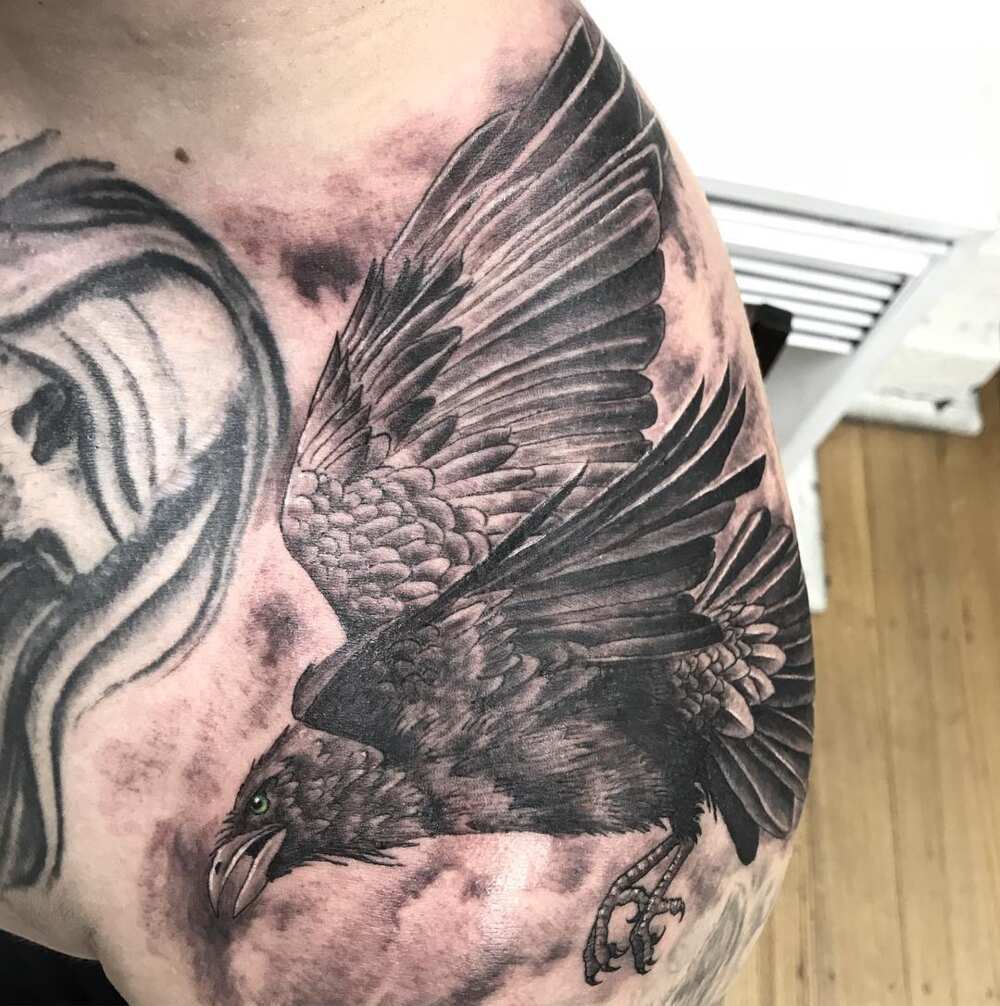 Looks like a stormy day but the crow is undefeated.
Dark and mysterious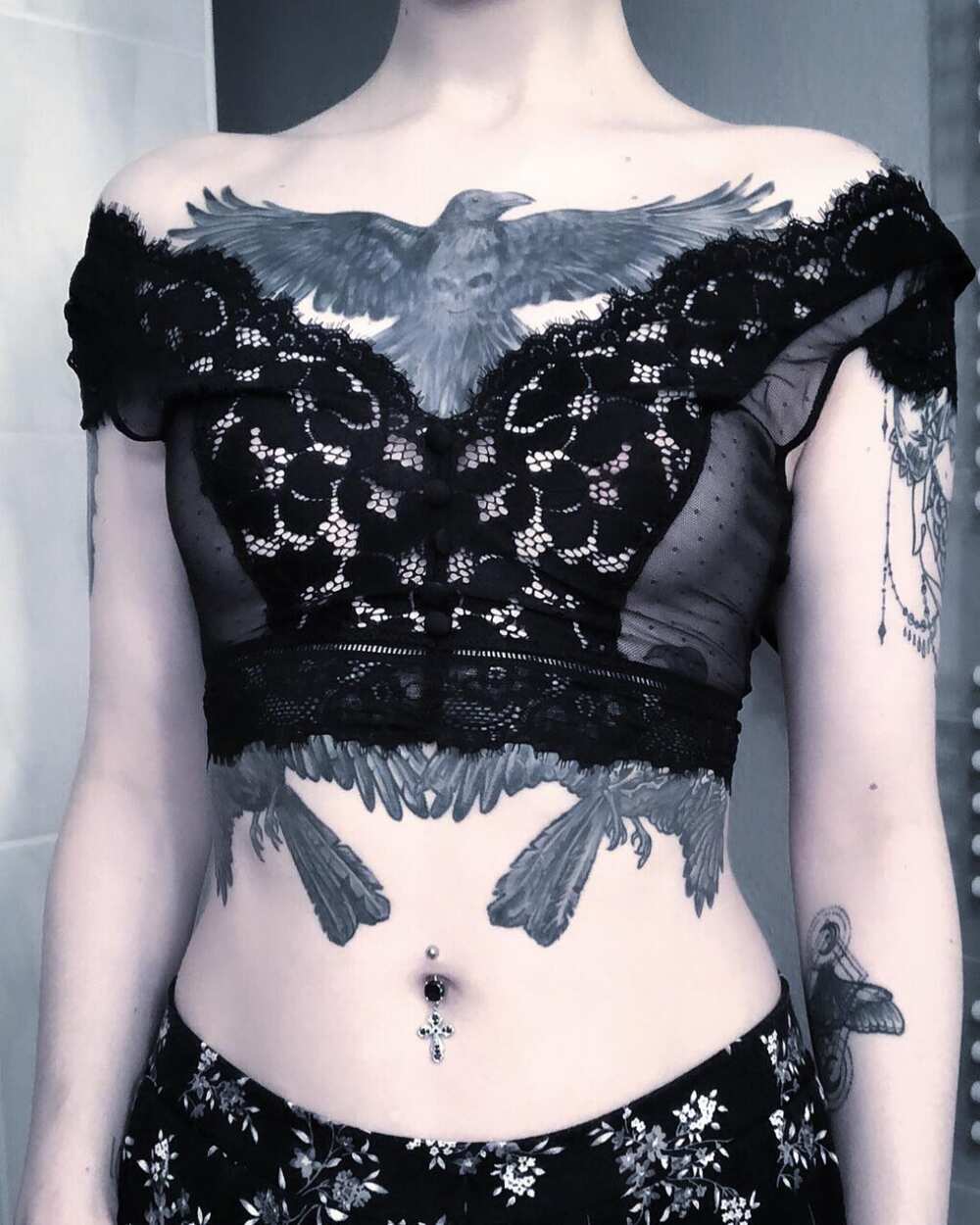 This design is simply phenomenal! Considering that some people believe that crows are a symbol of death and other harmful things, this is a good illustration of those beliefs.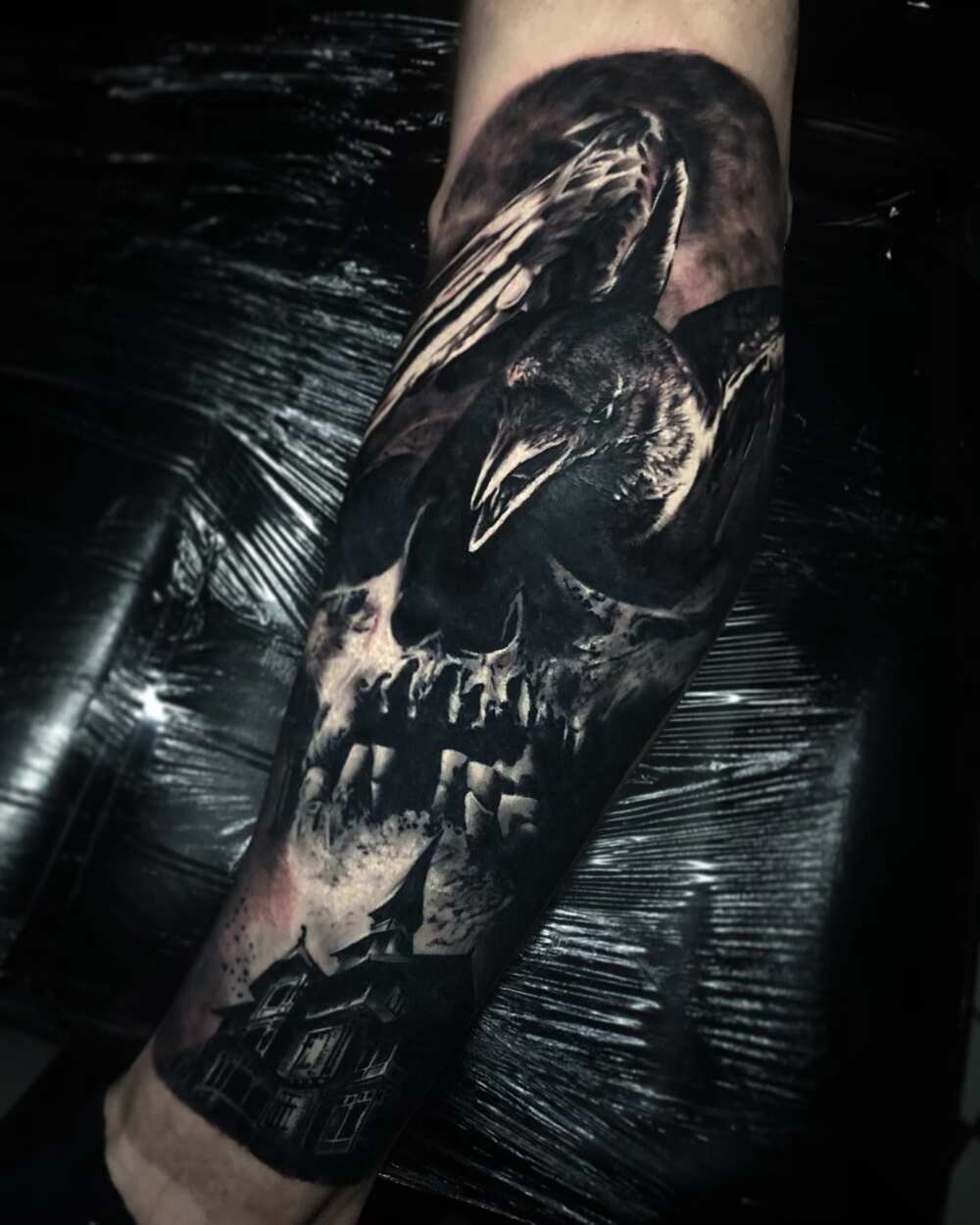 With no doubt, this is an epic design that will stand out on any part of the body.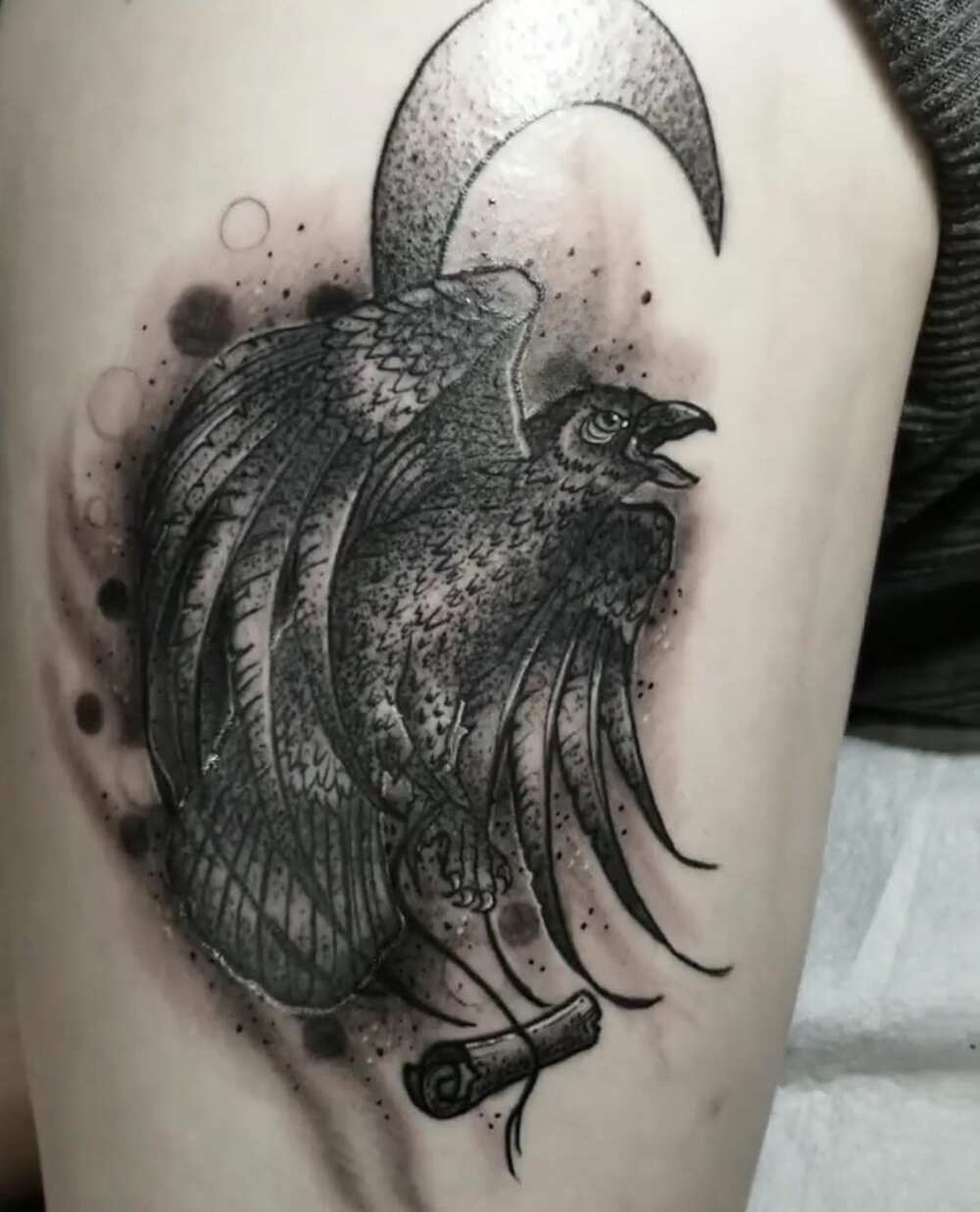 A furious crow with unknown intentions.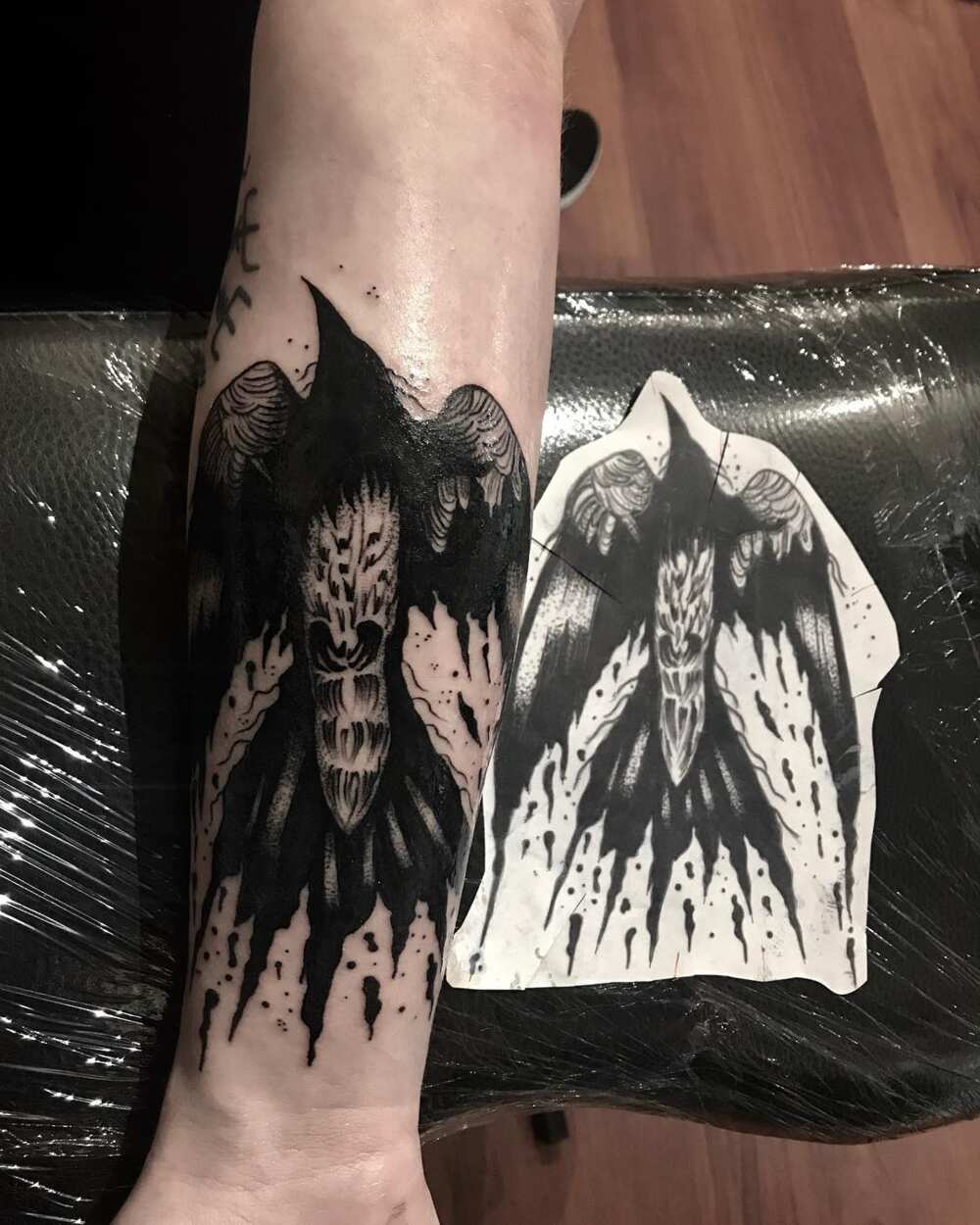 For the fellas that love uniqueness, this is not a design you will find on everyone. Give it a try.
Symbolic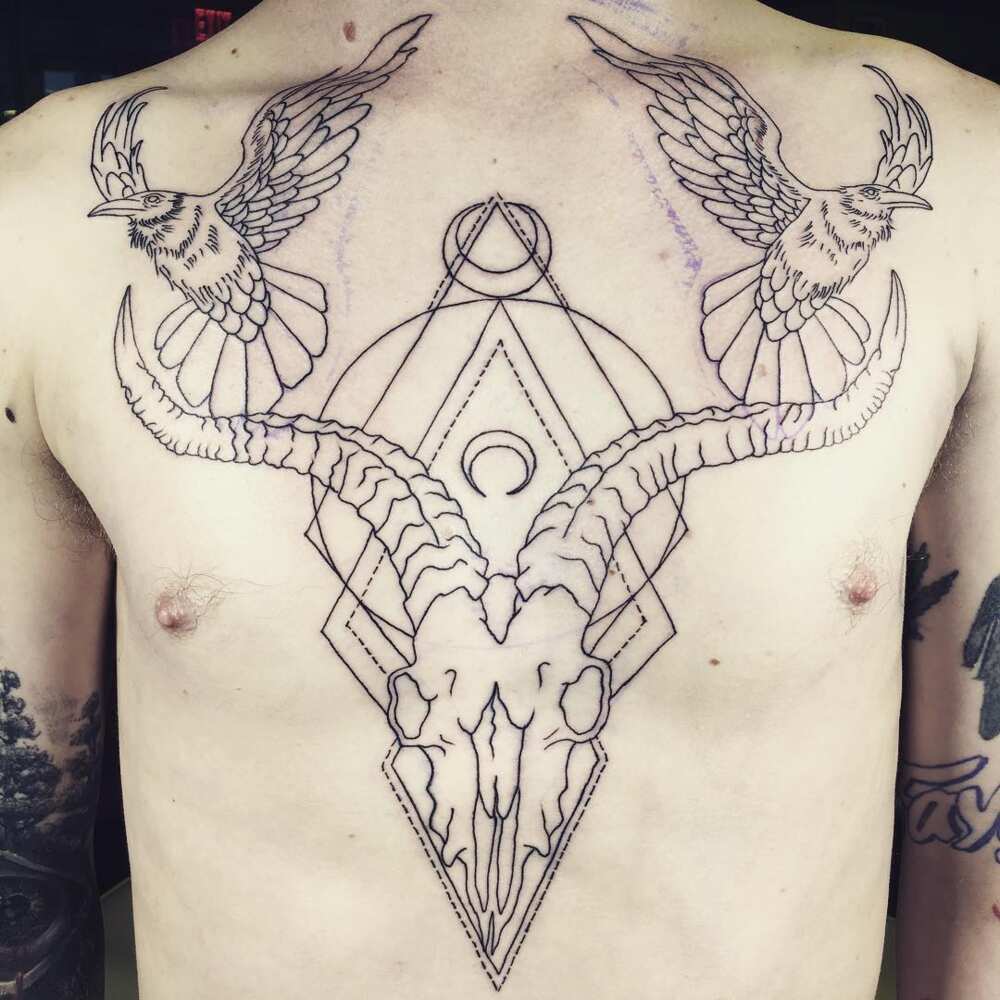 The symbolism on this design is intense. You could consider digging deeper to learn more about symbolism from the ink industry. It is more interesting than you think!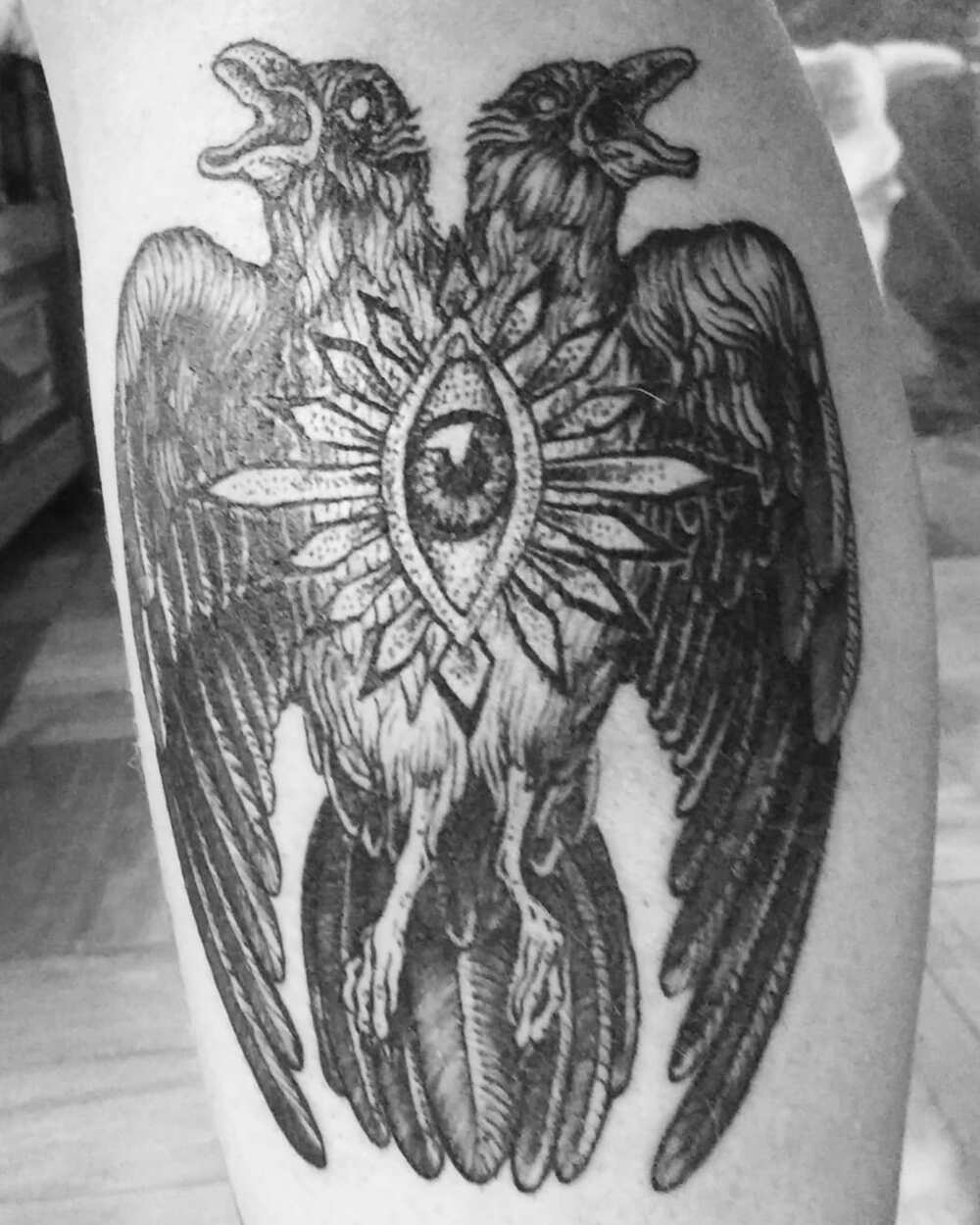 A unique skin-inking it is! All the detail on it makes you wonder what inspired its creation.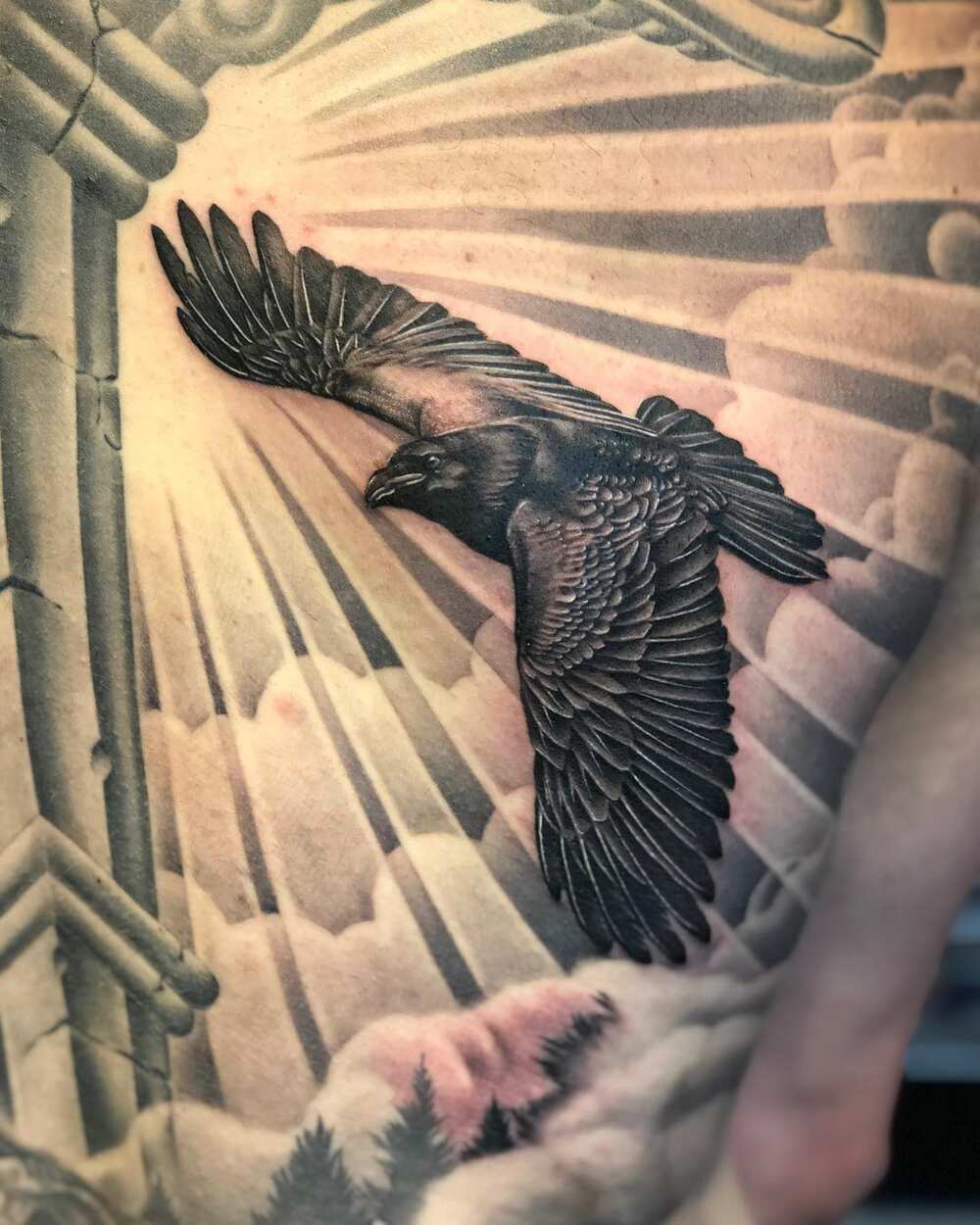 The light and darkness in this design are beautiful. All of the details blend out so well to create a magnificent image.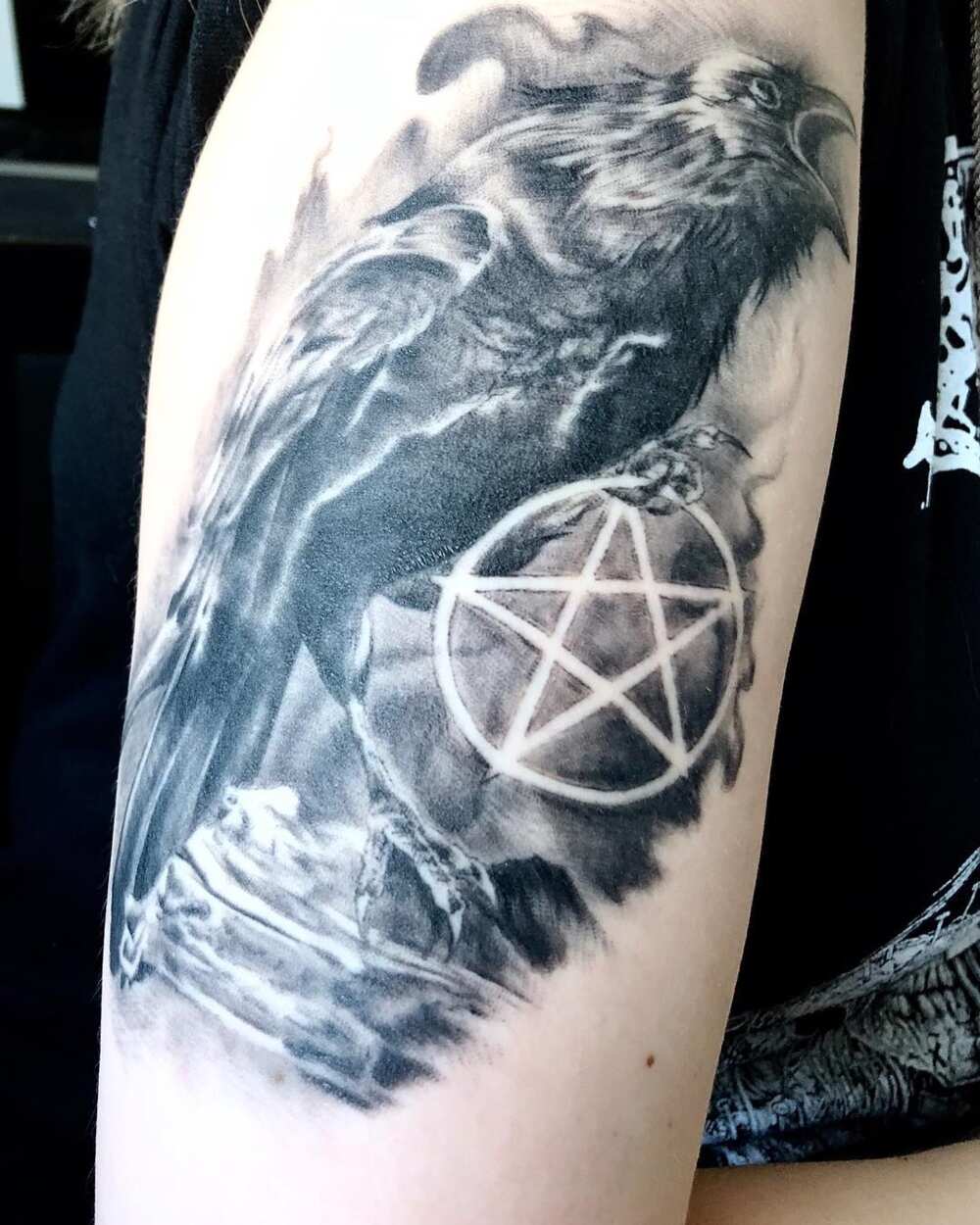 A daring but worth it design!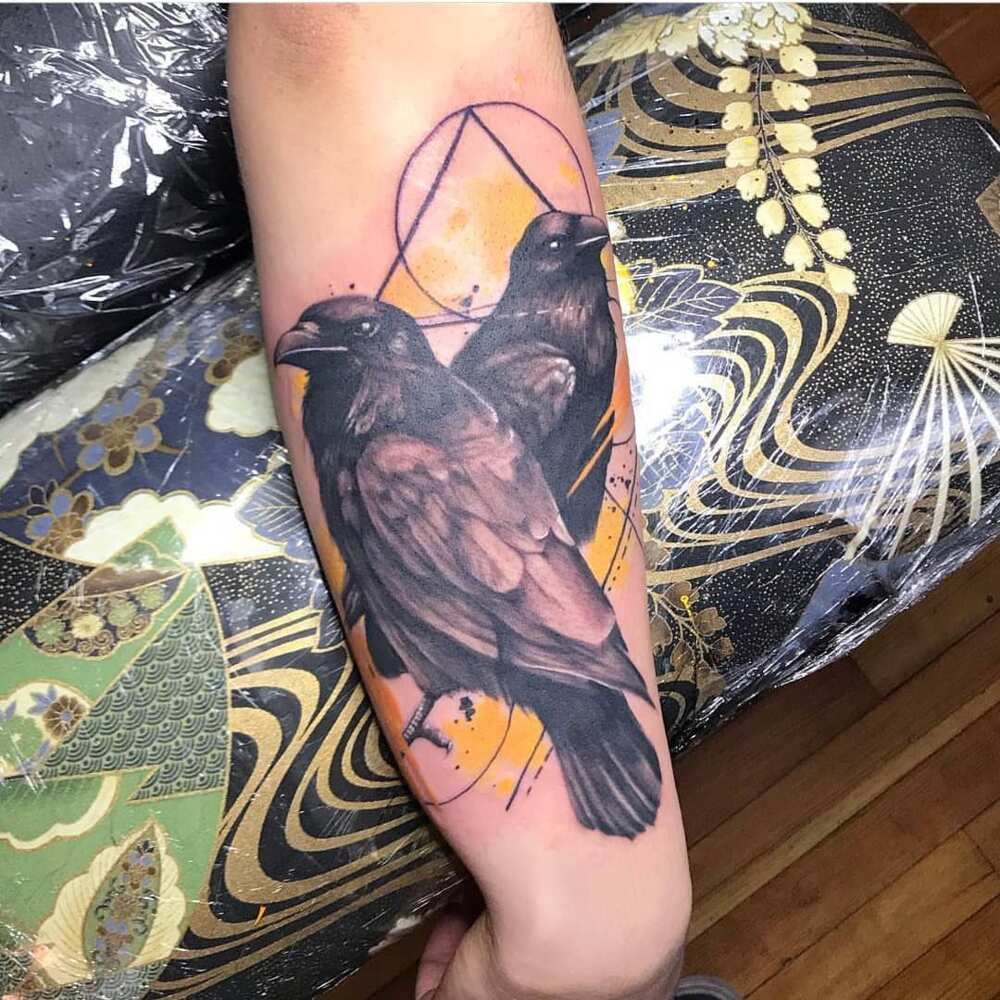 Black and yellow couldn't look any better.
Classic artistry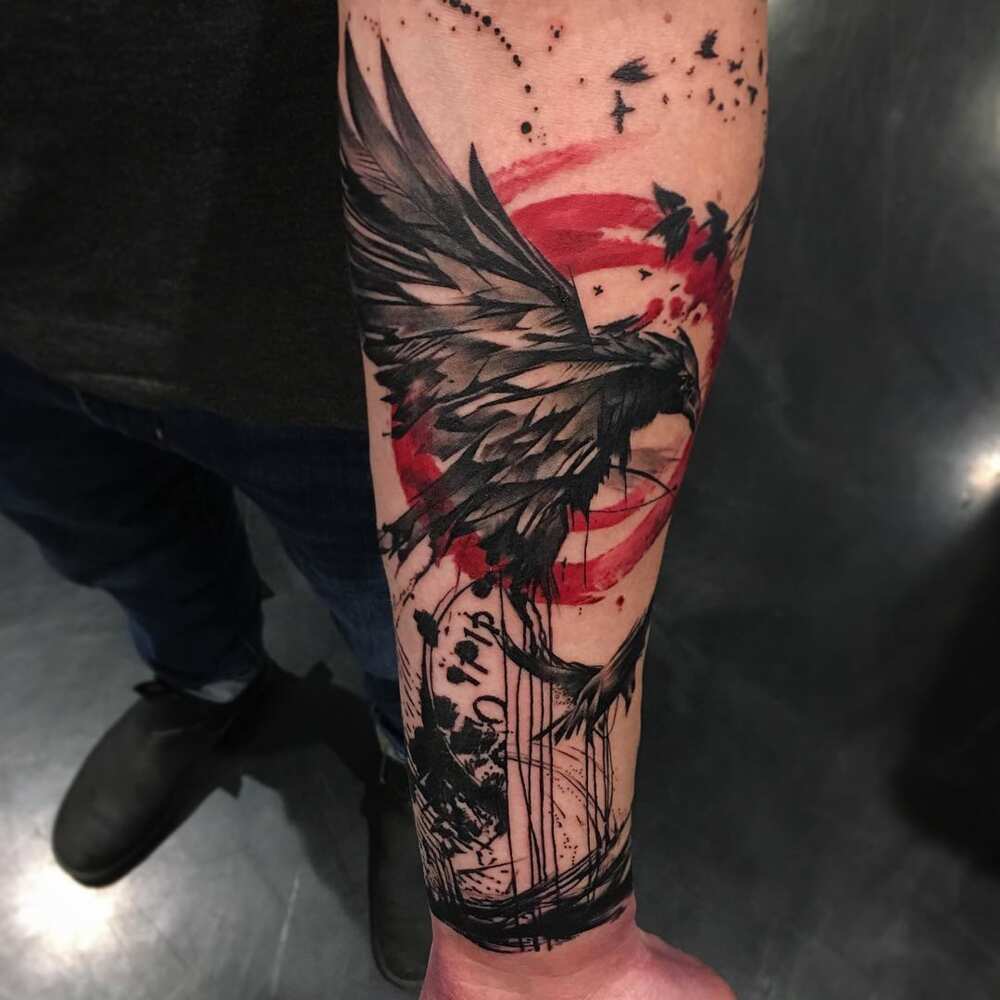 This one is for art lovers. The details and symmetry blend in together to bring out all the beauty of this amazing piece of art.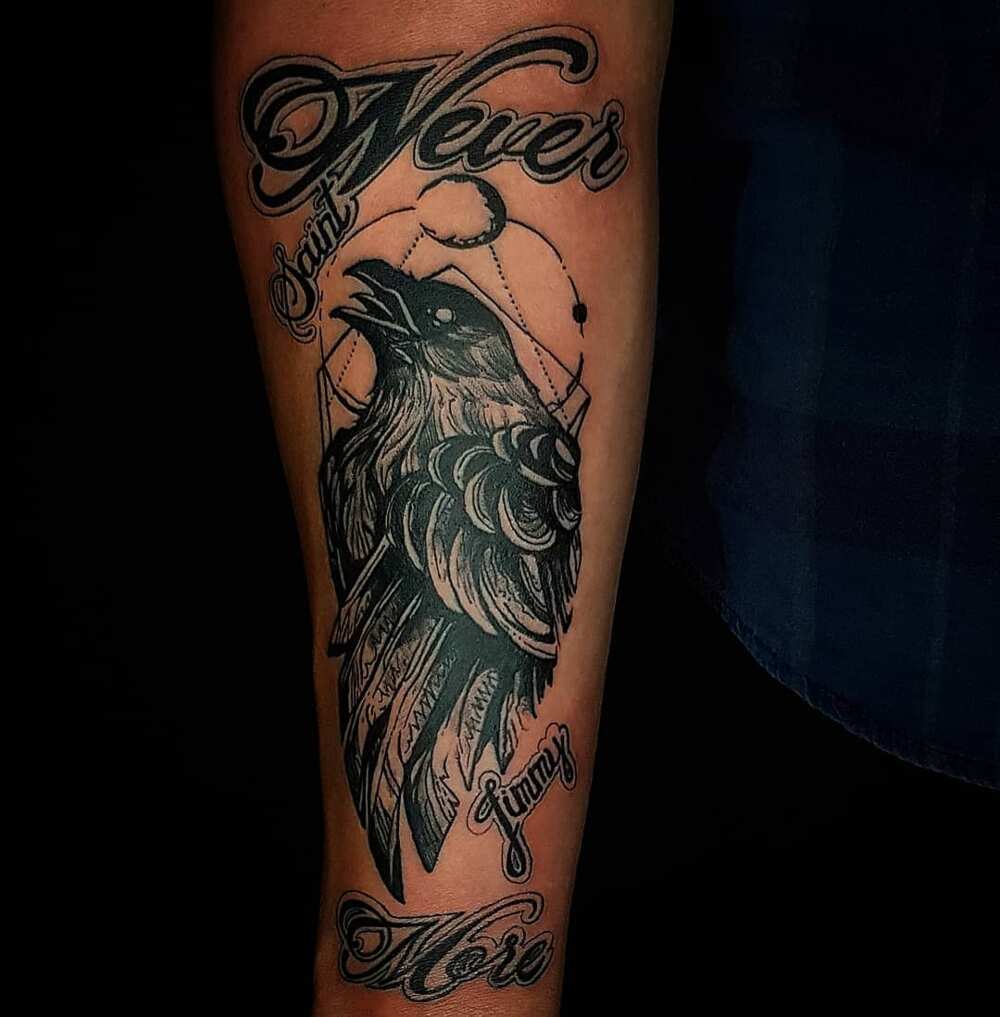 Calligraphy alongside a great skin-inking can never go wrong. You could try it out too! Consider having your favorite quote written down or even your name, or that of your mother, father or simply the dearest person to you.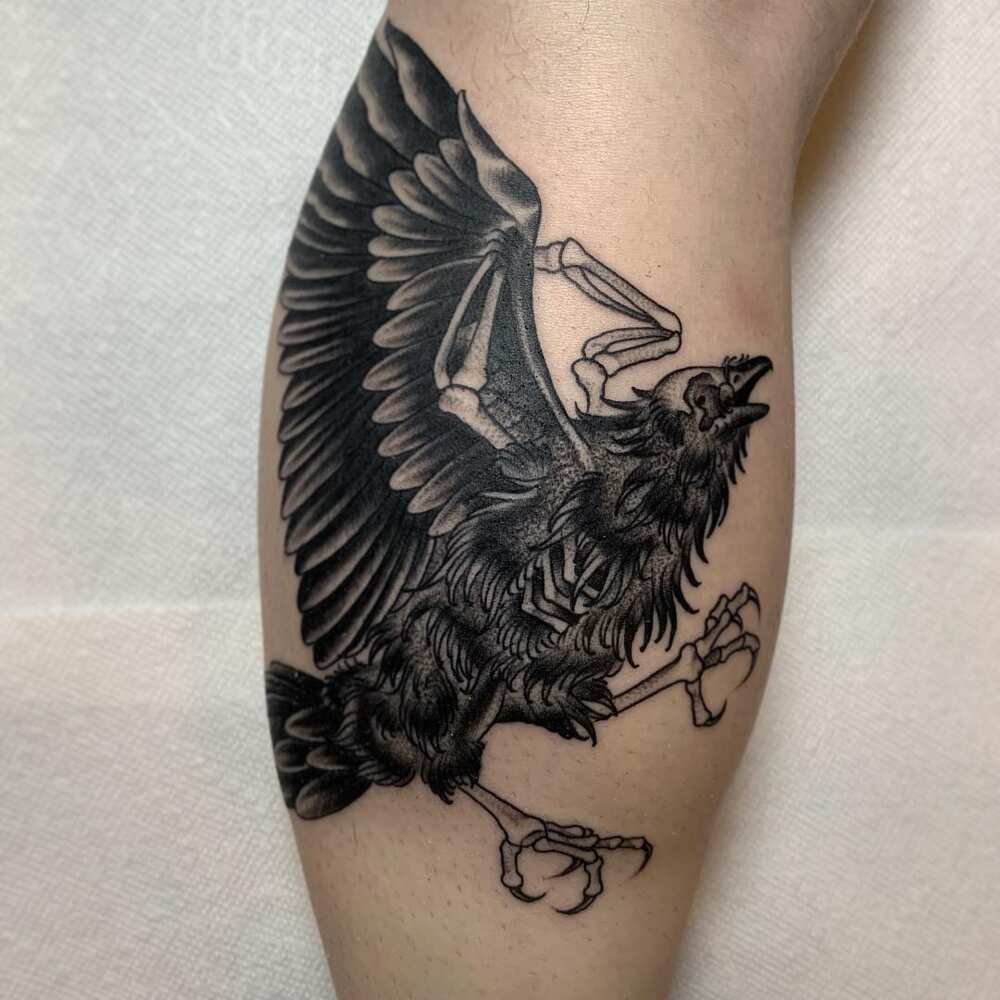 The crow here looks half-dead but is still fighting for its life. Don't we feel that way sometimes too?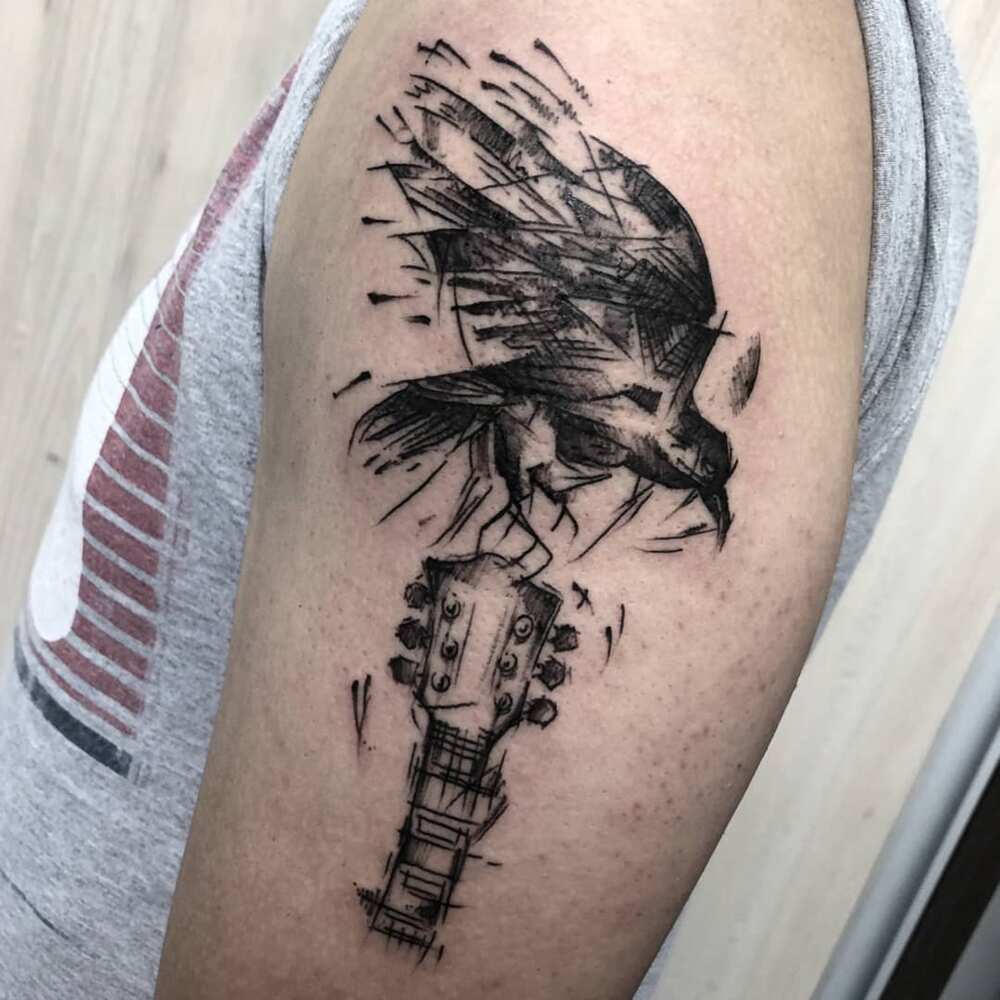 It looks like the raven is trying to rescue a section of a guitar. This must have an even deeper meaning for music lovers.
Small tattoo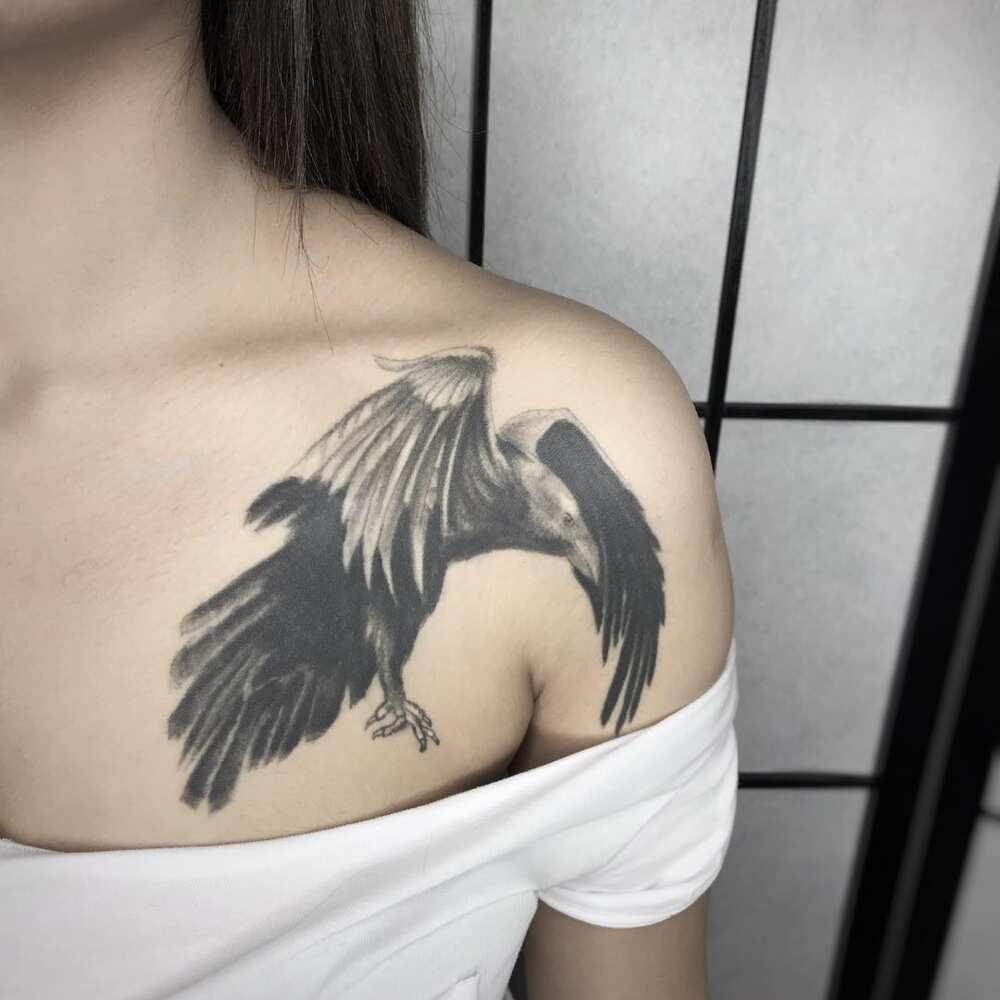 Looking for an elegant but a small inked crow? This one here is a perfect example. You can have yours similar to the one that appears here, or you can choose to make changes wherever you want. It's your call!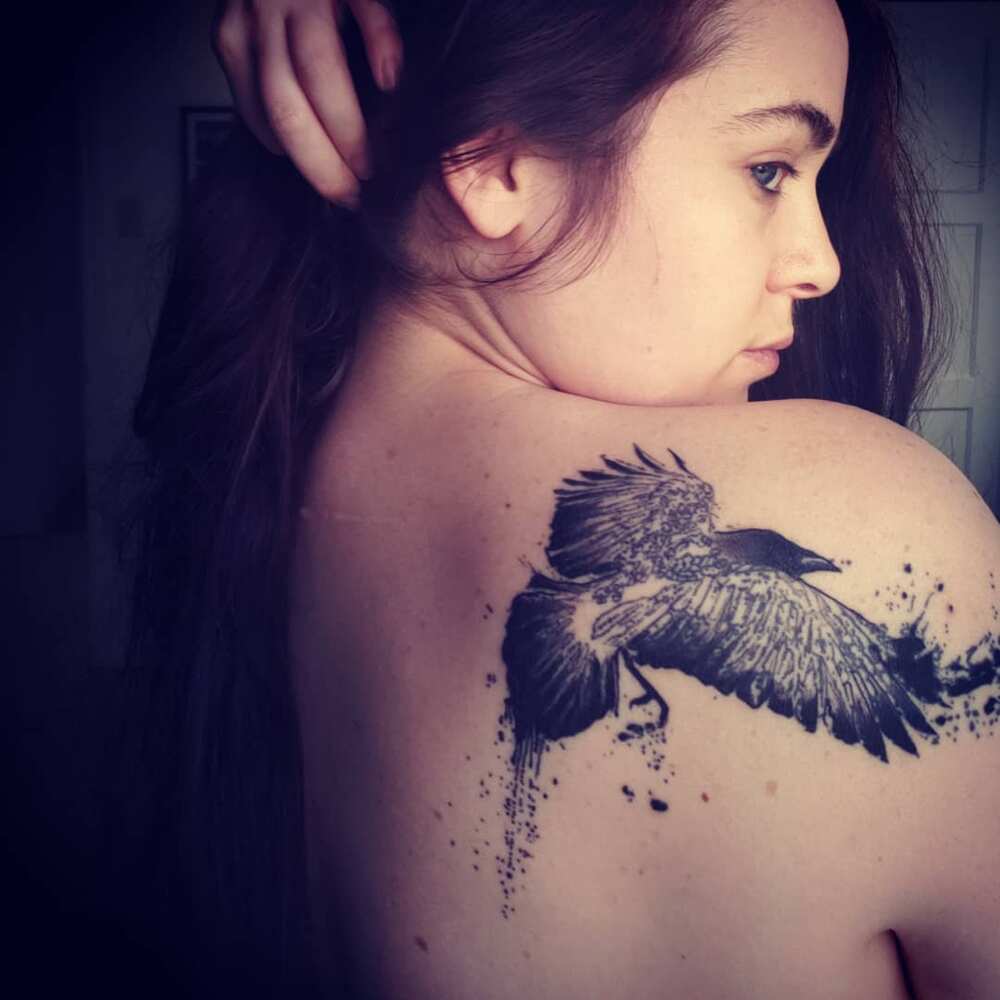 You can never go wrong with a small skin-inking. This crow is the perfect example. A combination of simplicity and beauty in one photo.
Raven head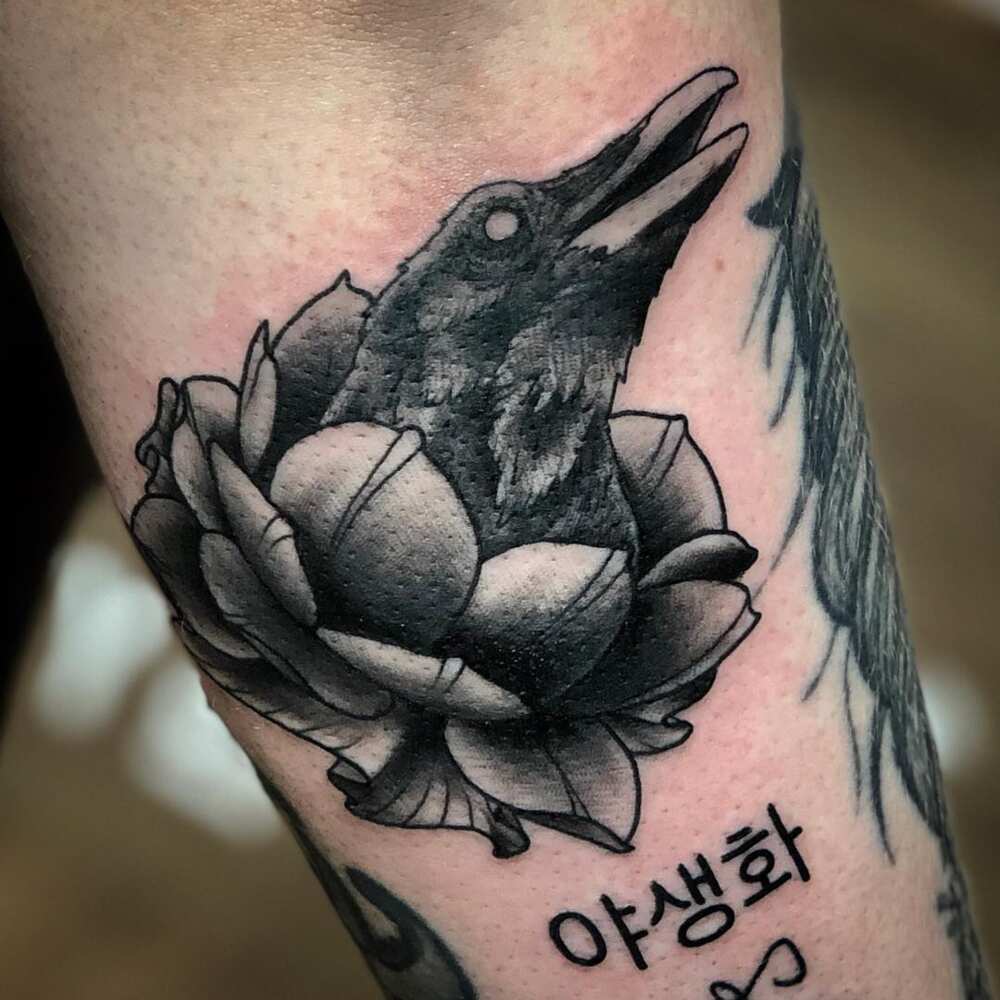 In case you do not want to go big on your ink game, a crow head is an excellent place to start. You can have it modified later if you wish.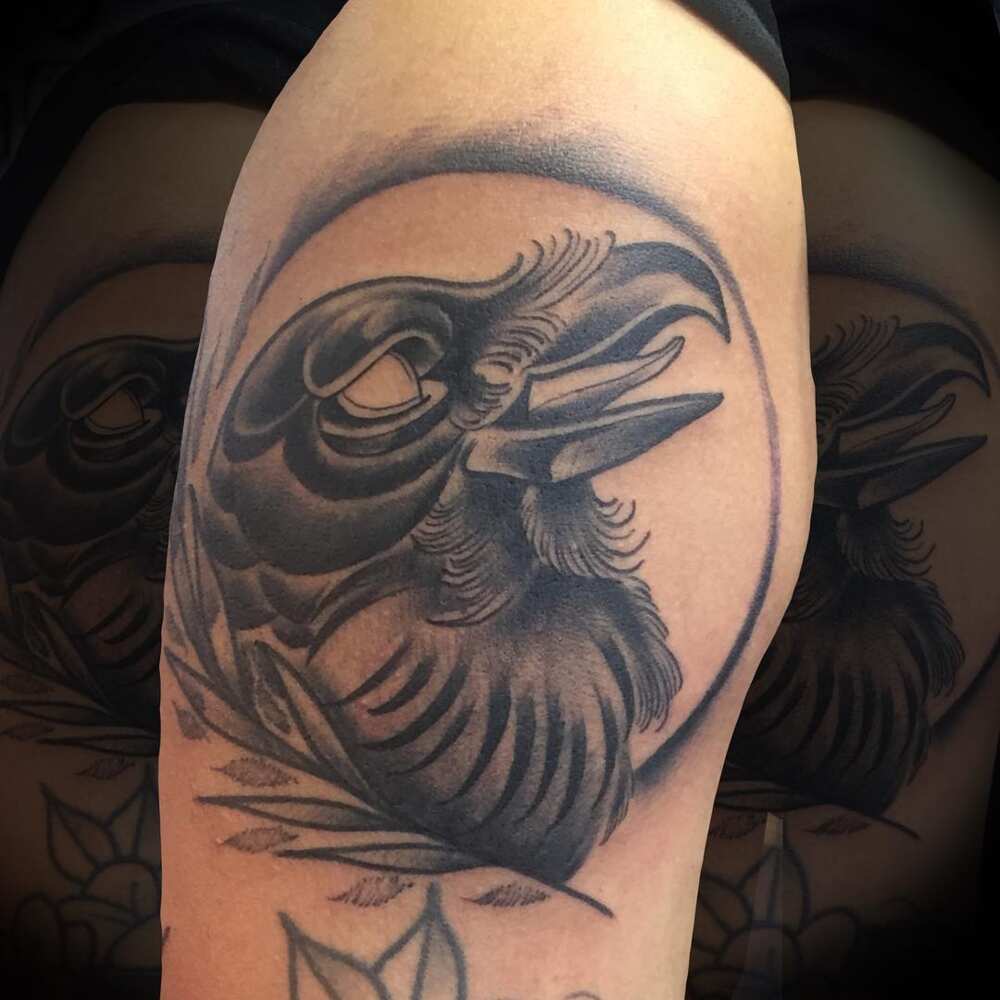 The uniqueness, with a hint of the simplicity of this tattoo is insane!
You cannot go wrong with a raven tattoo, be it an Odin, Norse, flying silhouette or even a small one, among others. Identify the best part of your body to have it drawn, and you will not be disappointed. Alternatively, you could consult your ink artist to inquire about anything that may not be clear to you. Life is short! Take that risk, visit that place, and most important of all, get that raven skin-inking of your choice.
READ ALSO: Sunflower tattoo: meaning and top 50 designs
Source: Legit.ng