What is the best way to start a day? A cup of aromatic coffee, of course, will energise you, but it will not motivate you to success. A good morning message to a friend can do this. Get inspired by the compilation of top 50 good morning messages and use these ideas to make your friend's day.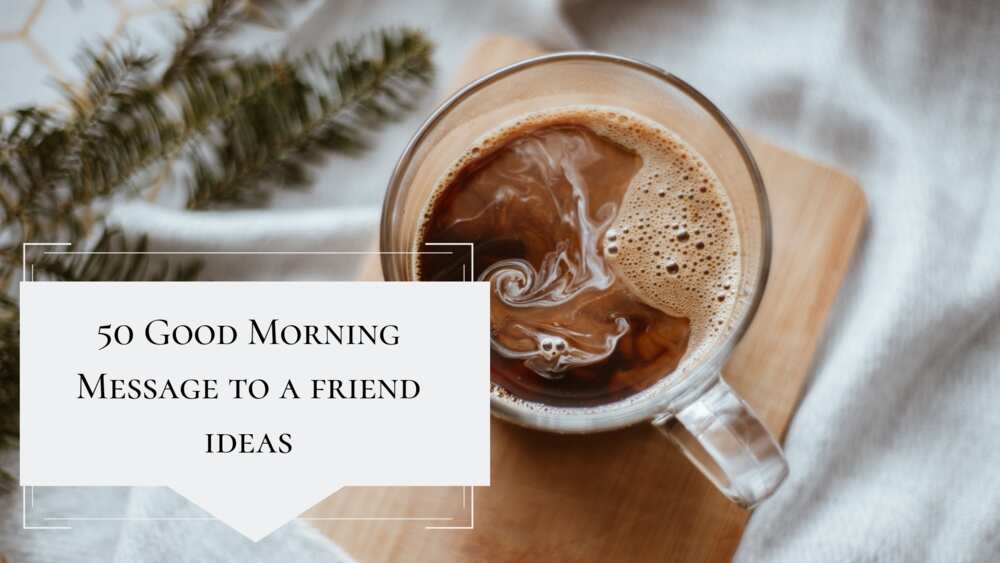 Such SMS is not only a regular message, but it also can carry a positive charge of energy and a lot of positive emotions. Receiving an inspirational message in the forenoon, your friend will want to leap tall buildings in a single bound and share a great mood with others.
Good morning message to a friend
Forenoon is a great time, which gives people inspiration for the whole day. It is very important to make it really good. Friends no less than relatives and beloved ones need pleasant wishes. Send a good morning message to a friend, and you are guaranteed to cheer them up, if not for a long time, then for a few hours for sure.
Good morning! Have a great day and mood! Let the sun charge you with positive energy for 24 hours! Let great ideas visit you, and significant events happen! Give a smile to the world!
I wish you a perfect and beautiful morning. I wish you a wonderful mood and an unquenchable smile. May it begin easily and joyfully, merrily and successfully, may the beginning of the day be successful, and the day will bring many results of your work, inspiration and perseverance.
I wish you a perfect morning and a sunny day, despite the unpredictable weather outside the window! Let your eyes shine with joy, and the positive mood rolls with its bright waves. Yes, everything will be fine and wonderful!
The most beautiful morning is when I see you around, then my day is filled with meaning and joy. I want you to have a great mood, a productive day and happiness in your heart. May this time bring something good and leave happy memories. I want no one to upset you, that the sun shines on you and protects your beautiful and bright soul.
The most beautiful morning is when I see you around, then my day is filled with meaning and joy. I want you to have a great mood, productive day and happiness in your heart. May this time bring something good and leave happy memories. I want no one to upset you, that the sun shines on you and protects your beautiful and bright soul.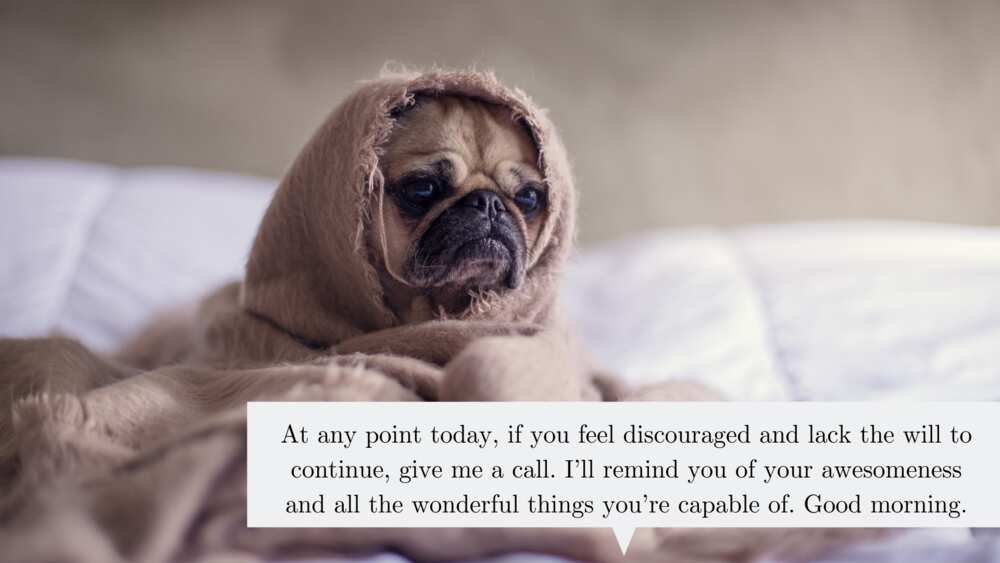 Smile, it is morning already. I wish you to start it with something joyful and pleasant. Let the coffee invigorate, let the mirror draw happiness on your face, let your loved ones please you with warm words, let the weather be good. I wish you a successful and productive, bright and diverse, special and memorable day.
Good morning, beautiful. I wish this new 24 hours to start with something pleasant so that this time will give you a confident and cheerful mood so that today you will be able to turn all your plans into reality. May good luck pursue you immediately after you woke up, may this day be productive for joy, delight and fun!
I wish you the best, bouncy, happy, beautiful, gentle, sweet and beautiful morning. I want you to go on a journey today with enthusiasm, to achieve your goal with confidence and enjoy life.
READ ALSO: 50 sweet goodmorning love messages 2019
Good morning! May it really be kind and beautiful! I wish you to wake up to the singing of birds and the bright light of the tender sun! May the coming day bring something new into life and be filled with positive emotions and discoveries!
Good morning! Let the start of this day be a good one and carry with you a series of good news, happy events, pleasant meetings, warm smiles, good ideas, confident plans, right decisions and success. I wish you cheerfulness, like an aromatic coffee and charm, like a sweet and still warm bun. I wish you a lucky day.
Good morning! I wish you a wonderful mood, delicious breakfast, incredible inspiration, confident vigour, high aspiration and indispensable luck. Let today the whole world belongs only to you!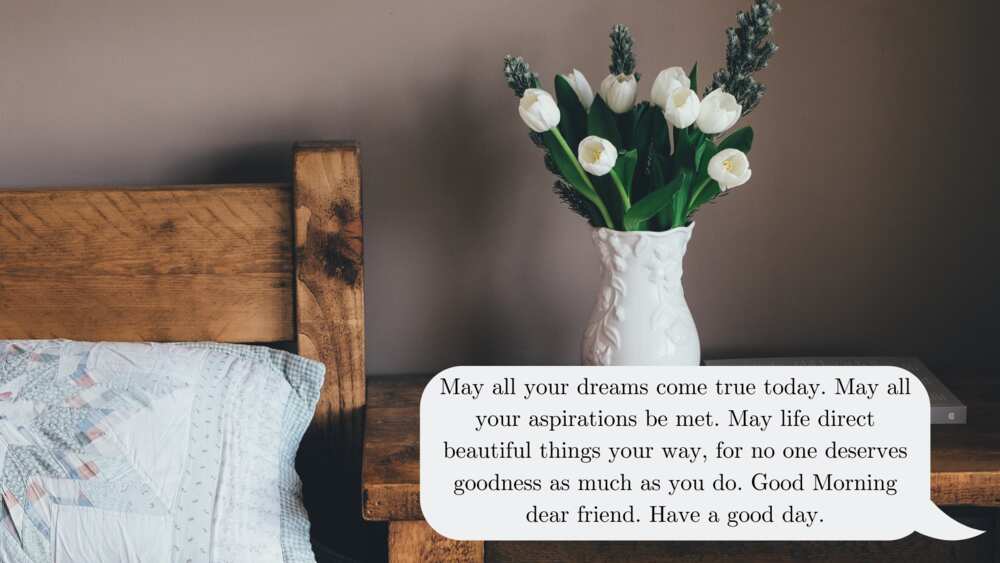 Good morning! Let it begin with good news and a cheerful mood, with a warm smile and a tasty breakfast, with a great goal and absolute confidence in your success. Good luck from the first morning to the very evening.
I wish you a good morning and at the same time a wonderful mood for the whole day ahead. May it wake you up with good news, a favourite song, and delicious coffee. May the sea of ​​plans that are in your head, be sure to be embodied in your life today. I wish you incredible inspiration and good luck.
I wish you an enjoyable and vigorous morning. May it give a cheerful mood, sincere emotions and a positive charge for the next 24 hours. I wish you productive work, pleasant rest, happy moments and joyful sensations!
I wish you the most beautiful and enjoyable morning with bright emotions and moments of inspiration in your soul. Let this wonderful time give a lot of ideas and set an excellent rhythm for the whole day. I wish the start of the day to be successful so that at the finish line there will undoubtedly be high results and an incredible feeling of consolation.
Open your eyes. It is a long-awaited morning. I wish you that your day starts with a smile and a good mood. Let it be exciting, and most importantly, bring happiness and good mood.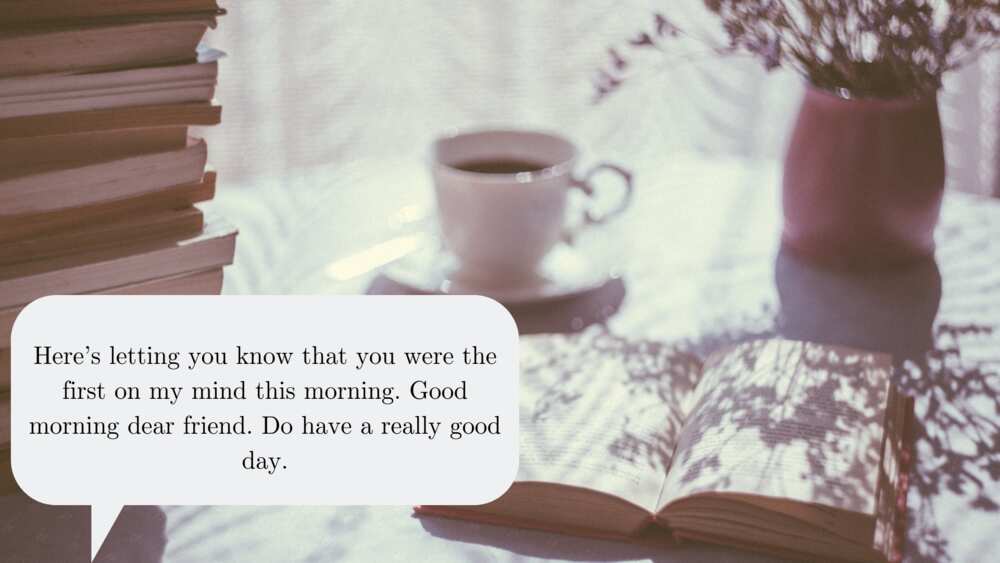 Start the day with a smile, and everything around you will change! The neighbours will smile back. Passersby will think that you have a holiday, and they will also smile at you. Friends will rejoice with you in a good mood! Give smiles to those around you and your day will be kind and full of happy minutes!
I wish that every day begins with a smile and with the expectation of an incredible life episode, let it be for someone to wake up, let only beautiful and joyful emotions be always waiting for you.
I would like to wish you an enjoyable and pleasant day, which will bring joy, success and a lot of pleasant emotions. Let it begin with fun, in the company of nice people, and with a wonderfully warm atmosphere. Let the sun send you energy all day long and this time will be filled with pleasant surprises.
I wish you on this day to have such geographical discoveries as a sea of ​​happiness, an ocean of love, heights of success, rivers of profit, a peak of popularity, a lake of hope, a waterfall of emotions and a volcano of passions. Let the globe of life spin only in the direction you want!
I wish you a good day spent in minutes of tenderness and charm, in moments of fun and wonder, in joint pursuits to dreams and desires, in interesting stories and events, in the rays of radiant love and bliss.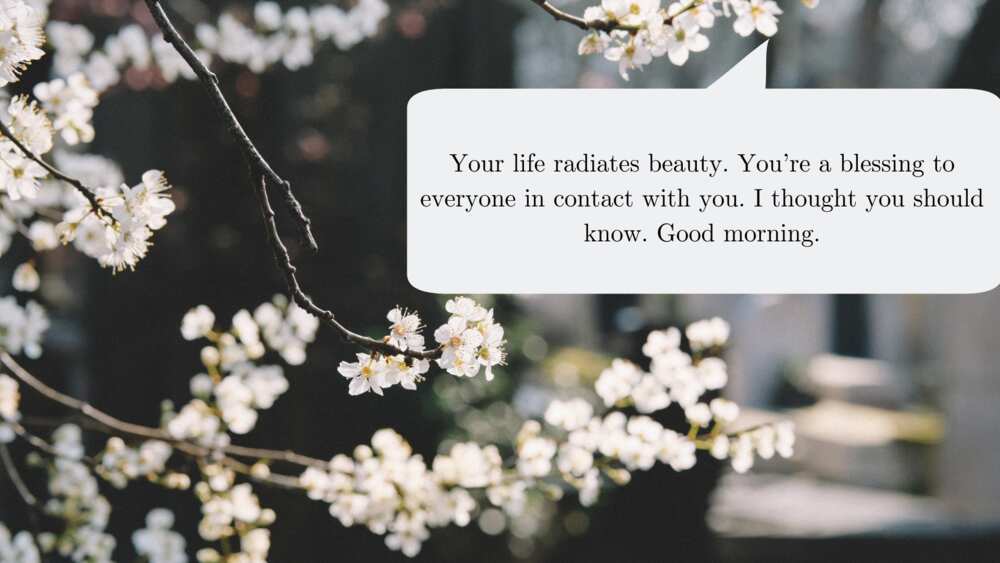 Start your day with a gentle smile that will return with joy, with a kind word, because it will respond to you with successful deeds, reward you with pleasant communication, and give you a great mood. May this day be kind, cheerful and thriving in the endless succession of your happy minutes.
Let a beautiful day waiting for you, with gifts and surprises. Let it be cheerful and joyful, tasty and pleasant, bright and colourful, let it redeem you in wealth, smiles, sincere feelings, jokes and deserved compliments, let them test you with tasks, which you will brilliantly fulfil.
Good morning, sleepyhead! Wake up, because I am your personal alarm clock. The sun has long risen. Come quickly out of bed. A good day starts with a delicious breakfast and news. That means the mood will be great.
Usually, they congratulate you on your birthday, anniversary, or some other holiday, but I congratulate you on the beginning of a new day! May it be successful, happy and bring you a lot of positive emotions!
Good morning, sunshine! It is time to wake up and illuminate this world with your smile. I wish you a cheerful mood and absolute confidence that everything will certainly work out. May this morning be a good start for your bright and successful day.
I wish you a perfect morning and joyful awakening. Let sunrise give you a lot of victories and optimism. Let the day pass successfully and easily. Let your mood and state of mind be great, let the evening please you with a happy and relaxing rest.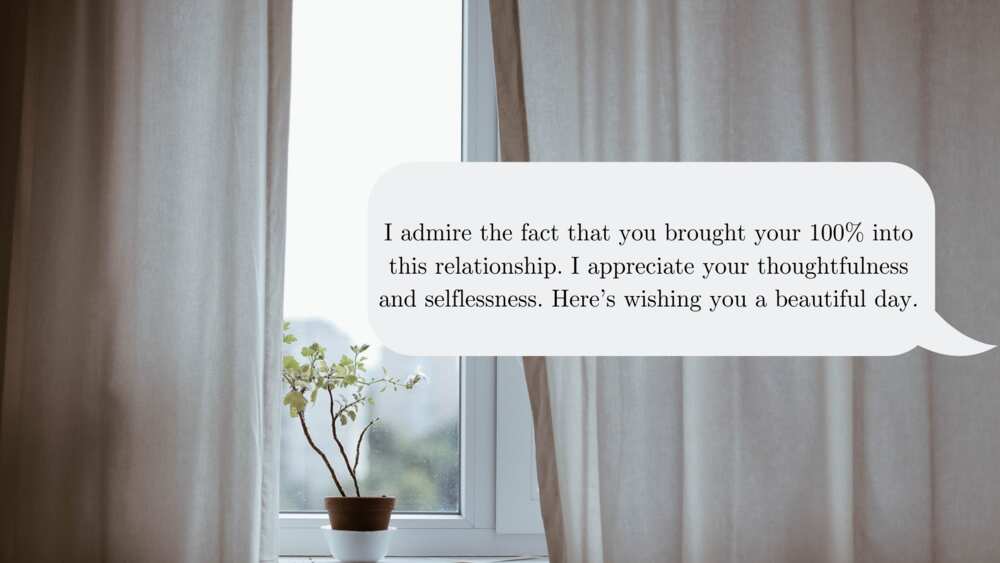 Let your day begin with 100% positive emotions, which will surely find embodiment in all matters. A delicious breakfast, a refreshing shower can bring inspiration and renewed energy. I wish the morning to pass perfectly, having pleased you with forces that will become the basis for a successful day. You can use such opportunities to understand how beautiful every minute is. Oh yes, let today's date, which will never happen again, go down in the history of your destiny as one of the best. Draw strength from everywhere, and you will surely fulfil your plans. I hope that your day will be what you dreamed of.
Good morning, dear Homo sapiens! It is time to evolve in the direction of the shower, where the skin and hair should be tidied up. The next stage of evolution is a visit to the kitchen for the consumption of roasted, ground and boiled coffee tree fruits. Next, you have to go to Homo work, where you will be happy to meet other humanoids.
Well, the alarm started the program! Download the wakeup file. Edit the sequence of commands: stand up - wash up - drink coffee. We delete the remnants of sleep. Format the appearance. We keep a happy smile on the face. Turn on the mode of cheerfulness and positive emotions. Good morning!
Sunny morning! I wish you vivacity and joy, excellent mood and great inspiration, a mad desire to stay on the wave of happiness and cherished dreams. May this early time send you on a long journey with a wind of good luck.
My dear, good morning. The city has long awakened, and I wish you a great, eventful, and most importantly, a promising day. May good luck accompany you everywhere, and success does not leave for a moment.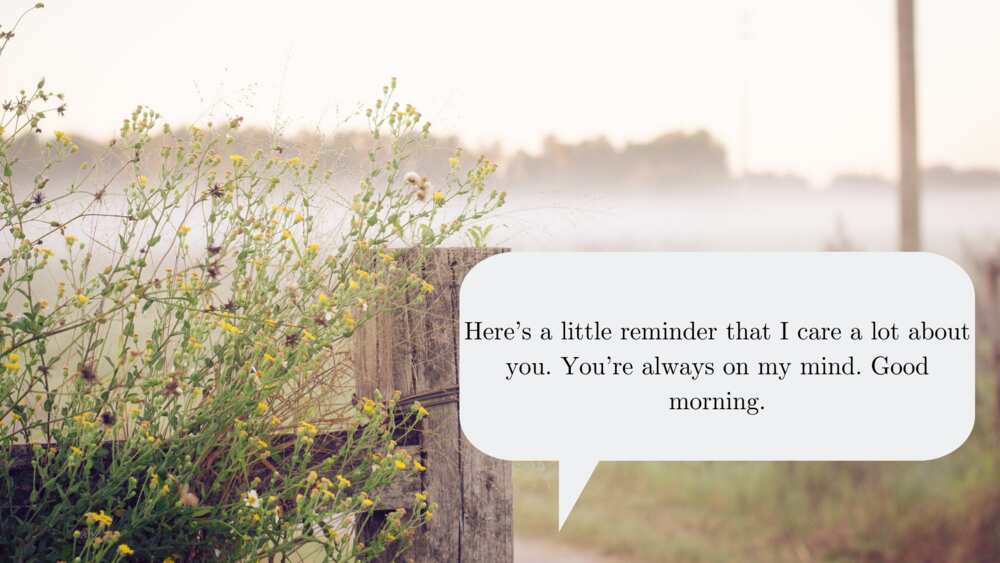 These wishes will surely cheer up your friend and will strengthen your friendship. Who would not be pleased with such care?
Good morning quotes
As you meet the morning, so it will pass. Many will agree with this phrase. You probably noticed that if you get up in a good mood, then everything works out, the people around are friendly, you always have time for everything. If your mood is bad, then things are going wrong. Here you can pick up good quotes, which will cheer up your friend for the whole day.
"Each morning we are born again. What we do today is what matters most." — Buddha
"Life without a purpose is a languid, drifting thing; every day we ought to review our purpose, saying to ourselves, This day let me make a sound beginning." – Thomas Kempis
"Give every day the chance to become the most beautiful day of your life." – Mark Twain
"Life laughs at you when you are unhappy. Life smiles at you when you are happy. But, Life salutes you when you make others happy." – Charlie Chaplin
"When you arise in the morning, think of what a precious privilege it is to be alive, to breathe, to think, to enjoy, to love." – Marcus Aurelius
"A morning-glory at my window satisfies me more than the metaphysics of books." – Walt Whitman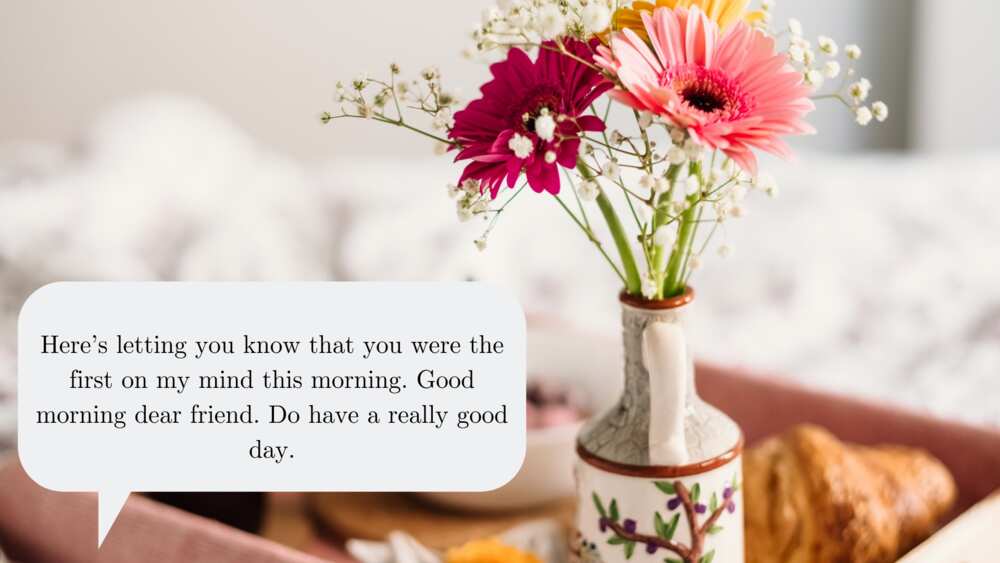 "Morning is an important time of day, because how you spend your morning can often tell you what kind of day you are going to have." – Lemony Snicket
"Be pleasant until ten o'clock in the morning and the rest of the day will take care of itself." – Elbert Hubbard
"Every morning, I wake up saying, I'm still alive, a miracle. And so I keep on pushing." – Jim Carrey
"You cry and you scream and you stomp your feet and you shout. You say, 'You know what? I'm giving up, I don't care' And then you go to bed and you wake up and it's a brand new day, and you pick yourself back up again." – Nicole Scherzinger
"Prayer is the key of the morning and the bolt of the evening." – Mahatma Gandhi
"Each day is a little life: every waking and rising a little birth, every fresh morning a little youth, every going to rest and sleep a little death." – Arthur Schopenhauer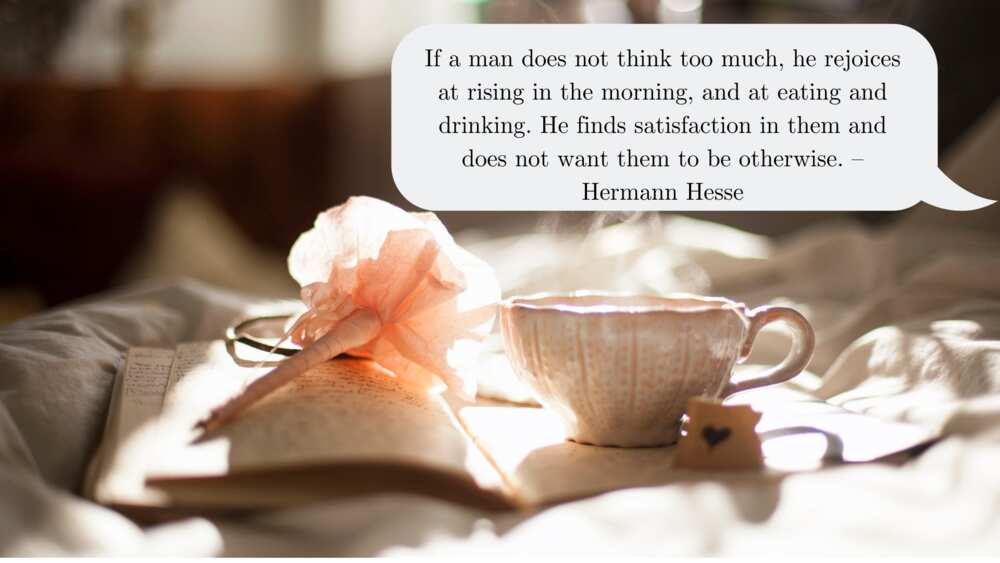 "There are two ways of waking up in the morning. One is to say, 'Good morning, God,' and the other is to say, 'Good God, morning'!" – Fulton J. Sheen
"Good Morning! Good Afternoon! Good Night! These are not just mere greetings. They are powerful blessings, setting the best vibration for the day. Hence, whether it is morning, afternoon or night, make sure that you say your greeting right!" – Franco Santoro
"I never wake up in the morning and wonder why I am here. I wake up and wonder why I am not making here better." – Jeffrey Fry
"Thank God every morning when you get up that you have something to do that day, which must be done, whether you like it or not." – James Russell Lowell
"I get up every morning and it's going to be a great day. You never know when it's going to be over so I refuse to have a bad day." – Paul Henderson
"With the new day comes new strength and new thoughts." – Eleanor Roosevelt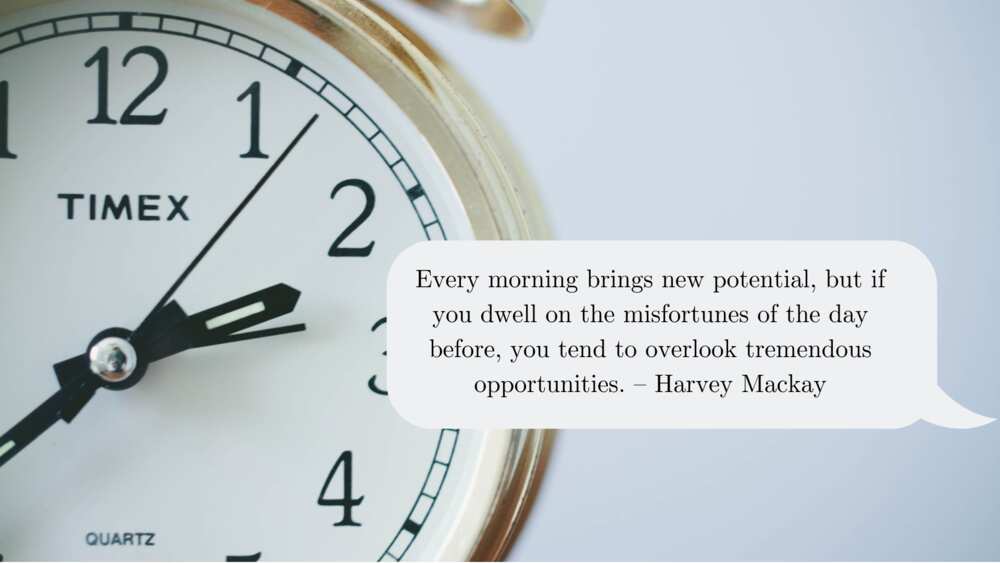 Good morning message to a friend is an excellent opportunity to express your feelings and care. Sometimes it is difficult to come up with the right words, so this article was created for such purpose. It will facilitate your searches and simplify the procedure of writing. Just choose the most suitable for you.