How to create and style Bantu knots: tutorial and styling ideas
Rocking natural hair is one of the most outstanding features one can ever possess. It is pretty, and one can easily maneuver the style one wants. Among the many styles, one can style their natural hair in are the Bantu knots. It is one of the trendiest styling ideas that celebrities such as Rihanna have embraced. Since stars look super duper cute in the Bantu knots, this has made most people worldwide to appreciate and rock this fantastic hairstyle.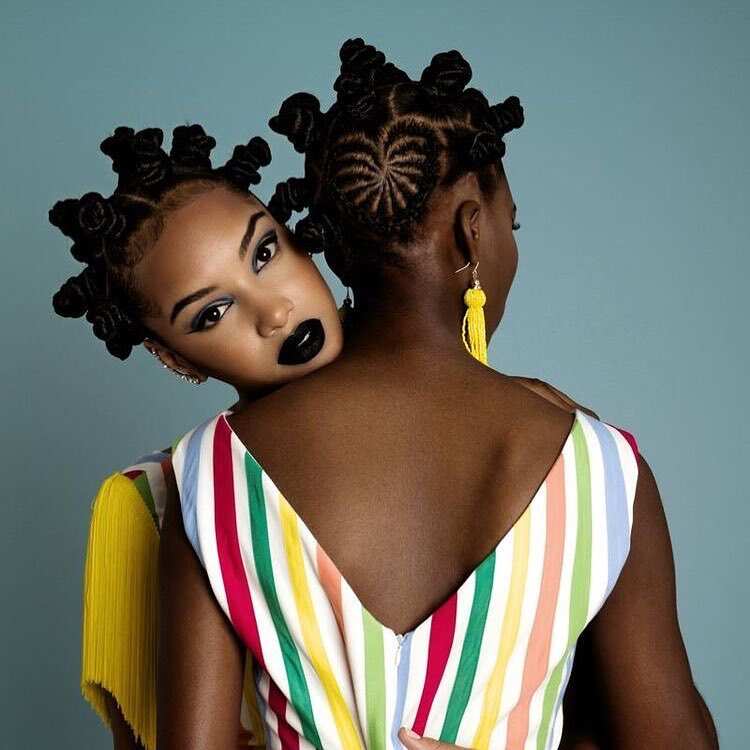 In this article, we will look at what a Bantu know is, how to do Bantu knots, how to style them, and provide a tutorial on how to rock and manage this elegant style. It is my belief that after reading this article, you will confidently create and rock this trendy hairstyle.
READ ALSO: Afro hair styles for ladies
Hair knots
Hair is a sensitive subject, especially amongst ladies. It is one area where ladies spend most time and effort perfecting. Currently, there is a tremendous amount of hairstyles that ladies can decide to rock. They range from the cornrows, the multi-colored wigs, and weaves, poufy buns, dreadlocks, afros, to the fringe. However, excessive braiding, vigorous dry-combing, relaxing, and plaiting are harmful to the hair. It causes it to shrink, fall off, and even damage the scalp. Due to this, most people opt for more natural styles.
Of all these natural styles, the trendiest is the hair knot. Hair knots are a fresh style that allows ladies to embrace and let their natural hair enjoy the radiance of the sun. They are very easy to do and can execute them at the comfort of one's house. Due to the lack of complications in designing this style, most people opt to rock them, rather than wear a hat or head scarf. Similarly, one does not require years of training to know how to create this style.
The simplicity of this style makes it easier for every lady to execute them. The size one chooses to make their hair knot depends on an individual's preference. Such freedom is also another factor that is causing most ladies to lean more on acquiring this fashionable hairstyle.
Bantu knot styles
Bantu knots are one hardcore fashion style that has hit the streets by storm. The hairstyle was common back in the 90s but seems to have made such a debut in the 21st century. Typically, people tended to make the Bantu knots at night, wear the headgear, and leave them overnight. All this was to allow the hair to attain curls which one could rock the following day. However, this hairstyle has proven that it is not one to contain but one to confidently flaunt.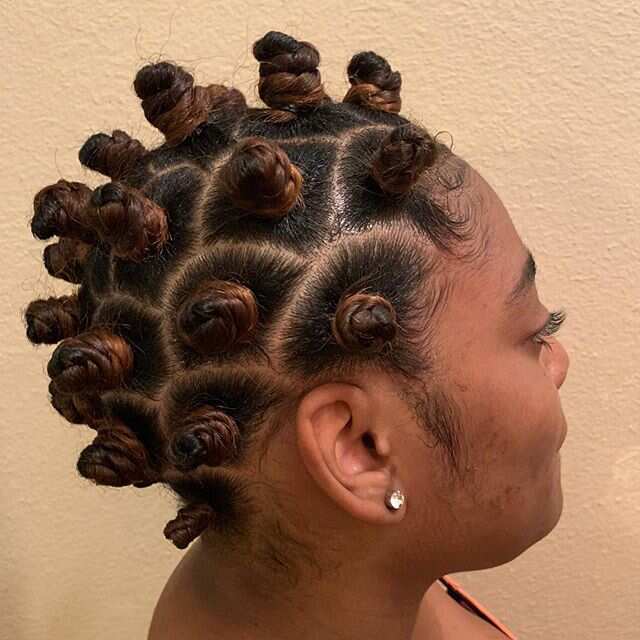 When this style first hit the fashion industry, most individuals were peculiar about how it would make them look. Anyone who was seen rocking this style was more or less looked at differently. There was an assumption that people with Bantu knots were very confident. However, when celebrities began slaying in this hairstyle, people began embracing it. Rihanna was in the top of the list of celebrities rocking the hardcore hairstyle. Due to her love for the style, majority of her fans began calling referring to it as the Rihanna Bantu knots.
Over time, majority of individuals are executing this hairstyle. It is a unisex hairstyle which is also catching the attention of males such as the Afro-Brazilian actor by the name Darlan Cunha.
Bantu knots tutorial
There are cases where people have tried to replicate the Rihanna Bantu knots but to no avail. If you are looking to style the trendy Bantu Knots, here is a simple tutorial of how to go about it.
1. Wash your hair
One of the primary steps to undertake before this styling is washing your hair. The Bantu knots leave a large section of your scalp exposed. If it is not clean, this will be evident. To avoid such embarrassment, wash your hair before setting the them. Using a sulfate-free shampoo is crucial. The sulfate-free shampoo will help minimize the frizz. If the frizz is too much, use conditioner, and a detangler brush to get rid of the frizz and tangling.
READ ALSO: How to style dreadlocks for work
2. Partially dry it
There are conflicts about how wet or dry your hair should be before setting the knot. You should dry your hair somewhat and ensure it is still damp to make it easy to set the knots and knot-outs. Dry hair is so hard to fix and may not hold well in place. On the other hand, wet hair will be excessively saturated and may take longer to dry, or not dry when you knot.
3. Separate your hair into the preferred sections
The width of your knots will vary not only on your preference but also on how tall or short your hair is. Bantu Knots short hair searches are tremendous on the internet. Finally, we have the answer. One should use smaller sections for short hair to avoid them losing their glamour. Those with longer hair can opt to use more significant sections. Another widely asked question is the size one should apply for kids Bantu knots.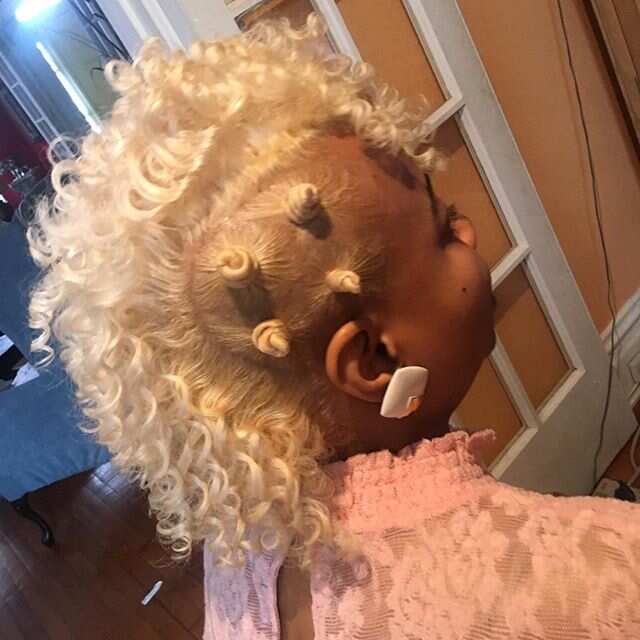 Regardless of the age of an individual, the size will depend on the length and width of their hair. If the hair is long, use small sections, and if it is long, you are free to use either small or large sections. After separating your hair into sections, apply a curl cream. The curl cream aids in holding the knot in place. If you do not have a curl cream, you are free to use a similar setting product.
4.Twist a coil at the base of your scalp
For each section, twist it for a few turns in between your fingertips. Twist only the bottom because doing this for the entire part can lead to breakage. Continue to wrap the other sections of your hair, making sure the end of each section is close to the head to hold the knot in place.
5. Set the coils in place
Try to figure out which loop is tighter or loose. If it is loose, undo it and retwist to make it tighter. If this fails, use a pin or an elastic ponytail holder to hold the end of the knot in place. A person with kinky or naturally curly hair encounters no problems when tucking the knots underneath. However, those with relatively straight and smooth hair encounter problems and must use pins or ponytail holders to hold the twists in place.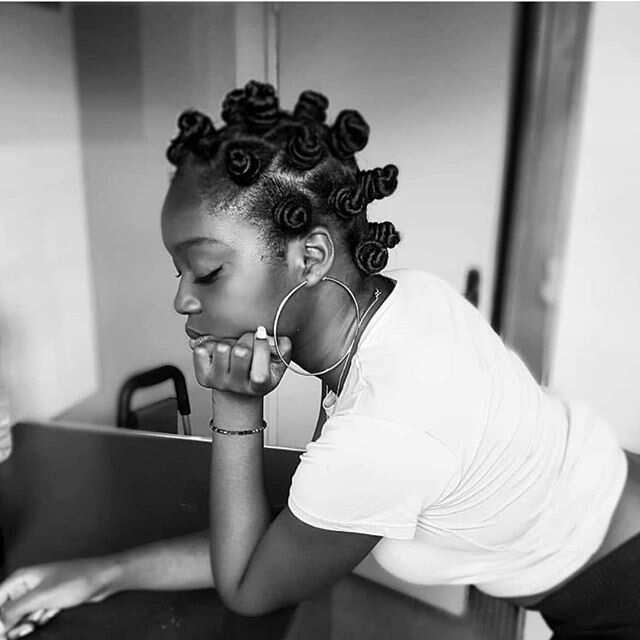 When you are making sure all the coils are tight and set in place in each section, try and sprinkle a little water if the scalp is drying out as you work. The dampness will allow the knot to hold in place.
6. Proudly wear your Bantu knots
By this time, your Bantu knots are complete, and you are free to rock them with your preferred outfit. You can confidently wear them to dates, to a girls' night out, to a trip, to shopping, or any destination of your choice.
The prettiest hairstyle in town today is the Bantu knots. These knots are exquisite and stylish. One can rock them for up to two weeks. Both kids and grown-ups can even style them. Due to this, they have become quite popular.
READ ALSO: New braid hairstyles you should try in 2019
Source: Legit.ng