Everyone was waiting for this moment to come and here it is. Simi - Mind Your Business ft. Falz has just been released. The song is an ultimate banger. Hurry up to check out the amazing track that will be played on every radio station and in every dance hall soon.
With a new release, the singer proves that she has a lot to tell everyone. Everything in Mind Your Business hooks the listener's attention: rhythm, music, and lyrics are perfectly combined. Check it out!
Simi - Mind your Business ft. Falz description
Released: 18th April 2019
Format: mp3, video
Genre: Afro Pop
Length: 3:15 min
Label: Jungle Entertainment Ventures
READ ALSO: Rudeboy – Reason With Me: video, lyrics, reactions
On April 18, a new work of the famous Nigerian singer and songwriter Simi was released. She created the track together with Falz, another Nigerian star of the music industry. It is not their first collaboration; however, it may prove to be one of the best. The track is titled Mind Your Business, and this name conveys the whole meaning of the song perfectly. Through Simi Mind Your Business lyrics, the woman addresses all those people who spread various gossips about her. She is tired of all the untruthful rumours and suggests the gossiping people to mind their business.
Simi - Mind Your Business ft. Falz reviews and comments
The track was accepted by all the fans warmly. This is no wonder if you take into account that the song is a part of Simi's much-anticipated album Omo Charlie Champagne, which has just been released (April 19, 2019). Simi Mind Your Business video gathered over 22,000 views on YouTube in the first 24 hours. The comments below the video indicate how much people love the track and the artists performing it:
My two favourite artists in Naija. Mind your business nam!!! Singing and dancing to it. Looove the video. - @Edith Quaye
Mind your business love u Simi. - @Omoruyi Gift
I love this!!! This song was hilarious. - @Victoria G
I love this song. - @Victoria Dan
Omg, Falz and Simi you guys are the best... Please tell them to mind their business. - @Kesirot Adeniyi
Nigerians need this song. - @olobunmi mabel
Simi always on top. - @Atia Adonko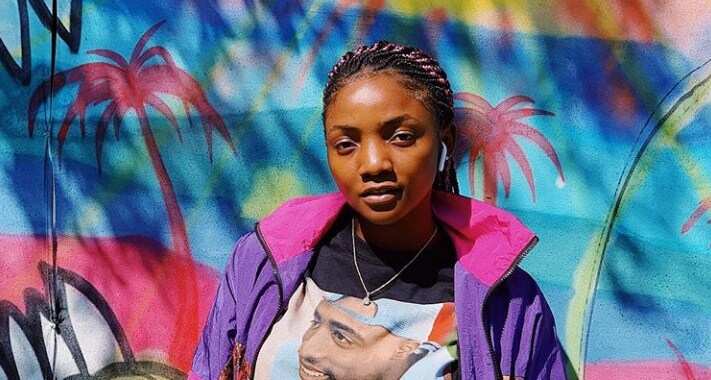 Simi and falz on this one again..... Love you both. - @wayhaught Dom and Kat channel
The rhythm got one dancing unconsciously. - @Much Ado
Fine jam. Everything nice. - @DJ Perez
This song, video, beat, lyrics, in fact, everything is just too perfect............my new best song of 2019. - @Samuel Oladejo
Most talented pair in the industry. - @Finest Celebrities Videos
Her voice is not from this planet. - @Omar Said
Simi is pure talent! - @Irawo Ade
Simi - Mind Your Business ft. Falz lyrics
[Gossip]
Hello
How far
I get gist for you o
Ah what's up?
You know that girl with 20k followers on IG na
Which one?
That girl that is always shaking her bum bum
That is always doing
Oh keep popping
That girl suppose they carry filter anywhere wey she dey go o
Hehe…why na?
Omo babaNla scam
Ehn?
[Verse 1 – Simi]
Why you too dey talk o?
Shey you no dey tire?
Ejo e nle njo wey no concern you
Na there them go find you
You no get work o
Na for your mouth dem go hear say Simisola get belle
(She don get belle)
Na for your mouth them go hear say Biliki dey sell pepper
(She sell pepper o)
Na for your mouth them go hear am
Busy body don come, may you fear am
Uncle face your work o
[Chorus]
Mind your business (Mind your business)
Who say make you no mind am
(Mind your business)
Busy body o
(Mind your business)
If you no like am
(Mind your business)
[Gossip]
Na lie
I no fit lie give you na
Kemi Sef dey there
I dey there
Her makeup don wash finish
Nothing to write home about
No be that one come pain me passo
Na that her boyfriend
[Verse 2 – Falz]
Well done sir
Mr talker
Eku ise
Mr wetin no concern me reporter
Simi don marry Adekunle
But why?
Was Falz invited?
How is that your concem?
Why dont you face your work Aunty Uche?
You go chook your mouth everywhere like eku te
You no dey let sleeping dog lie
Sweetheart Shey you know say na curiosity wey kill cat?
Leave talk, leave amebo, leave chat
Face front
Find business wey you fit start
Take tea. drink that. mind your biz wax
Open your ear when you're listening to this track
Na for your mouth them go hear she buy three cars
But say she just use her mama do ritual (Amebo)
You say Sade just dey reach 32 years
But she never still marry, make she do fast
[Chorus]
[Gossip]
Wait o
No be that her boyfriend wey dey give am porsche assurance?
Believe you me
Wetin I see no be porsche assurance
Na Okada assurance
Jesus!
God save us dear
[Verse 3 – Simi]
You dey put your mouth
Alakori oh!
For the thing wey no concern you (thing wey no concern you)
Alabosi ooo
The thing wey you dey find go find you
[Chorus]
Simi - Mind Your Business ft. Falz download
If you loved the track and want to add it to your playlist, you are welcome to download it following the links provided below:
Simi - Mind Your Business ft. Falz is a track that is destined to become a new banger. The lyrics of the song are full of meaning, and every person can relate to it. This aspect together with an addictive beat and music make this track a real hit that wins the hearts of the audience.
READ ALSO: B-Red – "E Better" ft. Don Jazzy: video, lyrics, reactions