Seinfeld is one of the most talented American stand-up comedians, actors, writers, producers, and directors. This talented producer is well known for some of his works such as the 2007 Bee Movie, the 2010 reality series called The Marriage Ref, and the web series Comedians in Cars Getting Coffee. With such achievements, let us find the truth behind Jerry Seinfeld net worth and other information about him.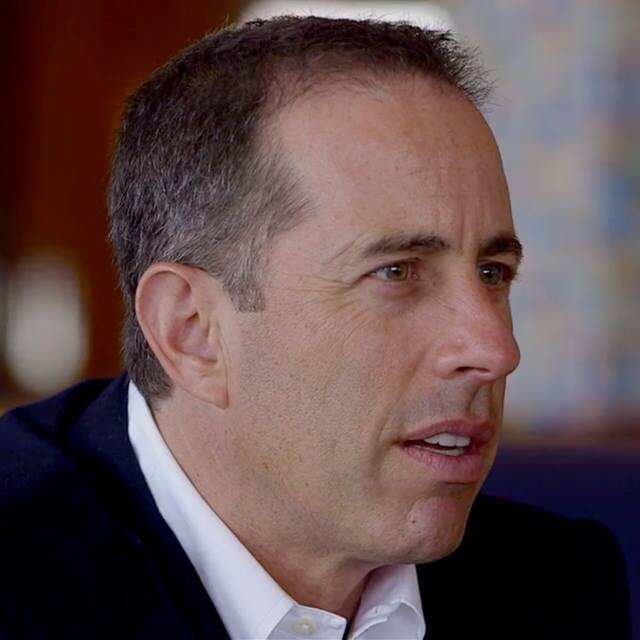 In this article, we will discuss one of the funniest stand-up comedians in America. We will take a look at Jerome's biography, his career, his current age, wife, Jerry Seinfeld children, and Jerry Seinfeld net worth as per 2019.
READ ALSO: Bert Kreischer wife, kids, net worth, age, height, weight loss story
Jerry Seinfeld profile summary
Full name: Jerome Allen Seinfeld
Date of birth: 29th of April in 1954
Age: 64 years
Nickname: Little Jerry
Birthplace: Brooklyn, New York City
Net worth: $950 million
Height: 5' 11" (1.8 m)
Profession: Stand-up comedian, actor, writer, producer, and director
Nationality: American
Marital status: Married
Jerry Seinfeld net worth
Jerome has a very successful career as a stand-up comedian. His net worth as of 2019 is estimated to be around $950 million.
Jerry Seinfeld biography
Seinfeld was born in Brooklyn, New York City. His father, Kálmán Seinfeld, served in World War II. He came from Hungarian Jewish descents. While serving in the war, he used to collect the jokes that he had heard. The mother by the name Betty was on the other hand of Mizrahi Jewish descent. All these descents bring about the different ethnic backgrounds of this hilarious stand-up comedian.
Jerry grew up in Massapequa which is also in New York City. Allen attended the Massapequa High School which is on Long Island. During his teenage life, especially when at the age of 16, his philanthropic nature began to show. He began volunteering and spent quality time in Kibbutz Sa'ar which is in Israel. Later on, after completing his studies in Massapequa High School, he joined the State University of New York at Oswego.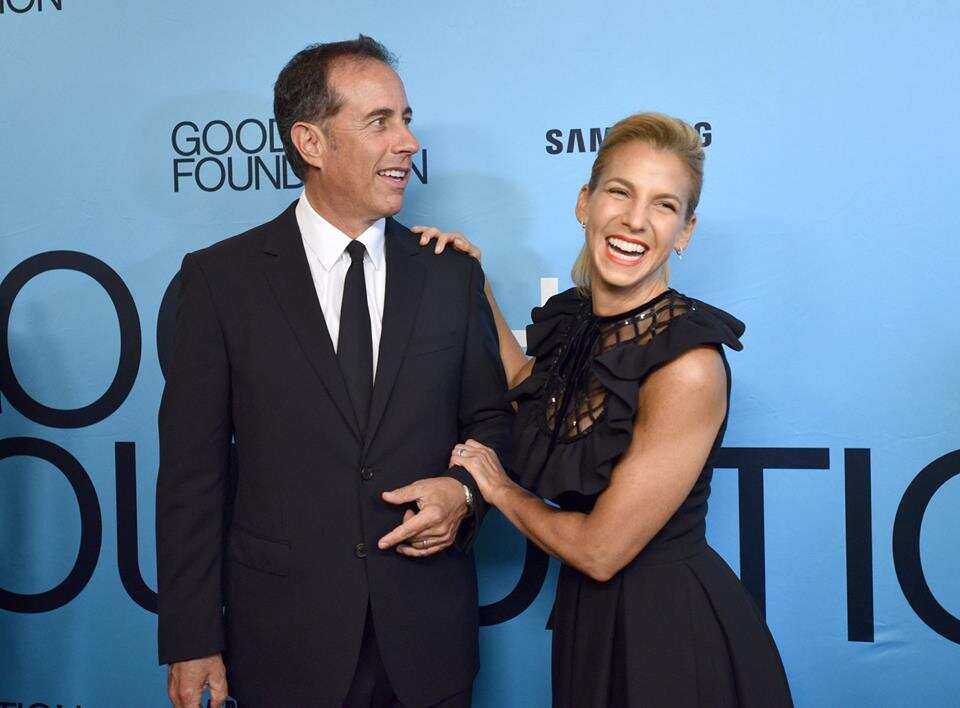 The stay at the university was just temporary because after completing his second year, he transferred to Queens College, City University of New York. After completing his course, he graduated from the institution with a degree in communications and theatre. During his stay at college, Jerry acquired an interest in stand-up comedy. The investment further developed because Allen had performed some brief stints in college productions. This interest gradually developed into a passion.
Jerry Seinfeld early career
After graduating from college, he headed out to try his luck in this field. His first stop was the open-mic night tryout at New York's Catch a Rising Star. Jerry continued to perform in the local clubs and Catskill Mountain resorts until he acquired a breakthrough in the industry in 1976. In this year, he got an appearance in the HBO Special, Rodney Dangerfield. This appearance impressed most of his admirers and viewers. Due to this, he acquired a small role in the sitcom called Benson.
In Benson, he played the character Frankie, who was a mail-delivery lad who had funny routines that no seemed to note. However, he was fired from the show sighting the problem to be creative differences. Although Seinfeld appears to harbour no hard feelings from being fired, he, however, notes that he was not informed. Instead, Allen learned about his firing after he showed up for a read-through session and identified he had no script. This firing incident did however not alter his passion and focus.
READ ALSO: Justin Berfield today: age, height, net worth, partner
In May 1981, Seinfeld landed one of the most successful characters on The Tonight Show Starring Johnny Carson. The talented comedian managed to impress Carson and his fans. One of the opportunities he received after this was the appearances he got to make on shows such as the Late Night with David Letterman. Later on the 5th of September in 1987, he got to perform his first one-hour special Stand-Up Confidential which was being aired live on HBO. These were some of the exciting moments in his career.
Two years later, Jerry got an opportunity to create a sitcom for NBC, where he would team up with the one-time stand-up partner Larry David. Still, in 1989, Seinfeld created The Seinfeld Chronicles for NBC. The show's name was changed from The Seinfeld Chronicles, to avoid confusion with the teen sitcom called The Marshall Chronicles. By the time the series was reaching its fourth season, it had acquired so much popularity, such that it was named the most successful sitcom on American television.
How old is Jerry Seinfeld?
Due to his dominance in the comedy world, most of his fans tend to contemplate on Jerry Seinfeld age. Jerry was born on the 29th of April 1954. His birth name was Jerome Allen Seinfeld. On the 29th of April 2019, Jerome is set to turn 65 years old.
Jerry Seinfeld wife
Jerome once dated Carol Leifer, who was a fellow comedian and an inspiration for the Seinfeld character called Elaine. Most people believed that the two would eventually be married and begin a family of their own outside the Seinfeld Chronicles. However, this was not the case. The two later broke it off. In August 1998, Jerome bumped into Jessica Sklar at the Reebok Sports Club.
At the moment, Sklar was currently the wife of Eric Nederlander. The two had just come from a three-week honeymoon in Italy. However, Sklar went ahead and divorced Nederlander who was a theoretical producer and scion of a theatre-owning family. Jerome and Jessica then began dating and eventually got married on the 25th of December in 1999.
Jerry Seinfeld family
Jerome's family comprises of three amazing children and one stunning wife. Back in 2000, Jerome and Sklar got the news that Billy Joel was selling his house. The couple decided to purchase the home in Amagansett, Long Island, at an estimated US $32 million. However, the couple only confirmed the news after their purchase was made public. It is the house where the family is assumed to reside currently.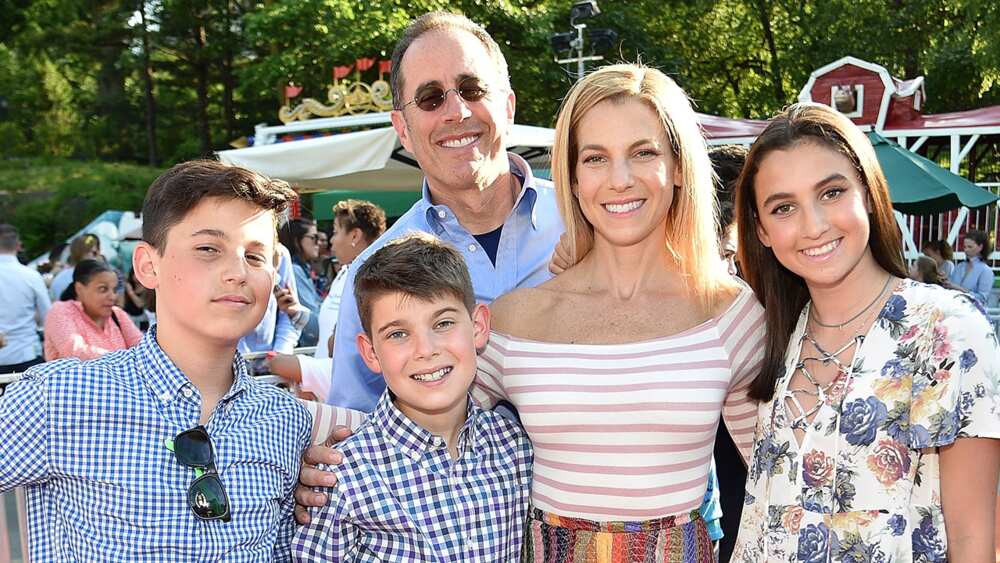 Does Jerry Seinfeld have kids?
Jerome has three children with Jessica Sklar. Of the three, two are boys while one is a girl. The couple's first son is called Julian Kal. He was born in New York City on the 1st of March in 2003. The name Kal is from the first name of Jerome's father, Kalman, and that of Jerry's superhero Superman, aka Kal-El. The couple later welcomed their second born son on the 22nd of August in 2005. They named him Shepherd Kellen. Kellen was also born in New York City.
Jerry Seinfeld daughter was born on the 7th of November in 2000. They named her Sascha. If there is one thing that stands out among Jerry Seinfeld children is their beauty. They have taken the pretty genes of their parents. I guess that is all regarding Jerry Seinfeld kids.
Due to his successful career, Jerry Seinfeld net worth is increasing massively, and he is also acquiring new opportunities now and then. Admirers cannot get enough of the jokes of this funny stand-up comedian. Similarly, his fans can also not get satisfied with his amazing productions and films. It is a clear indication that he is talented and will continue to produce amazing things in the future.
READ ALSO: Angie Everhart now: age, height, measurements, net worth