Vivian Fowler School denies viral lady hooked on substance is one of their alumni
- Nigerian social media was recently set abuzz over the story of a young lady who suffers from substance addiction
- The lady, Lizzy, claimed that she attended top schools such as Caleb Primary school and Vivian Fowler secondary school
- Vivian Fowler has now denied that the said lady ever attended their institution
- The school also promised to work with the rehabilitation centre and other willing people to nurse Lizzy to good health
Substance addiction is one issue that a number of Nigerians on the street suffer from and it is an even more pathetic case when it is discovered that some of these people living on the street come from good families.
Nigerians on social media were recently shocked by the story of a young lady, Lizzy, who claimed that she attended some of the top schools in Lagos but now lives on the streets due to her addiction.
PAY ATTENTION: Install our latest app for Android and read the best news about Nigeria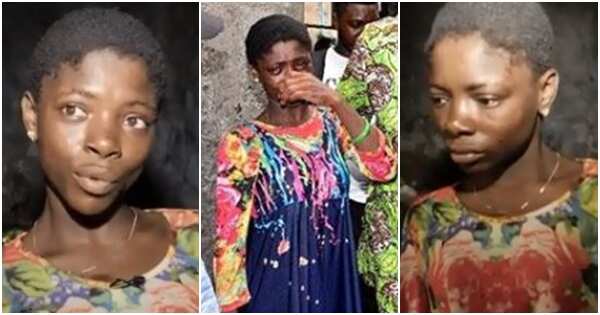 However, one of the schools mentioned, Vivian Fowler Memorial College for Girls, has denied any affiliation with Lizzy as they claim that she was never a student of their school.
A disclaimer was shared to that effect on their social media page. According to the statement published, they obtained Lizzy's full names after an investigation and discovered that her name did not match any in their records from inception till date.
They added that the school does not tolerate substance abuse in any form but they are willing to work with the necessary parties to help Lizzy recover.
READ ALSO: Our Favorite Celebrities Opened Up About Their Regrets In Relationship
See the statement below:
READ ALSO: Personal letter from the Editor-in-Chief of Legit.ng (formerly NAIJ.com)
After the statement was published, several Nigerians on social media reacted to it. Quite a number of them are of the view that the disclaimer was not needed seeing as Lizzy did not blame the school for her situation.However, some others felt the statement was very necessary seeing as the report about Lizzy can damage their reputation and by extension affect their business.
See some comments below:
Daniyelle19: I don't understand. Was it necessary to throw her under the bus?? Did she say anything about the school? Did she hold them responsible for her actions? People be releasing unnecessary statements that no one asked for
Orangemakeovers: So because she's not a good product they are now denying her. see life! INSIDE LIFE!
Komeese: A credible source has identified her as Oluchi who attended st Peter's in Alausa. She is known to tell stories while begging just to raise money to fund her addiction....surely it makes them tell lies...about a family member in hospital etc. Irrespective, she will get the help she needs from all of this. I am not here for this disclaimer from VF.... she never said anything that jeopardises or conflicts the school so why did they go through effort ? If she called out the school then I can understand this but because she is in the slums and name drops VF they went all FBI on her? Lol
Queenshyn: This disclaimer wasn't necessary, let her head be clear then ask her questions again she couldn't have named those 2 schools of all schools in Lagos ‍♀️ they could have done their investigations n left it like that, being an addict doesn't mean she learnt it from the school anybody can go astray in life , it doesn't matter what school groomed you
Wigsbydemi: So pointless!!! Did she say her addiction started from the school???
Jessicafortunes: Wasn't necessary #vfmcforgirls no one is doubting your integrity and last we checked, can you vouch for every child who has passed through your school? Talking about records, we all know that could even be false, so why should we trust your own word over has? Again, this wasn't necessary.
Fatoyinboj: Disclaimer is very well needed. The schools name was mentioned in the clip, and they have every right to protect their brand. They did it in a professional and honorable way- going above & beyond to partner in Lizzy's journey to recovery & reintegration. To think or suggest otherwise wld be unfair and prejudiced.
As a parent, I was very much interested in hearing VFMCs side of the story & if they'll live up to their vision which is focused on the girl-child. So not only am I supportive of such statement, I'm impressed with their commitment to support Lizzys journey.
Babyludic: I have friends that know her personally.Her name isn't Lizzy it's Oluchi..And according to her former classmates (allegedly )she attended St Peters nur & pri school and opebi grammar skool
Amofa.o: I believe that @vfmcforgirls did well for this disclaimer if anybody sends wrong information about you, your family or business on social media it has a way of crippling the credibility you once had. Of course, not everyone who went to VF turned out the best despite the solid hand Mama dealt us with. Our motto is 'In pursuit of excellence'. So if anyone is trying to tarnish that they have the right to release whatever they want to defend themselves, they even offered help. From numerous comments on social media people have written all sorts but who do we believe. They say her parent both died 10-12 years ago and that she attended oregun high school which is very close to VF. All I pray is that she gets the help she needs!
Whatever the case, we are glad another helpless girl has been taken off the streets with the hopes of getting better.
In other news, Legit.ng reported that the demise of a reformed substance addict who was rescued from the streets by his former schoolmate in Kenya.
Patrick Hinga, who first hit local and international news headlines in October 2017, was pronounced dead on the morning of Sunday, March 17, 2019.
Confirming the sad news, Hinga's kindhearted and caring schoolmate and rescuer, Wanja Mwaura, said he died on the morning of March 17 but did not indicate the cause of death.
HELLO! NAIJ.com (naija.ng) upgrades to Legit.ng We keep evolving to serve our readers better.
BUSTED: Police CP seizes, burns N450m worth of hard substance | Legit TV
Source: Legit.ng