The average cost of living in Lagos
The significance of monitoring and controlling ones spending habit cannot be overemphasized for an individual, including the youths that have financial motives.
If you are not well informed about the cost of living in your country, it may lead to the accumulation of debts and unpreparedness for changes in the prices of the goods. When going shopping, it is always a good idea to have extra money, so that your plans are not spoilt by unforeseen circumstances.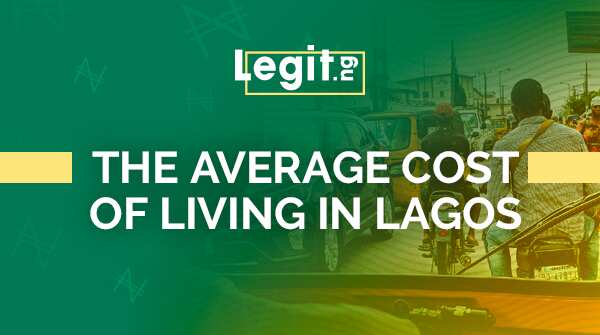 However, we can also observe that the impact of inflation on the cost of living in Nigeria is an irreversible process because increased prices never go back down. Such changes can be stimulated by rise in exchange rates.
Let us take a closer look at the cost of housing, food, transportation, education and personal care, which average Nigerians have to deal with:
1. Housing:
This depends on the choice of intend residing in but it is safe to say living on the mainland is less expensive than living on the Island. Someone residing around Agege, Oshodi, Surulere, Ikeja, Yaba, Ketu, Ikorodu, Ojodu Berger can pay between N350,000 to N600,000 on house rent yearly while those residing in Ikoyi, Lekki, Ajah, Victoria Island and its environs pay millions annually.
However, there are still places on the mainland where people pay about N3million yearly as house rents, It all depends on whether you are interested in luxurious or modest housing.
2. Food:
You do not have to break the bank before feeding yourself and your family, all that matters is knowing how to cut your coat according to your size. There are supermarkets, restaurants and local markets that offer whatever food item you desire.
The cost of food is not different from what you have in other in other countries; the only difference is the exchange rates. Some food items can be expensive but with as low as N300 you can get a plate of satisfying food in Lagos.
Below are lists of raw food stuffs for those who enjoy cooking:
Bag of rice: N16,000
Basket of tomatoes: N5,000
Bag of beans: N17,000
5 liters vegetable oil: N2,200
5 liters palm oil: N1,900
Maggi: N500
Salt: N150
Kilo of chicken: N1,200
Kilo of fish (Titus): N1,000
Tuber of yam: N400
Crate of egg: N900
Garri: N300 (per paint bowl)
Carton of Noodles: N1,800
3. Transportation:
Just like housing, the cost of driving or going by commercial vehicles varies in Lagos. The rich would rather enjoy moving private taxi while the average Nigerian would get to his or her destination jumping from one commercial vehicle to another.
At the end of the day the rich can spend about N10,000 per day on transportation while an average Nigerian would spend about N1,500 daily on transportation. All these calculations depend on if you reside on the mainland or Island.
4. Education:
There are schools for the rich, the average Nigerian and the poor, while some children don't even go to school but hawk all kind of stuffs for their parents. A child in a government owned primary and secondary school can pay about N10,000 for school registration, uniforms and textbooks while a child in a private primary and secondary school pay as high as N50,000 to N1 million depending on the location of the school.
5. Personal care:
Once you break down due to stress, you need to be ready for such cases. Medicines for a 6-day course of cold treatment cost N1400 and 12 doses of antibiotics cost N1400. A 15-minute medical consultation on average will cost between N3,000 to N6900 depending on the hospital.
However, you should not forget about personal hygiene. A box of 32 tampons costs N1300, while sanitary pads cost between N300 to N400. Also, the price of a 50ml deodorant is about N854, 400ml shampoo - N1300, toilet paper (4 rolls) - N412 and toothpaste - N335. The cost of men's haircut is between N500 to N1500, depending on your location.
Note: Spend wisely!
Source: Legit.ng