Brett Favre daughter, wife, house, net worth, retirement
Fans of American football know a lot about Brett Favre daughter and the quarterback's personal life. The fame and scandals of the Favre family are talked about and discussed in society even after the retirement of this famous athlete from the big sports.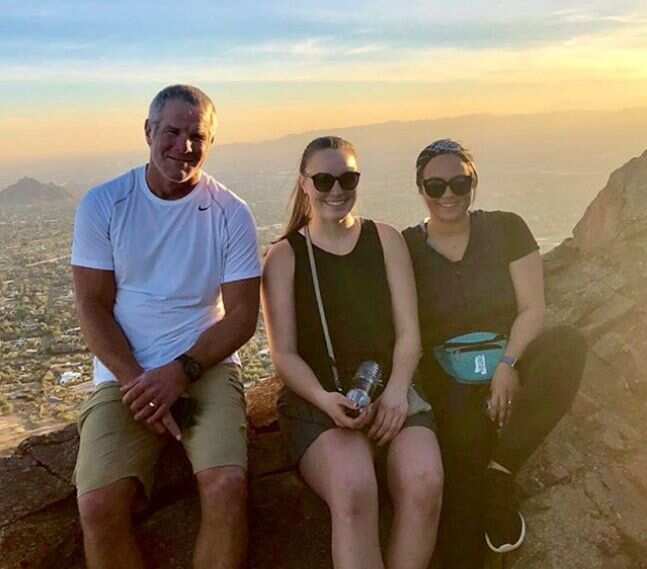 The sportsman whose name is well-known all across the USA, and especially among people who love football, lives a curious life. While he might be scandalous himself, the Brett Favre scandal caused by one of his daughters has also left a trace in the history of his career.
Brett Favre daughter scandal
Before we talk more about the impressive career and achievements of Brett Favre, we need to recollect some of the scandals in his life and the embarrassment associated with one of his daughters.
Firstly, Favre was in an unpleasant car accident in 1990 while studying in college. Secondly, he was addicted to prescribed medicine.
Thirdly, there was a scandal with questionable texting messages, Brett, as a father sent to different women, not his wife.
As you can see, being a football star is not easy, and it can be even more challenging to be both a star and a father.
However, some problems can be caused by the people you do not even know. Brett Favre daughter scandal is related to one of his children, the older blonde girl by name Brittany, whose beautiful photos were shared all over the internet several years ago. She was becoming famous, and some people started to pretend they were Brittany.
READ ALSO: Christian Okoye: wife, son, net worth, highlights and football life
Too many 'juicy' photographs of the girl who looked exactly like Brittany brought embarrassment into her father's and mother's life. Even though it was believed it was not her who posted those photos and she was not the girl in them, her name was mentioned next to the images, and people discussed every inappropriate image that had a capture 'Brittany Favre.'
Maybe this is the reason why these days Brittany is not active on social networks, and her Instagram account is private.
Why was so much attention paid to Brittany? You will understand everything once you learn more about her father, his fame, net worth, and life.
Brett Favre
This name is listed in the Hall of Fame of American football. His full name is Brett Lorenzo Favre, and he is a retired quarterback who celebrates his birthday on October 10th. Born in 1969, he is turning 50 years old in 2019.
The child who originates from a family of school teachers chose sports as his profession. He enjoyed playing for his school football team and was good at his University of Southern Mississippi's squad called the Southern Miss Golden Eagles. When the Falcons were looking for a new player, the team chose Brett through the National Football League draft. This was how he began his career in the big sports.
After a season with the Falcons, the quarterback got into the Green Bay and began playing for the Packers in 1992. He spent sixteen years in this team, and before the retirement from the big sports, he also played for the Jets and the Vikings.
Brett Favre wife
It is curious to learn more about Brett Favre family. The famous footballer met his future wife in high school. He dated Deanna Tynes who was good at playing basketball. They both graduated from the University of Southern Mississippi even though Deanna chose the college of Poplarville at first and later transferred to the alma mater of her future husband.
The couple married in the summer of 1996, but their family started to grow before Brett Favre wife got her official title.
Brett Favre daughters
Deanna delivered their first child before marriage, back in 1989. It was a girl. Her name is Brittany. She chose to study law and built her happy family with kids.
The second Favre daughter was born in 1999. Her name is Breleigh. This girl followed the steps of her daddy and also joined the big sports. She is fantastic at playing volleyball.
Both Brett Favre children are beautiful, talented, and successful in their careers.
Brett Favre retirement
You may wonder when did Brett Favre retire. The long career of this man who won multiple NFL awards (NFL stands for the National Football League) and set many records was officially finished after the football season of 2010.
At the time of retirement, Brett held the record in passing touchdowns and yards and was the only three-time winner of the NFL Most Valuable Player.
Six years later, in 2016, his name was added to the list of the Pro Football Hall of Fame players whose outstanding performances and personal records amaze and astonish.
Brett Favre house
The famous footballer lives in Mississippi. His large house is built in Sumrall.
The property is pretty big covering 465 acres. It is a beautiful green and comfortable territory with trees, swimming pool, two lakes, and various animals such as snakes, deer, turkey, and others. The fence surrounds the area. The main gates have the big 'F' letter on them. There is a guest house on the territory, the main house, a volleyball court, and the woods.
There are several photos of the property taken from the bird's eye, but not many images are shared online with the house interior.
Brett Faver net worth
The quarterback's overwhelming career made him famous and wealthy. It is believed that the net worth of this well-known athlete is over 160 million U.S. dollars.
He earned his money through playing football and via numerous endorsement deals with such well-known brands as Nike, Mastercard, Remington, and others.
These are the most curious facts about Brett Favre daughter Brittany and another daughter Breleigh, his family life, and career. If you wish to learn more about this famous football player, you might like to watch the movie called NFL: Brett Favre Forever. It is about his participation in the National Football League.
READ ALSO: Highest paid sport in the world - Top 10
Source: Legit.ng